This year's Bundesliga season is upon us and so it seems only right to identify some intriguing themes for the coming months. With Bayern Munich having just advanced to a seventh successive championship, the Bavarians look like the obvious favourites for this year's title, but that doesn't account for some interesting developments elsewhere in the division, and nor does it give the full story of German football's top flight.
Without further ado, here are seven intriguing storylines for you to watch (and a bonus one, just for fun).
1. Is this the year Bayern finally slip?
It is strange to refer as a club between eras when they've just won the league title and then added two World Cup winning full-backs to their squad, but that's Bayern Munich for you.
The champions have signed Lucas Hernandez and Benjamin Pavard, from Atletico Madrid and VFB Stuttgart respectively, but questions remain. How will they cope with the loss of retired Arjen Robben, so often a reliable insurance policy off the bench in tight games? Will they be able to fend off a vengeful Dortmund?
Niko Kovac will enter his second season in charge, which is in itself something of an achievement given the continual criticism he faced last year. However, he seems to enjoy the respect of his players even as they stumbled out of the UEFA Champions League. Bayern's focus must be on regaining the continent's top prize, but they must be very careful not to take their eye off matters at home. (The bookmakers currently have them as odds-on favourites to retain the title, with Dortmund a distant second in the betting.)
2. Dortmund's unfinished business
To paraphrase the 1984 hit single by Rock Master Scott & the Dynamic Three, "the youth, the youth, the youth is on fire."
Jadon Sancho scored one and set up the other to give Borussia Dortmund a 2-0 win over Bayern Munich in the German Super Cup — Germany's traditional season opener — to confirm his status as one of the best forwards in Europe, young or otherwise. Sancho, 19, was a key force in Dortmund's championship pursuit last season, a pursuit so sustained that it was easy to forget just how young they were: this season's squad has an average age of 25, so you can expect more of the same. (Related: watch out this season for the occasional cameo from 16 year-old Gio Reyna, son of former U.S. international Claudio.)
Last time around, all Dortmund lacked was experience in key moments and they've since added that in the form of returning club legend, centre-back Mats Hummels. Most notable is the arrival of Julian Brandt, fresh off an eye-catching spell at Bayer Leverkusen. Last season, Dortmund found the net only times fewer than Bayern; with Brandt on their staff, a prodigious provider of assists and a reasonable goalscorer, they have a good chance of outscoring last season's champions.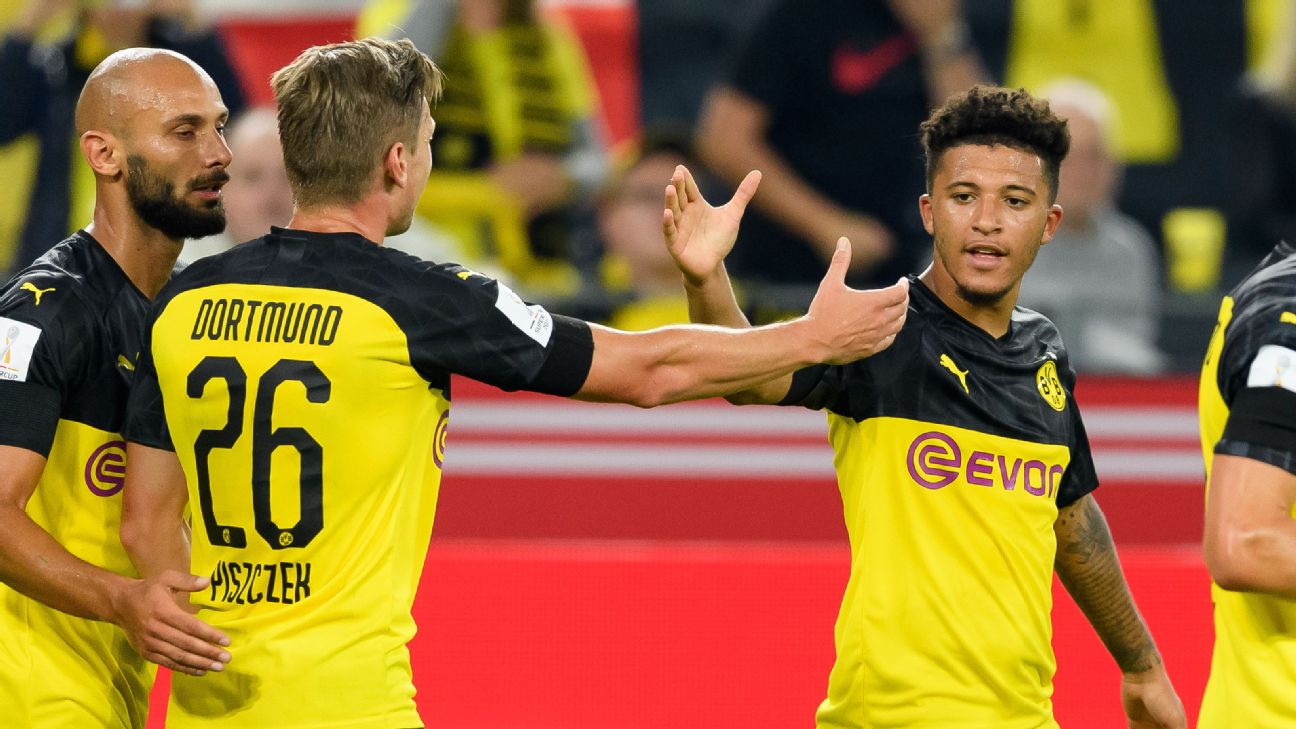 3. The Nagelsmann era begins at RB Leipzig
The finest signing of the German transfer window was arguably not a footballer at all; it was the unveiling of Julian Nagelsmann, one of the most coveted coaches in Europe, at the helm of the RB Leipzig project.
Though Leipzig have attracted much criticism for their big-spending approach and corporate overlords, something that's still a novelty in the Bundesliga, their progress remains inexorable: since being founded in 2009, they've soared from the fifth division up to the top, finishing second, sixth and third in three seasons among the giants. They had the best defensive record in the German top flight last season, and Nagelsmann believes that they can be contenders for the title. For that to be the case, though, he must galvanise his team's attack, which has seen no major additions this summer.
RB Leipzig scored only 63 times in the league last season, 26 fewer than Bayern and 19 fewer than Dortmund. Nagelsmann will back himself to increase that output, given that his over-performing Hoffenheim team scored 70 times, the third-highest total last season. A front line featuring a mix of Timo Werner, Yussuf Poulsen and Emil Forsberg certainly has goals in it; the only question is, how many.
4. The arrival of Union Berlin
Union Berlin are playing their first-ever season in the Bundesliga since the original club was founded in 1906, which naturally means an intensification of their rivalry with Hertha Berlin, a longstanding Bundesliga side across the city.
Uersfeld: Inside Union Berlin's promotion party
It's a clash of contrasts: Hertha in the west against Union in the east, the wealthy incumbent against the working-class upstart. Yet Union are keen not to let inexperience cost them and have already assembled a squad of players with sufficient accomplishments at the highest level. The most eye-catching name is by far Neven Subotic, formerly of Borussia Dortmund, who played over 250 games for them in one of the most successful periods in their history; but Christian Gentner, a veteran and former captain of VFB Stuttgart, will also add some Bundesliga nous.
5. The rise of Kai Havertz
When one of the greatest footballers in history says that you could one day follow in his footsteps, you pay attention.
Lothar Matthäus, the first and only German to be named FIFA World Player of the year, recently stated that one day Bayer Leverkusen's Kai Havertz could receive the same accolade. The German game loves a breakout star, reserving a special affection for its young players — just look at Sancho last season — and Havertz looks like being the next to find fame on the international stage.
At 20, the playmaker scored almost one goal every two games last season (20 in 42 matches), already has three caps for Germany and is the youngest ever to play 50 games in the Bundesliga.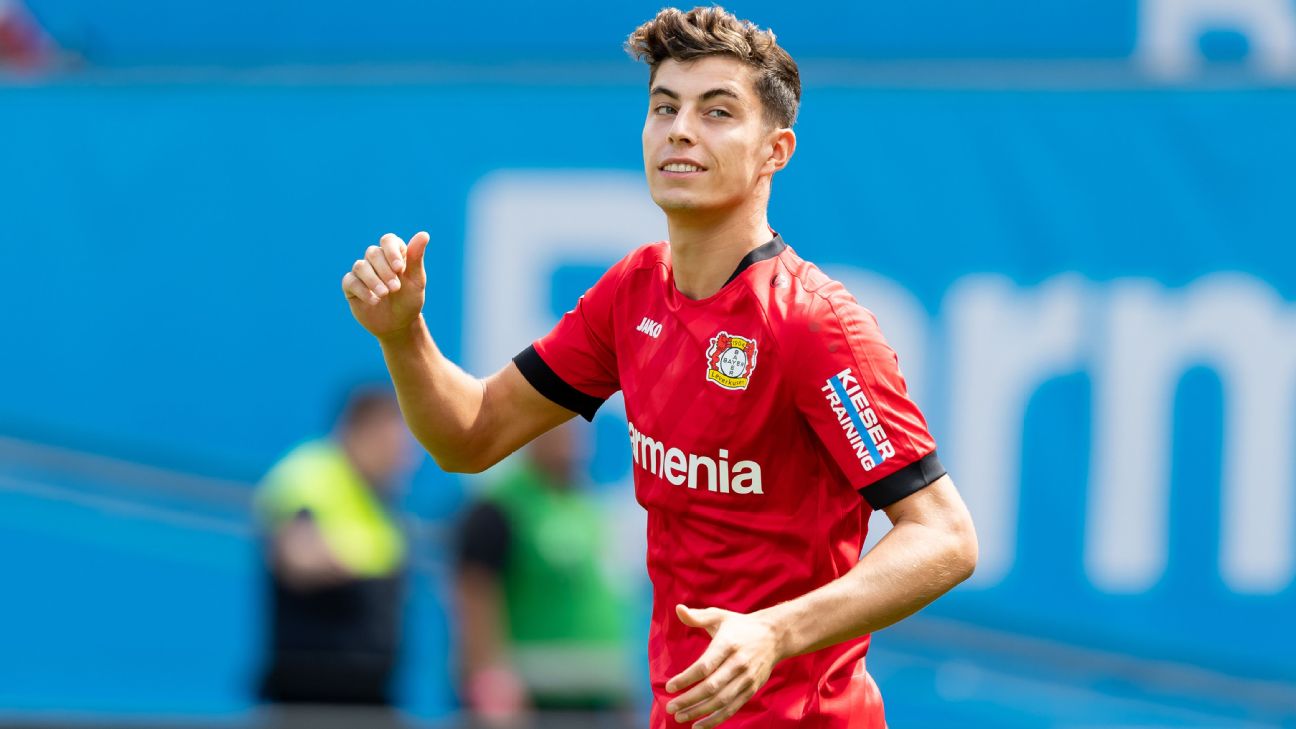 6. Getting streetwise at Paderborn
How will newly promoted Paderborn adjust to the challenges of the Bundesliga? They have the division's smallest stadium — with a capacity of 15,000, some 7,000 fewer than Union Berlin — and few stars in their squad, while just selling two of their leading goalscorers. Coach Steffen Baumgart will therefore have a particularly tough task on his hands but has made a commitment to keep his team up by playing attacking football.
Some cause for comfort is that the two players who scored in perhaps Paderborn's most noteworthy win last season, a 4-1 win in mid-May over fellow promotion challengers SV Hamburg, are still at the club. Sebastian Vasiliadis and Christopher Antwi-Adjei, who both found the net twice in that startling victory, have been joined this summer by Rifet Kapić, who showed some promising touches in preseason.
The odds are against them but given the swaggering manner of their promotion (they scored 76 goals in 34 matches) you suspect that may be just how they like it.
7. Wolfsburg, a club hungry on two fronts
Last season was a strong one for VFL Wolfsburg as a club but left plenty of room for growth. In the 10th year since they won their only Bundesliga title, their men's team finished sixth in the Bundesliga. Meanwhile, their women's team clinched the league and cup double but were eliminated at the quarterfinal stage of the UEFA Champions League by eventual winners Lyon.
Winners of this trophy in 2013 and 2014, they will look to go yet further this year and spearheaded by Pernille Herder, Europe's player of the year in 2018 and the Bundesliga's top scorer last season, they are well-placed to do so. This summer, the men's team has looked very good in preseason, most notably with a fine 2-0 win over PSV Eindhoven, and with the additions of Joao Victor they should score more of the goals that would raise them towards the league's very elite.
And finally… someone is learning German
It would not normally be major news that a 56-year-old man is about to take up intensive German classes, but it is news when that man is Jose Mourinho.
The former Real Madrid, Chelsea and Manchester United boss revealed this information in an interview with Sky Sports, saying that he would be going to two or three lessons a week from September onwards. He also emphasised that he would persist with the language despite its difficulty, that he would be patient in awaiting the right job and that he would only consider a position in one of Europe's top five leagues, in a club befitting his level.
Leaving us to connect the dots as he so obviously has, that would suggest that Bayern Munich are one club that may be particularly high in the former Man United manager's esteem. It will be interesting to see how long Mourinho will wait and whether, once he becomes more explicit in his ambitions, Bayern will be at the tip of his tongue.