It's back! After a summer of international soccer, Gab Marcotti returns with his weekly column reflecting on the big talking points. It's the first edition of Monday Musings for the 2019-20 season.
Jump to: Is Neymar really on the move? | Man United vs. Chelsea | Juve's squad issues | Stop complaining about VAR | Are Man City deep enough? | Bayern get their winger
The latest on Neymar's transfer saga
So now it's apparently just a question of making the numbers work. PSG sporting director Leonardo confirmed that the club are in talks to sell Neymar, with Real Madrid and (possibly) Barcelona the likeliest destinations. But when you put a $210m Euro price tag on a guy, it's far from straightforward. Particularly since whoever signs Neymar will also be on the hook for some $300m+ in wages over the next five years.
The depressing thing here is that this seems to be driven more by ego than footballing logic on all sides. Sure, Neymar is a hugely talented player and, possibly, still one of the heirs apparent to the Cristiano Ronaldo/Messi duopoly. But Barcelona have just added Antoine Griezmann to a front line that includes Messi and Luis Suarez (not to mention Ousmane Dembele). Real Madrid have just spent $110m on Eden Hazard and have big plans for Vinicius and Rodrygo, plus Marco Asensio won't be injured in perpetuity. (And that's before we get into Gareth Bale and James Rodriguez).
Where does he fit at either club, except as a an ego-trip and commercial roll of the dice?
The answer is he doesn't. Signing Neymar would require a dismantling of the team that has been built (and, presumably, planned, though with Real Madrid you're never quite sure how much planning is involved). And is his contribution, especially at that price, big enough to justify tearing up the blueprint?
I'd suggest the answer is a resounding "no," not to mention the numbers. I know some treat Financial Fair Play as a joke but hey, it's real and it's still around. Barcelona can't find a few extra million to land Matthijs De Ligt but they can commit half a billion to bring back Neymar, the guy who left so he could write his own story away from Messi's shadow? Really?
Real Madrid, already stuck with two guys (Bale and James) whom they're struggling to sell because of the absurdly onerous contracts they gave them, happily go and lavish another mega-deal on a guy who started less than half of his league games at PSG in the past two years? You sure?
It's a sign of the modern game, and the way big clubs are straitjacketed by massive contracts, that if this deal happens, it won't be a cash deal. The only way it works is by throwing in makeweights, which is why you're likely to hear plenty of talk of Philippe Coutinho or Nelson Semedo, or James or Isco going the other way. Sticking a player in as part exchange not only saves you cash, but it allows for some neat accounting slight of hand because you can put almost whatever valuation you like on him and then let the magic of amortisation do the rest.
Stay tuned.
There's also the distinct possibility that he doesn't move at all, which would mean that sanity prevailed. Thomas Tuchel hinted at it after Sunday's Ligue 1 opener for PSG. Of course, if he stays it will be curious to see what the reaction of the PSG fans will be. On Sunday night, during the 3-0 win over Nimes (Neymar was nowhere to be seen), he was invited — via banners and chanting — to get the hell out of the club.
Will it be the sort of thing that gets forgotten after a few good performances and some winning runs? You hope not, but you fear yes, just as you hope that if Florentino Perez or Josep Bartomeu break the bank one more time for this guy, they will be held to account.
There's nothing wrong with spending big if you think you have the right guy: Kylian Mbappe is Exhibit A, B and C here. But to do it out of ego, in the waning weeks of the transfer window, while ripping up the script, smacks of irresponsibility. This is a good time as any to remind Florentino and Bartomeu that they don't own their clubs. They are presidents with a responsibility for stewardship.
Breaking down Man United vs. Chelsea
Frank Lampard is playing with house money this season. As one of the more analytical and reflective football men out there, you could picture him in the summer playing the scenario game.
Best (realistic) case?
The combination of youngsters, loan diaspora and holdovers coalesce around his brand of football (which, lest we forget, is far closer to his predecessor's than any Chelsea manager since Andre Villas Boas), Chelsea break into the top three, go deep in the Champions League and he gets a big, fat transfer budget next summer.
– Ogden: Pulisic must hit ground running at Chelsea
Worst (realistic) case? The kids' inexperience costs Chelsea dear, the likes of Mason Mount, Reece James and Tammy Abraham offer further evidence of the gulf between the Premier League and the Football League, there's a massive Eden Hazard-shaped hole that Christian Pulisic can't come close to filling and they slip down the table, missing out on the Europa League.
But guess what? Between the transfer ban, the Hazard departure and the fact that he finally tapped into Chelsea's vaunted Academy, there are enough mitigating circumstances there that he gets a pass. And he has another go in 2020-21, except with a full year of Premier League experience under his belt and a chance to actually acquire players next summer.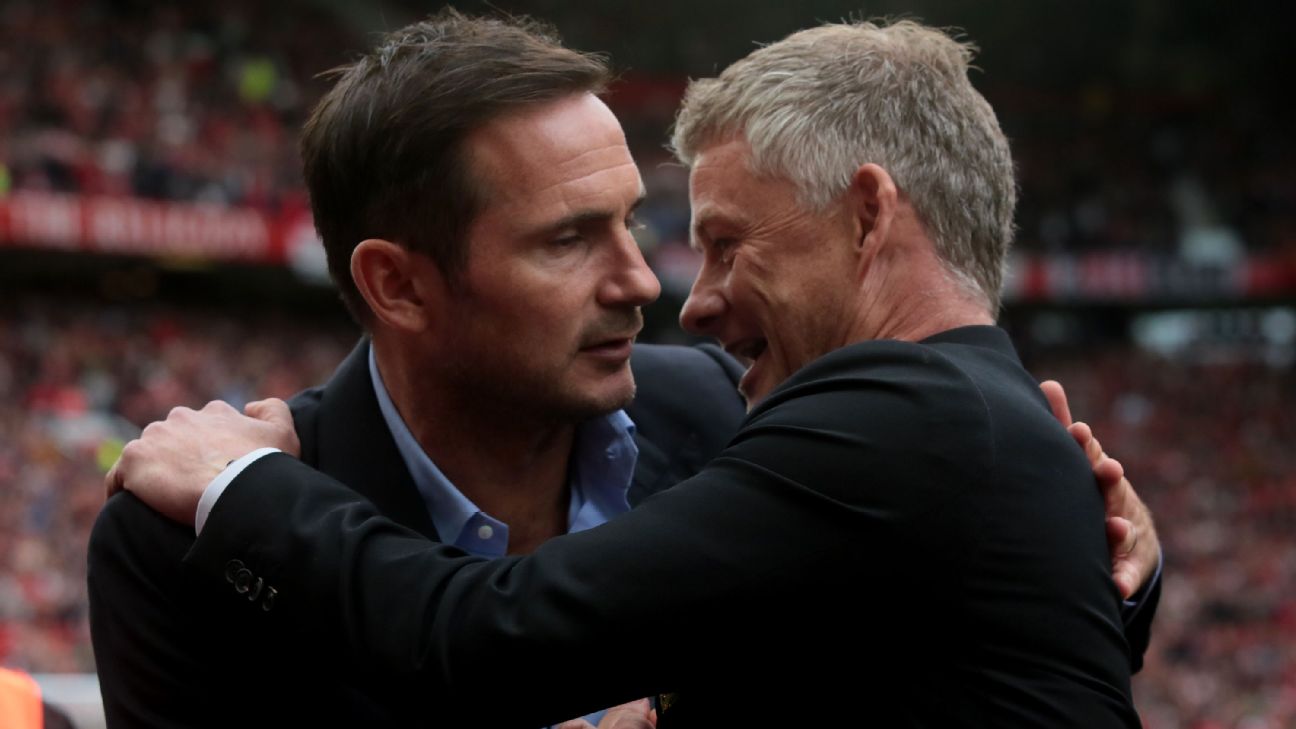 It's worth bearing all of this in mind when evaluating Chelsea this season, in particular the opening 4-0 smackdown at Old Trafford. Despite leaving N'Golo Kante (who was unfit) on the bench and being without Antonio Rudiger, not to mention the long-term injuries to Ruben Loftus-Cheek and Callum Hudson-Odoi, they hit the woodwork twice and looked bright and sharp on the ball for most of the first half. But Kurt Zouma's sloppy tackle gave United a penalty, which Marcus Rashford converted, and as the saying goes, goals change games.
United were able to play on the counter and they did it very well, though, again the second and third goals were the result of individual errors by Cesar Azpilicueta (not something you can chalk up to youthful inexperience) and the fourth was a deflected effort to crown a fast break that began with Zouma on his back and Luke Shaw and Harry Maguire asking the referee to stop the game for what they thought was a head injury.
In other words, a healthy dose of misfortune, individual errors and happenstance, though that doesn't gloss over the fact that there is plenty of work for Lampard and Chelsea to do. The individual blunders loomed large but there was also a serious lack of balance in the side, which isn't surprising when it's the first game of the season and more than half your starting XI were either elsewhere or on the bench last season.
As for United, Aaron Wan-Bissaka and Harry Maguire hit the ground running and gave Ole Gunnar Solskjaer the perfect platform upon which to counter-attack. For all the venom he gets from some quarters, Paul Pogba popped up with two assists (one of them, as delightful as you're likely to see this weekend). And yes: when it comes to flat-out pace, United have plenty.
The test, of course, will come later, as Jose Mourinho (not that he has an axe to grind or anything) pointed out on TV: what happens when they face teams who park the bus? Speedy strikers are great if they have space in which to run but when the opposition sit deep, you need either creativity (that's on you, Paul) or the physicality to punch it in (and both big Belgians are gone).
That's where Solskjaer will earn his bacon and in that sense, he faces a far more daunting task — at least as far as 2019-20 is concerned — than Lampard.
Can Juve resolve squad issues before it's too late?
It's rare that you get a manager speaking with the sort of honesty we heard from Maurizio Sarri over the weekend, when he admitted Juventus need to shift six players between now and the end of the transfer window or risk having to cut them from their Champions League squad. A lot of the focus has been driven by the transfer window, with speculation about the likes of Paulo Dybala, Gonzalo Higuain and/or Mario Mandzukic moving or, in midfield, Sami Khedira or Blaise Matuidi. But there ought to be a bigger concern: how did we get here?
Juventus can count and they knew that because they have just one homegrown player in the squad, perpetual third keeper Marco Pinsoglio, they can only register 22 players. So what kind of planning is it to find yourself in mid-August being forced to give guys away?
This situation is aggravated by the fact that most of the players they want to shift are older and with hefty contracts. What's more, with the Premier League window closed, there are only so many potential destinations and there won't be any late-August panic buys from mid-table English sides.
It's pretty basic stuff. You hope that sporting director Fabio Paratici has some sort of plan up his sleeve, one that won't cost the club too much money. Otherwise, for all his success in landing the likes of Matthijs de Ligt, Adrien Rabbit and Aaron Ramsey, he will have dropped the ball big time.
Enough complaining about VAR already!
There were no VAR screw-ups in its first weekend of Premier League life. Of course, this doesn't mean there was no controversy, mainly because — despite the fact that it has been around for nearly three seasons and fans, players and media would have seen it in the World Cup, Champions League knockouts and FA Cup — some observers seemed to act as if they were seeing it for the first time (witness the Raheem Sterling offside) and others seemed unaware of the changes to the Laws of the Game that came into effect on June 1 (Philippe Dendoncker's disallowed goal in Wolves' win over Leicester).
– VAR in the Premier League: Big decisions explained
My colleague Dale Johnson has written about this at length if you want to go granular but put in its simplest form: offside is offside and it doesn't matter how close it is. It's frustrating to have to repeat this. And while, I'll grant you, offside VAR is more of a by-product of why video replay was brought in to begin with (which was to correct major, aka clear and obvious, errors), the fact that we have the technology to apply it to offside calls more accurately than human assistants means there's no reason not to use it.
Whatever you think of the margin of error that exists at the junction of frame velocity, human velocity and the brains of VAR operators, it surely is more accurate than a sprinting linesman asked to look in two directions at once while determining the exact moment boot strikes ball.
I've heard some suggestions that it would be better to only use VAR on blatant offside errors. OK, fine. So how do you judge what is blatant? And, while we're at it, when it's that close, even the very best human assistant referees are left to guess. With no VAR, Sterling might have been flagged offside or he might not. It would have been a coin flip.
Does that really sound more reasonable?
The Wolves incident actually has nothing to do with VAR but simply with a rule change that came into effect on June 1. If you handle the ball, even accidentally, and then gain an advantage from it that allows you to score a goal, that goal gets disallowed. Why? Because IFAB figured it's against the spirit of the game to score with the help of an arm or hand and they want to standardize officiating, with more consistency. Making refs decide on the spot what is accidental and what is not when a goal is scored is, according to them, unnecessary. Which sounds reasonable enough, though it was somewhat jarring for Wolves fans on Sunday.
In the Dendoncker goal, the Belgian midfielder struck a ball that hit his teammate, Willie Boly on the arm. It was clearly accidental and had it just rolled away, everything would have been fine. But the ball sat up for Dendoncker to hit cleanly into the back of the net, and that's why it was disallowed.
Would the goal have stood if there had been no VAR? Not unless the referee didn't see the ball hit Boly's arm. In which case, it's a good thing there is VAR.
There will undoubtedly be mistakes and blunders, either with the VAR protocol or technology or implementation this season. But Week One went smoothly and whatever "controversy" arose feels mostly down to folks needing something to talk about.
Once the VAR novelty wears off, hopefully by the start of September, we can all move on.
Is Man City's squad deep enough?
Manchester City raced out to a resounding 5-0 victory at West Ham in week one of the Premier League season and most have them as favourites to three-peat as champions. Rightly so, perhaps, but you wonder if they aren't a little bit thinner than you'd like them to be in central defence.
In central defence, Vincent Kompany is gone and, effectively, City's fourth central defender is Eliaquim Mangala, who hasn't actually played at all in 18 months (and was nothing to write home about before that) and won't be stopped from leaving should the right offer appear. Nicolas Otamendi is a year older and coming off a Copa America. John Stones had a poor season last year. He may bounce back, he may not.
The next option, presumably, is dropping Fernandinho into defense, but he's 34 and has had injuries. Plus, if he's at the back, he's not in defensive midfield, which leaves only Rodri and Ilkay Gundogan (whose injury record isn't great) in the middle of the park.
You can only assume Guardiola has a ton of faith in some of the teenagers populating the development squad, like Eric Garcia and Joel Latibeaudiere. Otherwise, a rough patch of injuries and suspensions could cost them dear.
Bayern get their man (and it's not Sane)
Having missed out on Leroy Sane, Bayern seem set for a band-aid solution to the wing by bringing in Ivan Perisic from Inter on loan. If the reported numbers are correct — $5m loan fee, plus a $25m option to buy — it's a cheap-and-cheerful way of adding some experience and quality in a guy who already knows the Bundesliga well.
It may be one of those rare moves that helps all those concerned.
Perisic wasn't part of Antonio Conte's plans at Inter and from their perspective, getting his wages off the bill and a little bit of money back makes sense. He's been frighteningly inconsistent but has his moments and perhaps Bayern, a far more stable club than Inter, can ensure he gets some continuity to his performances. He ought to his seize this opportunity with both hands, because this is what you call landing on your feet after falling off a skyscraper.
As for Bayern, if he performs the way he did most of last season, no biggie: they can just send him back in the summer.