Virgil van Dijk is not accustomed to being powerless on the pitch, but he had temporarily lost control.
"It's a feeling you can't really describe," the centre-back tells ESPN FC, revisiting the moment his legs gave way at the Wanda Metropolitano when Divock Origi's goal marked Liverpool as Champions League winners. He was half-turned away from the action, jogging back into position after miscuing his kick from James Milner's corner and losing a header against Tottenham's Jan Vertonghen when the ball fell to Joel Matip, who touched it on for the Belgian striker.
As Origi's left-footed strike passed Spurs goalkeeper Hugo Lloris and pinballed into the bottom-far corner, Van Dijk spread his arms out in triumph as those closest to him — Jordan Henderson, Andrew Robertson and Fabinho — had done. Like them, he began to run towards the scorer, but collapsed to his knees three strides in and ended up flat on his back.
– ESPN Premier League fantasy: Sign up now!
– Liverpool vs. Chelsea: When is the UEFA Super Cup?
– When are Liverpool in the FIFA Club World Cup?
"It was pure relief taking over my body," Van Dijk says of those scenes on 87 minutes when Liverpool went 2-0 up in Madrid, winning their first trophy under Jurgen Klopp and the club's sixth European Cup. "We were under pressure before that, and I thought 'finally, it's over.'
"We were dropping back, we were defending like mad. At one point, we were just hoofing the ball forward, but it was the mental aspect. Usually we would build from the back, play our own football, but going 1-0 up after two minutes [through Mohamed Salah's penalty] is just a crazy situation in such a big game. Everyone can say what they want about how s— the final was, but for us it didn't matter after Divock scored the goal.
"There were so many emotions, but the first one was relief."
That feeling immediately centered on the match situation, but soon spread to the "painful memory of Kiev," where Liverpool lost the Champions League final 3-1 to Real Madrid a year earlier. It went further too, covering the five months when, as he puts it, "lots of things happened" between the 28-year-old wanting to leave Southampton for Anfield at the end of 2016-17 and his £75 million transfer.
On the Wanda Metropolitano turf, where he lay overwhelmed with both his hands covering his face and would later roll in the confetti with his two young daughters and wife, Rike, Van Dijk's choice was vindicated.
On Sunday, Liverpool were edged 5-4 on penalties in the Community Shield by Manchester City, the club that also coveted Van Dijk and twice believed they would get him, before turning to Aymeric Laporte. It is also the team the Netherlands captain identifies as the biggest threat to Liverpool's objectives given their staggering 198-point haul in the Premier League over the past two seasons.
"They are incredible," said Van Dijk, who got the assist for the equaliser to take Sunday's game to a shootout. "And so are we. To get so close in the league was remarkable — 97 points and just one defeat — so it was disappointing not to win it, but I put that feeling away. I could respect that City were one point better last season. It's driven me on to work even more, to push the limits and help do everything we can to win.
"We know it will be difficult, because they will improve and so will the other teams, but we are not afraid of challenges."
Liverpool's status as continental kings and title challengers could not have transpired without the £75 million purchase of Van Dijk, which was finally agreed on December 27, 2017. The signing ended nearly two years of extensively scouring the market, pulling together a dual-pronged dossier on the best candidates to bolster the heart of their defence.
– Jurgen Klopp interview: Reds' boss talks to ESPN FC
– Keep or Dump: What should happen to the Reds' squad?
– O'Hanlon: How set pieces win trophies
The recruitment team, headed by sporting director Michael Edwards, analysed 34 centre-backs separated into "A" and "B" grade categories by watching them in blocks of 15 games or more. The former group were elite players that could make an immediate difference, with Van Dijk at the top of a pile that also featured Laporte, Napoli's Kalidou Koulibaly and Jerome Boateng of Bayern Munich. The "B" section contained younger candidates with the potential to become top quality defenders in future.
The Reds' team felt that Van Dijk should have had his own bracket: he was superior in every metric from aerial prowess to recovery speed. Klopp also believed Southampton's captain to be a class apart; beyond his attributes, the manager noted both his composure and how he commanded the respect of those around him. Van Dijk wasn't just a phenomenal centre-back, he was a reference point for his teammates.
"If we go for a centre-half, we need to know how he acts in big spaces," Klopp said in April 2017, when asked about adding a defender. He felt that the right candidate for Liverpool had to be aerially dominant and "football smart: they have to make the right decision in the right moment, stepping back and all that stuff." By September that year, having opted to wait for Van Dijk rather than bring in an alternative, the 52-year-old was already under fire for that call with Liverpool shipping 13 goals in their opening seven games.
Significantly, Klopp was correct in thinking none of the available options were better than Van Dijk, who is now a front-runner for the Ballon d'Or.
Only three defenders have ever received the top honour: Franz Beckenbauer (1976), Matthias Sammer (1996) and Fabio Cannavaro (2006). Since the former Italy captain's triumph, nine of the 12 winners (just four different recipients: Kaka, Cristiano Ronaldo, Lionel Messi and Luka Modric) have lifted the Champions League cup in that season. The three exceptions have been for extraordinary goal-scoring campaigns from Messi (91 goals in 2012, 60 in 2010) and Ronaldo (66 in 2013).
Van Dijk won a higher percentage of his duels than any other defender in Europe's top five leagues in 2018-19, was pivotal to Liverpool's Champions League victory and narrowly lost the Nations League final, 1-0, to hosts Portugal. "It's something special to have your name associated with such a prestigious award, more so because defenders hardly get considered," he says.
"It's nice, but the only thing for me to focus on and control is continuing to play at a high level. I have to start strong again along with the rest of the team so we can meet our ambitions: that's more important."
The Netherlands international underlines Messi along with his teammates Sadio Mane, Mohamed Salah and Alisson — "a cool guy, who works hard, but is also a prankster that came in and settled immediately" — as strong contenders for the prize.
---
Van Dijk's own adjustment period at Anfield was smooth considering Klopp's exacting demands, the fact he had joined midseason and the weight of wearing the "world's most expensive defender" label, a tag just taken by England's Harry Maguire, now joining Manchester United. Van Dijk was aided by receiving a lowdown on life at the club from his countryman Gini Wijnaldum and Jordan Henderson, with whom he shares an agent.
He noted that Liverpool's captain in particular was an "important factor" in choosing the Reds, due to the level of detail shared by Henderson on everything from the manager's relationship with his players to the mindset of those in the dressing room. "He painted the picture for me and made it easy to join."
A team bonding trip to Dubai straight after his debut against Everton in the FA Cup third round, in which he scored an 84th-minute winner, proved priceless.
"Virgil grew so close to everybody, it was very important for us and for him as well to be involved more in the team," Sadio Mane would later reveal of that getaway in early January 2018. "After Dubai, it looked like he had already been with us here for three or four years."
Van Dijk's description of Alisson as "a cool guy, who works hard but is also a prankster" may as well be a mirror into his own personality. From teasing Dejan Lovren about his "one of the best defenders in the world" claim to mocking his close friend Joe Gomez for having a locker that "looks like a beauty parlour," he is one of the biggest characters at the club.
"I'm not a guy to sit still and not get to know everyone so Dubai was the perfect kind of trip for me so soon after joining," Van Dijk says. "I'd never experienced coming to a club midseason before, but we had a good laugh, and it clicked immediately; you could tell everyone was willing to work for each other."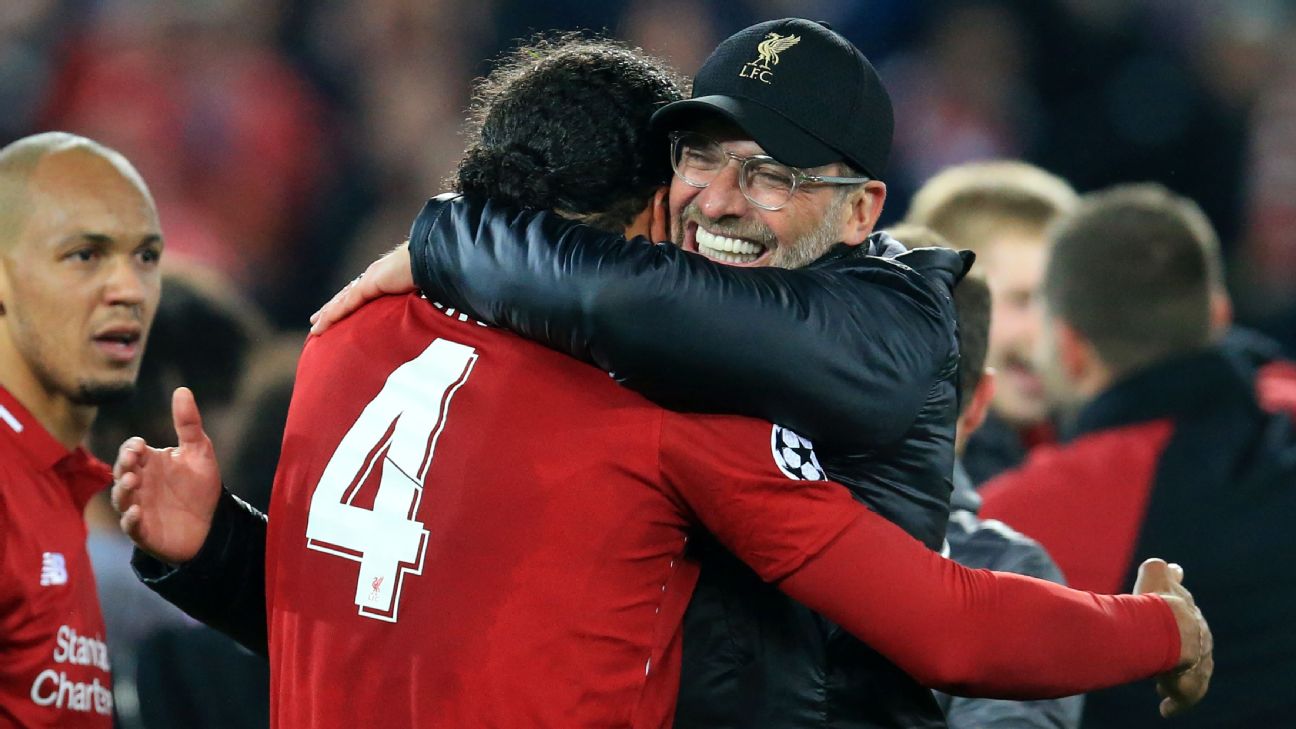 Van Dijk has a reputation as a "transformer" at Liverpool and is all too aware of the adulation he enjoys from the Kop, which includes a catchy ditty to the tune of The Pogues' "Dirty Old Town." The scale of affection is appreciated by the player, but it does not surprise him.
"That summer when I made the decision until I actually joined the club, I had so many Liverpool fans coming up to me wherever I went — everywhere — telling me how much they wanted me to sign for the club," he says. "That gave me a bit of a feeling of how big Liverpool is and how passionate the supporters are. When you look at the Barcelona game [a historic Champions League semifinal comeback at Anfield], the scenes from the parade in the city and you watch videos of them celebrating all over the world, it says everything. It's unbelievable to be involved in something so special."
"I think the minimum you can do at such a beautiful and big club is to give everything you've got and have no regrets when you leave the pitch because you know you did everything in your power to win the game. The fans appreciate that. That's the mentality we all have in the squad; we will work every yard of the pitch and work for each other: it's our base.
"No one can blame us for not trying, for not having ambition because we give everything."
---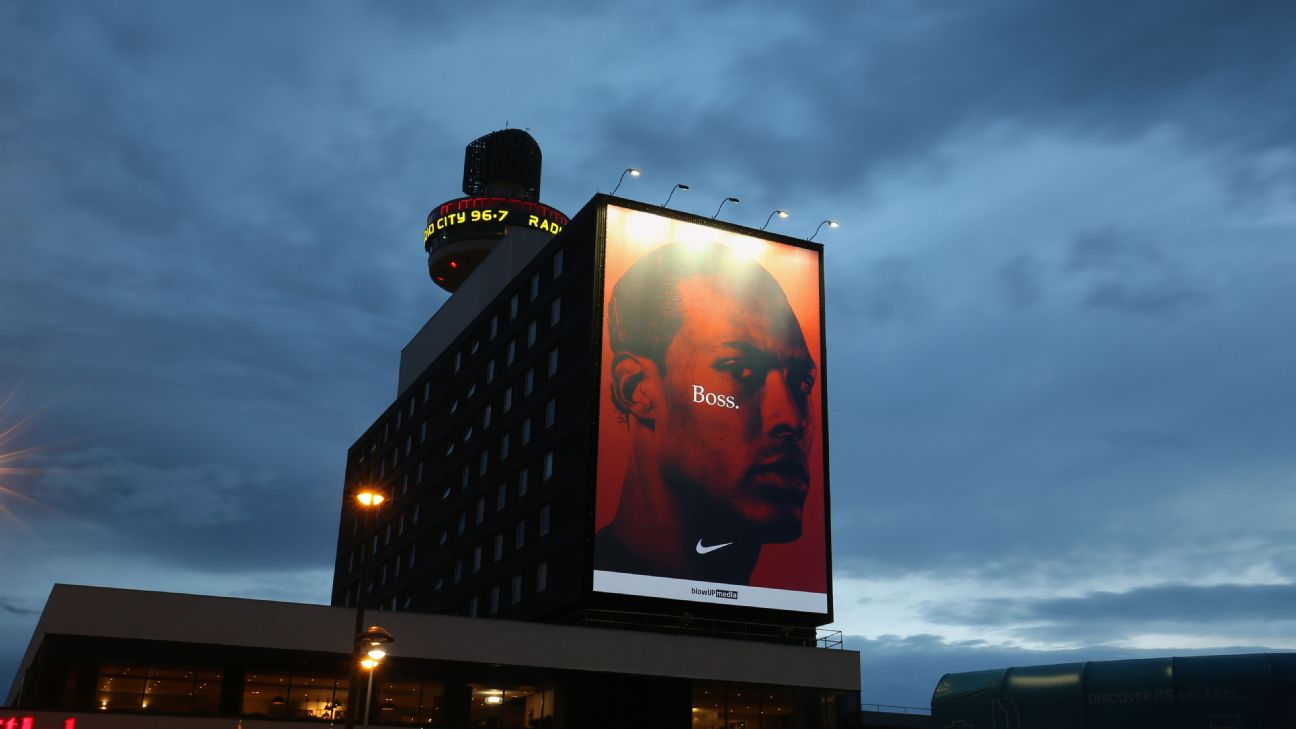 Van Dijk understands what it means to represent Liverpool not just on the pitch, but off it too. On his first day as a home player at Anfield two years ago on Dec. 30, he did not notice Rocco Daly, then 10, wearing a "Virgil 4" shirt. He was swarmed upon entering the stadium, and security were trying to lead him into the tunnel so he could meet his new teammates ahead of them lining up against Leicester City. The club's record signing did see a picture of Rocco postmatch, however, and asked Liverpool staff to track down the kid so he could send him an autographed shirt.
It wasn't his only outreach. Van Dijk saw a Twitter plea from Chris Geldard for signed merchandise to decorate his son Oliver's hospital room and duly obliged with a signed home kit and boots. Last December, he paid for the Owen McVeigh Foundation Christmas party, which 120 children got to enjoy thanks to his donation instead of the usual number of 50. He doesn't like to talk about any of these deeds in detail, but what he does like to discuss, however, is the strength of the collective within the club.
Framed as the club's main man, Van Dijk is skilled at directing the conversation away from himself and to those he feels do not get enough credit, Matip being an example. "How we ended the season was unreal, and I told him after the [Champions League] final that I was personally so happy for him because the year before he played no part in Kiev, and he had a thigh problem at the beginning of the season.
"At Liverpool, we are all part of one unit, not just the 11 on the pitch."
– Borden: Chelsea's Pulisic is not your wonderboy anymore
– Premier League: Deadline Day's worst transfers
– New kits: How the top clubs will look in 2019-20
A close-knit dressing room and the relentlessness of the coaching staff are factors Van Dijk underscores as fundamental to Liverpool's success. "The progress since I've been here has surprised me a little, but at the same time, it hasn't been surprising because if you look at the team, we have a fantastic squad on and off the pitch," he says.
"It's not just the talent we have: everyone gets along, we want to fight for each other, we want to develop together and that's something that comes down from the manager and how he is with his staff. The senior players here are welcoming, set the tone in terms of how we treat each other and what we should demand from ourselves.
"We want to improve, we won't get comfortable. That's a big credit to the manager and everyone that works at Melwood: they always remind us there's no time to feel like it's all good. That we have to strive to be better than the last game, even if it was an incredible performance. There are always things we can still learn to perfect."
One of those aspects could be Van Dijk not actually shanking volleys and scoring for himself, although his worst efforts have contributed to two of Liverpool's most euphoric moments of last season: Origi's 96th-minute winner against Everton and the 24-year-old's mammoth goal in the final.
"Don't even start," Van Dijk laughs. "Divock loves it. I can't believe I got the assist for his goal in the derby. I'll try to give him a few more this season, but one of them has to eventually go in: come on!"
Van Dijk won't mind more miskicks or moments where he temporarily loses control if it equates to an increase in silverware.
"We've got the big one, but that's only a start," he says, tapping his right fist into his left palm. "The time for celebrating is over, let's get back to work."