For the last 15 years, the MLS All-Star game has pitted the best of MLS against a major European club. This year the MLS All-Stars faced off against La Liga runner-ups Atletico Madrid in Orlando, the Spanish visitors, led by teenage phenom Joao Felix, running out as 3-0 winners.
But did Atletico really play against the most deserving or "best" of MLS? This year the fans selected a fairly star-studded starting XI to play in a 3-4-3, a formation hardly ever used in league circles.
– Carlisle: MLS All-Star Game's most unforgettable moments
– Don Garber Q&A: MLS commish talks legacy, politics, more
For the sake of offering something a bit more realistic, ESPN FC decided to pick its best MLS starting XI heading into the second half of the season, using a more traditional 4-3-3 formation. Who did the fans wrongly leave out? Which players didn't deserve to start against Los Colchoneros? Below is a look at the MLS fan vote starting XI compared to our ESPN FC starting XI.
MLS fan vote starting XI: GK Brad Guzan; DF Leandro Gonzalez Pirez, DF Walker Zimmerman, Graham Zusi; MF Jonathan dos Santos, MF Gonzalez "Pity" Martinez, MF Nani, MF Ezequiel Barco; FW Wayne Rooney, FW Carlos Vela, FW Zlatan Ibrahimovic.
ESPN FC's most-deserving starting XI: GK Stefan Frei; DF Kai Wagner, DF Leandro Gonzalez Pirez, DF Walker Zimmerman, DF Romain Metanire; MF Jonathan dos Santos, MF Maxi Moralez, MF Carles Gil; FW Josef Martinez, FW Carlos Vela, FW Zlatan Ibrahimovic.
Forwards
Starting with the forwards, the MLS fans were pretty spot on with their choices, with Ibrahimovic and Vela slam-dunk choices to slot into the front line. The Los Angeles Galaxy man has 16 goals and three assists in 18 games this season, while Vela is on a record-setting pace with an astounding 22 goals in LAFC's first 21 games, plus 13 assists, which is tied for the league lead.
It is with the Wayne Rooney selection where our XI and the fan vote XI diverged. The D.C. United player started off hot but has cooled off of late with just a goal in five games, while single-season goal-scoring king Josef Martine of Atlanta has rounded into form with seven goals in his last five games. Right now, Martinez is the more deserving among the two.
Midfield
The midfield is where a major shake-up was needed. Nani, the hometown pick, has contributed nicely since arriving to MLS, but wasn't one of the top three midfielders in the league during the first half of the season. Nor was highly-publicized summer signing Gonzalo "Pity" Martinez or fellow Argentine Five Striper Ezequiel Barco. The former has been a disappointment since arriving from River Plate, and while Barco has improved greatly from his debut season, there are other more worthy candidates.
The Galaxy's Dos Santos is a sound choice to play at the defensive midfield position, but in the more advanced role, the fans didn't get it 100 percent right. For example, at present you would be hard pressed to find a more in-form player than Gil of the New England Revolution.
The Spanish midfielder is thriving under new coach Bruce Arena and his four goals and four assists in the last five games, suddenly have the Revs looking like a darkhorse in the Eastern Conference. No doubt he would relish a chance to take a starting crack at Atletico Madrid, an opponent he knows well from his La Liga days.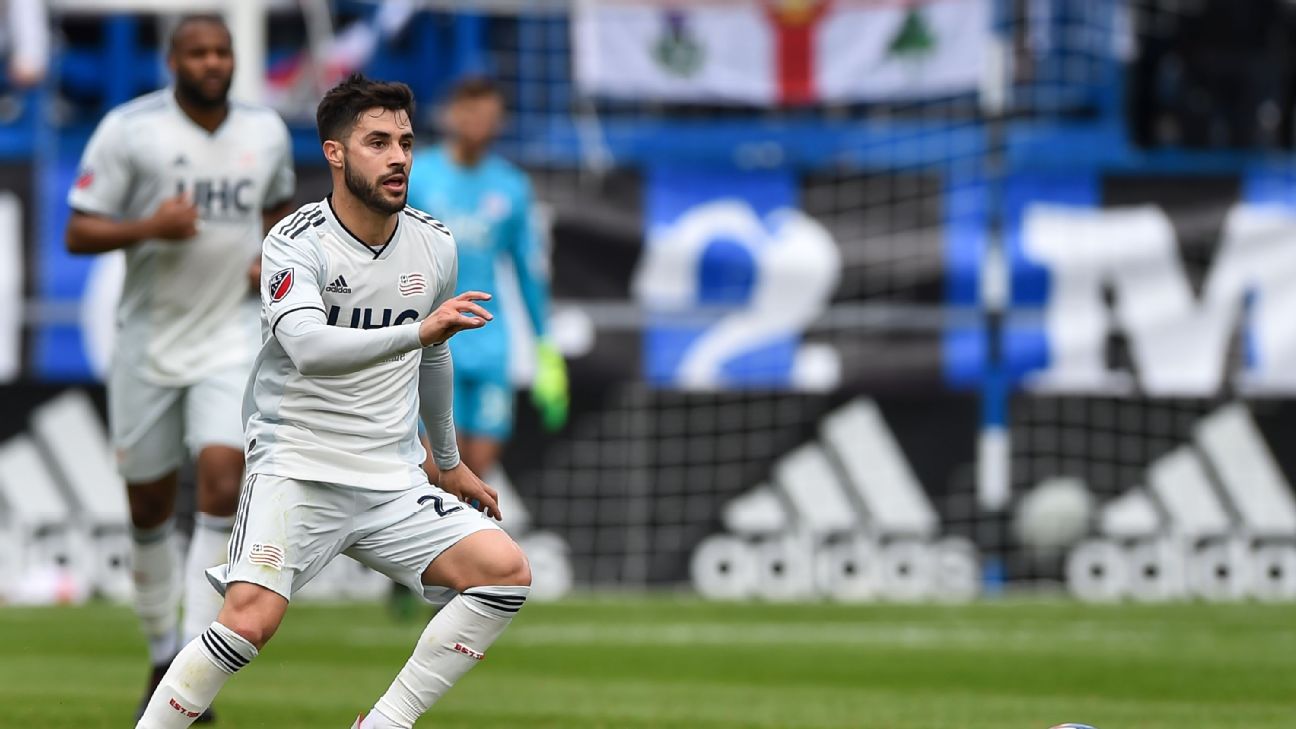 There are plenty of options that could fill the other midfield role, but the unsung Moralez deserves the nod over some of the other candidates, like Nani, Cristian Espinoza and Diego Valeri. Most expected a drop-off from New York City FC after David Villa left over the winter, but thanks to the diminutive Argentine and his 13 assists, NYCFC remain right in the thick of things.
Defense
Some shuffling would also be required in the back by virtue of the four-man defense rather than the fan vote three center-back approach. We had no qualms with the selections of LAFC's Zimmerman and Atlanta United's Gonzalez Pirez to pair in the middle.
By adding a pair of full-backs, Minnesota United's Metanire is a logical choice on the right-hand side. The Loons are holding steady in the Western Conference and appear destined for a first-ever playoff spot thanks in large part to the Madagascar international.
On the other side, Kemar Lawrence has held the "best left-back in MLS" mantle for a while, but Wagner has quietly helped the Philadelphia Union rise to the top of the table in the Eastern Conference, and right now his consistency wins out over Lawrence and Seattle's Brad Smith, who has also been a pleasant surprise.
Goalkeeper
Rounding out the revamped starting Xl, we would have elected for a different goalkeeper. There has really been no standout performer this year, but like always Frei has been consistently good and he gets the slight edge over Brad Guzan to man the back. In Frei's favor is that he's had to deal with some major changes in the Sounders' backline and Seattle really hasn't missed a beat.
In summary, while the MLS fan starting XI had its virtues, the ESPN FC Best XI would be the right team to have in the second half of the season. Would they have beaten Atletico Madrid on Wednesday night? Well that is a different story altogether.