Miralem Pjanic is going to see a lot of the ball this season.
In Maurizio Sarri's early training sessions as Juventus coach, Pjanic has taken on a central role, sitting at the base of midfield in practice matches and spraying passes to his teammates in the same metronomic fashion as Jorginho under Sarri at Napoli and Chelsea. Sarri used his introductory press conference to declare that he wants the Bosnian international to touch the ball "150 times per game."
With free signings Aaron Ramsey and Adrien Rabiot joining Pjanic, Blaise Matuidi, Emre Can, Rodrigo Bentancur and Sami Khedira at Juventus Stadium, the Italian champions now boast one of the most well-stocked midfields in the European game. And it's Pjanic, more than anyone, who will be the conduit for Sarri's new approach.
– O'Hanlon: Set pieces win trophies
– Kuper: Why De Ligt chose Juventus
– International Champions Cup: Watch every game on ESPN+
"Sarri is like the new Arrigo Sacchi. One of the biggest characteristics of Sacchi's style — and now Sarri's style — is the use of the ball," says Filippo Conticello, who reports on Juventus for La Gazzetta dello Sport. "Play the ball, touch the ball, improve your technical skills. In the [Massimiliano] Allegri period, the most important word was 'run.' Now the only thing that has to run is the ball."
As a partisan of expansive, attack-minded football, Sarri has often been compared to Sacchi, whose iconoclastic rejection of Italian football's catenaccio (read: defensive) traditions turned AC Milan into the best side in Europe and one of the most influential teams in the history of the game. Like Sarri, Sacchi faced scepticism following his appointment as Milan coach in 1987, having never played football professionally or previously coached in Serie A. He won the scudetto in his first season, ending Milan's nine-year wait for the title, and would guide the club to successive European Cup triumphs in 1989 and 1990.
Sarri has no domestic title drought to worry about, with Juventus having won Serie A for the past eight years running, but the challenge facing him is to do for Juve what Sacchi did for Milan: turn his team into the best side in Europe and do it by playing football that puts the fans right on the edge of their seats.
Though Massimiliano Allegri, Sarri's predecessor, kept Juve at the top of the tree in Italy, winning five successive titles after succeeding Antonio Conte in 2014, his brand of football wasn't particularly exciting. Regarded with suspicion by some Juve fans due to his history with Napoli, the scruffy, chain-smoking Sarri is not a perfect fit for the Turin giants — a "tracksuit coach" at a "three-piece suit club" — but as an exponent of attractive, winning football, he has few peers in the modern game. Sacchi approved, when asked, saying Juve's decision to appoint Sarri reflected a new commitment to "beautiful football, spectacle and emotions."
The move to a more proactive style of football also reflects an acknowledgement that if Juve are to lift the Champions League for the first time since 1996, they must be capable of going out and imposing their game upon opponents. It's one thing to be eliminated by the likes of Real Madrid, Barcelona and Bayern Munich, all of whom have dashed Juve's hopes of winning the tournament in recent years, but to lose to such a comparatively under-resourced opponent as Ajax last season, and being outperformed in both legs, was considered an indignity.
"Juventus preferred to win in a conservative way and Allegri was the perfect guy to keep it like that," says Conticello. "Now they are changing their mindset and wanting to dominate. Because they understand the only way to win in Europe is to play better: like Ajax last year."
Sacchi had three outstanding Dutch players at his disposal when he set out to conquer Europe with Milan: Ruud Gullit, Frank Rijkaard and Marco van Basten. Sarri must make do with only one, but Juve's €75 million capture of Matthijs de Ligt from Ajax has the potential to become one of the most transformative transfers in the recent history of European football.
Juventus have long been a popular destination for the world's top players, but in recent years they've struggled to compete with Europe's true super clubs (Barcelona, Real Madrid, the English giants) for the sport's most celebrated names. Even three or four years ago, Juve would not have been able to sign a player like De Ligt but Cristiano Ronaldo's stunning move from Madrid last year changed the landscape. The strapping centre-back turned down both Barcelona and Paris Saint-Germain to join Juve and if he can help bring Champions League success to the club, more of the game's most coveted players could be tempted to follow his lead.
"De Ligt was being pursued by the biggest clubs in Europe, so for Juve to land a player so young and so talented sends a really strong message," former Juventus midfielder Mohamed Sissoko told ESPN. "Players no longer hesitate for a second before signing for Juve."
As Sarri and his players work to give Juventus a new identity on the pitch, the club continues to polish the brand at a marketing level. Already the only leading Italian team to own their own stadium, Juve unveiled a sleek new visual identity in January 2017 when the club's existing crest was replaced with a stylish "J" logo. Whether it's the J-Museum, the J-Hotel or J-Medical, the club's state-of-the-art health facility, there's a smooth uniformity to Juve's identity.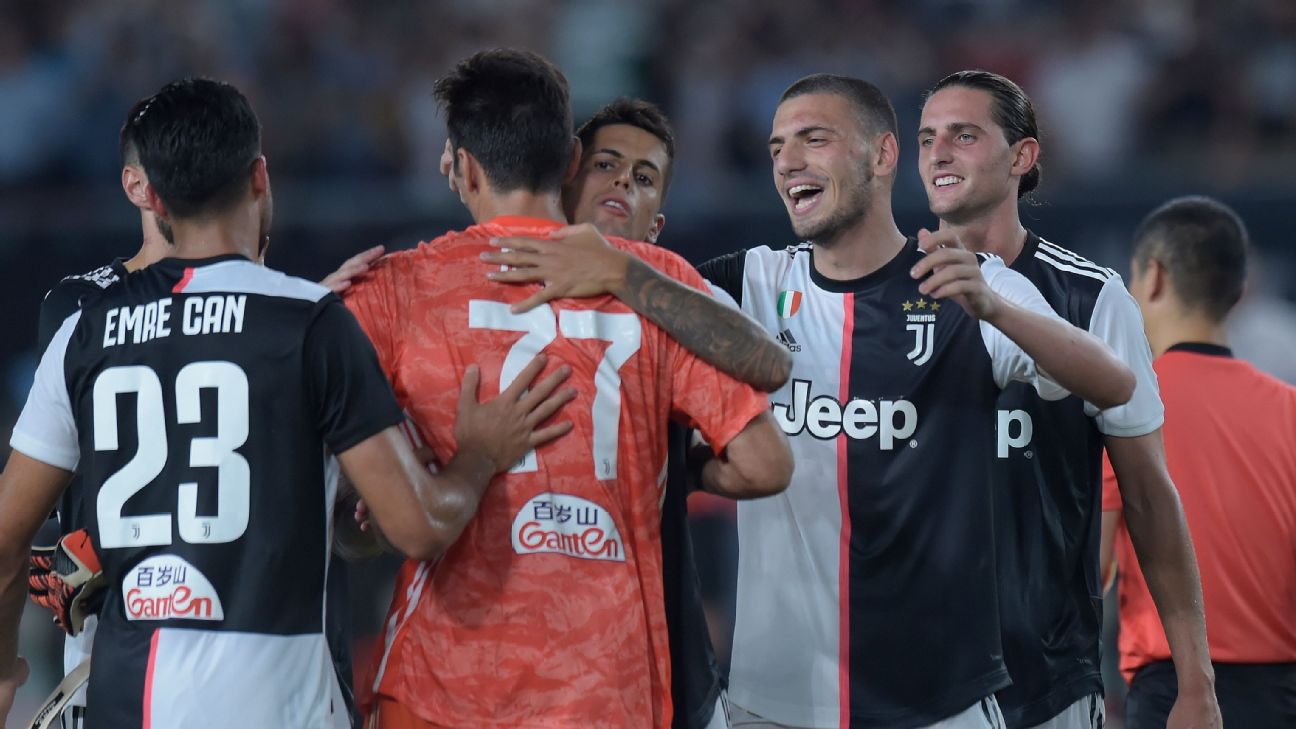 Though not universally popular, the club's new home shirt is similarly outward-looking, with Juve ditching their traditional black and white stripes for a half-black, half-white ensemble reportedly designed to appeal to fans in the United States who more readily associate monochrome stripes with sports umpires.
The club isn't there yet. When Forbes released its annual list of the 50th most valuable teams in world sport earlier this week, Juve once again failed to make the cut. Real Madrid, Barcelona, Manchester United and Bayern could all be found inside the top 20, but everything is now in place on and off the pitch for Juve to close the gap.
Sarri, who watched De Ligt score an own goal in Wednesday's 1-1 International Champions Cup draw with Inter Milan — all games are live in the U.S. on ESPN+ — will need to rotate his squad much more than he did at Napoli and Chelsea if he is to succeed in leading Juve to glory on multiple fronts. Domestically, his strongest challenges are expected to come from his former club Napoli and Inter, who are assembling an ambitious squad to compete under their new coach Conte. Juve will inevitably start the campaign as favourites to retain the scudetto, but this season they are setting their sights a little higher.
"To be honest, barring a catastrophe, Serie A is Juve's," says Sissoko, who made over 100 appearances for the club between 2008 and 2011.
"The principal objective is the Champions League. And with the coach they've hired and the players they've signed, they're not messing around."