At just 19 years old and after barely half a season of regular senior football, Joao Felix became the fourth-most expensive footballer in history when Atletico Madrid paid Benfica €126 million for the striker dubbed "the new Cristiano Ronaldo."
Despite the astronomical fee, rather than viewing the purchase as an enormous punt, the general consensus is that the Spaniards have done well to stave off opposition from Manchester City and other top clubs, with many speculating that the Colchoneros will more than make their cash back as Felix's value soars in the coming years.
– Mbappe, Pulisic, Felix among best 30 players under 21
– When does the 2019-20 La Liga season start?
Where has he come from?
After dominating Portuguese football for three decades, Porto have been usurped by Benfica as top dogs in the country in recent years, and the tale of Joao Felix could be seen as a perfect illustration of this shift. Born in Viseu in central Portugal, Felix was on Porto's books from an early age until three years ago. Letting him join their arch-rivals must rank as one of their greatest mistakes.
Felix made quick progress at the Lisbon club's famed Seixal Academy (which has spawned stars such as Bernardo Silva and Andre Gomes), scoring 50 goals in 100 matches for the U17, U19 and B teams.
His impact was immediate when given his senior debut, scoring an equaliser as a late substitute in the Lisbon derby against city rivals Sporting to give the Benfica faithful had a new darling. Felix went on to score 20 goals in 43 matches in 2018-19 and became the youngest player to score a Europa League hat trick, triggering his switch from Portugal's capital to that of Spain.
Position
When coming through the ranks, Felix was more of an attacking midfielder than a striker due to his excellent vision and creative passing. In his first senior appearances he usually played on the right side of midfield.
The sacking of Benfica manager Rui Vitoria and promotion of B-team coach Bruno Lage in January was hugely significant. Lage knew Felix well having worked together in the club's youth set-up. "When I got the job the first thing I thought was I'm going to get this kid playing," Lage said in the wake of a tremendously successful season for both of them as Benfica won their 37th league title.
Felix was positioned as the second striker behind big Swiss centre-forward Haris Seferovic. The partnership proved devastating, and the young forward scored 17 of his 20 goals in his debut season in those final five months of the campaign.
Strengths
Felix shoots powerfully and readily with both feet and is surprisingly strong in the air given the teenager's slight frame, but one standout attribute is his instinctive positional sense. Like all the great strikers, he seems to have a sixth sense as regards where the ball will land, together with an uncanny ability to evade his marker. Few of his goals last season were long-range screamers or remarkable individual efforts, but rather clinical and sure-footed finishes from inside the box.
Another noteworthy string to his bow is his absolute confidence of his own ability. While Felix is shy and retiring off the pitch, he is anything but on it. He thrived in the biggest matches, scoring and putting in outstanding displays in crucial away victories at Sporting and Porto, and the way he stood up to intimidating physical treatment from veteran Porto centre-back Pepe spoke that he knew the biggest games were his stage.
Weaknesses
Still to fill out and not blessed with pace to burn, Felix remains heavily reliant on service from his teammates to shine. He is not a striker who will run tirelessly in search for the ball, much less one who can hold the line. As a result, on the rare occasions when Benfica's ultra-attacking game was blunted, he became a peripheral figure. At this early stage of his career, his defensive contributions are negligible.
This was also evident in his one senior appearance for Portugal to date, when a well-organised Switzerland cut off the supply line to Felix in his international debut in the Nations League semifinals.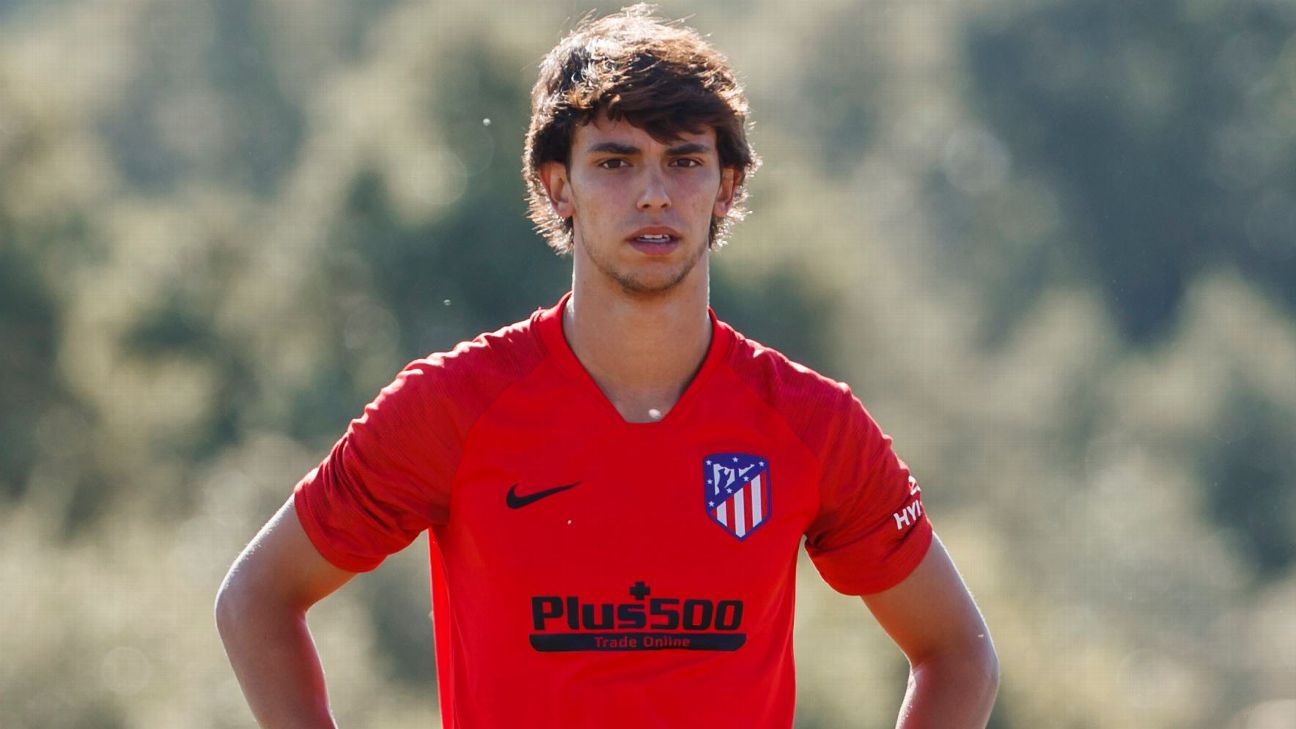 Where he fits in
Felix is a player around whom the team should be built to get the most out of his skillset. A €126m investment suggests Atletico are prepared to do that.
Paradoxically, however, Diego Simeone's teams are known for their defensive solidity and immense work rate when it comes to blocking the opposition's attacking game from the front. It will therefore be fascinating to see whether these two contrasting aspects are reconciled to get the best out of Felix.
Simeone has a history of shopping in Portugal for strikers, with mixed results. Radamel Falcao was a massive hit, while Jackson Martinez was very much a bust, although in terms of playing style Felix could be seen as a like-for-like replacement for Antoine Griezmann.
The player himself is convinced he made the right choice to continue his career's upward trajectory. "I had several clubs interested in me but I ended up choosing Atletico Madrid because I believe it's the club that gives me the best chance to develop," he said at his unveiling last week. "I'm grown up enough to handle this situation."