NEW YORK — Jurgen Klopp doesn't remember the name of the street but he recalls the staggering traffic that delayed his arrival in Manhattan for the meeting that started it all. He can't distinguish exactly which high-rise building it was in given the scale of steel structures painting the New York skyline, but he reminisces about the exhilaration of walking into the interview that would shape his life and one of the world's biggest sporting institutions.
The street was Lexington Avenue. The skyscraper was the law offices of Shearman & Sterling. The date was October 1, 2015 and Liverpool wanted to assess the long-term vision of the man they coveted to become manager of the club.
It took Klopp six hours after landing at JFK Airport to navigate through to New York's East Side due to the annual gathering of the United Nations' General Assembly, which was coincidentally the same amount of time that Klopp spent outlining his blueprint.
Liverpool's principal owner John W. Henry, Fenway Sports Group president Mike Gordon, chairman Tom Werner and the club's former chief executive officer, Ian Ayre, were so impressed by the German's depth of detail that they began drafting an agreement with the German's agent, Marc Kosicke, just 60 minutes into the chat. Klopp did not care for playing small; he swung big in his meeting, insisting he would restore the Reds as a powerhouse. And the Champions League-winning manager has delivered.
Create a certifiable on-pitch identity? Check. Reawaken the fanbase? Check. Return Liverpool to being a force domestically and on the continent? Check.
– Alisson's first year at Liverpool: How he became an elite goalie
– Transfer grades: Rating every big summer signing
– O'Hanlon: How better set pieces can win you trophies
At the iconic Lotte Palace Hotel, a 10-minute walk from where he first sketched his strategy for the club, Klopp reflects on the evolution of the team in the near four years since his appointment.
"To be honest, that day when we were here and spoke we were full of hope, full of dreams, full of optimism," he tells ESPN FC. "Why would I not be? I signed [on] to become manager because it's a wonderful club. I liked the squad, I loved the history, all that stuff.
"So I was very, very optimistic that we'd be successful. In my dreams in that moment, we were probably more successful during these [near] four years than we have been actually," Klopp laughs, but the reality is while Liverpool's progress under his watch was underlined by lifting the Champions League in June, the first trophy of his tenure, it is not solely defined by it.
Long-serving staff at Melwood, the club's football HQ, share their perspectives on a "world-class change in every respect" at Liverpool from nutrition through to recruitment, from the quality of the backroom team through to the upgraded playing personnel. Securing a sixth European Cup by beating Tottenham 2-0 in Madrid and getting 97 points — seven more than Arsenal's "Invincibles" and 21 better than Manchester United's treble-winning class of '99 — in the Premier League last season was no accident.
"We have made a lot of decisions and will make much more in future and not all of them may work out at the end," Klopp says. "You have to accept that you need luck in these situations as well, so it means you can fail. But you have to try and you don't have to change things just for changing sake: it is so you can improve, and improvement means if you have the same person doing the same job for another year, he becomes better at it with the time and experiences.
"At the moment, it's not about bringing in new people and stuff like that. It's really about all of us using the experience we've had for being better than before. That means all this experience, all these better people will throw their knowledge together and we will be stronger. It's as easy as that and that's the plan. It's how it is with footballers, but it is also how it is with the backroom staff: there is development.
"I'm not afraid of not having a 100 percent hit-rate with decisions or invent some new things for football or whatever. We don't have to: we just have to use our knowledge."
Klopp watched his supremely talented Borussia Dortmund side get picked apart by the game's apex predators in the transfer market: Nuri Sahin departed for Real Madrid, Mario Gotze and Robert Lewandowski were successfully seduced by Bayern and Shinji Kagawa made the switch to Man United. He did not want a repeat at Liverpool, who have become more equipped to fend off interest in their superstars under his guidance.
With the exception of Philippe Coutinho's £142 million transfer to Barcelona in January 2018, the club have not ceded a key player since Klopp took charge and even in that instance, the Brazil international was made to wait six months to complete his "dream move" for the third-highest fee ever. At the same time, Liverpool have locked down the majority of their roster with minimum fuss. Salah, Mane, Firmino, Jordan Henderson, Joe Gomez, Trent Alexander-Arnold, Andy Robertson and Divock Origi have signed extended contracts with Liverpool over the past year. Virgil van Dijk wants to agree a new deal, James Milner is waiting on one and Alex Oxlade-Chamberlain is expected to be given fresh terms soon.
"That's actually our transfers, but nobody's interested in hearing that really because that's how it is," Klopp says.
"You have a player, he's good, you want to keep him, if he signs a new contract then for a few people, it means only that he will be more expensive when we sell him or whatever, or that it doesn't mean anything nowadays.
"In our case, these are our transfers. The new contracts and keeping these boys here is a strong, strong signal for the outside world. It's wonderful sign to be honest. I like the fact that these boys are really at a good football age. They won the European Cup, which is good and helps of course because it increases your base."
Klopp preaches that the Champions League triumph would not have been possible without learning from the defeat to Real Madrid in the final a year earlier. In fact, all of Liverpool's "nearly moments" — losing the 2016 League Cup final on penalties to Man City, the Europa League to Sevilla in the same season and last May's heartbreaking scenes in Kiev — contributed to their eventual success.
Klopp explains how it played out.
"We are here, we are good. But are you a winner? People will question you and we are all influenced by the outside world, so if you don't win anything, you can't say 'I'm actually a winner, but it just didn't work out yet.' So having the Cup helps each person and on the other side, to go through the darker moments together is very, very important.
"You have to lose big to realise you are not a loser. You accept it has happened, yes, but that you can still be a winner. These are the things that made us all stronger and I'm happy that I have these boys, that I keep these boys together because they went through all these things.
"This group apart, the players that we signed last year went through a very dark Champions League defeat to a very bright moment at Madrid. And we lost against Real Madrid, but we won it in Madrid: it was like it was meant to be."
Leading up to that final, the manner in which Liverpool reacted to a undeserved 3-0 defeat to Barca in the semifinals of the competition at Camp Nou was flagged by Klopp as his standout moment. In the reverse fixture at Anfield, with Firmino, Salah, Oxlade-Chamberlain and Naby Keita missing through injury before Robertson also had to be replaced at half-time, they pulled off a historic 4-0 comeback against all logic.
""I knew before that we can do all these things, but we are human beings so sometimes it works out that we come out on top and you can also have an off day," says Klopp. "But this was a perfect performance against Barcelona. Ali [Alisson] had to make a few good saves, but it was just a show of what's possible.
"Whatever we do, if we don't do it in a brave, big b—s way, then it doesn't work at the highest level. The way we played that day, that was the proof that 'wow, anything is possible.'
"'Each team is beatable on a specific day' is a phrase I used when I joined. We only have to make sure that they face the best us on the day. Having that experience as a football manager, being involved in this game, I don't feel pride a lot of time, but I was really proud of that moment. I really thought: 'wow that's special.'"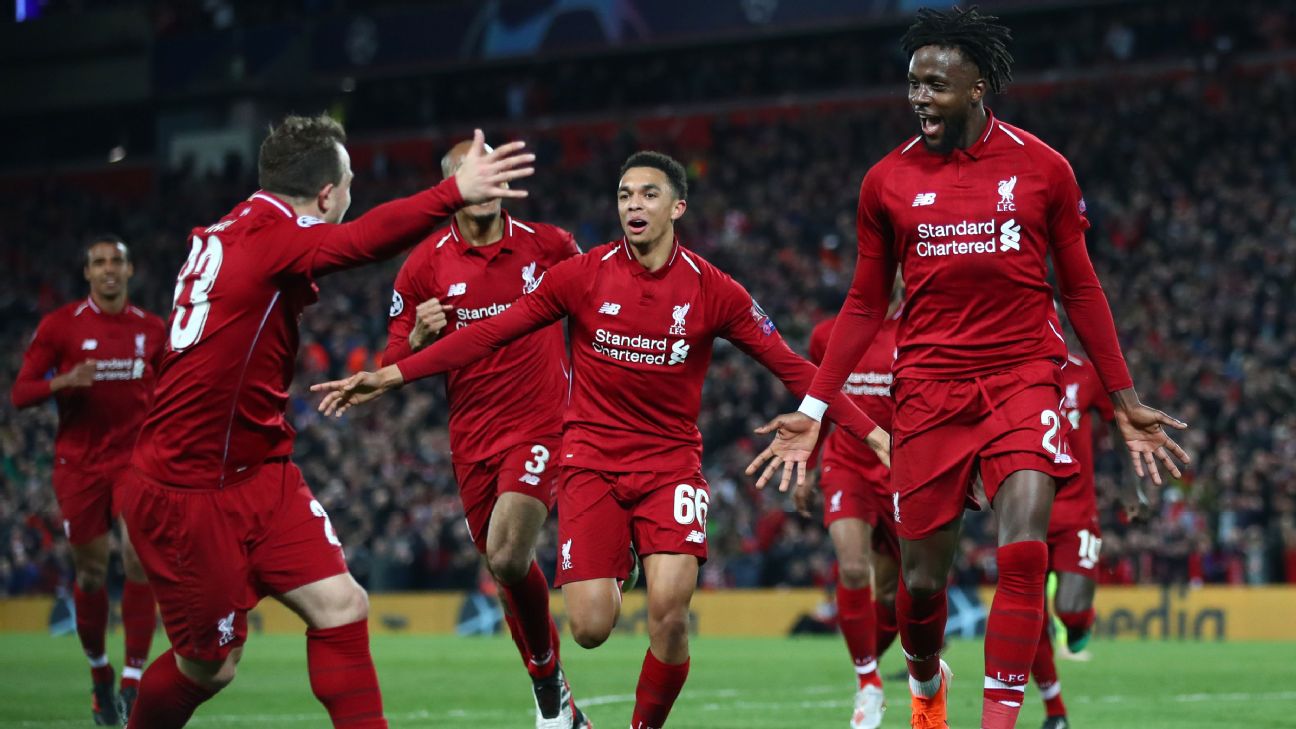 The sequence from that scarcely believable night that Klopp thinks and talks about most often is Alexander-Arnold's quick-thinking corner that caught everyone by surprise except Origi, who converted the set-piece to send Liverpool to the final.
"When I tell people the story about Barcelona, you cannot not mention the corner," he says. "It's the smartest thing I ever saw football-wise. Then I tell people that the best thing is Trent is only 20. And even better, he's grown up like 200 yards from Melwood and I know how desperate the people are waiting constantly for these specific local figures. It could be sometimes too much pressure, but it's not for Trent."
A mural of Alexander-Arnold, commissioned and paid for by fan media outlet The Anfield Wrap, is currently being completed close to the stadium where the defining moment of the right-back's career transpired. Meanwhile Klopp, who has a wall painting in the Baltic Triangle area of Liverpool, jokes that the defender's portrait "should be around a corner" before telling him to expect a flood of pictures with friends and family posing next to it.
"I hope it's big enough, that he likes it and he has enough friends and family in Liverpool, who will be so happy with it. I hope they take their pictures in front of it, like what happens with my little drawing.
Klopp's genuine care for and close bond with his players goes a long way in explaining how so many on the fringes managed to contribute during a phenomenal season for Liverpool despite being frustrated by a lack of game time. Origi scored five of the club's most important goals in 2018-19 despite being afforded only 583 combined minutes in the league and Europe. Joel Matip, who was injured and began the campaign as the fourth-choice centre-back, ended it by being as influential as Van Dijk.
"Daniel Sturridge, [Xherdan] Shaqiri…" Klopp continues. "There was nobody who didn't do the job and that was brilliant.
"I heard now from Vicky [Jepson], the manager of our Women's team, that she calls her players 'starters, finishers and supporters.' I like that idea. The best decision ever, and I'm very critical of UEFA, FIFA and whoever when we talk about the schedule, was to allow all the players to be on the bench in the Champions League final. Twenty three were allowed and that was great.
"To be honest, one of my personal highlights is the moment Alberto Moreno jumps on my back because I didn't know it was him. It's not important that he jumps on my back, it's important to see how much that meant to him. Alberto Moreno, I could not think higher about him. I wish him all the best, from the bottom of my heart. I sent him a long message after he left [at the end of his contract to join Villarreal].
"I would've loved to have helped him more, but I couldn't, that's how it is sometimes in football: a 50/50 thing. He would've loved to play more, but how he was around the team and in the celebrations was unbelievable. That shows everything about him. We decide for ourselves what it means to us and obviously it meant everything to him to be part of that team and to be a Liverpool legend that he is now forever. It was a sensational moment."
Klopp was delighted that Sturridge and Moreno could say their goodbyes to Liverpool on a high, as a European champion during a trophy parade enjoyed by over 700,000 people. On his third anniversary at Anfield, the 52-year-old predicted "when we win something, the city will explode in the most positive way," but even he couldn't envisage the sea of red that greeted the team when they returned from Madrid.
"It was not like anything I could imagine. No one could imagine something like that. That's the only good thing with not winning anything for a long time: it's like, you collect all the desire and stuff and all the dreams all comes together and you wait until you can use it the day when you win something. And it will be difficult to surpass that in the future, it will be difficult because it was really intense and I would love if any scientists can explain to me how 700,000 people can keep a tone, constantly over four hours.
"I have no clue how that works. Unbelievable. The noise was unbelievable and how they kept that going was unbelievable. And the eye contact, the little moments with different people were just outstanding and we knew before what it means to people obviously, but it's really different to see it face to face. And that was a big day in all our lives."
Liverpool are kings of Europe for a sixth time, but Klopp wants more. He has put a pin in revisiting the final following the club's preseason tour of the United States, with preparations for the new season to intensify during a week-long training camp in Evian.
During the introductory meeting on Lexington Avenue, Klopp insisted Liverpool's greatest competitor will always be itself. An increase in greed and collective growth is therefore "not a demand, but the law."