You usually only see Mino Raiola as an extra in photographs: a fat little man with owlish glasses dressed in slobby leisurewear, pictured talking into one of his phones while an overdressed footballer loafs behind him. Yet Juventus fans waiting outside their team's medical centre last Wednesday, hoping for a glimpse of new signing Matthijs de Ligt, understood the superagent's importance.
When Raiola showed up, they chanted "Mino!" You could see why, too: with several of Europe's biggest clubs vying to sign the 19-year-old Ajax captain, the decision to join Juve was arguably made as much by Raiola as by his client.
To understand this transfer, you need to understand Raiola's thinking, which isn't all about money despite what some people might think.
– Miller: Bold predictions for the future in soccer
– Transfer window grades: Rating every big summer move
– Transfer to-do lists: What every big club needs to do
– 30 Under 21: The best young men's players in soccer
As an infant, Raiola moved with his family from southern Italy to the Netherlands, where his family opened pizzerias. One afternoon in his quiet hometown of Haarlem in 2016, he explained his transfer strategy to me. Instead of waiting for a club to approach his player, he decides which club is right for the player and then tries to engineer the transfer.
How to identify the right club? "You have go to the club that needs you." And, of course, the player has to need the club in return. In short, Juve didn't choose De Ligt; he chose Juve. Straight after last month's European Nations League in Portugal, the end of his 11-month season, he told Raiola that that's where he wanted to go.
It's true that Juve then had to stump up a fortune. It seems the money mattered more to Raiola than to De Ligt, who watched the endless negotiations impatiently. Juve will pay Raiola €10.5 million in commission, while De Ligt gets a reported €10m net a year plus up to €5m in bonuses for a five-year contract. In Italian football, only Cristiano Ronaldo earns more.
In turn, Ajax insisted on a transfer fee of €75m, about €15m more than they were asking this winter, before their run to the Champions League semifinals made De Ligt everybody's must-have young defender. The high price should help De Ligt in Turin: it clarifies that he arrives as a star, not a talent who needs to wait his turn.
Barcelona, long thought to be frontrunners in this race, were reluctant to meet his salary demands for fear of upsetting the balance within their squad. Meanwhile Paris St-Germain would presumably have paid top whack, but the Parisians seem to have been used as patsies, their offer merely a bargaining chip to force up Juve's bid. PSG unwittingly played much the same role in Frenkie de Jong's move from Ajax to Barca in January.
To think that salary determined De Ligt's choice is a cynical misreading of him. Money, he insisted to the Dutch Algemeen Dagblad newspaper, "played no role." He would have become mega-rich wherever he went, and as a man from a well-off family who has no taste for shopping and is aiming for a 15-year career at the top, a million here or there scarcely matters. It irritates him that most Dutch people assumed he should join the Netherlands' favourite foreign club, Barca.
"In the end I decide! I look purely at my own development," he told the newspaper De Telegraaf. Or more accurately, he decides with Raiola whispering in his ear.
"Extremists succeed"
Juve took the lead in the race for De Ligt about 25 years ago when the young Raiola spotted a Czech midfielder who reminded him of his workaholic restaurateur father. Raiola told me, "Pavel Nedved is an extremist. The only thing he thinks of himself is that he can't play football. But he can train harder than the rest." Nedved used to train at his club as a kind of aperitif, then going home where he trained much harder in his garden. In 1996, Raiola brought Nedved to Lazio Roma. Five years later, he took him to Juve. In 2003, the moderately talented Czech was voted European Footballer of the Year.
Today, Nedved is sporting director of Juve: effectively the man who signed De Ligt.
Years of observing Nedved (with whom he remains close) reinforced the lesson Raiola learned from his dad: "extremists" succeed. The conclusion: an ambitious young player should surround himself with extremists. The last time Raiola supervised a first-rate Ajax talent, back in 2004, he also brought him to Juventus. There, Zlatan Ibrahimovic saw for himself how hard Nedved trained. "I thought you were exaggerating, but it's true," he told Raiola. Ibrahimovic merged the Czech's work ethic with his own superior talent.
Now Raiola says of De Ligt, with a touch of salesman's hype: "In terms of work rate and mentality, he approaches or even exceeds Nedved. His ambition reminds me of Ibrahimovic."
Raiola knows that not all top-class footballers are very ambitious. He realised years ago, for instance, that his client Mario Balotelli wasn't. Footballers always say they want to reach the top, but many don't particularly want to. After all, they can earn millions playing at 90% without living like monks or putting themselves under inhuman pressure to perform 60 times a season.
Raiola likes to ask his clients, "Why do you play football? What is your drive?" I asked him what answer players usually give. Raiola said, "Well, most haven't thought about it yet.'"
In Raiola's language, De Ligt is an "extremist," the only Ajax player in the gym at 8 a.m. the morning after a match. De Ligt knows he hasn't reached the top yet. He has every quality a centre-back needs, but even in the past few stunning months, he repeatedly made errors that gave away goals: for Holland against Germany, England and Portugal; while in Ajax's fatal defeat against Spurs in the semifinal, the London club's comeback began came when De Ligt pointlessly went up for a humdrum free-kick with Ajax leading 2-0, missed a tackle in midfield and then watched Spurs score through the hole he'd left.
Raiola said last week, "It's clear he is the best young defender. Now he needs time to show that he's the best at another level."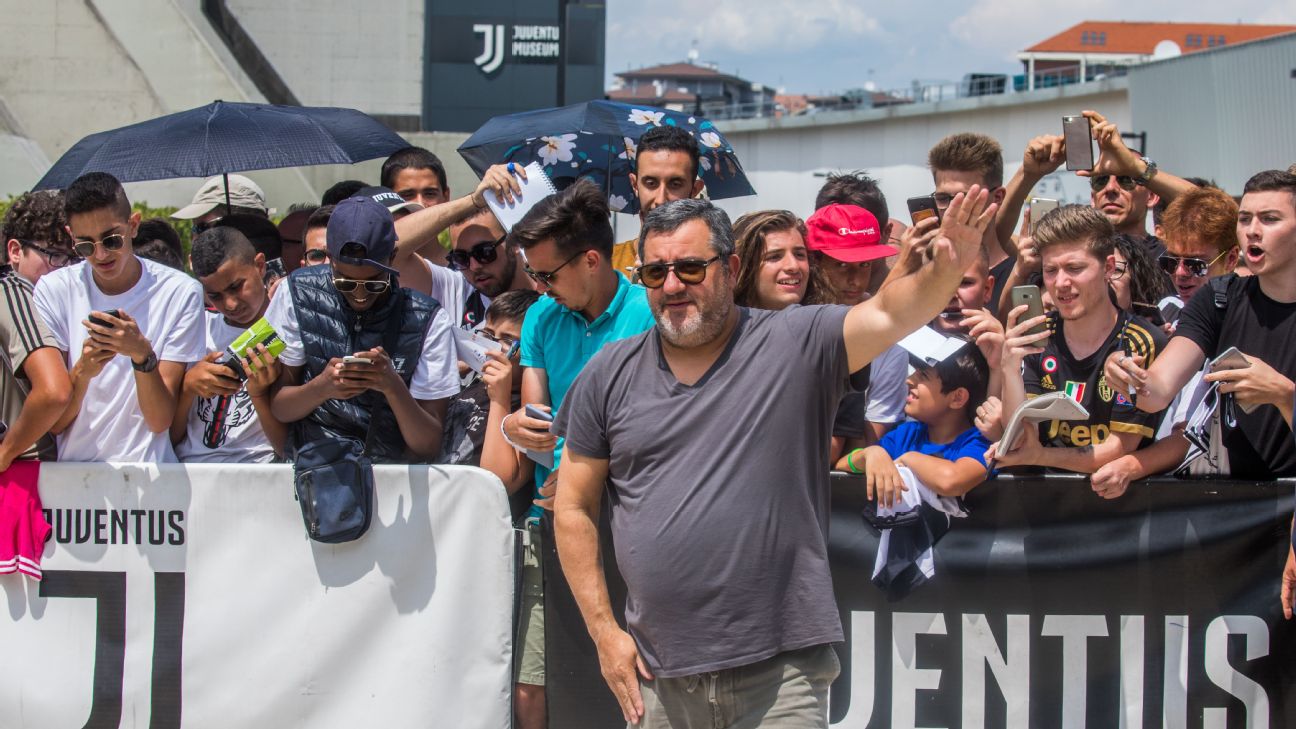 The Dutch tradition doesn't particularly value defending; most Dutch defenders grew up as midfielders or forwards. De Ligt, a rare exception, says: "I fell in love with Italian defending." He still has the Juve shirt he wore at the age of 7, when his hero was Fabio Cannavaro. Very early on, he identified football's best finishing school for defenders. "Juventus," he says now, "has such a clear growth plan for me."
In his first training session at Juve, an assistant coach gave him an hour-long tactical tuition on how he should position himself within the team's complex defensive web. At Ajax he had defended mostly on instinct, he admitted to Voetbal International magazine.
Juve also offers him the opportunity to train with the hardest working great in football history, Ronaldo. De Ligt's girlfriend's dad, the former Dutch defender Keje Molenaar, who briefly played with Johan Cruyff at Ajax, advised De Ligt to join either Juve or Barca so as to play with Ronaldo or Messi. Ronaldo seems to reciprocate the sentiment: after Portugal beat Holland in the Nations League final, he sought out De Ligt on the field and personally invited him to Juve. "Agent Ronaldo", the Portuguese joked on greeting De Ligt in Turin.
How De Liga will fit at Juventus
De Ligt needs Juve, but Juve — certainly under their new coach, Maurizio Sarri — need him, too. The hiring of Sarri recalls Bayern Munich's appointment of Pep Guardiola in 2013. Both clubs wanted to go from simply winning to winning with a beautiful attacking system. Last season, Liverpool and Ajax popularised a new fashion of top-pace pressing football. Ajax's forward Dusan Tadic told his club's website: "Maybe we have changed football a very little bit. Look at Juventus. What have they done? Hired an attacking coach."
Like Ajax and Liverpool, Sarri wants his central defenders to play from the halfway line, with 50 metres of pitch behind them. That's a tough ask for the magnificent but slow Giorgio Chiellini, who turns 35 next month, and even for his longtime partner Leonardo Bonucci, 32, but it's the system De Ligt played at Ajax from age 9. He also possesses a long pass that will allow Juve to skip the midfield in transition, and with him teaming up with Ronaldo for dead balls, the club may now have football's two best attacking headers of the ball.
Even if Bonucci leaves, De Ligt may not immediately become an uncontested regular in Turin. Juve aren't famed for patiently holding youngsters' hands through early stumbles. Whereas Ajax traditionally favour kids, Juve prefer veterans. "It feels as if I've landed in the grown-up men's world," De Ligt told the Algemeen Dagblad. "Work, work, work. Even on day one here I noticed the different emphasis: good football, too, of course, but the most important thing is winning." But then he hasn't chosen the easy path.
De Ligt's aim isn't simply to become a regular by October. It's to become the best central defender on earth and then keep that title for a decade.