SINGAPORE — Cristiano Ronaldo waited until his Juventus teammates had started their stretching routine at Singapore's Bishan Stadium before emerging from the players' tunnel to a reception of cheers and screams of adulation from the supporters in the main stand. The Portuguese forward then lay down on his mat and played to the gallery, smiling at the crowd while half-heartedly doing what resembled a yoga stretch designed to loosen the limbs of the players following their long-haul flight from Turin, which had only touched down four hours earlier.
Whether by accident or design, Ronaldo's late entrance offered a reminder of what Juventus are now all about.
– Miller: The young stars to watch in ICC action
– 2019-20 Preseason: Big questions around the big clubs
– 2019 International Champions Cup: Fixtures, coverage and more
– Horncastle: How did Juve become the best at free transfers?
Maurizio Sarri knows enough about the magnitude and power of Juventus, having spent all but one year of his coaching career in Italy, but this training session afforded the former Chelsea coach his first glimpse of how things have become super-sized for the perennial Serie A champions since Ronaldo touched down in Turin 12 months ago.
Juve are still Italy's biggest and best-supported team, but the Ronaldo factor has brought a new sense of determination within the club. They want to translate their domestic dominance onto the European stage and it explains why they've been so busy in the transfer market this summer, adding Aaron Ramsey, Adrien Rabiot, Gianluigi Buffon, Luca Pellegrini and Cristian Romero to their squad. They've also fended off competition from Barcelona, Manchester United and Paris Saint-Germain to complete the £67.5 million signing of Ajax defender Matthijs de Ligt.
Juve clearly mean business but make no mistake: everything still revolves around Ronaldo. He is the player who attracts the most attention on and off the pitch and he's also the man who carries Juve's hopes of Champions League glory. De Ligt might well be the box office signing of the summer, but he could have been an unknown from the youth-team judging by the reaction his presence generated in comparison to Ronaldo.
Despite the focus on Ronaldo, it will ultimately centre on Sarri if he fails to deliver as Massimiliano Allegri's successor.
For many, the former Napoli coach is an unusual fit for Juventus. Will his rigid "Sarriball" system suit a team that can defend as well as attack? And have Juve taken a chance on a coach who, until last season's Europe League success with Chelsea, had never won a trophy in almost 30 years as a coach? Speaking in Singapore ahead of Sunday's International Champions Cup opener against Tottenham, the 60-year-old Sarri admitted that while he will not change his philosophy, he may have to compromise in other areas.
"Three at the back? Never!" Sarri said, when asked whether he would be willing to abandon his long-held faith in a 4-3-3 system as Juve coach. "Nothing has changed for me. I am still myself and I still have my own style. I want to have fun because when you have fun, it is easier to do well.
"The players have to adapt to my style, but yes, I must also adapt to the players that I have. I want to see my own style in the attacking half of the pitch but in the last 30 yards, I want to see what Juventus do so well." In other words, Sarri is ready to adhere to the old adage of "if it isn't broke, don't fix it" by allowing his players to continue to do what works best for them at the back, so long as they do it with four defenders rather than three.
Juve full-back Mattia De Sciglio confirmed that Sarri has even separated attacking from defending in training sessions. "Morning defence, afternoon working with the ball," De Sciglio said. "It has been a lot of fun so far. He [Sarri] works on the teamwork. He has done a very good job in the past at Napoli and Chelsea, but we already have a very strong team.
"With the incoming players we are already better. We will be very competitive."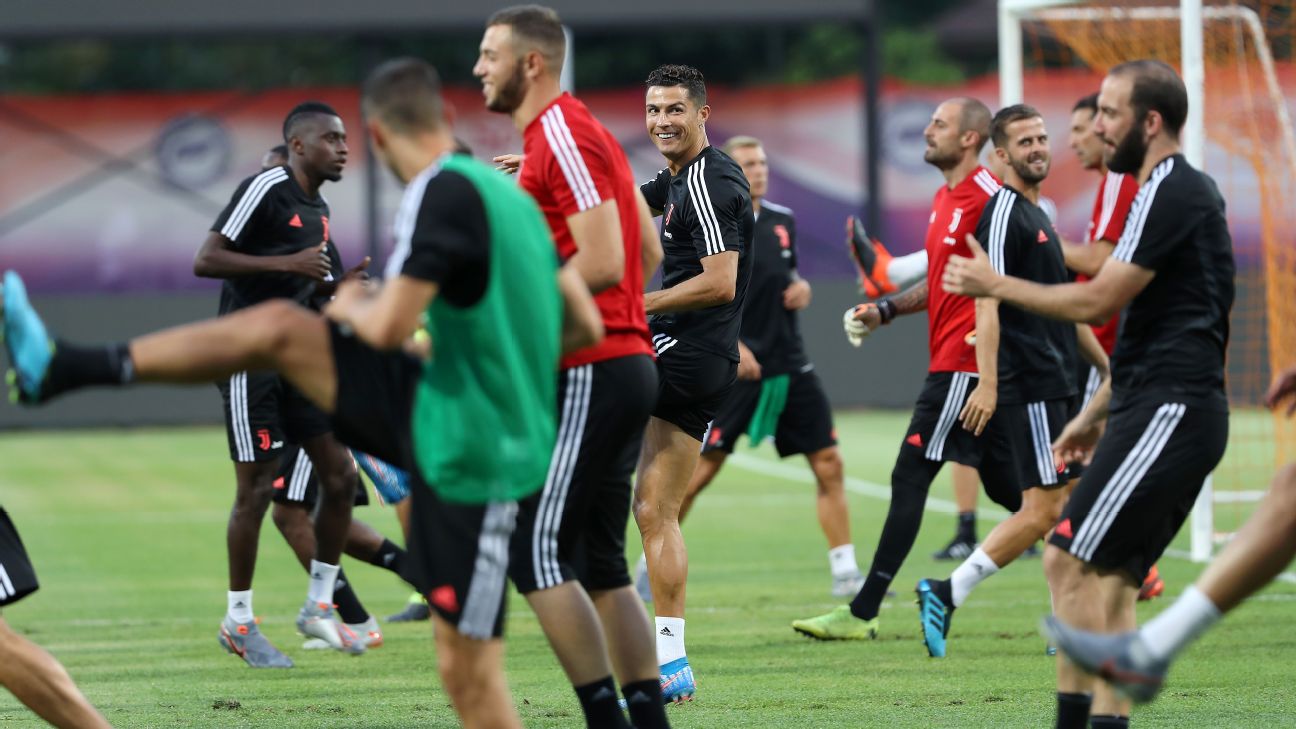 Sarri also has plans for Ronaldo, which may yet enable Gonzalo Higuain to save his own Juventus career.
"Both [Ronaldo and Higuain] are still Juve players and I am working with them until the club decides differently," Sarri said, referring to the doubt over Higuain's future rather than Ronaldo's. "I will try Cristiano first on the left side but he can play anywhere because he is such an experienced player and has won so much.
"In future, I might move him to other attacking positions, I really don't mind."
If Sarri can keep Ronaldo scoring goals and ensure that Juventus continue to defend as they've always done, with De Ligt undoubtedly signed to make that happen, the Italians may well emerge as the biggest threat to Liverpool's crown as European champions this season. It is difficult to avoid the suspicion that the most important figure at the club will continue to be Ronaldo rather than the coach, but Sarri knows what he has to do.
"We are working very hard to create our own game identity and we will try to win with this identity," he said. "In Italy, we are well aware that we are the ones with the highest chance, because we are the strongest team. But in Europe, it is another story and we are working on becoming stronger.
"The teams we are competing against are also trying harder to get better, so we have to work to try to close the gap."