"There were so many positives — his physique, how he commanded his area, his comfort at building play — but what immediately stood out was his decision-making. You can spend hours working on technical aspects but you have to have the natural ability to read situations and react so that you make the difficult things look simple."
Liverpool's goalkeeping coach John Achterberg is talking about a time in 2013 when, hunched in front of the laptop in his home office, he began dissecting footage of Alisson Becker. His first impression was so strong that he began compiling an extensive dossier on Brazil's No. 1, who was just 20 and playing for Internacional before permanently displacing his older brother Muriel (five years his senior) and the World Cup-winning Dida in the position.
The army of scouts that scour Brazil for "The Next Big Thing" were zoned in on playmakers but the young goalkeeper stood out to an unlikely talent spotter. Goalkeeper Alexander Doni, signed by Liverpool on a free transfer from Roma in 2011 and making just four appearances before his release, had taken note of the calm yet imposing figure wearing the gloves for Inter. He was convinced Alisson had an incredibly high ceiling and would quickly be considered elite at his position.
"I kept in touch with Doni after he left Liverpool and in 2013, I asked him if there were any goalkeepers in Brazil worth following," Achterberg tells ESPN FC. "He responded without hesitation that I should check out Alisson at Internacional because he was going to be special.
"I watched him and his style of play — he was comfortable with the ball, aggressive, positive — fitted in perfectly with what we needed at Liverpool, but most importantly, he was excellent at doing the basics right and really well. 'Ali' would anticipate danger and make all kinds of saves: easy, hard, high, low. He had the physical aspects in terms of height at 6-foot-4 and his athleticism."
Achterberg had seen enough evidence over a long stretch to suggest Alisson could be a game-changer for Liverpool and the coach pitched as much during transfer discussions. "He had the right profile, ticked all the boxes. He came into our recruitment talks about a year or two after the recommendation from Doni and I spoke to his agent. The problem at that time was getting him a work permit for the UK, which would have been very difficult."
– Transfer Rumor Rater: Predicting the big moves
– 30 Under 21: The best young players in world soccer
– Zlatan Ibrahimovic exclusive: "I am the dream"
Alisson's wife Natalia Loewe has relatives from Germany and Italy so the pair were in the process of trying to get Italian-Brazilian nationality when Roma spent a bargain £7 million to sign him in July 2016. As luck would have it, the move to Serie A encouraged Liverpool to intensify their analysis given the heightened technical demands of the Italian league. Alisson was frustrated as Wojciech Szczesny's understudy during his debut season in 2016-17, only clocking minutes in cup games. But the Merseysiders already had the opportunity to examine him at close quarters in August 2016 during a preseason friendly defeat against Roma at Busch Stadium in St. Louis.
"He played an impressive game and I said to the boss [Klopp] 'that's the goalkeeper I keep telling you about,'" Achterberg says. "The next season, he was Roma's No.1 and confirmed why he was so highly thought of."
By December 2017, Liverpool were not alone in viewing Alisson as a primary transfer target. Real Madrid and Chelsea had both made approaches to the player's camp but the Reds had the advantage of the time and depth to their research. The Spanish giants realigned their sights and wanted to secure Thibaut Courtois from Stamford Bridge, which made the Blues the biggest threat to Liverpool landing their man. Chelsea dithered and eventually pursued Kepa Arrizabalaga as the Anfield side slowly chipped away at Roma, who were being obstructive with an initial base price of £62m in February 2018, which kept rising.
The closing months of Liverpool's five-year process of recruiting Alisson felt like football's House of Cards. Talks would start and stall as neither the Premier League side nor Roma would blink in negotiations. During international breaks with Brazil, Philippe Coutinho, already at Barcelona after his £142m departure, was Liverpool's chief salesman, ably assisted by Roberto Firmino. They detailed the family feel of the club to Alisson and spoke about the city, Klopp's long-term vision and the adulation from the Kop.
The keeper, who had experienced the power of Anfield during Roma's 5-2 Champions League semifinal defeat in April 2018, was sold but there were other obstacles. The Italians predicted desperation on Liverpool's part after the Champions League final in Kiev, where a concussed Loris Karius made two decisive errors as Real Madrid beat the Reds 3-1 that May. Roma raised their valuation to £90m, which threatened to completely kill a deal. It took them softening their stance to such an extent in July that the fee for Alisson dropped to a guaranteed £56m with £9m in add-ons for the long-awaited transfer to finally be completed.
---
Klopp described Alisson as "one of the world's best goalkeepers" when his signing was announced on this day a year ago, but as Trent Alexander-Arnold has since stated to ESPN FC, "there is no-one better on current form."
The 26-year-old is a Champions League and Copa America champion, pivotal to both triumphs with Golden Glove honours in those competitions as well as in the Premier League. He was labelled a "transformer" at Melwood, along with Virgil van Dijk, and there was confidence he would have as much of an impact on Liverpool's rearguard, results and psychology as the world's most expensive defender.
The squad's introduction to Alisson came at the lower floor of the palatial Hotel Royal in Evian-les-Bains last summer, where the club were based for a training camp. When he walked into the room in late July, there were audible gasps with one player unable to conceal his excitement as he declared: "Get him in my f–king goal!"
There were pauses during Alisson's first training stints as his teammates stopped to marvel at and applaud him.
"Straight away he made impressions on the team with the speed of his reactions in the training games and how he restarted play," Achterberg says. "As soon as he caught the ball, it was 'boom, counter-attack!' because of the power and accuracy of his throws.
The coaching staff believed the real challenge would come when Alisson made his first sizeable blunder. It came at Leicester City on Sept. 1 2018 when he hesitated after receiving Virgil van Dijk's mis-directed backpass in the second half, which allowed Kelechi Iheanacho to dispossess him and square for Rachid Ghezzal to score. Alisson didn't let the error affect him and he owned up to it post-match, telling ESPN Brazil: "It was bad judgement, I made a mistake reading the play. I didn't get a very good pass. We have to learn from our mistakes."
How he reacted to the gaffe was commended in the dressing room. "He stayed positive, so the team stayed positive," Achterberg says. "If you play out from the back, there's always risk. The players needed to make quicker options for him so he could find a solution earlier.
"It's really important if you make a mistake, you realise it's gone and you move on, which is what he did. You have to be bigger than the mistake you made."
Clemer Silva, who coached the keeper at Internacional B, saw the very same attributes when Alisson was a teenager: he never lost focus after a fault. His effortlessness in high pressure and testing moments means his brilliance is sometimes asterisked. That was the case with his save two minutes into stoppage time to thwart Arkadiusz Milik in last season's Champions League matchday 6 game against Napoli.
Liverpool were 1-0 up and had to win to progress to the knockout stages when Jose Callejon's left-footed cross fell at the feet of the Polish striker in the six-yard box with only the keeper to beat. The speed with which Alisson reacted to the danger, the intelligence of his positioning and his size panicked Milik into sending the effort straight at him.
"The save Allison made, I have no words for that, that was of course a life-saver," Klopp said in the aftermath, but many questioned whether it was actually that good. It was an example of Achterberg's assertion that the Brazilian has a gift of making difficult things look simple.
Marco Savorani, goalkeeper coach of Roma and widely regarded as the best in his trade in Italy, made the same observation. "Alisson is able to make everything simple. He reads the game, is very calm and calculated," he said last year.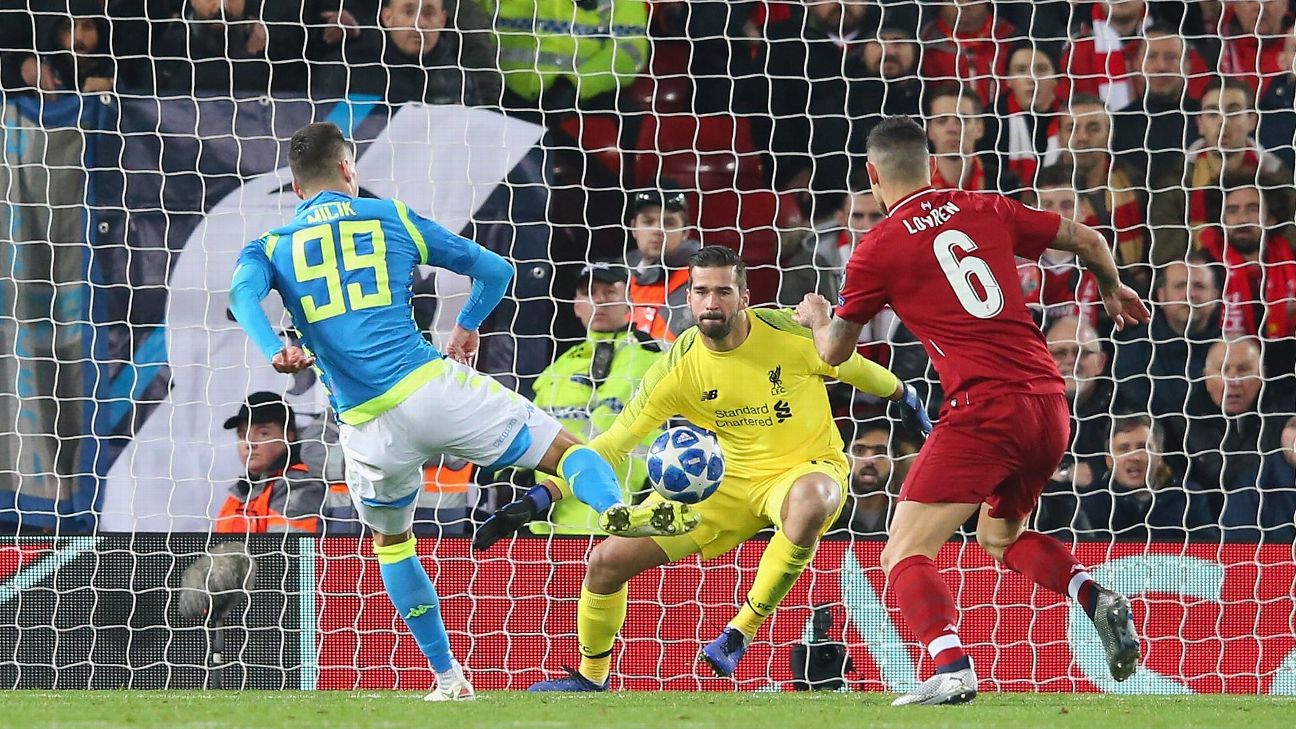 This line of thinking is not recent either. Daniel Pavan, who schools keepers at Internacional, had been witness to Alisson's development since he was a 10-year-old kid mimicking his brother; Pavan gave him the moniker "Iceman" due to his composure. Goalkeepers at Inter's academy were drilled to be in the right position and cover as large a portion of the goal as possible rather than constantly making elaborate, acrobatic saves. They were taught to be smart rather than showy.
Klopp regularly pinpoints Alisson's intervention against Milik as one of Liverpool's defining moments of 2018-19. For all the focus on the belief, bravery and goals that resulted in the Reds conjuring a historic Champions League comeback against Barcelona in the second leg of the semifinals, Liverpool's players often admit that without Alisson's one-man blockade against Leo Messi & Co., victory would have remained a fantasy.
His efficiency continued in the 2-0 triumph over Tottenham in the final and as such, there was a shared pleasure among staff and the squad that UEFA's stellar, near 13-minute short film of the showpiece in Madrid ended with a shot of Alisson Facetiming his family to show off his winner's medal.
---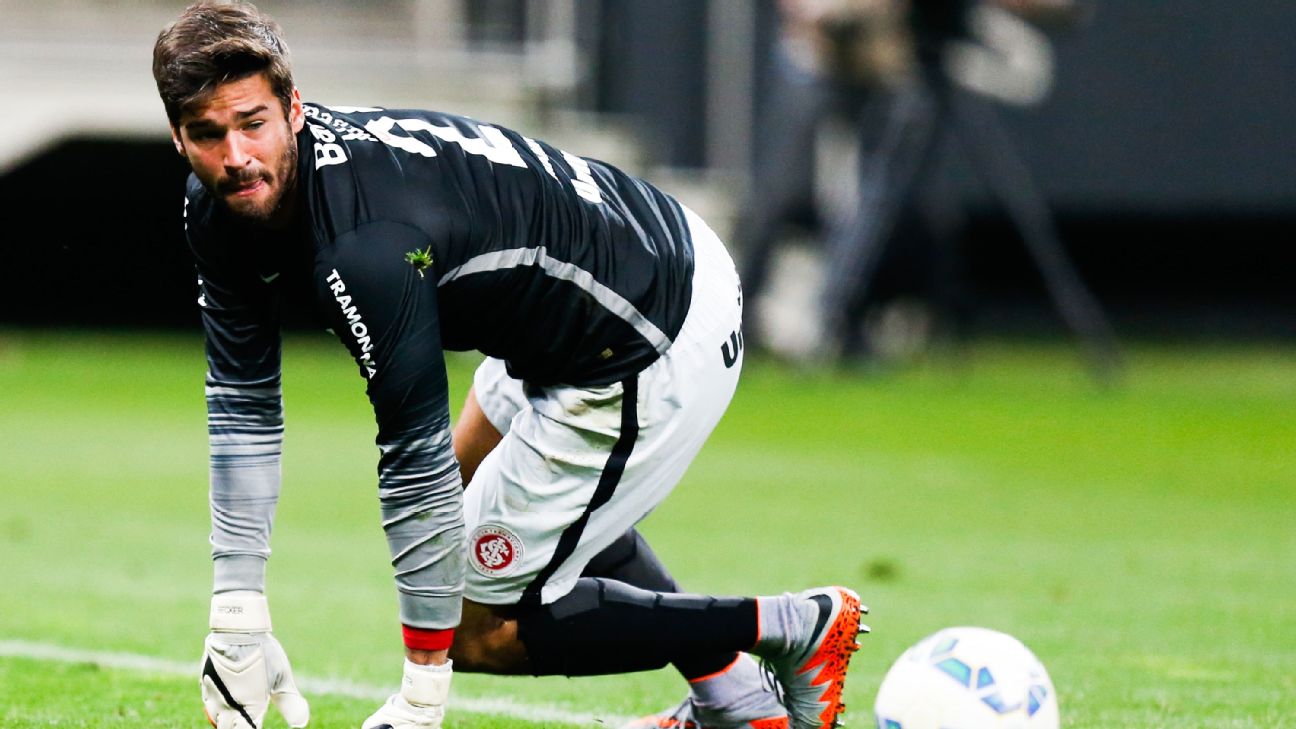 Alisson has excelled on the grandest stages over the past year, his influence explicitly linked to silverware for his club and country. He has collected the three most prestigious goalkeeping accolades and went nine consecutive games without conceding in all competitions before reaching the Copa America final. That included shutting out Messi twice, for Barcelona and Argentina, as well as Harry Kane.
Since moving to Liverpool, he's kept the same number of club clean sheets (35) as he has conceded goals. Lev Yashin of Dynamo Moscow was the first and only goalkeeper to win the prestigious Ballon d'Or in 1963 but Alisson surely has to be a part of the conversation this year. He is too humble to consider himself a possible candidate, playing down such talk last month. "There are a lot of top players aspiring for that prize," he said. "I'm just a goalkeeper."
Roberto Negrisolo, the former Roma goalkeeping coach, previously provided the perfect counter.
"This guy is a phenomenon," he told Il Romanista of a player who was so far behind in terms of his physical development — he was chubbier and shorter than his colleagues — that his parents considered making him quit football at 15.
"He is the No. 1 of No. 1s. He is worth as much as Messi because he is as important as Messi. He's the type of goalkeeper who can define an era."
A year ago, Liverpool officials confided that £65m for Alisson would be soon be seen as a steal. They were spot on, too: as Klopp himself admitted, Alisson is easily worth double as he regularly proved during the past 12 months.