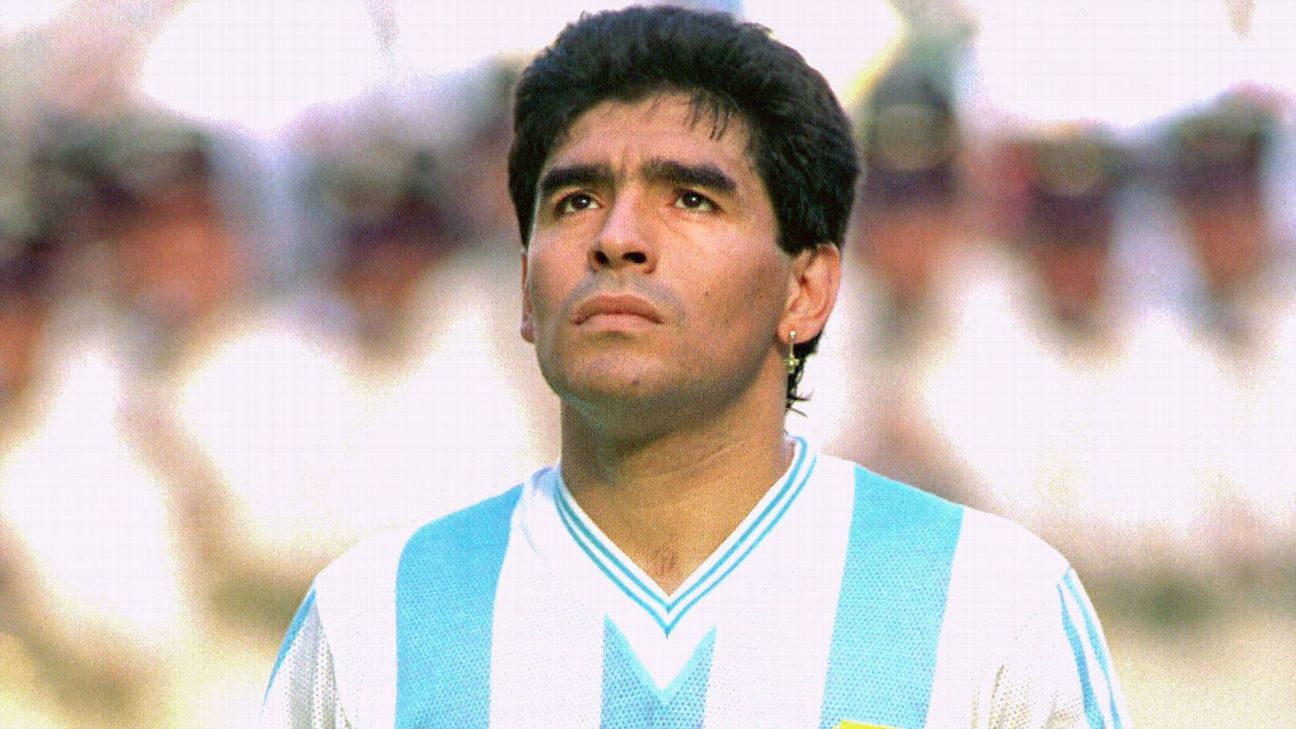 Diego Maradona is in Naples. Judging by the vacant expression on his face in that scene, he could be a million miles away, though. A party goes on around him. The other guests are laughing and making merry. Christmas is approaching. Diego, so often the life and soul of these gatherings, is present in body, but where is his mind? A camcorder lingers on him staring into space. Chances are, if you followed his eyes, you still wouldn't be able to see what he is seeing.
Maradona seems entranced. He is in a prolonged moment of reflection. The length of it is surprising and all the more powerful for it. As a viewer, you expect Diego to snap out of it, but the slipped mask remains askew. Nobody and nothing is able to interrupt his train of thought.
That particular scene stayed with me long after I left the screening of Asif Kapadia's film "Diego Maradona." Kapadia says that if he had to choose a shot from the thousands he used to piece together this remarkable story, it would probably be this one. He compares it with the final scene in the 1980s British gangster movie "The Long Good Friday" when Bob Hoskins' character (Harold Shand) is bundled into the back of a car, the camera fixed on his face as it begins to dawn on him that the walls are caving in. He's in too deep.
"You can see him kind of thinking through everything he's done, everything that's about to happen. It's like a how-did-it-all-go-wrong moment," Kapadia says. A sense of contemplative oblivion, if you will.
"When you spend time in Diego Maradona-land," he adds, "things that you don't see a lot of are moments when he's vulnerable, when he's feeling a little bit lost and weak. In actual fact, I think he is, but he covers it up. And that's a moment quite late on where you see him going, 'Oh boy, it's all going to drop. It's all going to kick off, isn't it?' And it does."
The emotions the film elicits over 2 hours and 10 minutes are many and varied. There's the shock at the fly-infested poverty of Maradona's childhood in the shantytown of Villa Fiorito. The disorientation he must have felt in moving from Barcelona to Naples in 1984, captured magnificently in an opening scene that's straight out of the 1971 film "The French Connection." The documentary puts you in the front passenger seat of a car — "Where are they taking me?" you wonder — as it bobs and weaves through the streets of Naples en route to Maradona's unveiling at the Stadio San Paolo.
There's the revulsion and offence caused by the banners discriminating against the South and Neapolitans, bringing the hate and hostility this team, this city and its people faced and still face, home to audiences in a way nobody has done before. The danger of Maradona's liaisons with the Camorra (Naples mafia). There are the rushes of dopamine and spontaneous smiles catalysed by a goal or a dribble and also the winces at the kicks, elbows, stamps and forearm smashes Maradona suffered.
Kapadia's sound designers bring the beauty and brutality of the game to life. You hear every touch Maradona's left foot makes with the ball, the caresses alternated with the crunches of potentially career-ending tackles. Imagine watching football with an old Nintendo Rumble Pak attached.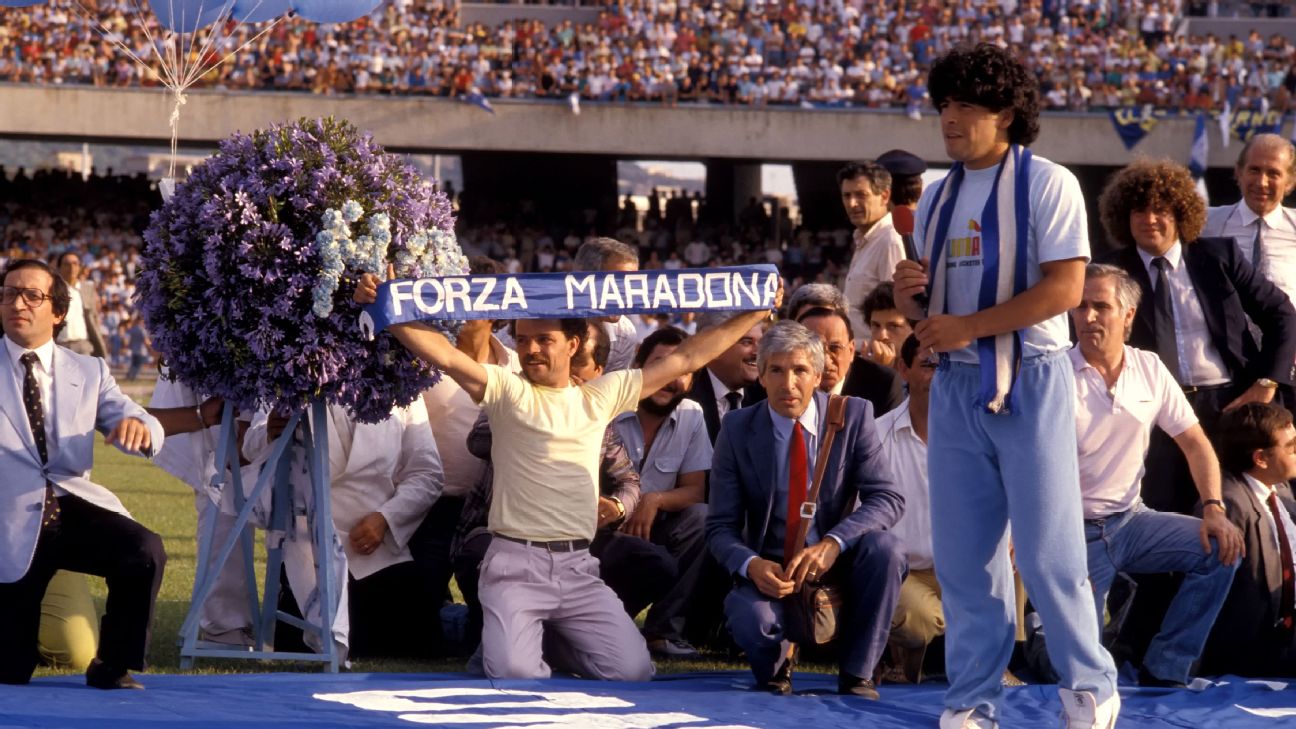 The magical realism of Naples and delirium of an ecstatic Buenos Aires in the midst of Scudetto and World Cup glories comes through the screen, as does the claustrophobia and neuroses these successes invite on Maradona as he completes his ascension from street urchin to god. In the crush of journalists, fans and entourage greeting the triumphant Argentina team at Ezeiza airport, the look on Diego's face is enough to tell you nothing in his life is ever going to be the same again. Any chance of that was gone the following summer when he led Napoli to their first-ever league title.
Kapadia says the process of making this film was "like a jigsaw puzzle. A little mosaic of bits and pieces you find dotted all over the world that you kind of look at and think in itself it's nothing but when you join them together they become a beautiful picture."
Take the footage of Maradona walking the stone concourse under a throbbing tier of fans, a scene evocative of a gladiatorial arena, as he heads to the pitch for his unveiling at the San Paolo.
"One shot from behind him we found in Naples," Kapadia explains. "The reverse shot when he walks up we found in Buenos Aires. And that's kind of how these films work."
As another example, take the question a French journalist asks about the Camorra at Maradona's first news conference. It was widely reported in the written press at the time, but had anyone seen the film of it before? Did footage even exist? One of Kapadia's producers, Fiammetta Luino, responsible for hunting down these curiosities and unlocking archive in Naples, managed to find it and much more.
One piece of the jigsaw was a 12-second clip she needed to clear with a private TV station.
"Because they were not picking up my calls and emails, I just went there in person in the morning," she says. "I remember walking in and saying: 'look I have a plane tonight at 6 p.m. I have nothing else to do. I'm gonna sit here. Don't worry. I'm not in a rush, I'm going to sit here, I'm going to stay here until you come through the doors and whenever your director has five minutes, I'm going to talk to him.'" Luino got the 12-second clip.
That kind of persistence helps explain how audiences are now getting to hear the wiretaps from investigations into aspects of the Neapolitan underworld in which Maradona's name appeared, the equivalent of a needle in the haystack of the Italian justice system.
Where the film breaks new ground even to Maradona devotees and hard-core fans of Italian and Argentine football is in highlighting the consequences of love, the Catch-22 of fame and the cannibalism it wreaks on the self. Luino thinks Maradona's story is ultimately a tragedy.
"[Diego] was told who he was before he could figure it out for himself," she says. "And so you have a character that is always playing behind a big mask that the world has given him. He never had the freedom to truly be himself. I don't think he ever had the luxury of being able to be himself despite the fame, despite the money."
Maradona's personal trainer, Fernando Signorini, distinguishes between the real person and his alter ego. There's Diego, the boy from Buenos Aires, and Maradona, the star. The authentic and the front. Therein lies the power of that "Long Good Friday" shot; the mask has slipped. You see Diego, a man with the world at his feet and the world on his shoulders at the same time.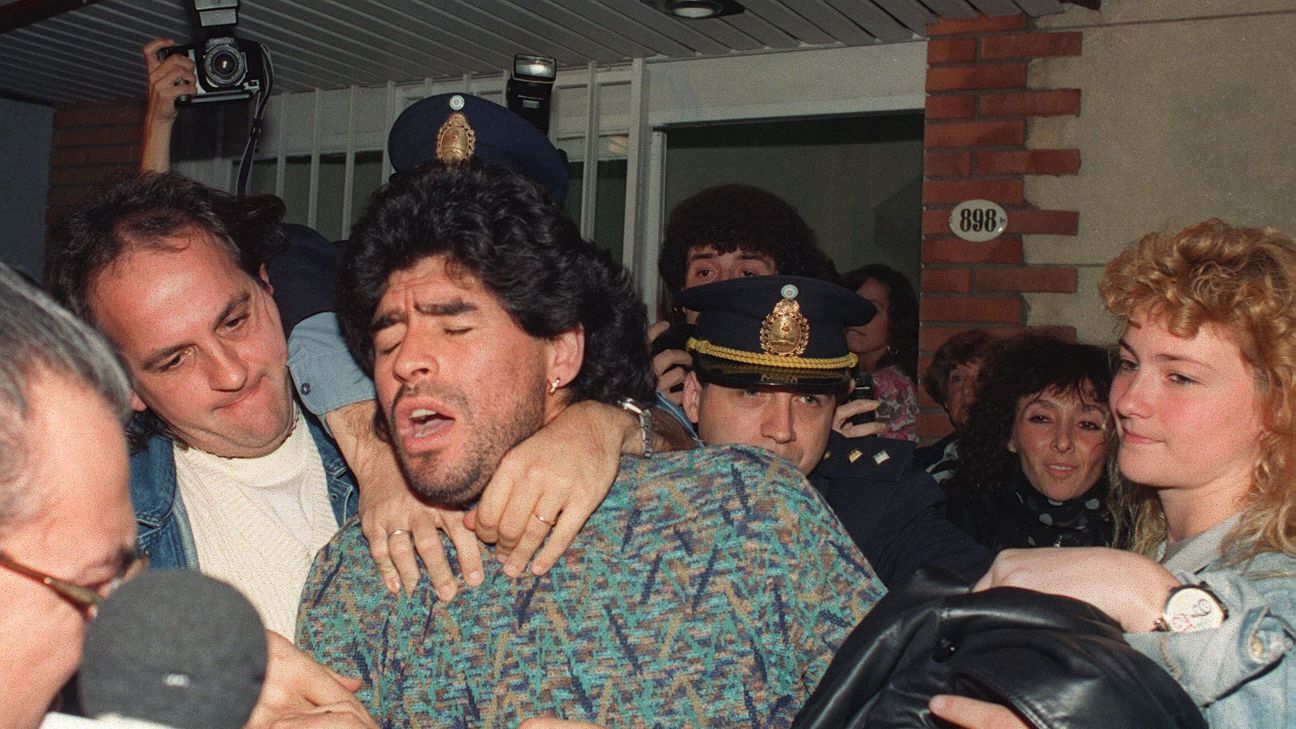 As pivotal as winning Serie A and the World Cup during his time in Naples is the moment a local woman, Cristiana Sinagra, gives birth to a boy and claims it is Maradona's. It is in fact his, but Diego, married to Claudia Villafane at the time, refuses to recognise the child. The insight Kapadia gleans from Sinagra herself and Diego's sisters is unprecedented.
"The admiration I have for this woman … I can't even imagine what it must have been like to raise a kid called Diego Maradona in Naples while no one believes you," says Luino.
The film hints at just how much of a Rubicon crossing this ends up being in the life of Maradona.
"He wants a son," Kapadia says. "It's a very Latin thing. He wants a boy, a boy called Diego, and he has a boy called Diego. But then he denies it's his. And all this happens at the same time [as his greatest successes on the pitch]. So at the point when he's at the high point of his career, for me it's a turning point where he starts to lie and denies it. You can see he's lying in his interviews and something changes in him."
"Having looked at thousands of hours of material all the way from when he was a kid to last week, you look at it and think: 'Something's gone in his eyes.' The light's gone from that point onwards in Naples. And [Napoli] are still winning. They still do well, but he doesn't seem to be happy anymore."
"With a lot of people, you can still sense today that they feel he changed their lives, or they look at that period as the apex of their life, and that was really striking," Luino says, "because you get a sense of the aura that Diego had back then. It was very palpable. You get a sense of what a charismatic man Diego was… Their eyes sort of twinkle and it's 30 years later and they haven't seen that guy for decades. It's quite impressive."
When, as Luino says, "Diego defeated Italy" in the semifinals of the 1990 World Cup, the mood changed towards him: "There was a lot of hunger for any kind of diminishing or incriminating details for Diego." 
He is abandoned. The protection afforded to Maradona gets lifted and life in Italy becomes unbearable as one scandal follows another. The time comes to box things up and move out, but the myth of Maradona lives on, as compelling now as it was then. The mural in Naples' Spanish Quarter remains. Faded and chipped, it has been restored. Maradona's No. 10 shirt at Napoli is still retired. Newborn babies are still being named Diego Armando. Diego continues to be a god there just as he is in Argentina.
The film deepens our understanding of a unique character. Borrowing the line of graffiti that appeared on the wall of a local cemetery after Maradona led Napoli to their first-ever Scudetto: "You don't know what you're missing."