As expected, there was a delivery at number 10 Calle Hernandez today. Just after 1 on Friday afternoon, a car will pull up outside the offices of La Liga in north-eastern Madrid — a smart, seemingly ever-expanding building that stands above the A2 motorway heading from the capital to Catalonia — and a man got out carrying €120m. His name is Sevan Karian, he greeted two other men, headed inside, and left. Soon after, there was an announcement: at long last, Antoine Griezmann is officially a Barcelona player.
A year on from the broadcasting of a documentary called "The Decision," in which Griezmann agonised over whether to stay at Atletico Madrid or join Barcelona, only to turn down the Camp Nou club, Griezmann is heading to Catalonia after all. Within months, he regretted that decision and has reversed it.
Barcelona had hoped to negotiate Griezmann's transfer, to pay the money in instalments, but in the end they have had to pay the buyout clause. They were always likely to: indeed, the buyout clause is the mechanism that has made all this possible: just as last year his clause temporarily fell to an eminently payable €100m, this year it dropped from €200m to €120m on July 1. It was an open invitation and Barcelona accepted it.
Paying it took a while, which was pretty silly as they had known they were going to do this for months and had always known that July 1 was the date. Barcelona had to gather up the money, get it signed off, prepare the paperwork and then help Griezmann do the delivery — it is officially the player who buys himself out — but it is done. Griezmann should be able to join the other Barcelona internationals in preseason training on Monday. Before that, there will be photos, thumbs up, and a few words. A presentation is penned in, but they're not sure when.
And then it will be on with work.
Which takes them to the next target: another man who turned them down a couple seasons ago. Turned them upside down, more like.
With Griezmann done, there are six long weeks ahead in the transfer window that might, just might, end with Neymar heading back to the Camp Nou. Which for now means: nothing.
Sit.
Wait.
Watch.
Think a bit, too. And there is a lot to think about.
Think back to 2017, and the last time a massive signing went the buy-out route; to the comedy scene of a lawyer in a bowtie and a straw hat travelling round Spain trying to give away €220m — he went to Barcelona's offices before he went to the league's but they refused to see him — to release Neymar from the Camp Nou. Think back to the Barcelona director claiming to be "200% sure" Neymar was staying. To Gerard Pique, the same Pique who (rightly) enjoys pointing out how the media publishes fake news, announcing: "he stays". Only for Neymar to go.
Think about the damage it did. It was a lot. They're still due their day in court, for a start: Neymar vs Barcelona (Neymar has taken his former club to court regarding the non-payment of a loyalty bonus). Their forward line was split days before the season started. It's easy to forget the mess that manager Ernesto Valverde inherited. And that's just the short term: Barcelona's succession plan, well, that was gone too. In pieces. Neymar was Messi's partner, but also his successor. Barcelona looked weak and really rather silly. They reacted by throwing money around. Time will tell, but so far it doesn't look that well spent.
But Barcelona overcame losing Neymar. Well, sort of. Two league titles, a combined 30-plus points ahead of Madrid, were tempered by two successive Champions League disasters which weigh heavily on their thinking.
Now Neymar, too, has changed his mind. He wants to come back; he regrets what he did and wants to reverse it. His best mates, Messi and Luis Suarez, would like him to return.
And it turns out that Paris Saint Germain aren't that keen on him anymore. They're talking like it was nothing to do with them. "No one obliged him to come," president Sheik Al Khelaifi said, which was true. "We didn't push him to," which wasn't quite so true. PSG have talked about "commitment" to the "project", about how they don't want "star behaviour", which was pretty much what their project of signing big stars like Neymar guaranteed. For the first time, they're talking about a player, the player, being able to go.
In fact, they seem to be trying to force it. Neymar didn't show for training, PSG said. And it is the "PSG said" part of that phrase that matters most. In a statement, Neymar's father responded by saying: no, he wasn't due to train until next week, and PSG knew that. This is out in the open, and a split shared is a split deepened. In all probability, this was a hand played.
PSG sporting director Leonardo's words the other day read like an invitation for Barcelona to come and get Neymar at the same time as an expression of his doubt that they can, a doubt which is entirely legitimate. Barcelona don't really have the money for this. They do, though, have doubts of their own. They didn't plan for this; this is an opportunity that arose. But it is one that brings its own problems, they know.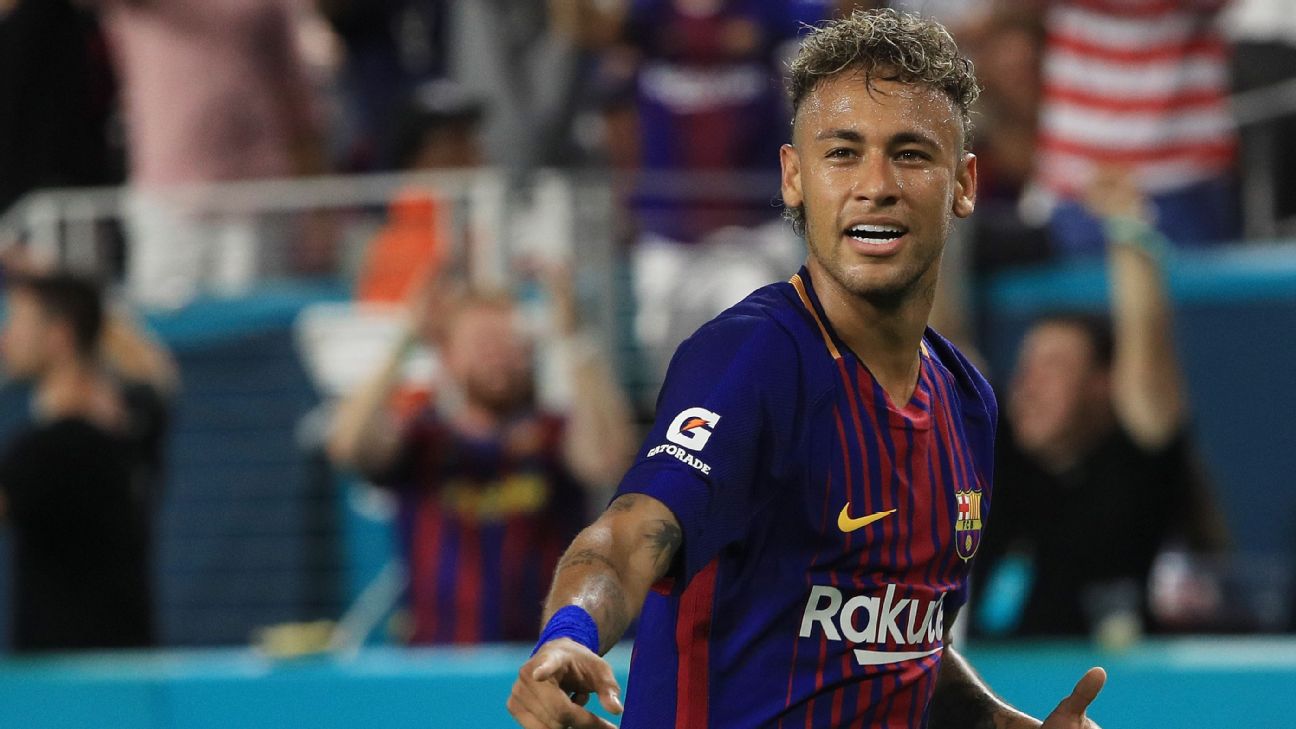 Think back, again, to everything that happened. Some people have been reluctant to welcome Griezmann back after everything he did to Barcelona, after what happened last year. And what he did was far, far less than what Neymar did. Yet there's an excitement about Neymar, that attraction, a frisson. There's also a concern. And an awareness of the cost. Of how difficult it is to make happen. If paying for Griezmann was hard, imagine how hard Neymar is. The club is in debt to the tune of €157m on the league's preferred measurement. (The total is over €500m).
Yet it is also true that on this issue, Barcelona feel like they are in a strong position for once: PSG and Neymar have exposed themselves. Barcelona have exposed them, in fact: It was Barcelona who publicly said Neymar wants to come back. They have not said, however, that they want him back.
But they do. It's attractive, this idea. It's also a little mad. How do you make it happen? What damage does it do? Can you sign the same player who walked out on you and do it two years later, when most would say that his level has dropped? You lose the "second best player in the world" during his peak and then bring him back when he's past it? Do you have to get rid of the two players you signed to replace him? When you've been busy saying one of them, Dembele, is better than Neymar anyway. What does that say about your strategy? And what about the guy you've just signed for €120m?
In short: Is Neymar worth it?
Some think not.
Many people seem reluctant to recognise that Neymar is a superb footballer. Or they think he comes with too much baggage. Others hope that, in fact, these two years could have been corrective, a lesson learnt. There's pride too: Barcelona want an apology, they want legal actions dropped, along with his salary, they want commitment. They were hurt by Neymar's departure. There'd be some shame in welcoming him back, a loss of face. They do not forget, still less forgive. Few players have cost Barcelona what Neymar has.
Imagine if this was a fantastically elaborate, Machiavellian plan to extract the coldest revenge? PSG and Neymar made to pay, left exposed and broken. Deliciously dastardly.
There are many flaws with that theory, not least the fact that this was not planned at all. One day the opportunity was there: Neymar was no longer impossible. And for all those problems, Barcelona couldn't help feel the excitement. Imagine if they really could do this. If they could let it all go, pretend that none of this happened, magic these two years away, and put him back in. With Griezmann as well this time. And Dembele? Imagine that. Try not to get excited.
It's mad, but it might just work.
It also might not.
And it might not happen. If it doesn't, Barcelona probably don't lose anything. PSG and Neymar, though, do. There will be some explaining do to, some making up. But then things can be explained the way things often are. "You say one thing and the next day it's another," Leonardo said. "It's incredible, but that's the way it is."