There has not been a player like Kylian Mbappe — at least, not since the turn of the decade.
According to TruMedia data, which goes back to the 2010-11 season, Mbappe's 33 Ligue 1 goals last season were the most of any player, aged 20 or under, in Europe's big five leagues in that time period. When they were in the same age bracket, Lionel Messi topped out at 14 goals, while Cristiano Ronaldo never got above nine.
More recently, Romelu Lukaku's 2012-13 season with West Bromwich Albion and Kai Havertz with Bayer Leverkusen this past year are tied for second behind Mbappe, with 17. So, among goalscorers in his age bracket, Mbappe is nearly 100 percent better than anyone else, but his impact goes beyond goals and, indeed, his age bracket.
After registering eight assists in 2017-18, he had seven more last year; in terms of attacking production — defined as "non-penalty goals plus assists per 90 minutes" — there is him (1.50) and Messi (1.49) and then there is everyone else (with 1.04, Dries Mertens was the only other player above 1 NPG+A per 90). Sure, it's easier to score in France than in Spain or England, but Mbappe also produced at an elite level (1.16 NPG+A per 90) in the Champions League.
Mbappe, then, is a singular prospect and one of the two best attackers in the world. Moreover, he does not turn 21 until Dec. 20. If he stays healthy, it is easy to imagine a world in which he improves further and spends at least the next 10 years at the top of the game. Even if does not get any better, his place atop the hierarchy is secure.
Given all that, he is by far the most valuable player out there. Transfermarkt pegs his market value at €200 million, while the CIES Football Observatory's algorithm lists it at €252m. Whatever the exact number, were Mbappe to switch teams — and with Paris Saint-Germain in a perpetual state of flux, who knows! — it seems likely that a buyer would at least have to come close to breaking the world transfer record to acquire him.
But what if the middleman was cut out? Mbappe's contract expires at the end of the 2021-22 season; if he ran it down, he could negotiate with teams of his choosing, play them against each other, then sign a deal with no transfer fee attached. He would only be 23 years old, so prospective employers would likely be paying for his entire prime. The scenario probably will not happen, but imagine if it did, in a global sport with no salary cap? The bidding war would be unlike anything seen before.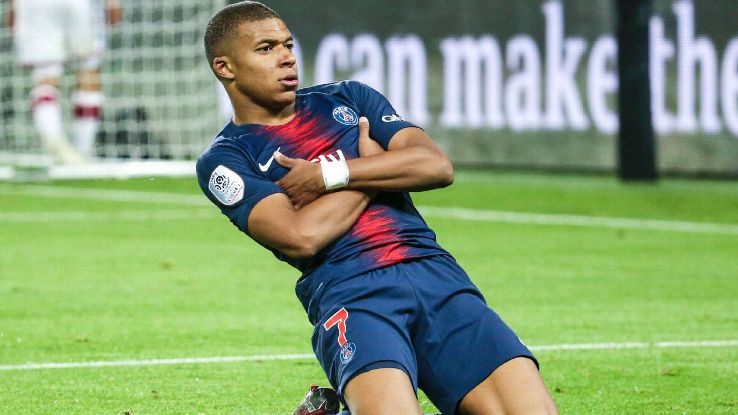 From an American-sports perspective, the development of the soccer labor market in Europe is difficult to comprehend. In the middle of the 20th century, clubs could allow contracts to expire, while retaining control of players' rights. Affected individuals needed permission to leave and if clubs refused, they could essentially prevent the player from moving to another team… while also not paying him.
That situation was eventually struck down in court — how could it not be? — with teams at least required to pay those they were not allowing to leave. However, they would still get a transfer fee if an out-of-contract player wanted to move on.
In 1995, Belgian midfielder Jean-Marc Bosman challenged the structure when his club, RFC Liege, cut his wages by 75 percent after his contract expired and refused to allow him to leave. The European Court of Justice ruled in Bosman's favor — again, how could they not? — and players were suddenly allowed to go wherever they wanted, without a transfer fee, once their deals ran out.
Despite fears of a world with constant player movement and disappearing transfer-fee revenue, not much changed at the top of the game. Juventus have made free agents like Andrea Pirlo and Aaron Ramsey a team-building priority, but most players move with a fee attached that gets split among agents and the clubs said player has previously represented.
"Whilst no transfer fee is being paid, Juventus are still paying significant salaries," said Daniel Geey, a sports lawyer and author of "Done Deal: An Insider's Guide to Football Contracts, Multi-Million Pound Transfers and Premier League Big Business." "The positive side is that the club may make huge transfer profit if they sell a player they signed on a free transfer. Conversely, not many other clubs could afford such salaries should they want to sign such players in the future, due to the additional transfer cost having to be factored in to any transfer."
Although it is called a "free" transfer, the term is misleading. When Juventus signed midfielder Emre Can last summer, they paid out €16m in fees. As that approach shows, players who enter the open market and sign contracts without a fee attached will typically make more money than when a multi-million-dollar sum essentially buys the right to pay that player a salary. However, despite the option of individually customized insurance policies that protect against injury and minimize risk, most are not willing to run down their deals.
– Mbappe not guaranteed PSG stay – Leonardo
– Rumour Rater: Milikovic-Savic to Man United?
– Transfer grades: Rating every major signing
Part of it has to do with the strange function of agents. In American sports, it is in their best interests to get clients the best deals because they will get a percentage of it. In soccer, agents often serve as intermediaries between clubs and players. While they can get commissions from clubs when their players move outside the market, most get them as a chunk of transfer fees.
According to UEFA, the average commission is 12.6 percent, though it can be higher: Paul Pogba's agent, Mino Raiola, reportedly earned £24m on his player's £89m move from Juventus to Manchester United in 2016. However, according to Stefan Szymanski, a sports economist and a co-author of "Soccernomics," the market exists in its current form because it is what the clubs want.
"What's really happening here is that because of the transfer system, the economic rents that are generated by players' services are being distributed amongst the clubs," Szymanski told me. "And whenever that happens, you get middlemen who come in. That's who the agents are. They facilitate the transaction. They're a manifestation of the problem in some ways, but they're not the source of the problem."
There is only one Mbappe. Way beyond his level, almost 75 percent of the global soccer-playing workforce makes less than $4,000 a month, according to a 2016 FIFPro report, the worldwide players' union. The average playing career, according to the Professional Footballers' Association in England, lasts eight years.
Those players are not in a position to go against the institutional inertia; they cannot afford to refuse a transfer or run down their deals because their clubs can just make them go train with the youth team or reserves and then they lose a year in what is already likely to be a short career. On top of that, if a lost season comes at the wrong time, it could also mean that a player doesn't get selected by his national team for the World Cup or a continental competition.
There are other ways players can exert control. Eden Hazard gained leverage by running his contract down to its final year, and Chelsea ultimately decided to sell him to Real Madrid, rather than risk losing him for nothing.
Outside Spain, where every contract is legally required to include a buyout clause, players could start negotiating automatic release clauses into their deals, which would allow them to enter into personal negotiations if a given club meets the asking price. But in both cases, players are still likely to earn less than they would on the open market.
Unlike the NFL or NBA, there is no collective bargaining agreement among players and the leagues, in part because there are so many professional teams and players scattered across the world, in different countries with different labor laws. When the current transfer regulations were agreed upon in 2001, it was a deal between the European Commission and FIFA, not FIFPro.
For various structural reasons, soccer players will likely never have the kind of negotiating power exercised in the NBA during the most recent free-agency period.
"There's a handful of stars who basically are the NBA. If those handful of stars decide to leave and form their own league, the NBA would more or less drop dead," Szymanski said. "Global soccer is a different proposition. It's hundreds of clubs with incredibly strong loyalties, most of whom would survive a mass walk out by the top hundred players."
Individual players are more important in a sport with five players rather than 11, and thanks to their historical importance as societal institutions, most soccer fans still identify with clubs ahead of players. Perhaps a high-profile star like Mbappe hitting the open market would start to shift the balance.
Or maybe someone else could try it even sooner: David De Gea, Christian Eriksen and Timo Werner, for example, have one year left on their contracts…