Liverpool have completed their first signing of the summer with the £1.3 million transfer of Sepp van den Berg from PEC Zwolle.
Just 17, the defender's name may not have registered to English supporters, but he's been at the top of scouting lists for Europe's elite clubs for some time. Bayern Munich were so desperate to land the centre-back that they were still calling his representatives on Wednesday despite knowing the teenager was undertaking his medical on Merseyside. Ajax, meanwhile, earmarked Van den Berg as a replacement for 19-year-old centre-back Matthijs de Ligt, who is on the verge of a mega-money move to Juventus.
The structure of Liverpool's agreement with Zwolle further speaks to how highly regarded the player is. The clubs settled on add-ons of £3.1m, which would only be triggered in full if Van den Berg reached close to 350 Premier League and European appearances for the Reds. It speaks to their belief that he has the capabilities to grow into a dominant defender over the long term and become a mainstay in Liverpool's rearguard.
Given the age of the Netherlands Under-19 international, developing the player will be the club's objective, but he hasn't been signed for the Academy. Van den Berg is expected to break into Jurgen Klopp's first-team plans quickly and with minimal fuss.
— Reddy: How Liverpool's transfer policy delivered them the UCL 
— Marcotti: The consumer's guide to the transfer market
Where has he come from?
Schooled at PEC's academy, where he would regularly collect Youth Player of the Month honours, the Dutch starlet signed his first professional contract in February 2018. Aged 16, he was already a feature at first-team training and was named in matchday squads as part of the club's commitment to developing their own players for the senior squad.
A detailed plan was drawn up for Van den Berg's progression by Bert Ebbens, the head of the academy and high-performance coach Dwight Lodeweges, who also assisted then-manager John van 't Schip. The pair, along with PEC's technical director Gerard Nijkamp, identified the talent as "high potential." It was no surprise to them that a month after being rewarded with a pro deal, Van den Berg became the youngest player to appear in the Eredivisie for nearly 60 years and the youngest to have ever represented PEC Zwolle.
Before that match, a 2-0 defeat to Groningen in March 2018, youth scouts from Europe's top sides were already familiar with the centre-back. The months that followed, however, gave them concrete proof that the gifted kid could make the testing transition to senior level. Van den Berg started in five of the final seven games of the 2017-18 Eredivisie campaign, which included a man-of-the-match display in the 2-0 win over Sparta Rotterdam that put him in the Eredivisie's Team of the Week. By last September, he had displaced Clarence Seedorf's as the youngest to make 10 appearances in the division.
"He's a good boy," assistant trainer Lodeweges said. "We have all watched him grow. In certain games he was our best man. He is tall, fast, has ball-playing ability and has insight."
The departure of manager Van 't Schip in December signalled a change for Van den Berg at PEC. Former Manchester United stalwart Jaap Stam was his successor and despite talking up the youngster's "enormous potential," he'd leave him out of the squad on occasion. With Sampdoria failing in bid to sign him in January and heavyweights like Liverpool and Bayern circling, PEC hoped Van den Berg would agree a contract extension. But his diminishing playing time ruled it out as an option.
"This is my youth club," he explained in April. "If I was always playing, I'd probably say: 'I'll sign'. Then the chance that I'll play next season would automatically be greater. Now I'm in no hurry.
"With the last coach I played a lot. When a new coach comes in, you know things can change. But the fact I wasn't even in the squad was quite a shock."
Those quotes sparked PSV Eindhoven, Ajax and Bayern into action with Van den Berg entering the final year of his deal, but Liverpool won out.
Position
Due to his speed, the 6-foot-2 teen began his youth career as a right winger before dropping back to the defensive flank. Quickly, his ability to read the game and superior anticipation saw him transition to centre-back.
"You saw an intelligent player, who saw things happen beforehand, who was quick and athletic and therefore adjusted quickly," Van den Berg's former teammate Dirk Marcellis told De Stentor.
"As a defender, I already find him reliable and consistent. It is not without reason that he plays so much. Age does not matter. It's about quality."
In the player's own words, he is "calm with the ball, quite quick and can run" but he is itching to train with Virgil van Dijk to enhance his abilities in the heart of defence. "For me he is the best defender in the world right now, so I can learn a lot from him."
Strengths
Van den Berg's recovery speed and his knack for anticipating and averting dangerous situations impressed Liverpool's head of recruitment Dave Fallows and chief scout Barry Hunter.
The duo, who were instrumental in Joe Gomez's £3.5m move from Charlton to Anfield in the summer of 2015, see many similarities with the England defender at the same age.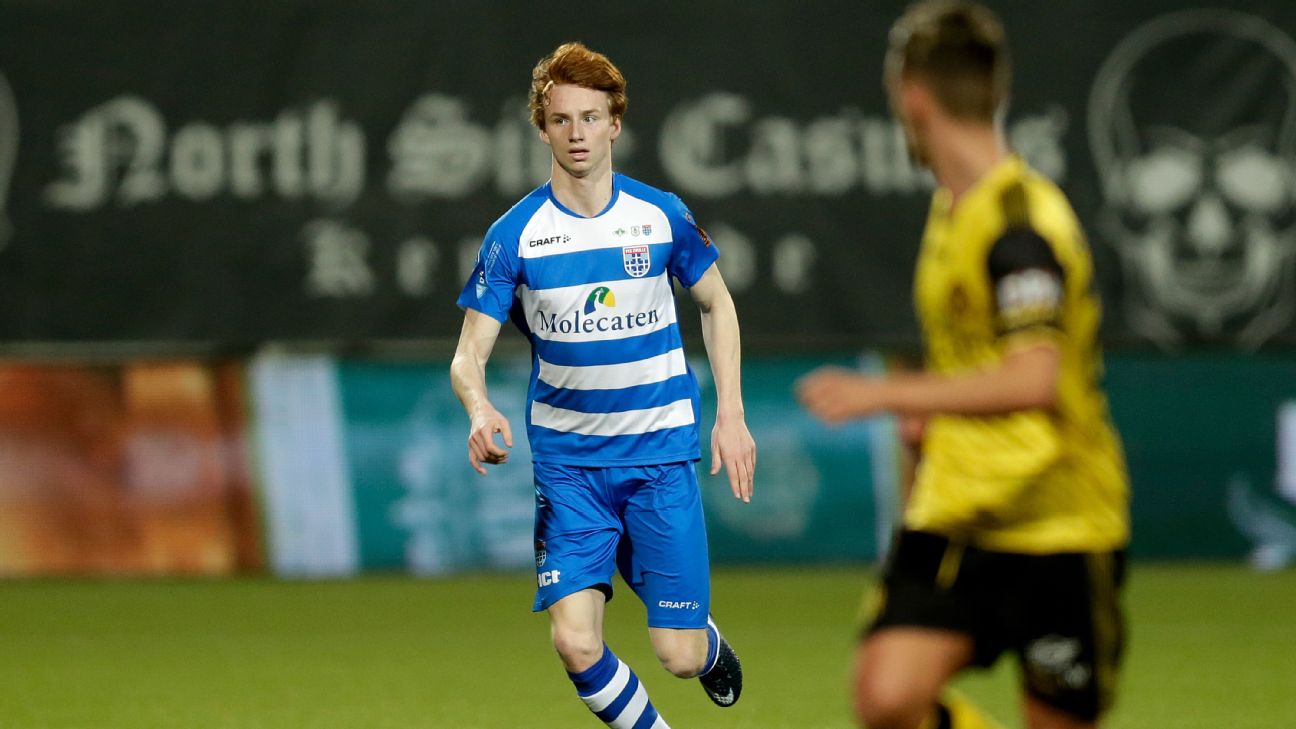 Van den Berg's composure and comfort in possession mirrored that of his new teammate, who also was unfazed by facing older, more experienced and physically opposing players. They've also noted his intelligent positioning, which rarely sees him having to chase play.
Weaknesses
Van den Berg needs to work on his aerial ability, and this is the area he will perhaps pick up the most from training alongside Van Dijk. He will also need to bulk up, a process Gomez and Trent Alexander-Arnold also had to go through when they broke into the first team.
There have also been some question marks over his stamina and concentration in stretches, but that is natural for a player his age.
Where he fits in
>As he is only 17 and needs to adjust to a new country, league and demands, Van den Berg's settling-in period is expected to be with Liverpool's Under-23s. However, he will train at Melwood with the first team and is also mooted to be part of the club's U.S. tour in July.
While Gomez slotted straight into the XI during his debut season on Merseyside, Van den Berg now faces greater competition and higher standards to even make a matchday squad.
"Short-term, [my target is] to be with the first team, develop myself, grow into the team and see how it goes," he told Liverpool's official website.
"Long-term, I really want to be a legend here."
He certainly has the right attitude, amount of confidence and the attributes to rise to the challenge.