You're forgiven for not recalling, but June 30, 2019, marks a significant date in the diaries of all Manchester United fans.
For that momentous date sees — finally — the expiration of the six-year contract signed by David Moyes when he took over as Old Trafford manager in 2013.
– Ogden: United heading for more transfer misery
– When does the transfer window close?
Moyes was supposed to be the man to carry the torch passed to him by Sir Alex Ferguson after being hand-picked as his successor. A banner, which has since been hidden away in a secret location, n the Stretford End even ordained the former Everton boss as "The Chosen One."
Alas, he was fired after just 10 underwhelming months, four games before the end of the season, with the defending Premier League champions wallowing in seventh place. The beleaguered Scotsman's tenure at United proved to be the shortest at the club in more than 80 years.
As the banner flown over Old Trafford during a game against Aston Villa near the end of his ill-starred reign declared, "The Chosen One" had turned out to be "The Wrong One."
How much he cost United
Despite Moyes overseeing just 17 league victories during his brief tenure, his sacking ended up reportedly costing United £5.2 million in compensation as well as £66m in player signings (the two marquee names being Marouane Fellaini and Juan Mata).
They also lost out on around £40m in revenue by failing to qualify for the Champions League for the first time since 1996.
However, Moyes' departure in April 2014 did lead to an almost instantaneous rise in United's global share price, which went up almost 10% within minutes of the sacking being made official, having plummeted by roughly one-fifth in the previous months.
In fairness, savings had previously been made on the catering budget at Carrington when Moyes removed chips and fish fingers from the canteen menu — an unpopular decision that instantly incurred the wrath of several senior players.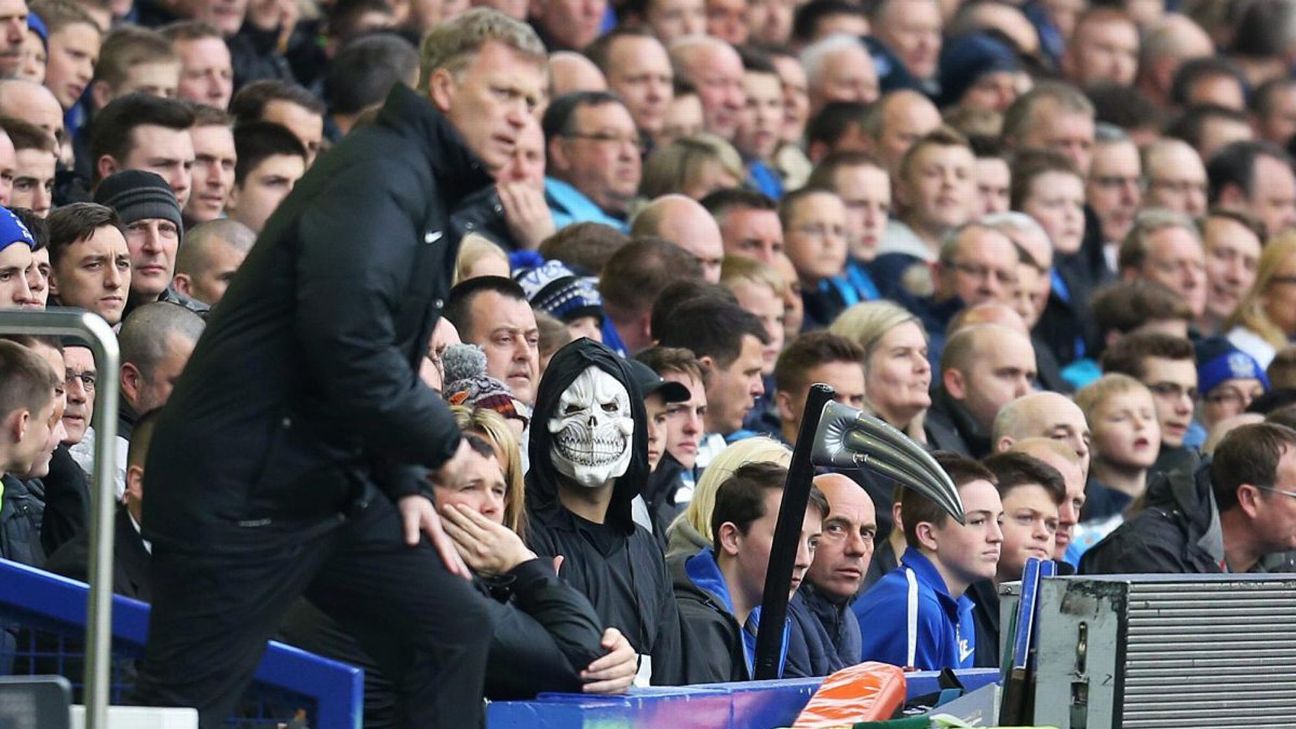 His career since
Seven months after leaving United, Moyes was back in management when he took over at Real Sociedad, far from the madding crowd of the Premier League.
He lasted a little over a season in Spain but did muster a 1-0 victory over Barcelona in that time despite his plucky side amassing just 27% of the possession against Lionel Messi & Co., inspiring a classic Vine (remember Vine?).
When you've beaten Barcelonahttps://t.co/q00dEXiBqi

— Kristian (@vonstrenginho) January 5, 2015
Oh, and he also had the pleasure of sharing a packet of crisps with a generous fan after being sent to the stands for arguing with officials in a match against Villarreal.
After two years away, Moyes returned to the English top flight with Sunderland for the 2016-17 season, though that didn't last long — a largely dire campaign culminated in relegation, the first of Moyes' managerial career.
A six-month stint at relegation-threatened West Ham followed in 2017-18, with the Scot ultimately delivering the Hammers from the drop with two games to spare. He left in May 2018 and to date hasn't been tempted back despite being linked with a steady succession of vacancies.
United fans want Glazers out
A Tale Of Two Owners. pic.twitter.com/7UfVet2Ljs

— ESPN UK (@ESPNUK) June 26, 2019
In the meantime, United have struggled to recover their lustre, generally bobbing around between fourth and sixth place in the Premier League — which, in fairness to Louis van Gaal, Jose Mourinho and Ole Gunnar Solskjaer, actually represents an incremental improvement.
They did finish second in 2017-18 under Mourinho, which sounds OK until you mention the fact that Pep Guardiola's Manchester City won the league by 19 points.
Discontented fans have continued to grow wearier of the club's stagnation under the ownership of the Glazer family in recent years. Supporters have increasingly turned to social media to vent their frustration, with May's #UnfollowManUnited hashtag aimed at boycotting the club's accounts preceding the recent rise in posts demanding #Glazersout. The club has even been moved to deny recent reports that United's official MUTV channel has put a regular phone-in show on hiatus due to fears it would be overrun with anti-Glazer calls.
Fellaini, the player who for many embodied Moyes' stint at United, admitted he cried when the coach was fired. United haven't been the same since.
The curse of the long-term contract
To show that Moyes' case is not an isolated one, here are a few examples of excessively long-term contracts gone awry.