Towards the end of his seven-year stint as manager of Borussia Dortmund, Jürgen Klopp would often wonder "what if?"
What if Nuri Sahin, Mario Gotze, Robert Lewandowski and Shinji Kagawa had remained on his team instead of being seduced away by Real Madrid, Bayern Munich and Manchester United respectively? What if that supremely talented, young and cohesive team he constructed were able to develop together for a few more seasons? It was natural for Klopp to wonder because to him, the answer was obvious: BVB would have celebrated at least one Champions League triumph having lost the 2013 final to Bayern and counted more Bundesliga titles than the two they won in that period from 2008-15.
While the 52-year-old has a larger-than-life appreciation of the chaos created by football through its unpredictability and emotional pull, what the Liverpool manager truly covets is much more sensible: consistency and continuity. At Anfield, those two things are crucial to a side that registered a club-high 97 league points last season before winning a sixth European Cup by overcoming Tottenham in Madrid, the first trophy under Klopp.
– When does the transfer window close?
– Ogden: Liverpool best fit for De Ligt
– Marcotti: Liverpool's UCL win is just the beginning
While Dortmund could never quite shelter themselves from football's mega-spending predators, a powered-up Liverpool have been able to tie down their major assets with minimal fuss.
Mohamed Salah, Sadio Mane, Roberto Firmino, Jordan Henderson, Joe Gomez, Trent Alexander-Arnold and Andy Robertson have signed new, extended contracts with Liverpool over the past year. Virgil van Dijk wants to agree a new deal and Divock Origi has been offered new terms, with Alex Oxlade-Chamberlain, Joel Matip and James Milner among those expected to be next in line. In a market where many of the game's chief forces like Real, Bayern, Barcelona and Man United have to spend considerably to reconstruct their squads, the Merseysiders have prioritised a policy of retention.
As one source explained to ESPN FC: "Those clubs would happily trade places with Liverpool. We have stability at a time when so much is left up in the air around Europe, especially with regards to the future of some big players [Neymar and Paul Pogba to name just two], which makes the landscape volatile."
Liverpool's security is a product of the collaborative relationship between Klopp, sporting director Michael Edwards and Fenway Sports Group president Mike Gordon. It's made the club an easy sell to top targets and a place where their existing superstars believe they can achieve their ambitions. It's also in sharp contrast to the previous regime, in which former captain Steven Gerrard would literally be texting the names on Liverpool's wishlist to encourage them to move. (At one time, with a mix of hope and embarrassment, he reached out to Toni Kroos, Willian and Alexis Sanchez in this fashion.) The legend was the club's biggest draw but given that the Reds weren't consistently in the hunt for top honors at home or in Europe, lining up alongside him was not a viable reason for high-calibre players to join.
How Liverpool built this team
Since his appointment in October 2015, Klopp has made Edwards' job easier through his clear vision for the on-field product. Liverpool have a stylistic profile to recruit for, and Klopp has made the sales pitch and negotiation process smoother. Their mutual respect and trust — Edwards and Klopp have an "open-door policy" at the office — allows the club to enact a unified strategy: there are no competing egos or agendas at play. Where politics, a lack of transparency, flaws in structure and no coherent plan can reign supreme at an elite level — Man United being a case in point — there is one vision at Liverpool that everyone subscribes to.
Gordon, owner FSG's main representative at the club, can therefore underwrite the pair's transfer plans with complete conviction in their process. Along with Klopp and Edwards, he believes Liverpool's roster is one of the most valuable, harmonious and enviable in Europe.
The key pieces have been acquired steadily over time, but the past two years have seen the majority of players arrive as Klopp's vision for the on-field tactics has taken root.
Left-back Robertson, signed from Hull City for £8 million in July 2017 — the bulk of his cost settled by squad player Kevin Stewart moving in the opposite direction — would now fetch over £65m given the valuation of Man United target Aaron Wan-Bissaka. Firmino, Salah and Mane, brought in for less than £100m combined, are among Europe's most feared and productive forwards.
Liverpool made Van Dijk the world's most expensive defender at £75m but could demand nearly treble that for him if a team made inquiries. Both midfielder Fabinho (£43m) and his countryman goalkeeper Alisson (£65m), pivotal in winning the Champions League, were recruited at a fraction of what they'd be worth in 2019. Pundits and fans have cited the purchases of the Brazilian pair and Van Dijk as a reason for the club to reach deep into their pockets again but in each of those transfers, they did not spend for spending's sake.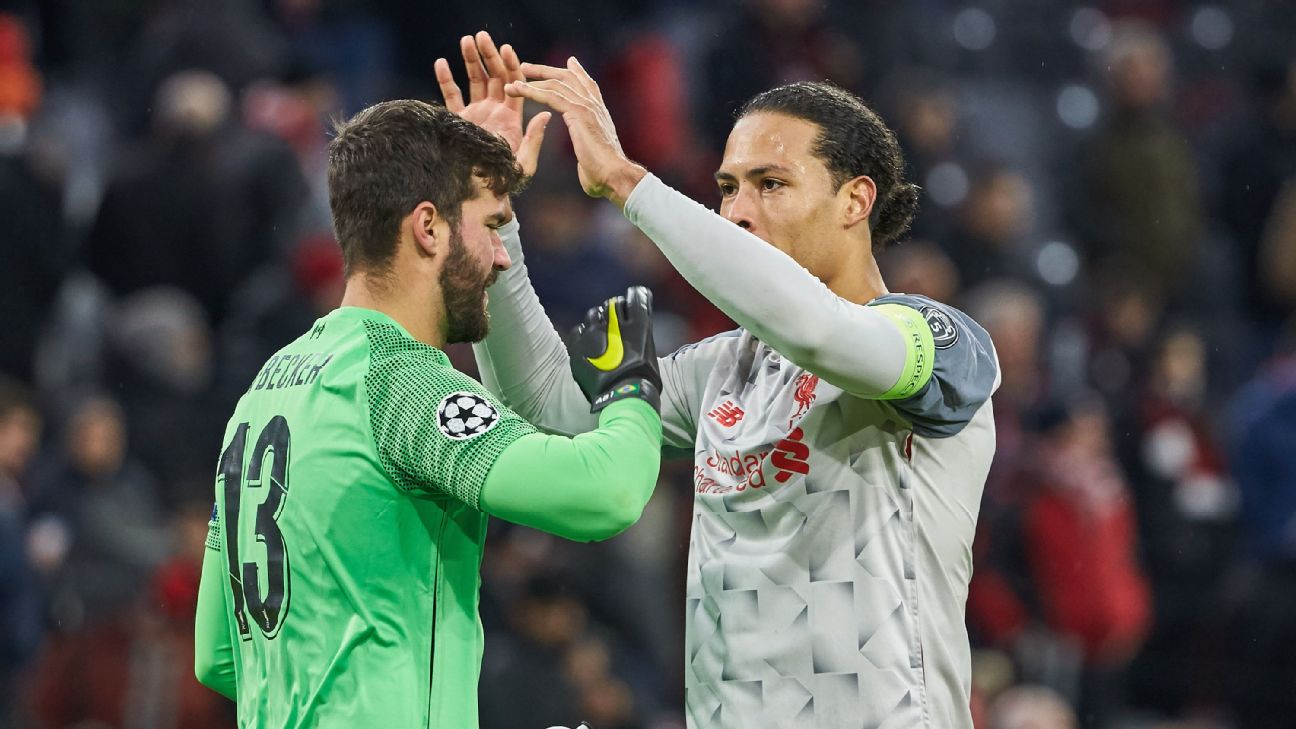 There was a long-held need to secure an aerially dominant centre-back, comfortable in possession and defending large spaces, as well as a pedigreed goalkeeper and a progressive midfield anchor. All three players signed were Liverpool's premier targets in those respective positions, their prices offset by the departure of Philippe Coutinho to Barcelona last January for £142m.
Those ins, and one substantial out, marked a sea change for the club compared to the recent past, when they would be paralysed by big sales. Inadequate replacements were signed when Xabi Alonso, Javier Mascherano and Luis Suarez left. These days, they're ready to fortify once their star players are sold.
With the Klopp-Edwards-Gordon triumvirate, Liverpool have been measured rather than manic in the market. They didn't get flustered when Southampton accused the club of tapping up Van Dijk in the summer of 2017, which forced them to publicly apologise and withdraw interest. While there was overwhelming pressure for the Reds to move on from the embarrassing saga and secure any other centre-back that summer, they chose instead to patiently work behind the scenes on successfully repairing the relationship with Saints at the highest level in order to make the transfer happen. Liverpool were ridiculed for not bringing in an alternative in that window, but the transfer of Van Dijk last January has arguably been the most significant signing of the Klopp era.
This new-found patience has been applied to other business. When Roma looked to take advantage of Loris Karius' errors in the Champions League final defeat to Real Madrid in Kiev just over a year ago, demanding £90m for Alisson that May, they did not blink. Liverpool refused to operate out of desperation, negotiating to seal a total package £25m below the asking price in mid-July.
As Nabil Fekir's £53m move from Lyon crumbled at the final stage during the same window due to a medical that flagged the extent of underlying damage to his right knee, Klopp was not panicked into sourcing another expensive playmaker, despite Alex Oxlade-Chamberlain being expected to miss nearly all of 2018-19. Xherdan Shaqiri joined for £13m from relegated Stoke City to provide squad depth as the manager rotated his front three throughout the season, while the fullbacks were empowered to become the team's key creative source.
Liverpool are undoubtedly an attractive proposition given their continental success, upward trajectory and the feel-good factor around the place, but it is the no-waste approach that allows them to strike if another "transformer" — the word used at Melwood to describe Van Dijk and Alisson — is within reach in the future.
Why the Reds will be quiet this summer
Klopp does not feel "the best squad he has worked with" is greatly in need of a blockbuster buy in 2019. Summer business expected to be minimal, largely centred around squad depth and dependent on exits. The club are equipped to act should opportunities arise that blend into their long-term picture, but the manager is convinced there is automatic room for improvement within the existing group.
Fabinho and Naby Keita, who needed months to adapt at Anfield after moving from Monaco and RB Leipzig respectively, don't need a settling-in period again this summer. Oxlade-Chamberlain, restricted to just four matchday squads last season as he recovered from multiple ligament damage, is close to optimum condition and is a major feature of Klopp's future plans.
The performances of Gomez and Matip alongside van Dijk have created proper competition at centre-back, where Dejan Lovren has fallen to fourth choice. The Croatian, valued at £25m, wants to be a regular starter, but Liverpool have fielded no concrete offers for him as yet, and he could ultimately decide his best option is to remain and fight his way back up the hierarchy. Simon Mignolet, too, could stay as backup to Alisson if no suitable club emerges for his services.
More can be expected from Shaqiri and Adam Lallana, who suffered an injury-plagued 2018-19, and stayed behind at Melwood after the Champions League final to do extra fitness work. The midfielder has opted for a shorter offseason break in order to return to peak physical state, with Klopp and assistant manager Pep Lijnders informing him his versatility will be an important asset during a packed schedule.
Origi, scorer of several defining Liverpool goals last term, like the 96th-minute winner against Everton, a double in the phenomenal Champions League comeback against Barcelona and the decisive strike to seal the Champions League final, will not be sold in this window. The highly rated Rhian Brewster, 19, will step up after striker Daniel Sturridge's release, and there will be no blockage to the pathway of exciting prospects like 17-year-old defender Ki-Jana Hoever.
Liverpool had hoped to sign Lloyd Kelly from Bristol City to deputise for Robertson at left-back but were trumped to the £13m deal by Bournemouth, who could guarantee more minutes. There is still a necessity to strengthen there, even though James Milner and Gomez can both fill in. Nathaniel Clyne could cover both fullback positions but is primed to depart permanently after having spent last season on loan at Bournemouth.
– Man City vs. Liverpool: When is the Community Shield?
– Liverpool vs. Chelsea: When is the UEFA Super Cup?
– When are Liverpool in the FIFA Club World Cup?
With City planning a £120m push for Atletico Madrid midfielder Rodri and full-back Joao Cancelo from Juventus after their domestic treble, there has been a demand for Liverpool to match their rival's spending. But the champions of Europe aren't about to copy and paste the approach of others. Liverpool have faith in their processes, and Klopp has complete confidence in his squad.
A month before the Reds departed the Allianz Arena with a 3-1 win over Bayern in March, the Bundesliga giants arrived at Anfield for the first leg of the Champions League last-16 tie with an obstructive approach, aiming to contain the explosiveness of Salah, Firmino and Mane rather than underscore their own strengths. Klopp felt it was the highest compliment they could pay Liverpool, likening it to the respect Man City had shown his side at the same ground in a goalless Premier League draw earlier in the season.
"We have to start looking at ourselves like how other teams see us," he said. "They have a lot of respect for us, but I am not sure we always have the same amount of respect for ourselves."
After Liverpool were crowned Europe's best in Madrid, Klopp told his backroom staff that the team believing in themselves was one of the most fundamental and enjoyable development processes he had overseen during 18 years of management. Now he will hope everyone sees what the opposition and the squad themselves do, regardless of the money that changes hands in this window.