The summer transfer window is in full swing but there's plenty of business still to be done given the flurry of International tournaments kicking off in June. Which players are likeliest to move before the 2019-20 campaign? David Amoyal rates the top rumours from around world football in the first edition of our summer Rumour Rater.
Paul Pogba, Manchester United to Juventus: 40 percent
The French international has maintained great relations with his former club and was recently a guest at Andrea Barzagli's retirement party at the end of the 2018-19 season. He has already agreed to return to the Serie A champions, who significantly increased what they pay their top players following the Cristiano Ronaldo signing.
While Juventus will face competition from Real Madrid for the all-world midfielder, they have a much stronger relationship with Pogba's agent Mino Raiola than the galacticos but will likely have to sell a few stars to afford the transfer fee: Manchester United could also be interested in Douglas Costa, Paulo Dybala and/or Miralem Pjanic going the other way.
Joao Cancelo, Juventus to Manchester City: 50 percent
The talented right-back will likely be on a new team for the third season in a row and right now, the Premier League winners are the favorites to acquire him. Juventus are focused on signing a more defensive minded right-back — Tottenham's Kieran Trippier is reportedly at the top of their list — and can turn a fairly significant profit on Cancelo as they look for ways to raise funds to bolster their midfield.
Manchester City would like to include Danilo in the deal, at this time he isn't a player Juventus would consider.
– When does the transfer window close?
– When are the Premier League fixtures published?
– When does the new Premier League season start?
– Who has qualified for Europe from the Premier League?
– When does the transfer window close?
Gianluigi Donnarumma, AC Milan to Paris Saint-Germain: 50 percent
After failing to qualify for the 2019-20 Champions League, Milan have even more urgency to raise funds to meet their Financial Fair Play parameters. Selling Donnarumma would represent pure profit for the Rossoneri since he's a home-grown player and would also save the club substantially on his significant wages. The keeper's agent, Mino Raiola, has a great relationship with both Manchester United — who could move on from David De Gea this summer — and PSG, where Milan's former sporting director Leonardo is expected to return.
Matthijs De Ligt, Ajax to Paris Saint-Germain: 55 percent
The Netherlands centre-back has been linked to numerous top clubs dating back to last January. While Cristiano Ronaldo tried recruiting him to Juventus after the recent match between Portugal and the Netherlands and Manchester United made a strong push, the race to sign him is coming down to Barcelona, who have an agreement with Ajax but not yet on personal terms, and Paris Saint-Germain who are looking to close the deal with his agent Mino Raiola in the coming days.
Mauro Icardi-Paulo Dybala swap between Inter and Juventus: 20 percent
There isn't a player in Serie A who has seen his value in the transfer market drop more significantly in 2019 than Icardi. Inter's new manager Antonio Conte is apparently determined to move on from him, while the Argentine striker has made it clear his preference is to stay at the club, with Juventus the only alternative he'll consider. The Serie A champions have been interested in Icardi for quite some time but consider Dybala to be worth considerably more.
Another complicating factor could be Dybala's stance: the bianconeri's current No.10 isn't particularly interested in joining any other Italian team as he sees them as a step down from his current club.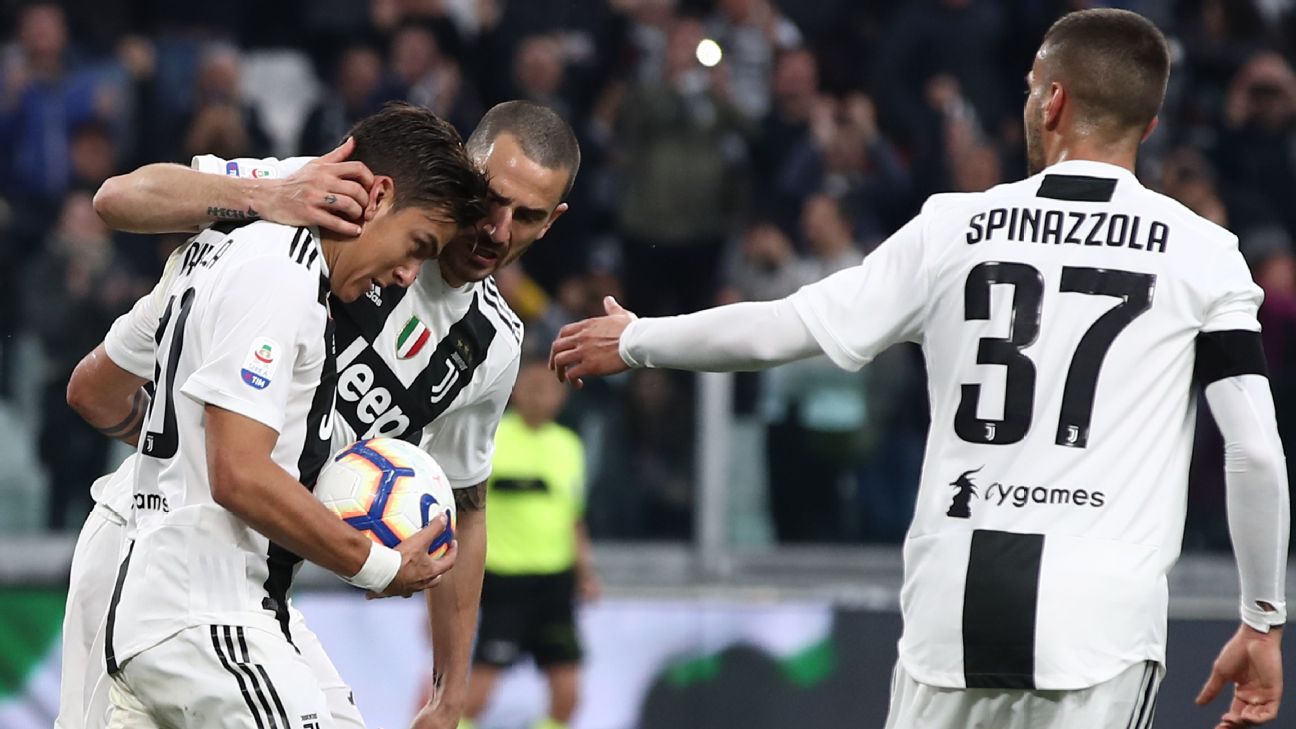 James Rodriguez, Real Madrid to Napoli: 25 percent
After his experience at Bayern Munich came to an end, the Colombian international is looking for a new team. Rodriguez enjoyed playing for Napoli's current manager, Carlo Ancelotti, given their prior work together at Real Madrid, while the Italian club has developed a good relationship with his agent Jorge Mendes. That said, his wages will likely be a serious hurdle for the deal to get passed the finish line. In addition, Real Madrid would prefer to move the Colombia international on a straight sale and Napoli would prefer a loan with option to buy.
Aaron Wan-Bissaka, Crystal Palace to Manchester United: 55 percent
United have been following the impressive rise of Crystal Palace's young full-back Aaron Wan-Bissaka, already capped at international level with England U21, and have reportedly reached an agreement with him on personal terms.
At the moment, United's first offensive — substantiated by a £40 million offer — was thwarted by Palace. However, it seems that the London-based club could capitulate to a £60m offer coming from Manchester.
Pablo Sarabia, Sevilla to Paris Saint-Germain: 40 percent
With Adrien Rabiot set to leave the club at the end of the month, PSG have identified the 27-year-old Spaniard from Sevilla as a suitable replacement.
The player's release clause, set at €18m, wouldn't be a problem for the French side, but more pressing matters — like the decision over a new sporting director — could be a significant distraction from their pursuit. The Andalusian club's sporting director Monchi is monitoring the situation in order to forestall PSG and hopefully persuade the player to stay with a substantial contract renewal.
Bruno Fernandes, Sporting CP to Liverpool: 30 percent
Both Manchester clubs and Tottenham are among the long list of suitors for the Portuguese international, but Liverpool could leap in front of everyone by meeting Sporting's asking price of €70m. While the Reds could decide to boost their initial interest and take advantage of the Spurs' uncertainty over Christian Eriksen's future, the Portuguese side would rather slow the negotiations down in the hope of a profitable bidding war.
Nelson Semedo, Barcelona to Atletico Madrid: 35 percent
Los Colchoneros are looking for Juanfran's replacement and Diego Simeone's club has started making inquiries for Portuguese defender Semedo, currently at Barcelona. The 25-year-old right-back has already expressed his desire to get some more playing time as a starter for a new club. On the other side, the Blaugrana have informed him that they are open to moving the player provided they receive an offer in the region of €45m, a sum they feel is consistent with the current market price for quality full-backs.