Typically Fabio Quagliarella spends June on one of the Balearic islands off the eastern coast of Spain, a place to kick back and relax after another long, hard season. Off on his travels again, there's a flight waiting to take him away, this time for an altogether different destination.
Quagliarella is headed to Athens. The veteran isn't mixing things up out of fatigue with his usual holiday spot, nor is he leaping on a connecting flight to the Greek islands to see how they compare with Formentera. The 36-year-old is on a work trip. His country called and Quagliarella answered.
The Sampdoria striker returned to the national team in March for the first time in eight-and-a-half years. Italy's coach Roberto Mancini knows Quagliarella is not the future — as does the player — but he isn't going to argue about the present. Other younger Italian strikers like Andrea Belotti and Andrea Petagna finished the season strong and suddenly more solutions to a problem position have emerged.
– When does the transfer window close?
– 30 Under 21: The best young stars in men's soccer
– Top European league honours 2018-19
Nevertheless, Quagliarella's place in the squad is a just reward. Leaving aside the brace he scored on his first start in years for Italy and the place he etched for himself in posterity as the Azzurri's oldest-ever goal scorer, Quagliarella is in the squad on merit, not sentiment. No 36-year-old has ever had as prolific a season in Serie A as Quagliarella just did. Watching Cristiano Ronaldo's hat trick for Portugal against Switzerland in the Nations League semifinals, I probably wasn't the only one to stop and reflect on what the Sampdoria captain has achieved in beating the five-time Ballon d'Or winner to the Serie A scoring title.
As with Luca Toni, who at age 38 shared the Capocannoniere crown with Mauro Icardi four seasons ago, there is an element of those sun-cracked old fishermen you see down by the docks still somehow managing to pull in the biggest catches. How they do it seems like a mystery but it all comes down to the experience and intuition that comes from spending years out on the open sea. They understand the waters better than anybody else, know when and where to cast their nets, which currents to prioritise.
Of course, it helps that defenders no longer concentrate solely on defending and instead take more risks playing out from the back, which leads to more mistakes. This shift in emphasis has made it harvest time for those strikers of a certain vintage who came through in an era when opponents man-marked, put everyone behind the ball and bricked up the goal.
Acknowledging the change in the landscape — specifically the tendency toward a more attacking approach — does not diminish Quagliarella's year at all. What distinguishes it from when Toni did it isn't just the fact he scored five more goals, nor is Ronaldo's presence in Serie A solely responsible for its greater lustre. Think instead about the completeness of his campaign from the viewpoint of an attacking player.
Last season was a career year in terms of goals and assist for Quagliarella. He bettered it this year. You then study the kind of goals he scored, such as the flabbergasting back-heel volleys against Napoli and Chievo. Seeing one of them make it onto the short list for the next Puskas award would not come as a surprise. On its own, becoming Capocannoniere and having a strong claim to the Goal of the Season must be considered fairly remarkable stuff.
The symmetry is nice and neat but there is a third element to consider, which blends class with consistency and serves to make the year Quagliarella has just had one for the ages. Recall the record he matched by scoring in 11 consecutive league games, a record that had stood for a quarter of a century and one he now shares with an all-time great, Gabriel Batistuta.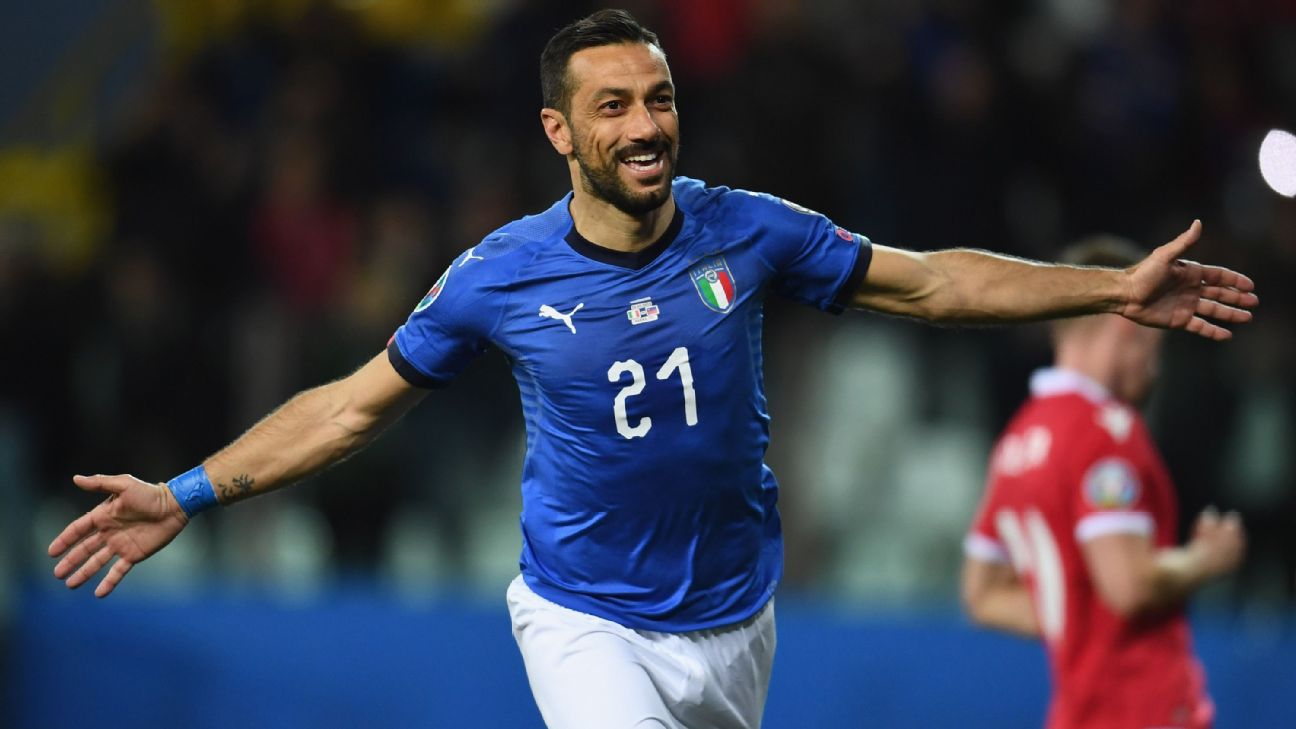 Quagliarella equalled it against Udinese. He could have broken it against Napoli. I mention them not for the purpose of highlighting the banal coincidence that he played for the pair in the past, but  as a reminder that it was in Udine where he first started receiving the threats and blackmail of a stalker determined to ruin his life and destroy his career. And it was in Naples where Quagliarella's persecution intensified. It led the club he supported as a boy to sell and miscast him as a mercenary and a Judas for joining their biggest rivals Juventus, a dream move back home transformed into a personal nightmare.
Thankfully the truth is now out and Quagliarella has flourished in the meantime. He has a nation's sympathy. The night he levelled things up with Batistuta he broke down in tears, incredulous at what he'd just accomplished. His eyes welled up again as the crowd at the Ennio Tardini, home to Parma, one of the few top-flight Italian teams whose colours he hasn't worn, rose as one to give him a standing ovation when he came off against Liechtenstein during the last international break.
Perhaps not since Roberto Baggio has an Italian player transcended the tribalism dividing the country and united its warring factions. Even Samp's bitter "cousins," Genoa, posted a tweet to say they are proud to have him as a rival, an acknowledgement of the special status Quagliarella has attained. It speaks to the person as much as the player.
Before tendering his resignation in April, Samp's former sporting director, the hopeless romantic Walter Sabatini, explained that Quagliarella isn't experiencing a second youth. On the contrary, he argues this must now rank as his "third."
Rewarded with a contract extension on Christmas Day — the present all Samp fans wanted — retirement is not on the cards. As Toni once said, no matter how much time is against you, hanging up your boots becomes all the harder when you've just outscored everybody else in the league. It's like the Italian proverb says; "Gallina vecchia fa buon brodo" — the old chicken makes for a good broth. And Samp are going to keep on serving it up for as long as possible.
Where better a place than Greece for the mythology surrounding Quagliarella to continue this weekend.