Jordan Henderson collapsed to his knees, exhausted and happy, before he sunk to the turf completely.
"No one deserves this moment more than you," Adam Lallana ran over to tell his close friend as he lifted him to his feet, while tears fell from Jürgen Klopp's face as he embraced the 28-year-old, later saying: "Jordan Henderson is the captain of the 2019 Champions League winners. That is satisfying."
Dejan Lovren put his arm around the England international's shoulder, walking him over to the Liverpool supporters behind the goal that Divock Origi scored in to secure their sixth European Cup after a 2-0 victory over Tottenham, screaming "this is your f—ing captain, this is the f—ing man." Virgil van Dijk walked behind them, raising his hands high and pointing his fingers down at Henderson to underscore the Croatian's words.
The devotion of Liverpool's players and staff to make sure Henderson was centre-stage was endearing to watch, but not surprising.
– Ogden: Tottenham must answer some difficult questions
– Marcotti: Liverpool's journey isn't over with CL victory
– Champions League: Liverpool dominate squad of season
– Toe Poke Daily: Klopp sings 'Let's Talk About Six, Baby!'
The sound of the final whistle at the Wanda Metropolitano confirmed him as a European Cup-winning captain but on a wider scale, it felt like a full stop to the exhausting battle to prove he belongs at an elite level, let alone at Liverpool and on the biggest stage in club football. From overcoming Osgood-Schlatter disease, a growing pains condition requiring regular treatment, to being "smaller and skinnier" than the other young hopefuls at Sunderland's Academy, a place where he'd have to excel at everything just to get noticed, Henderson has been in fighter mode for two decades.
At 21, he was tagged an expensive flop after switching from Sunderland to Liverpool in 2011. A year later, he rejected being used a as a makeweight in a transfer approach for Clint Dempsey, then at Fulham, to stay and force his way into Brendan Rodgers' plans. Former Premier League player Joey Barton accused him of "trying to impersonate legends" in 2015, while Alex Ferguson was critical of his gait in his autobiography.
Former Liverpool players also weighed in over the years, too. Dietmar Hamann, a Reds midfielder from 1999-2006, said "I think [Henderson is] a good player but whether he is a Liverpool captain, I'll leave that to other people" while Stan Collymore, who played up front for Liverpool from 1995-97, has questioned Henderson's leadership in the past but recently acknowledged he was wrong.
A large portion of Liverpool's fanbase have arguably been most unkind to the midfielder, too. Inside the club, however, Henderson is lionised, which was so emotively illustrated after Saturday's Champions League final victory in Madrid.
Simply put, he is the Reds' leader on every level.
---
"As a person, Hendo is one of the most fantastic [people] you can ever meet," said Van Dijk, the world's most expensive defender and anchor of Liverpool's back four, to ESPN. "He has been putting the team before himself for years. What I like is that he uses everything he has experienced — the lows, the criticism, the trouble with injuries — to help others through similar situations.
"What he does gets overlooked because people think you wear the armband to look good in it and shout a lot and that's the job done. There is so much responsibility on the pitch and off the pitch: you have to think about everyone else before you get to yourself and Hendo is very skilled at that.
"If any young player wants to follow an example, it should be him. He is a fantastic leader, who everyone respects so much at Liverpool and I'm very happy that he is my captain."
Teammate Trent Alexander-Arnold, who will definitely inherit the armband in the future, provided an equally strong appraisal.
"We wouldn't be where we are now without him," he told ESPN. "I'm speaking for everyone when I say massive thanks to Hendo for leading us here. The team is always his first thought: none of us do that more for Liverpool than Hendo. He shows on a daily basis that he deserves to be skipper: how he carries himself in training and around the place, the respect he has for everyone, whether it's Mo Salah or the cleaning staff.
"[Henderson] doesn't see anyone as bigger or more important than anyone else and that's a lesson to learn not just in football but life too. He is so valuable to the club and anyone at Melwood could speak for hours about just that."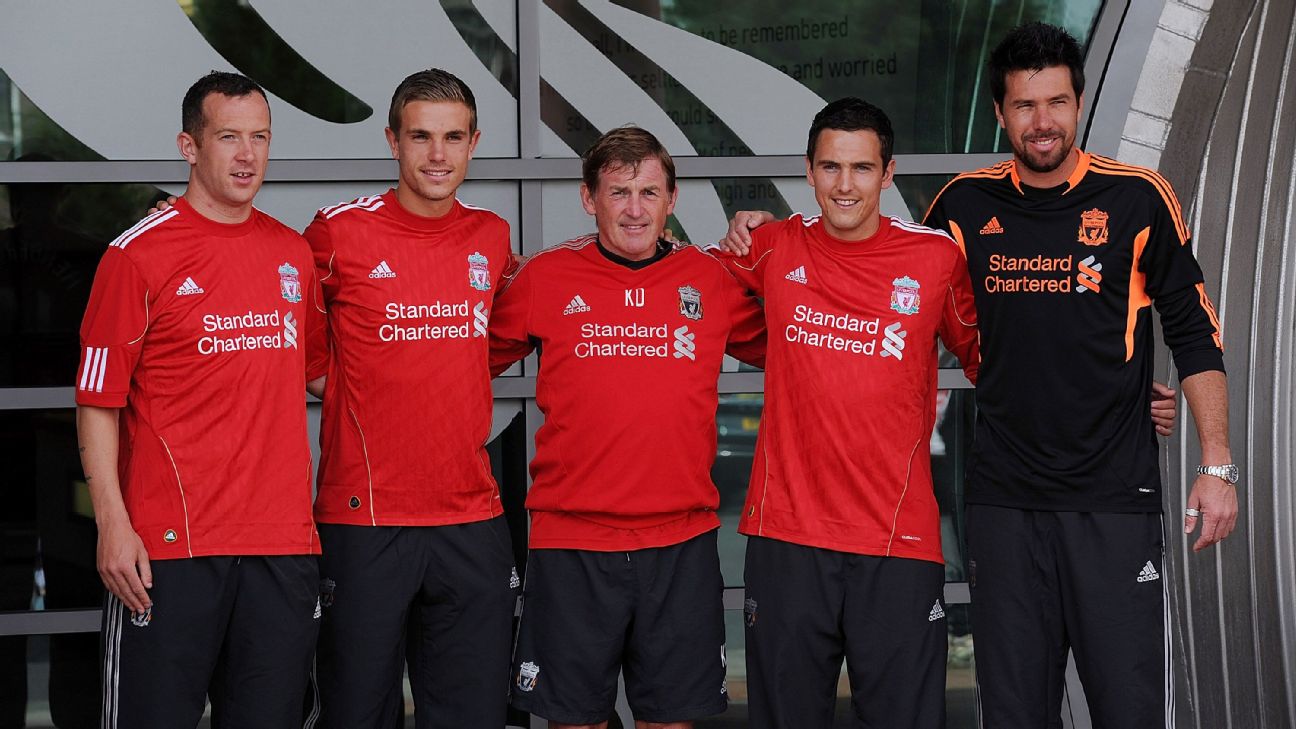 Appreciation of Henderson isn't just restricted to the people at Melwood, Liverpool's training complex, either. Amid Henderson's emotional release at full-time, Tottenham manager Mauricio Pochettino, in a typically classy move, headed right for the Liverpool captain. He put both his hands on Henderson's face, looked him in the eye and told him to enjoy the moment, that he'd earned this joy.
Rodgers once labelled the midfield as "a moral compass of the group" while at the Liverpool helm and England manager Gareth Southgate believes that description extends to the national team as well.
"To have a player like Jordan really sets the standard for what we do," he told ESPN ahead of the UEFA Nations League finals (June 5-9, live on ESPN2, ESPN). "How he prepares for training, how he prepares for matches and the way he lives his life in general — he doesn't just do his role perfectly, he has a positive impact on others to do the same.
"You can't have too many of those players as a manager."
Southgate spotlighted Henderson's technical abilities too, which are often overlooked. "He has an incredible range of passing, he is intelligent in the way he presses the ball, which is a huge part of the way Liverpool play and he is an excellent crosser of the ball," said the Three Lions manager.
"Henderson is a responsible player: he is tactically aware when another player goes out of position, he covers across. It's more than just his personal attributes and work rate, his technical qualities are important. He was very much in the frame to be England captain heading into the World Cup, but as soon as the decision was made, he was the first to congratulate Harry Kane.
"He was immense with his leadership throughout the tournament despite not wearing the armband. He has such humility and really great qualities as a person, which makes him such a big part of what we do."
---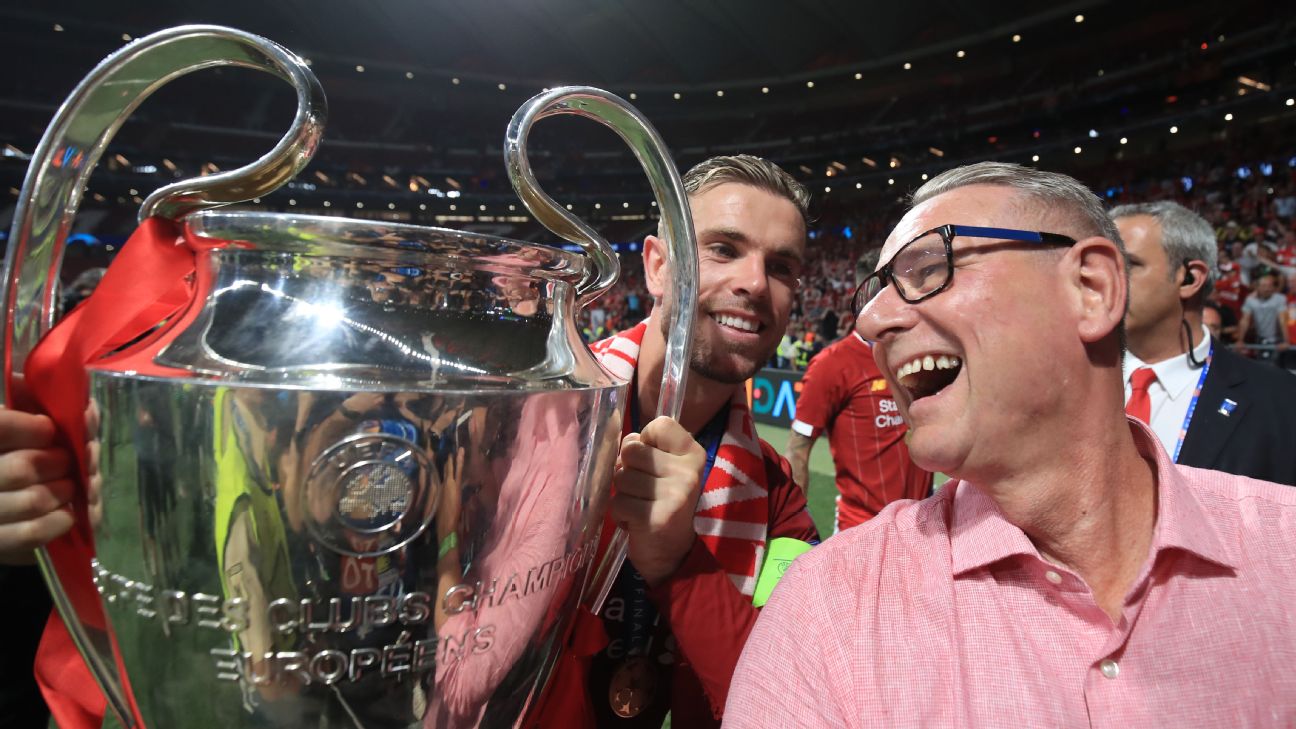 On Saturday, with the defining moment of his career to come, Henderson was still trying to ensure others were in focus. As Liverpool walked onto the podium to celebrate their first trophy under Klopp and the first with him as captain, he asked the manager and James Milner to do the honours of holding "Big Ears" aloft with him. Both immediately declined as they wanted Henderson to be at the forefront alone.
While having his face reflected on the most prestigious prize in the club game was the pinnacle of the midfielder's professional career, it was a more personal scene that will resonate. After proudly lifting the Champions League trophy over his head, Henderson walked over to his father, Brian, with the pair crying into each other's arms as they tightly hugged for a minute.
Before Christmas in 2013, the former policeman was diagnosed with throat cancer, initially keeping the news from his son so it wouldn't affect his football. As surgery approached to remove lymph nodes from both sides of his neck and a tumour from his tongue, Brian broke his silence to Henderson with the instruction "try to get man of the match in every game" after telling him not to visit during the intensive radiotherapy treatment.
"He got it in four of the next five he played," the cancer survivor said in 2014. "People didn't realise the pressure he was under. I was so proud of him."
After their embrace on Saturday night, Brian shared the story of taking Henderson to the 2003 Champions League final at Old Trafford between AC Milan and Juventus. Aged 12, he vowed to his dad that he would compete in the competition's climax one day. Henderson has never been one to just do the bare minimum, though, so he went one better and won it instead.