The United States Under-20 National Team has reached the quarterfinals of the 2019 Under-20 World Cup after a thrilling, come-from-behind 3-2 win over heavily favored France. Up next for head coach Tab Ramos' squad is a quarterfinal clash with Ecuador on Saturday. After four games played in Poland, here is a breakdown of how each of the Yanks hare fared so far in the tournament.
Players leading the way
Sebastian Soto, FW: What more could be said about Soto? He's the leading scorer on the squad with four goals, bagging braces in the 2-0 win over Nigeria and then against France, and is showing that he could be the No.9 USMNT fans have long waited for. The perfectly timed run he made for his opening goal vs. France was textbook.
Alex Mendez, MF: Even despite missing the France game, Mendez has been a crucial part of this squad. You'd be hard-pressed to find a better left-foot in the tournament than Mendez's, and his touch, skill and vision are beyond reproach. Also is not afraid to do the hard work in defense.
– Report: U.S. shocks France at U20 World Cup
– Marsden: Konrad De La Fuente's rise through Barca's ranks
– Carlisle: Soto's fearless pursuit of his soccer dream
Paxton Pomykal, MF: The young Texan was an unsung hero in the comeback against France by getting stuck in and winning balls in midfield. Was mis-used on the wing against Ukraine but has been more effective in a central role.
Chris Gloster, DF: Gloster had his struggles against the French but overall in this tournament he has been very good. He set up the second Soto goal against Nigeria and has shown he can play line-splitting passes.
Chris Richards, DF: The midfield and forward line get the headlines but Richards has arguably been the best player for the U.S. in the tournament. He's an absolute rock at center-back. Ramos could not have asked for more.
Contributing well
Brandon Servania, MF: Was a workhorse playing in the d-mid role against France in place of the suspended Chris Durkin. Has a tendency to stray a bit too much, but won't shy from a hard tackle to start a counterattack. Took his goal well against Ukraine, too.
Timothy Weah, FW: It can be exasperating to watch Weah, who'll sometimes go missing in games but then produces a moment of magic like his goal against Qatar, or the pass to set up Soto's second against France. That's when you're reminded why he's out there.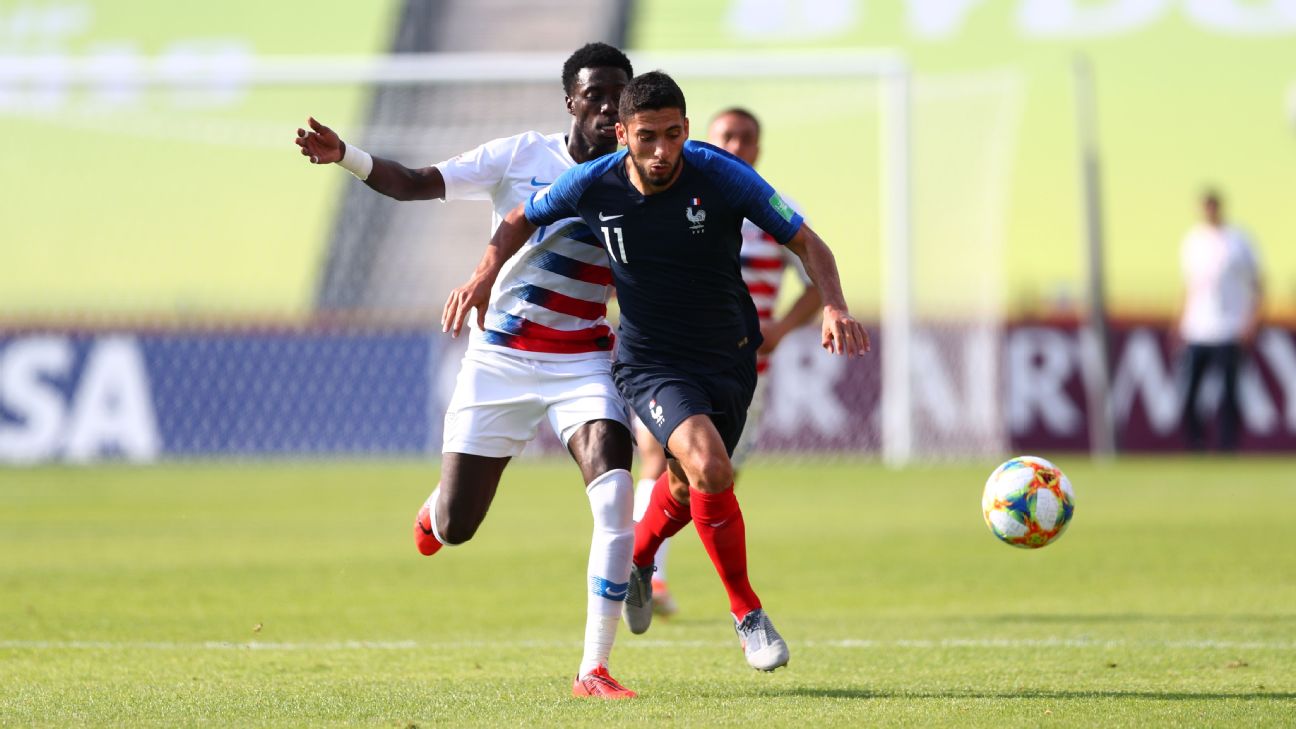 Sergino Dest, DF: The Ajax youth product was not looking so good through the first two matches and was at fault for the first goal against Ukraine. However, he rebounded nicely against France and it was his stinging shot that led to Justin Rennicks' game-winner in the round of 16.
Richard Ledezma, MF: How did he not appear until the Qatar game? Ledezma has been terrific in his time on the field and could not have threaded a better weighted pass on Soto's first goal against France. Has the wheels to take on anyone.
Uly Llanez, FW: Llanez has served as a super sub in the tournament and changed the games against Qatar and France with his playmaking. That could lead to a start against Ecuador.
Brady Scott, GK: Has started three of the four games in goal. Made a huge save to keep the U.S. in the game against France. Hard to take too much issue with the goals he has conceded.
David Ochoa, GK: His lone game in goal was against Qatar, but it was big one. Ochoa made a number of big-time saves in the first half to prevent disaster.
Yet to shine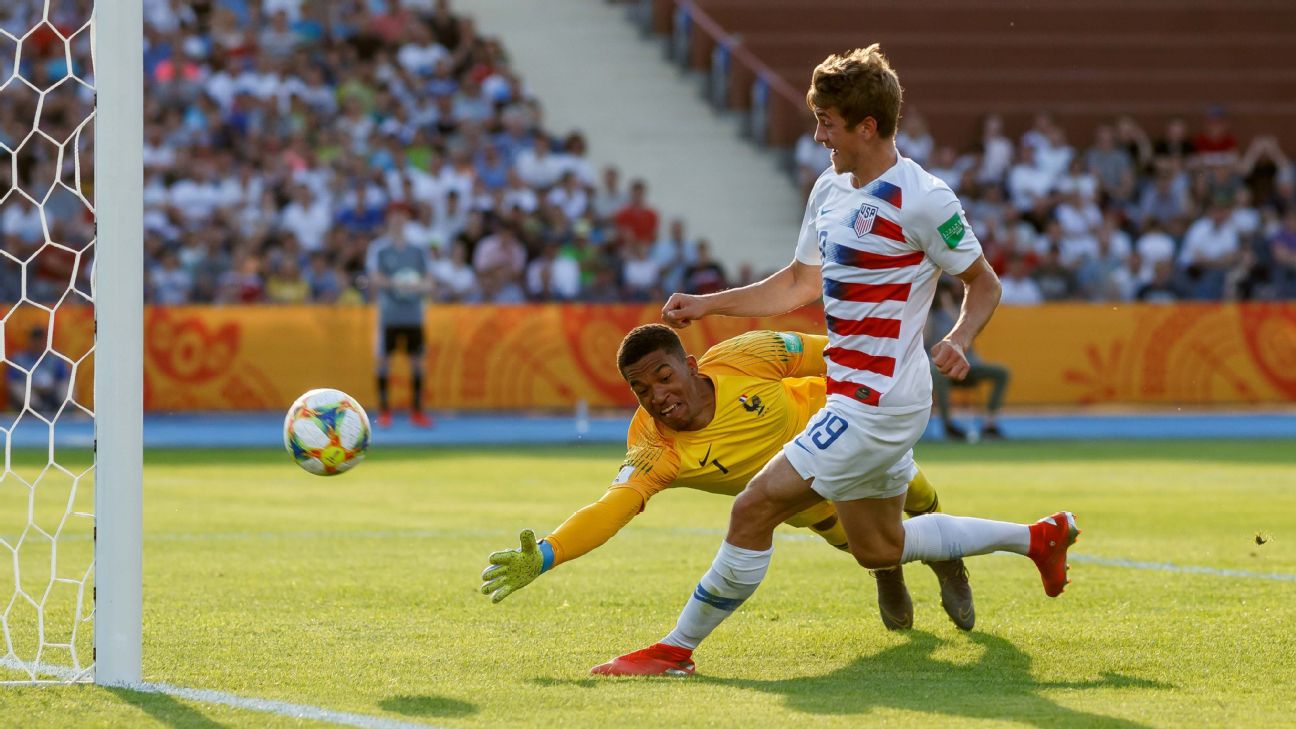 Justin Rennicks, FW: Rennicks has not seen much time in the tournament but the New England Revolution forward was the right man at the right time to pounce and score the winner against France.
Chris Durkin, MF: It will be interesting to see if Ramos restores Durkin to the No.6 role or if he stays with Servania. On the whole Durkin has been pretty average this tournament and did not distinguish himself against Qatar with a giveaway that almost led to a Qatar goal and then a foolish yellow card.Konrad de la Fuente, FW: This is a surprising one, as most pegged the La Masia product as one would heavily influence games for the U.S. As it stands, after four starts it has to be said that De La Fuente has been disappointing, having little impact in the U.S. attack.
Aboubacar Keita, DF: Keita has been a bit of a mixed bag. Was solid against Nigeria but has also been plagued by errors and was burned on the second France goal. Still, he has Ramos' faith so he's likely to start again against Ecuador.
Mark McKenzie, DF: The Richards/Keita center back duo that Ramos favors means that McKenzie is the odd man out. He did start against Qatar, but at right back and looked uncomfortable.
Julian Araujo, DF: It's surprising that right back Araujo has not played yet. McKenzie getting the nod to replace Dest in the win over Qatar had to have been disappointing for Araujo.
Matthew Real, DF: Gloster's solid performances have limited the Philadelphia Union man to just two late substitute appearances.
Edwin Cerrillo, DF: Still no minutes yet for Cerrillo in the tournament.
CJ Dos Santos, GK: The third goalkeeper has yet to play.