BERLIN, Germany — Union Berlin's first-ever promotion to Bundesliga has given fresh hope to a lot of football fans across Germany. Last Wednesday, a two-day marathon of a party ended at Die Alte Försterei, the club's unique stadium sat in the woods of Berlin's district of Köpenick, following a nearly 10-mile open-boat tour from the heart of the German capital to the club's home ground.
Football has had more problems of late in Germany and across Europe. Bayern Munich have won seven consecutive Bundesliga titles, hinting at a lack of competitiveness. This season's Europa League final was held in Baku, Azerbaijan, a country under scrutiny for its appalling human rights record according to monitors. The European Super League scenario, a breakaway threatened by top clubs, has been prevented for now but continues to hang as a dark cloud over the sport, while efforts to make the game more just and fair have failed to win the backing of the majority of supporters.
Meanwhile, Union Berlin are real. The tiny club embodies football as it's meant to be in Germany's capital, living up to the image German football wants to portray have when it comes to fan culture, affordability and safety. On social media, news of their promotion spread like a wildfire last Monday, especially when fans invaded the pitch from all sides to celebrate with the team.
– Report: Union Berlin clinch first-ever Bundesliga spot
The Alte Försterei, Union Berlin's 22,000-capacity stadium, has three standing terraces and was rebuilt with the help of the club's fans in 2009. Those fans also donated blood and money to keep the club afloat when it was drifting off shore when they were relegated from Bundesliga 2 in 2004.
Union Berlin are family. Union Berlin are infectious. Union Berlin serve as a reminder that football is more than money and marketing. They do have a giant TV screen in the stadium, yes, but they also have an old scoreboard presented by a regional sausage manufacturer, who sells its Bratwurst behind the terraces where fans fill up their beers to take it to the stand.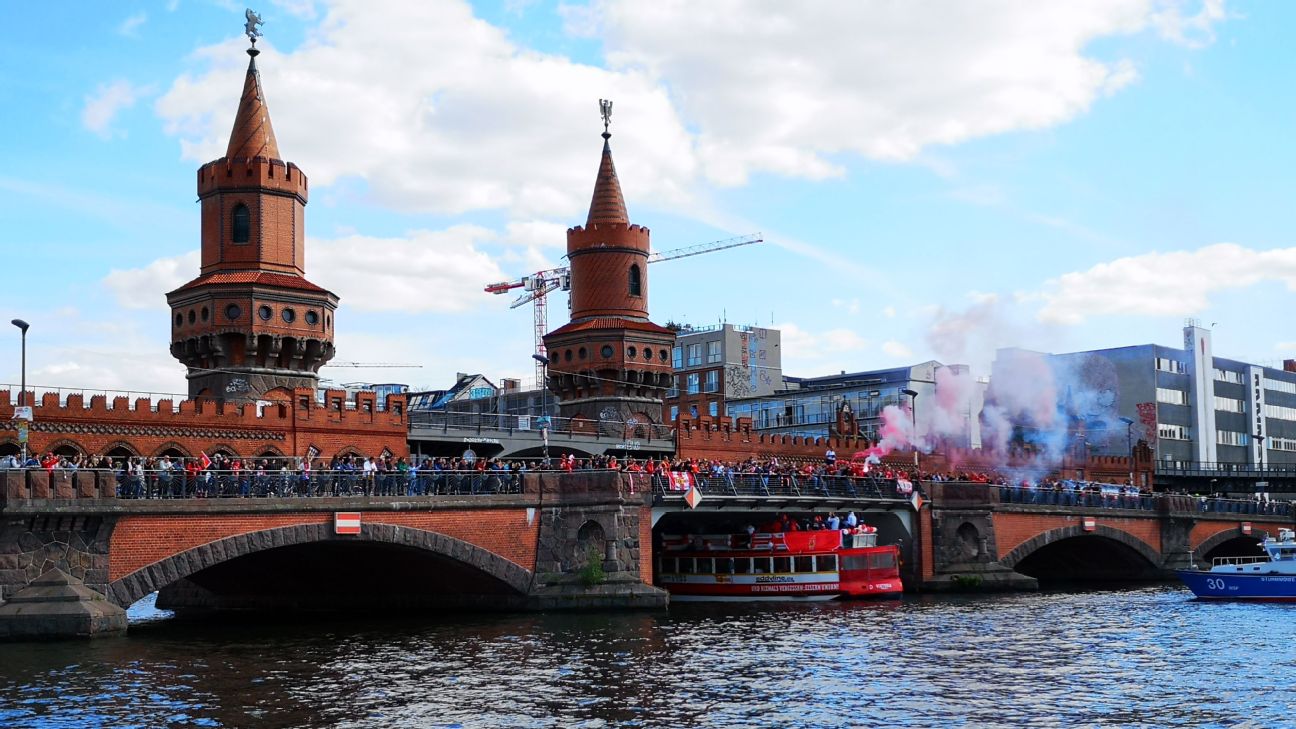 The club anthem is sung by legendary German Democratic Republic (GDR) riot grrrl Nina Hagen. It resembles the old Soviet anthem and includes several lines on the club's East German identity. Motorhead bangs out through the loudspeakers pre-game and at half-time, those in the stadium remember those fans who have passed away. In the age of super clubs, Union Berlin have established a unique identity, not least because they didn't give in to every idea the German football league has come up with in recent years.
Matches at Die Alte Försterei feel like coming home to a football that's only ever existed in your most romantic football dreams. It's hands-on, it's improvised and the experience requires taking things as they come, making the best out of every moment.
Union Berlin's dream had always been the same: to make it to the Bundesliga so they could welcome Bayern Munich, Borussia Dortmund and FC Schalke 04 to their stadium. They came close to that dream this May, but a draw in their final league game meant they'd have to beat 2007 Bundesliga champions VfB Stuttgart in the relegation/promotion playoffs. Not to worry: they did it, winning on away goals after drawing 2-2 in Stuttgart and holding their bigger visitors to a 0-0 result in the return. It didn't matter that they were facing a superior opponent packed with former Germany internationals like Mario Gomez, Holger Badstuber, Ron-Robert Zieler and Gonzalo Castro. After the final whistle, a party started that's yet to end.
Last Wednesday, tens of thousands of Union Berlin supporters flooded the streets and bridges of Berlin to celebrate Eisern Union's first ever promotion to the top flight. Welcomed by Berlin mayor Michael Muller in the early afternoon, the team boarded a boat that would take them down River Spree to Köpenick at the East Side Gallery, one of Berlin's main tourist attractions where parts of the old wall are still on show.
Former Queens Park Rangers attacker and current Union Berlin talisman Sebastian Polter grabbed a flag and celebrated with the fans waiting for the team. The 28-year-old later said he had been out partying first with the team and then the supporters for the last 48 hours. Union supporters set off fireworks at every bridge the team passed and the team was escorted by around 30 boats for the two-hour journey into the eastern district of Köpenick, where 30,000 fans awaited them with flares and fireworks.
"You are legends now," said Kopenick's District Mayor Oliver Igel in front of the team at their town hall reception while the Alte Försterei slowly filled up. Accompanied by fans, flares and fireworks, the team embarked on the last part of the journey, an open bus ride to the stadium. Several fans were in tears as they joined the team for the final metres.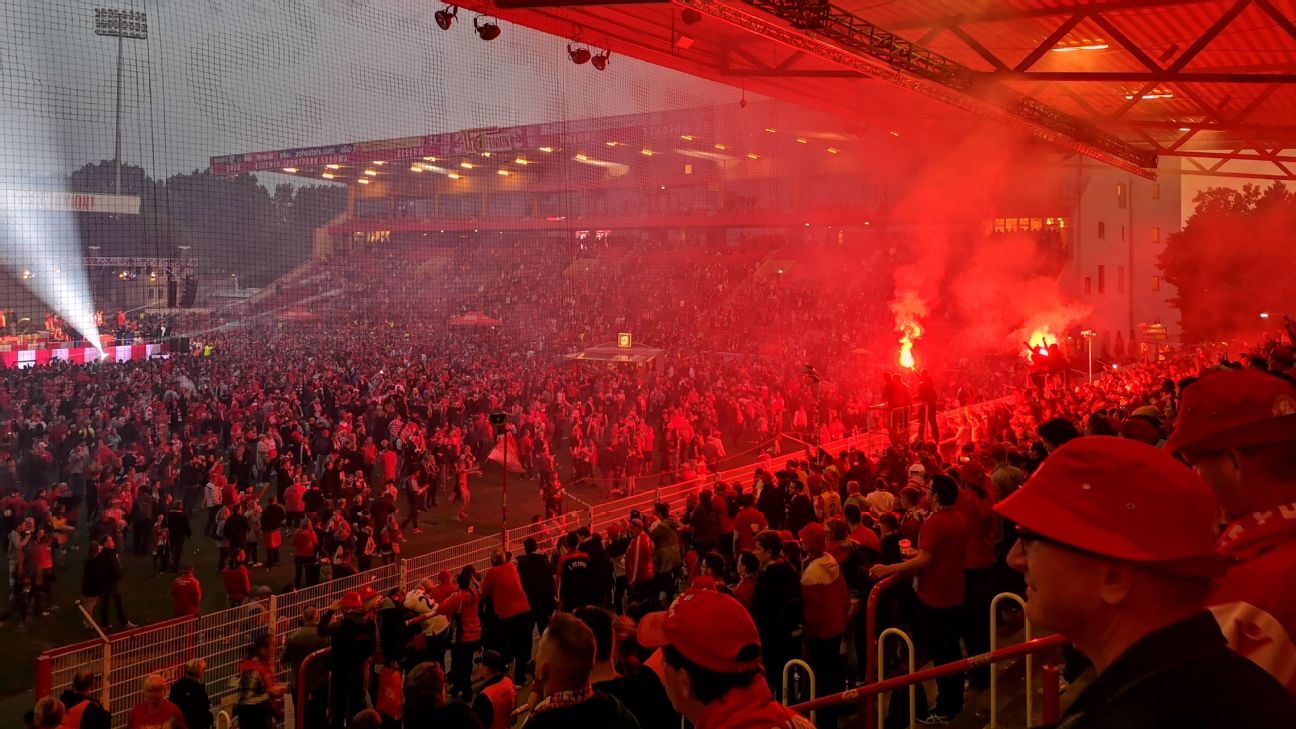 Founded in 1966 and remaining a club opposing the regime until the fall of the Berlin Wall in 1989, Union Berlin have had a cult following for several decades.
"I remember coming to the stadium as a kid and the fans would sing 'the wall has to go.' I could not believe that you could say something like that," said Union Berlin stadium speaker, press officer and lifelong fan Christian Arbeit to German TV after clinching promotion. "Of course, they meant the set piece wall," he added with a chuckle.
Union Berlin will be only the fifth club from the former East Germany to play in the Bundesliga. The previous four — Dynamo Dresden, Hansa Rostock, Energie Cottbus and VfB Leipzig — have not come close to the German top flight in years. RB Leipzig were only founded in 2009 and although they long to be accepted as a true "East German club," so far they've failed to win over hearts.
"Deutscher Meister wird nur der FCU," the fans at Die Alte Försterei chanted as the players were welcomed on stage. Though "German champions they will never be," as their chant goes, within a couple of days the club announced itself as arriving on the big stage of football in Germany. Now comes the hard work of establishing themselves in the upper tier.