The Toe Poke Daily is here every day to bring you all the weirdest stories, quirkiest viral content and top trolling that the internet has to offer, all in one place.
Jump to: Man gets 54k Whatsapps after Carragher tweets his number | Arsenal fan's Baku hotel nightmare | Dream job alert! Football Manager game testers wanted
There aren't many people who are in a position to offer advice to Lionel Messi, but the Barcelona superstar has now received a pointer from one of the few men who can.
Former United States President Barack Obama is currently in Bogota, Colombia to speak at the EXMA marketing and business conference. Ahead of that, he somewhat bizarrely broached the subject of Messi's shortcomings with Argentina.
– Messi misses out on Obama meeting in Argentina
– 'Baby face' filter: Premier League managers edition
While Messi may have won all there is to win at club level, he has always come up short at international level. In fact, the Albiceleste have failed to win a major honour since the Copa America in 1993 despite reaching several finals (including the World Cup in 2014) since then.
Heading into the 2019 Copa America, Obama laid it on the line for Messi and his national teammates as they seek to secure the country's first championship title in over 25 years.
"Even people that we consider geniuses work with other people in order to develop their style," said Obama.
"In Argentina, even though Messi is wonderful, they have problems winning the World Cup.
"My advice to young people is that we have to recognise very few people achieve great things on their own."
Man gets 54k Whatsapps after Carragher tweets his number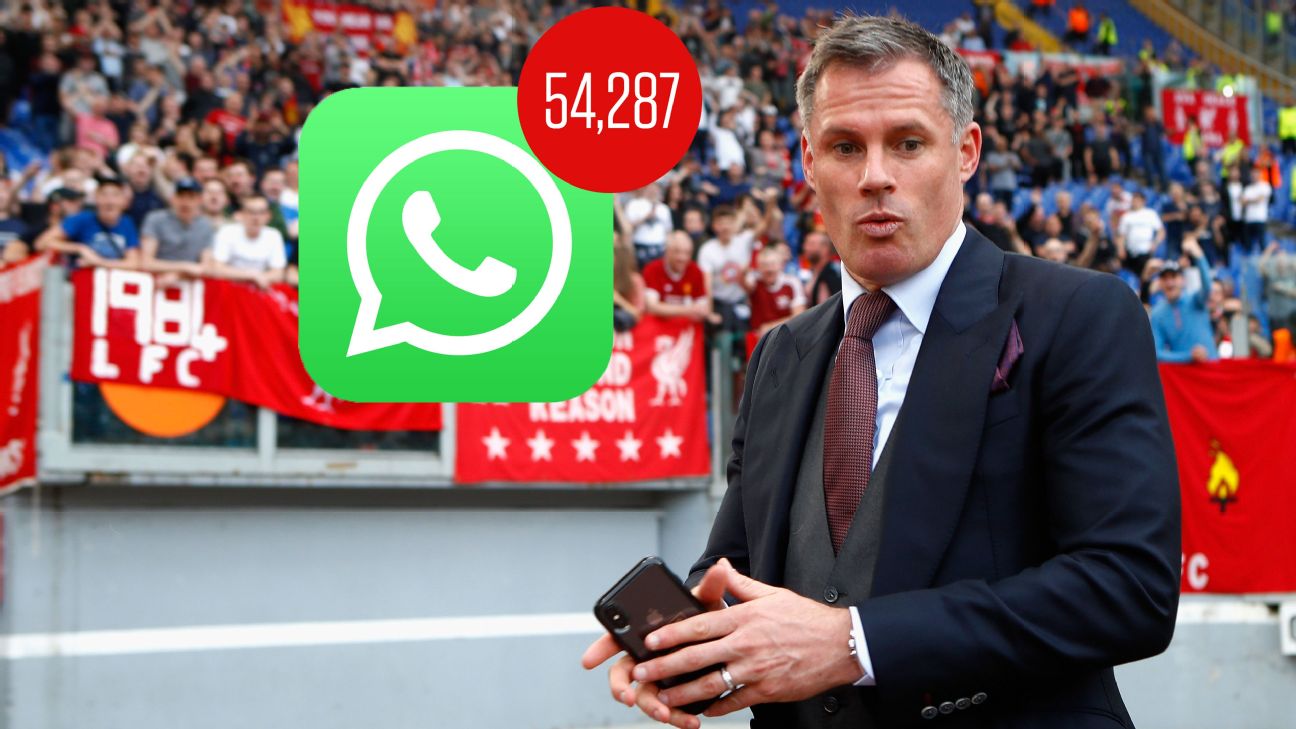 A Twitter prank gone awry has seen a man inundated with thousands of messages after Jamie Carragher inadvertently shared his mobile phone number online.
It all began when Gary Neville spurned a good chance while playing for Manchester United in their 1999 Treble-winners' reunion match against Bayern Munich at the weekend.
– Beckham, Ole score in Man Utd legends match
On holiday in Turkey at the time, Carra, who maintains a friendly(ish) rivalry with his old nemesis and current punditry partner on Sky, asked fans to send him a clip of the miss in a tweet that also contained a fake phone number plucked from the ether.
No one wants to grow up and be @GNev2 🙈🙈 except Phil 😏 https://t.co/wTkgKe8Jt8

— Jamie Carragher (@Carra23) May 26, 2019
However, it soon became apparent that the number included in the Tweet wasn't quite as random as first thought after the actual owner — Newcastle fan Scott Forsyth — was hit with an avalanche of messages all intended for Carragher.
Sure enough, Forsyth's poor phone was bombarded with over 54,000 messages in the space of a few days at a rate of roughly 50 calls and alerts per hour.
"At 5.18pm he tweeted it – since 5.19pm my phone hasn't stopped once," he told ChronicleLive. "My phone battery usually lasts me a day and a half – yesterday, I had to charge it three times!"
Forsyth also revealed that he has received countless pleas from Liverpool supporters asking him to get them tickets to the Champions League final as well as offers to join various Sunday League football teams.
Arsenal fan's Baku hotel nightmare
With the Europa League final almost upon us, fans of both Arsenal and Chelsea have spent the past few days making the long and regretfully arduous journey to Baku for the occasion.
Thanks to UEFA, travelling supporters have had to contend with massive expense and long journeys using whatever transport they were able to scrabble together.
Indeed, some have trekked thousands of kilometres to the Azerbaijani capital only to be confronted by accommodation that was, shall we say, slightly less than accommodating.
Booked accommodation in Baku, the first two photos were of the bathroom on the website.

The last photo is what we have been met with.

Have you ever seen anything more Europa league?😭🤢 pic.twitter.com/pIsuRra1rr

— El Rosé 🇦🇿 (@AaronBSM) May 28, 2019
Other than the general filth, dubious plumbing and the sink (which should have been in the shower?) being missing entirely, we really can't see much of an issue.
All jokes aside from some of the awful hotels and money it's cost to get out here Baku is actually a really beautiful city. Shame everyone I've followed Arsenal with up and down the country and in Europe can't be here. pic.twitter.com/caJTZaIjs0

— El Rosé 🇦🇿 (@AaronBSM) May 29, 2019
Thankfully, it would appear the rest of the city more than made up for the squalor of the hotel with the plazas and architecture of Baku presenting an altogether more pleasing temporary domain.
At least they are already in Baku to soak up some sights and prematch atmosphere — at least one group of Chelsea fans faced flight delays this morning when their chartered plane had problems at London Luton Airport. 
Dream job alert! Football Manager game testers wanted
Most football fans know and understand the retina-straining, life-draining pleasure of sinking countless hours/days/weeks into a game of Football Manager.
However, most FM addicts don't have the added benefit of actually getting paid for guiding your gang of non-league misfits up through the divisions to Champions League glory.
The game's makers, Sports Interactive, have listed what might just be the greatest job opportunity in the history of job opportunities — the chance to actually join their team as an official Football Manager tester.
Fancy helping to shape the future of Football Manager?

Testers needed at our London HQ 🏢 https://t.co/dAUE8GjIZV pic.twitter.com/e8hFJBJ4sE

— Football Manager (@FootballManager) May 29, 2019
According to the listing, the role would entail helping to identify defects in the game (by playing it!) while also testing new features, design tweaks and updates, among various other things.
The likelihood is that SI will be inundated with applications, so if you're a lifelong FM devotee and fancy bagging yourself a dream job then we suggest you log off (only momentarily) and hop to it.