ROME, Italy — For one last time, the 616th of his career, Daniele De Rossi pulled on the shirt he calls his "coat of armour."
He would have strapped a personalised captain's armband onto his bicep, a red one with "You're my one true bride" stitched in orange thread. His coach Claudio Ranieri, a fellow Roman and Roma fan, had promised to pay the fine if the league decided to sanction De Rossi for not wearing the standard issue fascia imposed by Serie A this season. Appearing on his sleeve and those of his teammates was a special commemorative patch that depicted De Rossi mounting the yellow gate to the Curva Sud, pumping his fist in the air in triumph after the Rome derby against Lazio two years ago.
As the veteran climbed the steps leading to the running track at the Stadio Olimpico ahead of Roma's final game of the season, a home date with Parma, he followed an old piece of advice that's has become a ritual for him. "A friend of mine, someone I have a great deal of respect for, told me that if you want to see someone who wants what's best for you, someone who really loves you, walk out onto the pitch and look to your right."
To the right is the Sud, the end of the Olimpico that leads the stadium in song, a roaring sea of yellow and red. In a message issued on Saturday night, the Roma ultras announced their intention to "honour a son of Rome, one of us" and leave "an indelible memory" in his heart.
💛 Dall'uscita dal tunnel al saluto alla Sud ❤️

I migliori momenti del giro di campo di Daniele De Rossi

#DDR16 #ASRoma pic.twitter.com/FexNaVShbX

— AS Roma (@OfficialASRoma) May 26, 2019
The fans also insulted Roma's ownership for the contentious decision not to extend De Rossi's contract, just as they have been for much of the past two weeks since the news broke. The protest outside the club's offices on Via Tolstoj, more war than peace, continued on Sunday. A Los Angeles Lakers flag appeared in the Curva, a novel way of registering dissent against Roma's Boston-born president, James Pallotta. Unlike with Francesco Totti's exit a couple of years ago, there is no Luciano Spalletti to act as a lightning rod for all the anger.
– Marcotti: Atalanta are the story of the season in Italy
– Horncastle: Ronaldo's first season in Italy was a failure
As the Roma and Parma teams walked out before a sell-out crowd — bigger even than the one for Real Madrid's visit in September — an ultra in the lower part of the Curva gave the signal to start the choreography, waving a huge flag of De Rossi. The Sud split in two; half of them twirled yellow flags, the other half flew red ones. The banner they unfurled said it all. "You have represented us on the pitch for 18 years… From today, your Curva will represent you forever. We are all DDR."
De Rossi recently told a story about the first time he went to watch Roma. His father Alberto took him to a game at the old Stadio Flaminio, the ground where Roma played while the Olimpico underwent refurbishment ahead of the 1990 World Cup. Right away, his attention was grabbed by the Curva Sud and one guy in particular: a capo ultra, his back turned to the action as he led the supporters in song. De Rossi couldn't take his eyes off them then and couldn't as he came out on Sunday night.
To understand what De Rossi means to Roma, one needs only to see what the club means to him. The footage of him wildly celebrating a goal in the stands. The revelation that he wanted to call his son Noah "Ago" after Agostino Di Bartolomei, the taciturn captain from the Tor Marancia neighbourhood of the city. An icon of Romanismo, Di Bartolomei is remembered both for his exemplary leadership of the team in the 1980s and his tragic death from suicide on the 10th anniversary of Roma's defeat to Liverpool in the 1984 European Cup final.
The love letter De Rossi wrote to say farewell, published on the club's website, included the famous photo of him as a boy in a bootleg Roma shirt from that era, the number stitched on by his aunt. Under a mop of blonde hair, he honestly couldn't look any happier. To find a bigger smile you probably have to watch the video that came out not so long ago of Totti's best goals in which you can see De Rossi — a ball boy at the time! — chasing after him in celebration.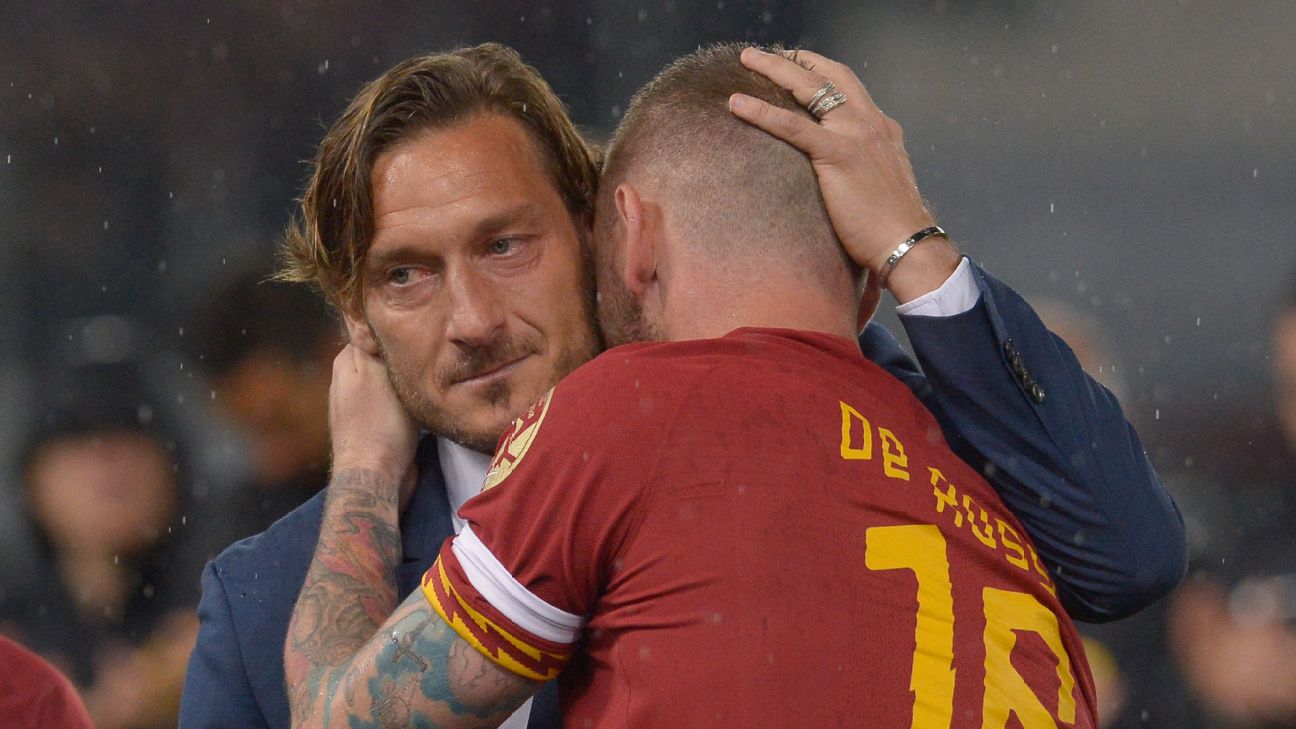 At the news conference announcing his departure, De Rossi confided he would have settled for the same career as "my hero" — his father Alberto, better known for coaching Roma youth teams but who before that played for 15 years in Italy's third division. Instead, De Rossi got to do "the job I love for a team I love so much." He signed off his letter with the words "No one will ever love you more than I do." It was a show of genuine affection, not an empty platitude — it's a line from his favourite Roma chant.
How to explain his devotion? We can talk about the player, the one with a hazard sign showing a stick figure making a sliding tackle tattooed on the back of his calf.
On that theme, Sunday night's weather was perfect for De Rossi. The pitch was slick from an earlier downpour, making it ideal for one of his iconic, grass-cutting scivolare tackles. Fabio Capello, a midfielder in his playing days and the manager who handed De Rossi his debut in 2001, has always found the catch-all definition a touch reductive. "Daniele can do everything, he can hold, playmake, be the midfielder runner, drop in and play centre-back and even striker if he wants to given he played there as a kid."
"Every card, every elbow and sliding tackle. You on the pitch are like we are behind the glass. " DDR pic.twitter.com/4Otjwcdp9r

— James Horncastle (@JamesHorncastle) May 26, 2019
OK, he didn't win the Scudetto as his former teammate, Totti, did in 2001, the last league title Roma has won, an achievement realised on the final day of that season against the same opponent as De Rossi faced on Sunday night, Parma. He came close in 2008, 2010 and 2014 but it eluded him to the last.
De Rossi didn't score 300 goals and will not out-rank Totti as the greatest Roma player of all-time, either. But when you consider the spirit of De Rossi, the person behind the player, well, there's your answer. He is the player most representative of Roma fans. It's not just his attitude — De Rossi's sole regret is "only having one career to give Roma" — nor the courage he exemplified when he stood up to take a penalty in the shootout that decided the 2006 World Cup final, determined to make amends for the red card he picked up for that elbow on the United States' Brian McBride earlier in the tournament. If he missed it, he'd be a pariah. He didn't.
It's not just who De Rossi is as a teammate or a colleague: the guy who returned from a game away at Sassuolo and headed straight to the hospital, staying by Alessandro Florenzi's bedside until four in the morning after his ACL surgery to see if his buddy was OK. The guy who buried his World Cup winners' medal with Italy's kitman, Pietro Lombardi, out of recognition for everything he'd done for him over his international career.
It's about identity, standing for something. For a club that hasn't won anything in 11 years, the choices of De Rossi (and Totti prior to him) to stay and resist brighter lights, more money and guaranteed trophies elsewhere has been of immense pride to Roma supporters. "18 years of love are worth more than a tricolour [the green, white and red of the Scudetto]. Grazie Daniele," read a banner in Ostia.
Roma fans see the elemental in De Rossi. Those with a certain poetic license have used his origins in Ostia, Rome's access to the Tyrrhenian Sea and the grain and commerce that kept the ancient city going, to call De Rossi "il Mare" or "Rome's sea." Growing up among the surfers on the beach, he'd listen to what they listened to: mostly the Red Hot Chili Peppers and Rage Against the Machine, which brings us to Audioslave, the band some members of Rage went on to form. "I Am the Highway," a song written by the late Chris Cornell, goes a long way to capturing what Daniele means to Roma. He isn't it rolling wheels, but the highway. Not a carpet ride, but the sky. Not an autumn moon, but the night.
More than a player. De Rossi, as another banner put it, is Romanismo, that state of mind comes from accepting and embracing what this city and club is all about. He understands its people, a power that comes from living among them by Campo de Fiori and Castel Sant Angelo.
"In the morning when there's the market in Campo De Fiori, that's when you see the real Rome," De Rossi once said. "Families who have been working those stalls for centuries, who have been in Rome for centuries, who have lived in the neighbourhood for centuries. These people, this neighbourhood, they have looked after me. Particularly on nights after defeat."
Wifi conked out last night but this was a highlight and reduced Claudio to tears. "Mr Ranieri, you answered the call in our time of need. Now receive the tribute of your people." pic.twitter.com/3eKpPevNNB

— James Horncastle (@JamesHorncastle) May 27, 2019
The civic pride in De Rossi and the sense of identity he embodies manifests itself in ways you perhaps wouldn't expect. He has not only defended these colours, this club and this city, but its culture too. When a journalist floated the idea that only outsiders like Pier Paolo Pasolini and Federico Fellini have been successful in capturing Rome's essence, he countered with Trilussa.
"He's not as well known as Fellini and Pasolini are abroad but he is someone who knew how to write about Rome," said De Rossi to that journalist's suggestion. "Every poem is short. Sometimes too short. They're all written in dialect. You pick up a book of his, you read it and you can smell Rome. The words transmit Romanista. Writing in dialect stopped him becoming famous and more celebrated abroad [a bit like playing for Roma did for Totti and De Rossi]. But Trilussa is a great artist. And he isn't from the North."
You could smell Rome on Sunday night, too. De Rossi brought it out. Lorenzo Pellegrini, the midfielder from the Cinecitta district of the city, scored. Former Roma striker Gervinho equalised for Parma. Diego Perotti got the winner for the home side and the departing Ranieri was moved to tears as the Curva Sud thanked him for coming to their club's side "at a time of need."
At full-time of Sunday's 2-1 victory, Roma's players all pulled on De Rossi shirts. A playlist of his favourite Oasis and Manic Street Preachers songs followed him on a lap of honour around the Olimpico. Three generations of Roma came together as he embraced Totti and Bruno Conti. Grown men cried. Mascara ran down faces. After regaining his composure, De Rossi smiled. As he approached the Sud, he got down on his knees and kissed the ground.
The contract De Rossi has with Roma is almost up, but what are they worth these days anyway? As Daniele said last September, he has always belonged to the fans.