The final game of the 2018-19 season in Germany is Saturday's DFB Pokal (German Cup) final between Bayern Munich and RB Leipzig. Will the Bavarians complete a memorable league/cup double, or will the fledgling side from Saxony upset Niko Kovac & Co.?
Here's what you need to know ahead of the game in Berlin — live on ESPN+, 5/25, 2 p.m. ET — and an exclusive interview with Bayern winger Serge Gnabry.
German Cup final preview
WHO'S THE FAVORITE? 18-time DFB Pokal winners Bayern are widely expected to win but they know better than most that cup games don't necessarily go according to plan: the German champions sensationally lost last year's final against rank outsiders Eintracht Frankfurt, 3-1. Third-place RBL are a better side than the Eagles were in 2017-18, especially at the back. Their defensive solidity — they conceded the fewest goals in the league and held Bayern to a 0-0 draw at home two weeks ago — will give them a decent shot at causing an upset, too.
KEY BATTLE: Marcel Halstenberg vs. Gnabry & Co. RB Leipzig's 27-year-old left-back will have to close down Bayern's strong right flank, where Gnabry combines with the constantly overlapping defender Joshua Kimmich to great effect. But even if Halstenberg, a contender for a starting spot with Germany, frustrates Gnabry, the battle is not quite won. Arjen Robben will be bursting with ambition on the touchline, eager to perform his favourite party-trick as a substitute for Bayern one last time.
– Sources: Man City ready to battle Bayern for Leroy Sane
– Mr. Indispensable: Which player can the biggest clubs not live without?
– 30 Under 21: The best young players in soccer
– Honigstein: Can Bayern replace Ribery and Robben?
X-FACTOR, BAYERN MUNICH: James Rodriguez has not started a game for Bayern since the 1-1 draw with SC Freiburg at the end of March. After overcoming a persistent calf injury, the Colombian is back in contention to add his unique brand of creativity as a substitute in case Thomas Müller's unpredictable game fails to come off against Leipzig's excellent pressing game. The 27-year-old's possible intervention would be very timely: chances are he will go back to Real Madrid following the match in Berlin.
X-FACTOR, RB LEIPZIG: Youssuf Poulsen has only scored one goal in all of April and May, in the 3-1 semifinal cup win over Hamburger SV, but that dry spell disguises a hugely productive season. The Danish centre-forward's 19 strikes in all competitions have gone a long way to take the Saxons to third place in the Bundesliga. Bayern's back-line can ill-afford the threat posed by the 24-year-old, especially in transition.
BAYERN NEED TO… be patient and accurate in possession, and immediately counter-press when their attacks break down to stop Leipzig exposing them on the break. As the superior footballing side, they should aim to exhaust their hard-running opponents by moving the ball around.
RB LEIPZIG NEED TO… Ralf Rangnick will aim to double or triple up in wide areas, to force Bayern's game into the congested centre. The key is to find one of the attackers in the half-space between Bayern's full-backs and central midfield playmaker Thiago with pin-point vertical balls immediately after a successful recovery.
PREDICTION: Bayern will edge a tense midfield to win 1-0 in extra-time.
---
Serge Gnabry is taking his career in stride
When social media was awash with snide comments after he joined FC Bayern Munich in the summer of 2017, Serge Gnabry simply shrugged. It wasn't the first time people told him that he couldn't do what he wanted to do, and probably not the last. "You hear what's going on. Lots of people were saying that I was making a mistake, that I would never play for Bayern," the 23-year-old forward told ESPN.
The reaction had been the same when he moved from VfB Stuttgart to Arsenal at the age of 16 — "everyone said 'don't go, you have to stay here, you won't make it'" — and even the U-7s of his local village club initially turned him down. At four-and-a-half years old, Serge was technically too young to join but his father Jean-Hermann, a former amateur player at TSV who had moved to Swabia from the Ivory Coast and married a local girl, wouldn't take "nein" for an answer. He could see that the boy was already more skilled than his would-be peers and more importantly than that, he desperately wanted him out of the house. Serge was regularly smashing up lamps and other bits of furniture, kicking a ball around. Luckily for everyone involved, Weissach relented.
"All I ever wanted to do was play football," said Gnabry. "My dad pushed and pushed [my youth team] until they agreed to let me play, despite my age. I soon realised that I could do more than the others."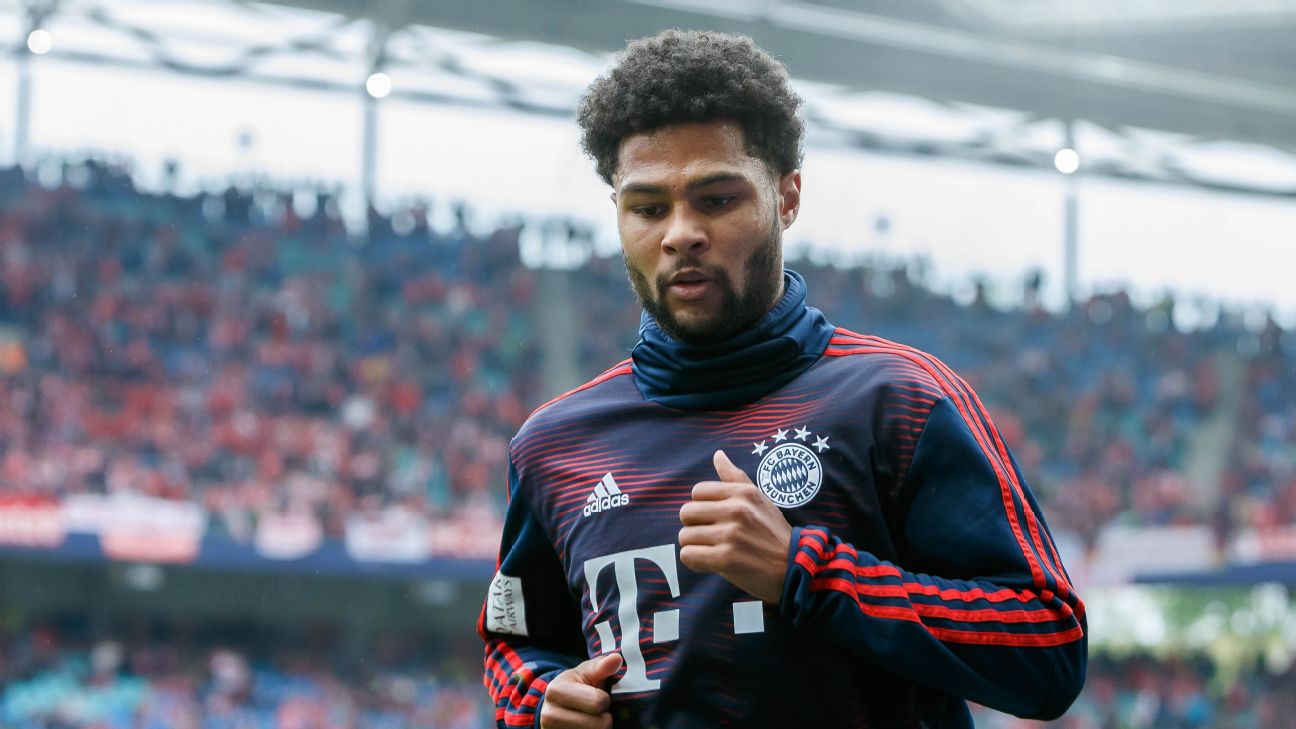 Under the tutelage of his father, Gnabry quickly progressed to join VFB Stuttgart, the biggest club in the southwest of Germany, at the age of 10. There he played in an excellent youth team that featured the likes of Timo Werner (now at RB Leipzig) and his current Bayern teammate, Kimmich. Stuttgart fought tooth and nail to keep him when Arsene Wenger showed an interest in 2011. To no avail. "I was confident that I had the ability to thrive there," said Gnabry.
Following a promising early debut for the Gunners, his career in London petered out due to combination of injuries and too much competition. Bayern engineered an €8m move via initial buyers Werder Bremen and a loan to TSG Hoffenheim, but even president Uli Hoeness didn't anticipate him doing as well as he did in his first year at the Allianz Arena. Gnabry immediately became a starter in their seventh consecutive title-winning campaign, scoring 13 goals in 49 games in all competitions — elite numbers for a wide attacker. Without Gnabry's goals and energy from the right, Bayern would probably not made up a nine point-deficit in December to finish two points ahead of Borussia Dortmund last Saturday.
As much as he's enjoying himself, Gnabry understands that Bayern's ambitions cannot be fulfilled by winning the league alone. Even a domestic double — completed against Werner, his former teammate — won't quite make this a successful season. That said, he's capable of appreciating what he has, a lesson he's learned visiting his father's family in the Ivory Coast. Gnabry's been back twice to "soak up the happiness" of his extended family.
"It's very important to know not just the culture of my German side but also the African side," he said. "Everyone knows the difference in life between there and here, it's a completely different mentality, people don't have the same stuff but are still happy. It humbles you." Gnabry last went to Africa ahead of the 2016 Olympics, a tournament that proved instrumental in securing his successful return to Germany. He'll go there for two weeks this June, before the club's trip to the U.S. and preseason training ahead of the next milestone.
In 2019-20, Gnabry will be tasked to lead Bayern and Germany to international glory. Don't tell him he can't do it.