BARCELONA, Spain — You can take the boy out of the United States, but you can't take the United States out of the boy. Konrad De La Fuente, born in 2001, has spent seven years living in Barcelona, but it's LeBron James, not Lionel Messi, whom he looks to for inspiration as he tries to make it at one of the world's biggest soccer clubs.
Before LeBron, though, there was Ronaldinho. De La Fuente was born in Miami to Haitian parents but spent his childhood in Florida idolising the Brazilian playmaker. When he was 10, he moved to Barcelona. He was picked up by Barca a couple of years later after impressing for local team Damm and has spent the past four years progressing through the club's La Masia academy.
A "dynamic winger" in his own words — "fast, skillful, tricky, I like to take players on," he tells ESPN FC in April — he is currently part of Barca's U19 side but did make his B-team debut earlier this season and could be promoted to the reserves permanently after the summer. But first, he's with the U.S. U20 team as it looks to make a splash at the U20 World Cup. After narrowly losing its opening group game to Ukraine, the U.S. defeated Nigeria 2-0 on Monday to leave a clear path to the knockout rounds with a positive result against Qatar on May 30.
"It was a dream," De La Fuente says in an American accent, which he has not lost, as he remembers the moment his parents told him they would be uprooting to Barcelona. "Every weekend I would be watching Ronaldinho, he was my idol. At the time he was playing at Barca. I was like, man, I would wanna get there, you know? I have always dreamed and worked hard since I was a little kid to make it come true.
"Once we came here, I always knew that this was a great opportunity for me to get scouted. I knew they had scouts all over the place. It was just a matter of me playing well and them seeing me. I'm glad I got the chance."
– Keep or Dump: Who survives at Barcelona?
– Carlisle: Sebastian Soto's road to U20 World Cup
– U20 World Cup: Young players to watch
– Bell: Meet the comic book-loving USMNT starlet, Paxton Pomykal 
– Carlisle: How Ben Lederman's career was almost ruined at Barca
Now that he's in Barcelona and playing for the club, it's highlights of another sports star he seeks out at home. He lives just around the corner from the club's out-of-city training ground with his parents and his brother and spends his time off the pitch following the action on the court back in the U.S.
"My greatest athlete idol is actually LeBron," he adds. "Even though I am a [soccer] player, LeBron is my greatest idol. It's just how much he works, keeps himself in shape, his mentality going into games, the way he conducts himself on the court, how it's not always about him, it's about making the team better … That's just the right mentality to have, as great as you are, that's what it's about."
It's the advice a shy De La Fuente passed on to a group of kids from Barca's New York academy in April. He met them as part of a meet and greet organised to coincide with the Barca Academy World Cup, which featured 2,100 young players and 13 of the club's U.S- and Canada-based academies. They asked him what they had to do to make it in the game — a question U.S. Soccer has been asking itself since failing to qualify for the World Cup in Russia last summer. However, there are reasons to be hopeful. In De La Fuente, the U.S. has a 17-year-old representing the five-time European champions for the next generation to look up to. He's not the only talent emerging, either. Christian Pulisic, who has just swapped Borussia Dortmund for Chelsea, is the obvious example, but there will be plenty more on display at the Under-20 World Cup in Poland this month.
The U.S. kicked off its campaign with a 2-1 defeat to Ukraine on Friday night but rebounded in style with a 2-0 victory over Nigeria. De La Fuente played the full 90 minutes and believes that he's part of an American squad that can send a message to the soccer world.
"It's a major tournament," he says. "I'm confident we can go far in it. I just hope I can help the team get as far as possible. In the U.S. we have some great talent right now. I just hope that at this World Cup we can prove to everyone that we're coming."
Eleven members of the U.S. U20 squad play in Europe. De La Fuente is the youngest by a distance, but he's already forging a strong relationship with the other American youngsters playing on the continent, such as Paris Saint-Germain's Timothy Weah and Bayern Munich's Chris Richards. Brady Scott, Chris Gloster, Alex Mendez, Ulysses Llanez and Sebastian Soto are also part of a growing American contingent in Germany with which De La Fuente says he is in constant communication. Such long-lasting bonds often provide the platform for sustained success.
"With the U20s and the younger guys, we're really close friends," De La Fuente explains. "We talk almost every day, mostly with the guys in Germany, it's really cool. It's good that they're playing well and progressing, too. I am happy for them."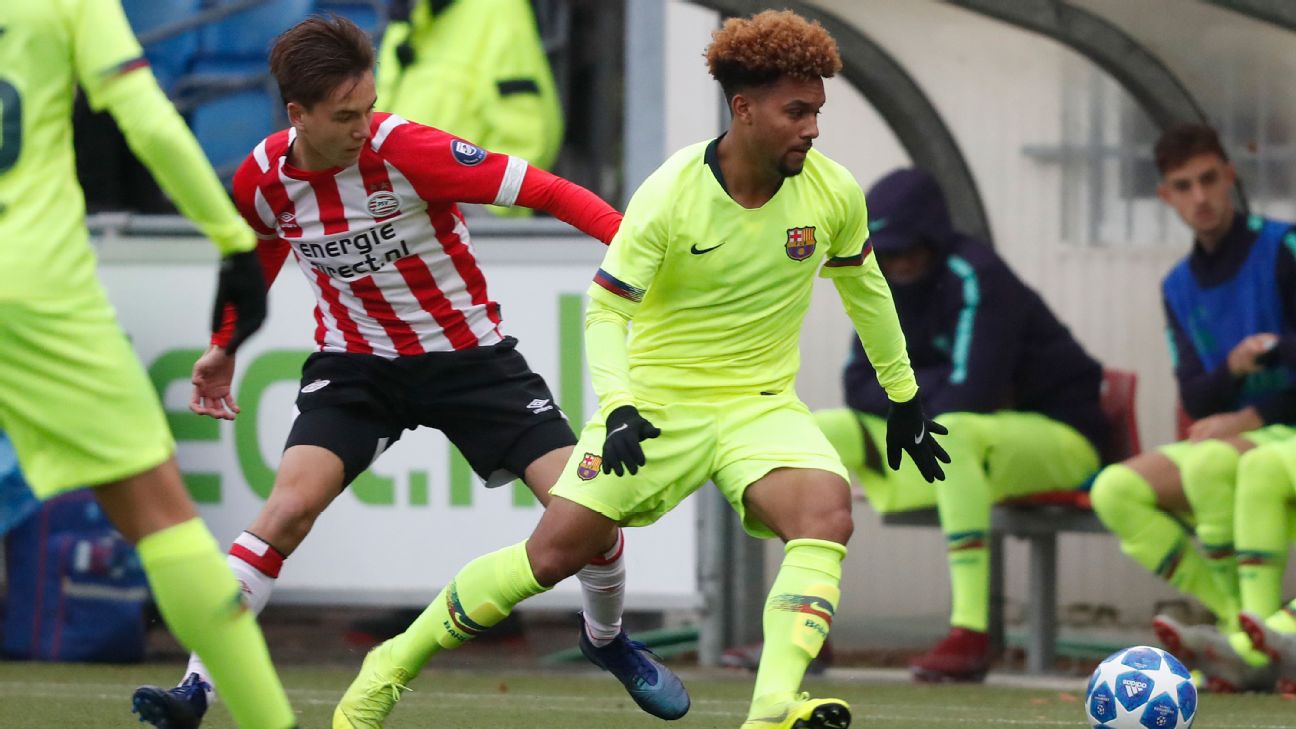 As with most footballers, the goals are short-term for De La Fuente but it's impossible not to ask what comes next. Could he become the first American to play for Barca's first team? Or will he follow Ben Lederman — who left Barca last summer for Belgian club KAA Gent — out of the Camp Nou door?
It's such a difficult question to answer when a player is still developing, but people at the club talk highly of his professionalism, his lifestyle off the pitch and his ability on it. The same cannot be said for everyone who gets a chance to live their dream at La Masia, as many become distracted by the attention and the social media following.
"Konrad wants to be successful and make it at the top in a manner which says a lot about him," a coach at La Masia tells ESPN FC. "He is completely dedicated to football. With that attitude, he's already won half the battle and I am sure he will keep getting opportunities to impress in the coming months. He has his head in the right place."
First-team manager Ernesto Valverde regularly calls up B-team players to train with the first team. Occasionally he will use some of the U19s, too, to make up the numbers and so he can cast his eye over teenagers emerging from the academy. De La Fuente has not yet rubbed shoulders with Messi and the other first-team stars in a training session, but Valverde and his staff have been keeping a close eye on his development.
"Konrad's a really good player," one member of Valverde's coaching team tells ESPN FC. "He has character on the ball and he's brave. We really like him. He's prepared to try things. If it doesn't come off, he tries again. If you want to play out wide, you have to do that, you have to use all your quality and your pace and Konrad always does that really well."
"Yeah, he's quality!" adds Marcus McGuane, the English defensive midfielder currently with Barcelona B. "It's also been good having him because he obviously speaks English! He's American but his Spanish is perfect. It's been good having him around, helping as a translator and stuff.
"I like [Konrad] a lot. He should be with the B team [next season], yeah."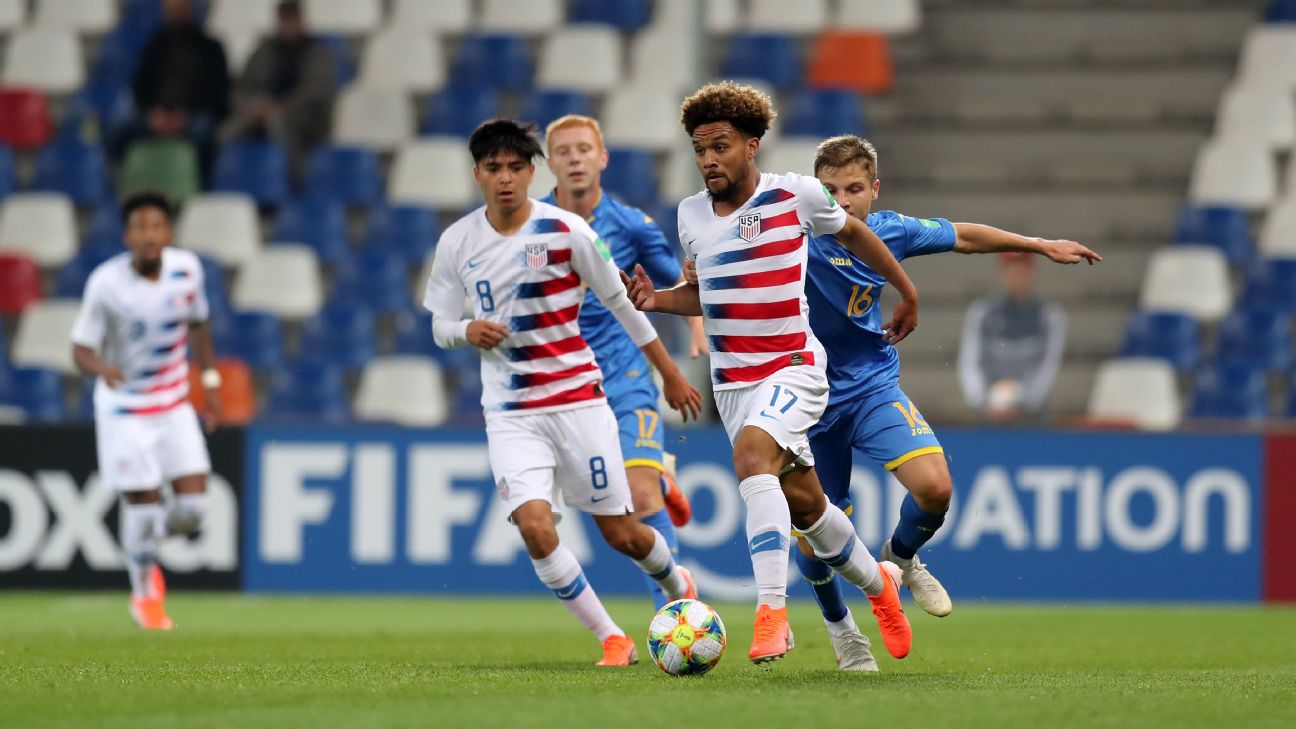 A few months ago, there were coaches at the club who were certain De La Fuente would make it at the top level, although they were unsure whether that would translate into regular minutes for Barca's first team. But after an impressive season, the message has begun to change. "We have to give him time — a year or two with the B team — and then see what's best for him and for the club," Valverde's assistant adds.
The club has been particularly impressed with the role he played in the run to the UEFA Youth League semifinal this season. Barca eventually lost to Chelsea on penalties following a 2-2 draw in normal time, but De La Fuente did set up the opening goal with a trademark run and cross from the right. He says those European trips, when the U19s fly and lodge with the first team, which plays its Champions League games at the same time, are an eye-opener into the world of soccer at an elite level.
"You learn a lot playing against the best players in the world in our age group, traveling with the first team and having the same routine as them," he explains. "It's a great experience as a player and you grow a lot." De La Fuente hopes that experience will serve to propel him into the first team at Camp Nou, but he is not setting any targets. It's been tough to get to where he is now and he wants to enjoy the present before he worries about the future.
"When I first got here it was different because I wasn't used to the atmosphere of being here," he adds. "This is such a big club. As I matured, as I got older, it got a lot better, a lot easier. I'm just happy I am still here and focused on playing my best. Right now, the focus is the U20 World Cup and Barca. They're exciting things."
Additional reporting from Moises Llorens contributed to this story.