LONDON — It is never easy to put history into context just as it's being made, so it may be many more years before the real magnitude of Manchester City's domestic Treble can be properly judged. But by inflicting a 6-0 defeat on Watford in the FA Cup final on Saturday, Pep Guardiola's City achieved what no men's club has done before by winning the Premier League, FA Cup and Carabao Cup in the same season. However you feel about it, their place in history is certainly assured.
Saturday's Cup final win against Javi Gracia's team was City's 50th victory of the campaign, in their 61st game, and they took their goals tally to 169 and equalling Bury's 116-year record for the biggest-ever FA Cup final winning margin in the process. It's clear that the record books are in need of some rewriting.
– Ratings: Sterling a perfect 10/10 at Wembley
– Report: Man City smash Watford to win FA Cup
English football has produced some iconic sides over the years — the Double winners at Arsenal, Tottenham and Liverpool, or the Treble winners (Champions League, Premier League and FA Cup) at Manchester United — but City's class of 2019 are now in the same bracket as those illustrious greats of yesteryear.
With the club currently being investigated by UEFA and Premier League for alleged financial fair play transgressions, and similar probes being carried out by FIFA and the Football Association due to allegations of wrongdoing in the signing of underage players, City's achievements may yet be tainted depending on the outcome of those investigations. But as Guardiola said last week, the club is "innocent until proven guilty" and their success this season can only be judged by what we know now.
While the domestic treble is the greatest achievements in the club's history (so far), it is by no means a story that only began in the days after last summer's World Cup, when the players returned to the Etihad to be told by Guardiola that they had to meet the challenge of defending the Premier League title.
The reality is that this season's success began as far back as the summer of 2015, 12 months before Guardiola took charge of the club. At that point, he was preparing for the third year of his contract at Bayern Munich, yet sources have told ESPN FC that Raheem Sterling completed his £49m move from Liverpool to Manchester City that summer after being told how highly he was rated by Guardiola.
Kevin De Bruyne was another who made the move to City in 2015, with the Belgian leaving Wolfsburg for the Etihad because of the prospect of working with Guardiola a year later. In short, the building blocks have been carefully laid over recent years in order to put City in the position that they are now in.
Players were signed and staff were recruited — Guardiola's assistant coach, Rodolfo Borrell, the man who nurtured Lionel Messi, Cesc Fabregas and Andres Iniesta as a youth team coach at Barcelona, was hired as far back as March 2014 — as every effort was made by the City hierarchy to make the club ready for Guardiola, whom they'd been attempting to hire since his departure from Barcelona in 2012.
Year one at City was turbulent under Guardiola, with the club finishing third in the league and ending the season without silverware, but huge recruitment in the summer of 2017, which saw the key arrivals of Kyle Walker, Benjamin Mendy, Ederson and Bernardo Silva, sparked the incredible run to the 2017-18 Premier League title, which was won by amassing a record 100 points.
All of the above is the backstory to the tale of this season's success. A long-term project, with improvements every year, culminating in a campaign that has seen City sweep the board domestically: they even called themselves the "fourmidables" and counted the Community Shield, won against Chelsea last August, as part of their haul.
The Carabao Cup was won against Chelsea in February following a penalty shoot-out victory at Wembley, while City held off Liverpool's spirited challenge in the Premier League to emerge as champions with 98 points — the second-highest total in league history behind last year's 100-point mark. On the way to winning the Premier League, City had more goals (95), shots (683), passes (26,581) and touches (33,593) than any of their rivals and they also won more games too. Liverpool pushed them hard, but City were unstoppable in the end.
So how did Guardiola drive his players on to become the first team since Manchester United, in 2009, to retain the title, but also clean up in every other competition in England?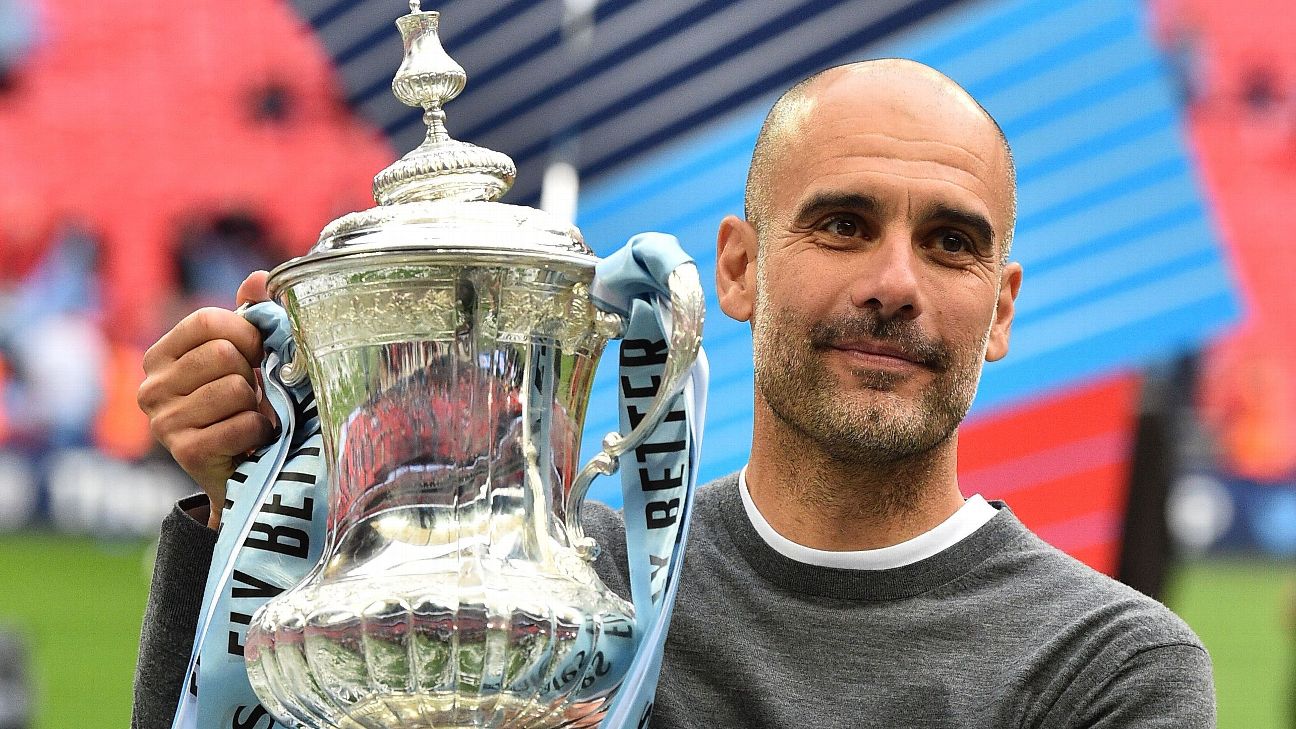 When Sir Alex Ferguson guided United to the club's first title in 26 years back in 1993, he walked into the dressing room at the start of the following season and told his squad he had three envelopes containing the names of those players he believed would let him down by resting on their laurels. Whether those envelopes existed or not, it proved to be a motivational masterstroke with United going on to win a league and FA Cup double that season, also reaching the EFL Cup Final, as his players proved to their manager that they had the hunger and desire to build on their previous success.
There were no envelopes for Guardiola but there was a key preseason moment when he made it clear that he expected last season to be merely a staging post to greater things rather than a high watermark.
People say now we have to forget what we did last season," Guardiola said last summer. "No way. I don't want to forget what we have done last season. I know exactly what we did to achieve that, and that is where we start from.
"That's the basic principle. Now, when I say something to them [the players], they know exactly what we have to do. We will have bad moments, but at a club where you win titles, winning another one helps for the future. It is impossible to win titles if you just have quality players — if they believe their quality is enough then you cannot win — not even a friendly game."
And City's players work hard. Driven by Guardiola to train at all times of the day — City train in the evenings before night games to prepare their minds and bodies, such is the manager's determination to have every detail covered — their levels of fitness continue to leave opponents stunned. One player who has faced City over the past two season told ESPN FC that Guardiola's players "kill you with the ball, but they also run as hard in the last ten minutes as the first."
It all stems from Guardiola. When Mendy turned up late for treatment on his injured metatarsal last September, after spending the previous night in London watching a world title boxing fight, the French defender was told to stay away from the training ground for a week by a furious Guardiola, who was determined to deliver a message to both Mendy and the rest of his squad that he expected full focus and commitment from every player. Kyle Walker, the full-back whose power down the right flank has been crucial to City since his arrival from Tottenham two years ago, attributes the team's success to Guardiola's character.
"Intense" is how the England international describes the City manager, while captain Vincent Kompany admitted after the title-clinching win at Brighton last week that Guardiola's demanding personality is why City have become serial winners.
"He starts everything off," Kompany said. "He sets the standards. If he is too nice, we don't go and win back-to-back titles, but I knew we could do that, straightaway.
"The first meeting of the season, it was all about trying to get back-to-back [league titles]. He had done it before [at Barcelona and Bayern Munich] and I felt we could do it from the first moment. I felt the desire."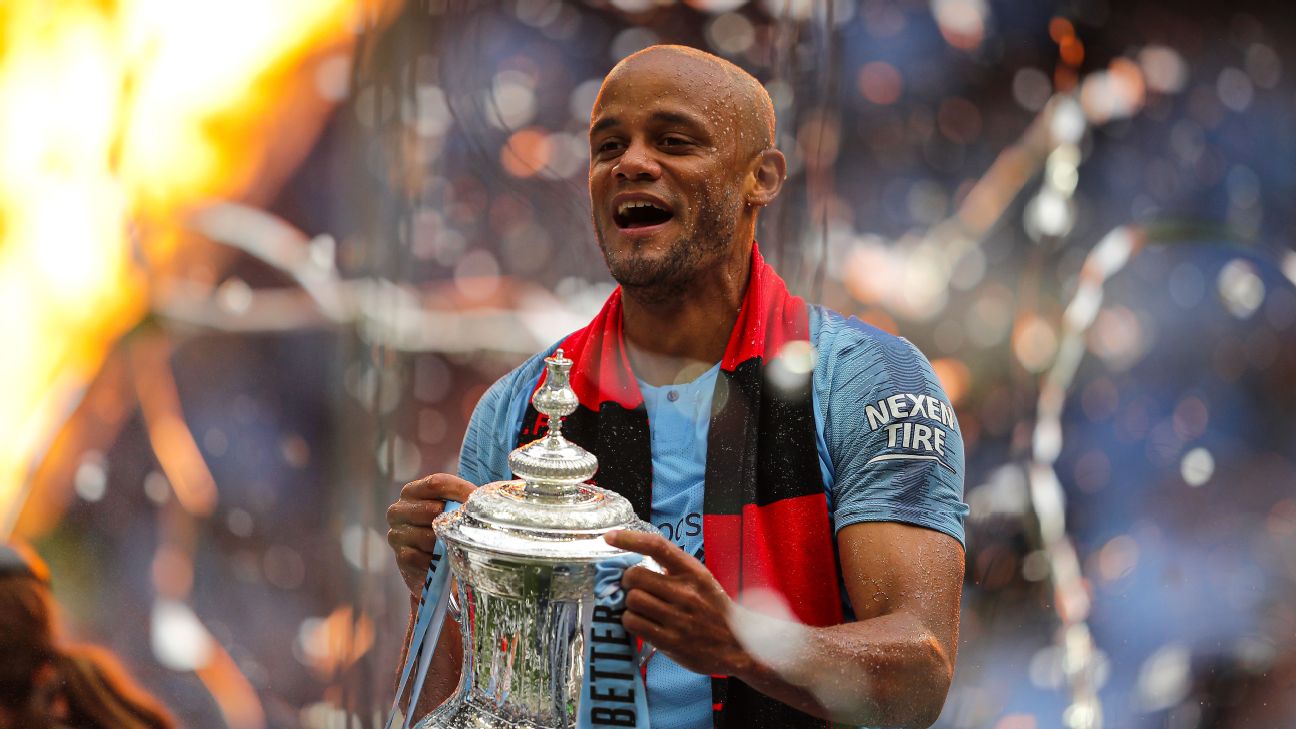 City's domestic record during 2018-19, with the team winning 32 of their 38 league games, suggests a serene run to success, but there have been blips along the way. And while the 9-0 Carabao Cup win against Burton and 7-0 Champions League victory against Schalke point to the ruthlessness of Guardiola and his players, the league defeats against Crystal Palace and Leicester, and the loss at Newcastle in January, say more about their qualities.
After the back-to-back defeats against Palace and Leicester, City steadied the ship and then earned the ultimately decisive 2-1 win at home to Liverpool in January that reduced the gap to Jurgen Klopp's team to four points. A defeat would have left City trailing by 10, but the loss at Newcastle three weeks later was the pivotal moment.
From that moment on, City didn't drop a point in the Premier League, but it was only after Guardiola issued a rallying call in a training session the day after the defeat against Rafael Benitez's team. He was convinced that Liverpool would drop points, but told his players that they couldn't afford more slip-ups if they were to challenge Klopp's side.
"We spoke in the last [few] days," Guardiola said at the time. "We didn't recognise our team. They know it, they felt the same way in the last game against Newcastle." The Newcastle defeat was a line in the sand. From then on, City won every Premier League game — 14 on the spin — to beat Liverpool to the title.
The Champions League proved elusive, with Spurs edging an epic quarterfinal on away goals after a 4-4 aggregate draw, but Guardiola refocused his players by calling for one last, winning surge in the league and cup. Sergio Aguero's goal then crossed the line by millimetres in a 1-0 win at Burnley and Kompany netted a stunner from 35 yards in another tight 1-0 victory against Leicester as City held their nerve in the face of incessant pressure from Liverpool.
Man City just rolled on, fighting back from a goal down to clinch the title with a 4-1 win at Brighton, before ending the season in emphatic fashion against Watford, making more history on the way. It was ruthless and brutal at times, but City have become a winning juggernaut thanks to Guardiola.
The concern for the rest is that he will be back next season, demanding more from his players. Only a fool would dare suggest that he won't manage to take City to even greater heights.