It's 2019. Lionel Messi and Cristiano Ronaldo are the dominant forces in soccer, winning nearly every individual award and leading their clubs to title after title. Yet both are in the twilights of their careers, at 31 and 34 years old respectively, and previous heirs to the throne such as Neymar and Gareth Bale haven't come close to filling their boots.
It's the same story for a slew of defensive talent, as Vincent Kompany, Sergio Ramos, Gianluigi Buffon and Giorgio Chiellini are approaching that tricky crossroad as well.
It prompts an obvious question: Who's next? Who will take on the challenge of being the best in soccer?
ESPN FC's experts came up with their list of the 30 best players aged 21 or under (as of May 1, 2019) to figure out who has the best chance of claiming the crown — and all the trophies — of the top player in soccer. We ranked the top 10, with the rest in alphabetical order.
Dig in.
Jump to: The Top 10 | Alexander-Arnold | Bailey | Barco | Betancur | Chiesa | De Jong | De Ligt | Dembele | Donnarumma | Felix | Foden | Havertz | Hudson-Odoi | Jovic | Kean | Lainez | Martinez | Mbappe | Militao | Palacios | Paqueta | Pulisic | Rashford | Sancho | Sarr | Tielemans | Tonali | Under | Vinicius | Zaniolo
---
The top 10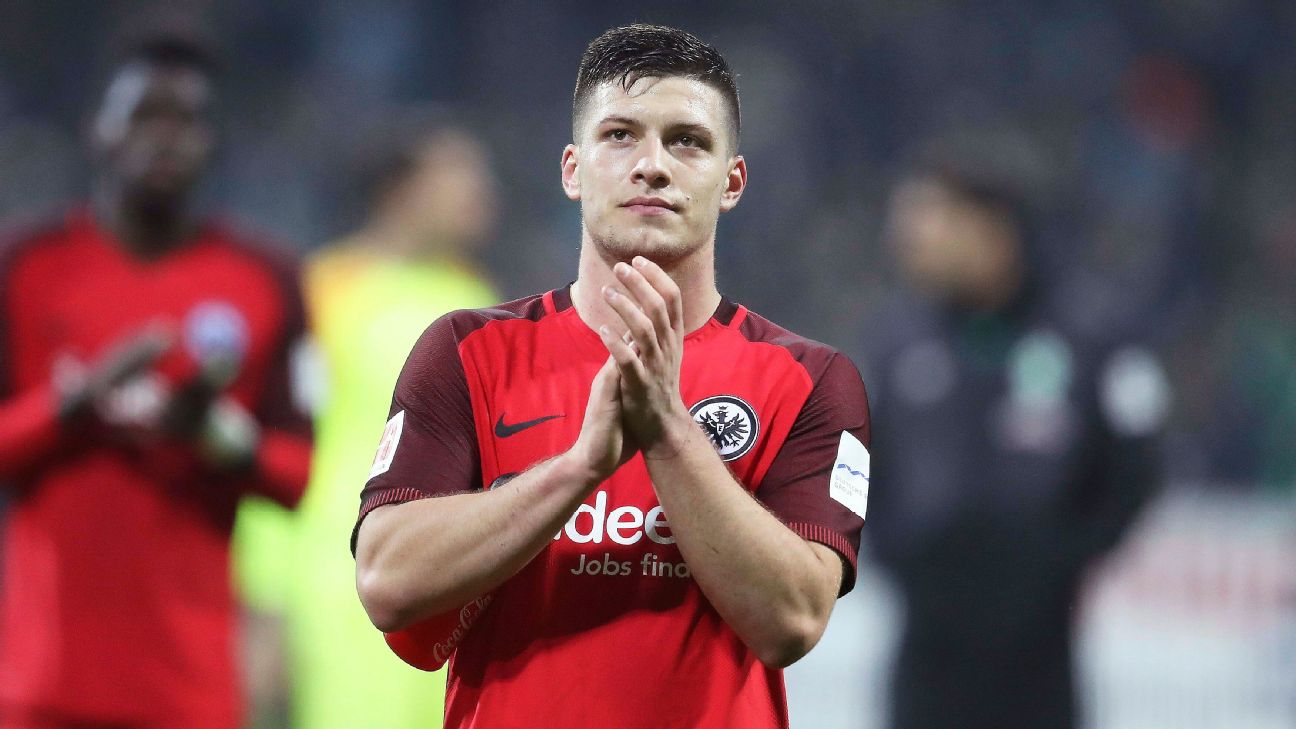 10. Luka Jovic, FW, Eintracht Frankfurt/Serbia
Age: 21
Why he's on the list: The Serbian Luis Suarez, with less bite
Estimated transfer value: €70 million / $78 million
This season's breakout star in the Bundesliga is one of the main reasons Eintracht Frankfurt made it to the semifinals of the Europa League and are in contention to finish in the Champions League places. Jovic, 21, is the most prolific member of the Eagles' superb trio of attackers, alongside Ante Rebic and Sebastian Haller. You can count on one hand the number of players his age who have scored as many goals in Europe's top five leagues.
Jovic isn't particularly strong or fast, but he has a natural feel for making the right moves in the box and a habit for finishing with calm and precision. He's also tenacious, happy to hunt down balls, hassle defenders and create opportunities with his relentless work rate.
What's next? In mid-April, Frankfurt exercised a buy-option to make his two-year loan from Benfica permanent until 2023. The fee was rumoured to be €12m / $13.4m, which is almost indecently low considering his output and market value. Frankfurt could easily sell him for four to five times as much this summer. Barcelona, keen to secure a long-term replacement for Luis Suarez, have been pretty open about their admiration. Jovic's father, Milan, confirmed that the Catalans made an approach to the player. Lately, Real Madrid have made it known that they'd like to explore bringing him to Spain, and Bayern have predictably followed his progress as well. — Raphael Honigstein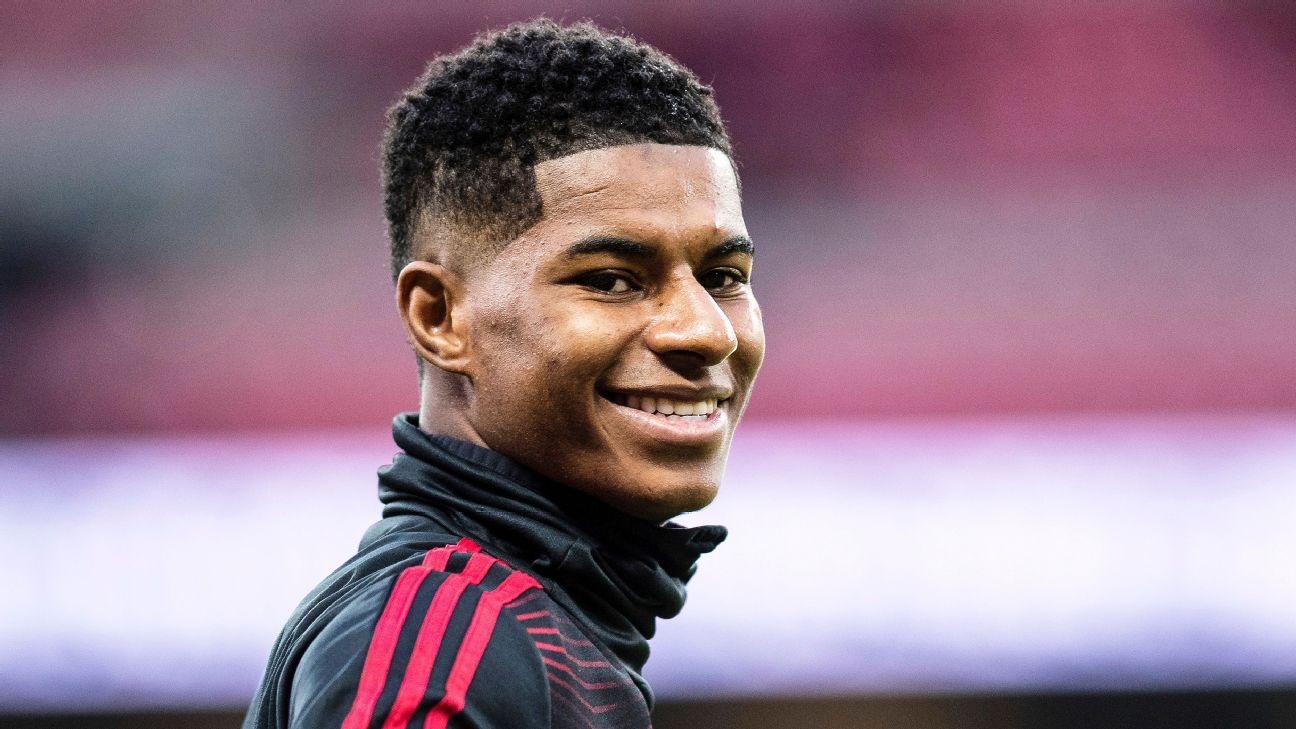 9. Marcus Rashford, FW, Manchester United/England
Age: 21
Why he's on the list: The future at Old Trafford
Estimated transfer value: €114m / $128m
Marcus Rashford is now established as Man United's first-choice forward at the age of 21, having enjoyed a rapid rise to stardom since scoring twice on an unexpected debut as an 18-year-old in February 2016. The Manchester-born player repeated his debut heroics with two goals on his Premier League debut against Arsenal and a goal on his England debut against Australia in May 2016. A product of United's youth system, Rashford is blessed with blistering pace, two quick feet and awareness of those around him. In short, he is a player United will build around.
What's next? United are attempting to negotiate a lucrative long-term contract with Rashford, whose deal expires in June 2020. While Rashford grew up a United fan in Manchester, interest from Barcelona and Real Madrid ensures that the Old Trafford outfit can't assume he'll stay. The odds suggest he will remain for the long-term, but United will need to show they are serious about winning the major trophies again. — Mark Ogden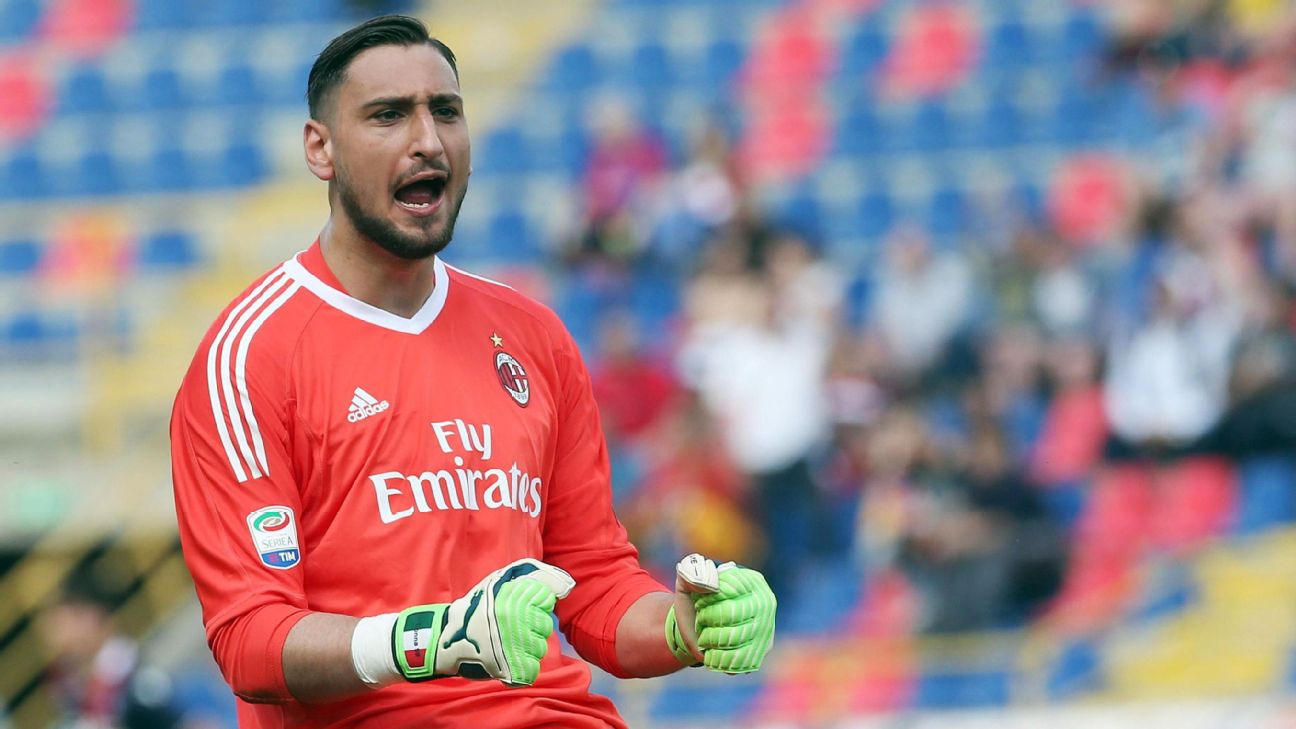 8. Gianluigi Donnarumma, GK, Milan/Italy
Age: 20
Why he's on the list: The next Buffon
Estimated transfer value: A new world record for a goalkeeper
It's kind of weird that a 20-year-old feels like he has been around for ages, but he's already in his fourth season at Milan and unsurprisingly ranks as the youngest player to make 100 appearances in Serie A, beating other precocious types such as Gianni Rivera, Paolo Maldini, Roberto Mancini and Francesco Totti. Loads of Italian goalkeepers have been proclaimed the next Gigi Buffon over the years, but Donnarumma is the only one who comes close.
What's next? Donnarumma would have been at PSG if his agent, Mino Raiola, had his way. Unconvinced by Milan's former owners, he thought the Parc des Princes was the right place for his client to develop. Last season, the war around his future unsettled Donnarumma, who, as a Milan fan, wished to stay. It's hard to imagine him moving elsewhere in the near future. Now that Leonardo Bonucci is gone, Donnarumma is Milan's highest-paid player. — James Horncastle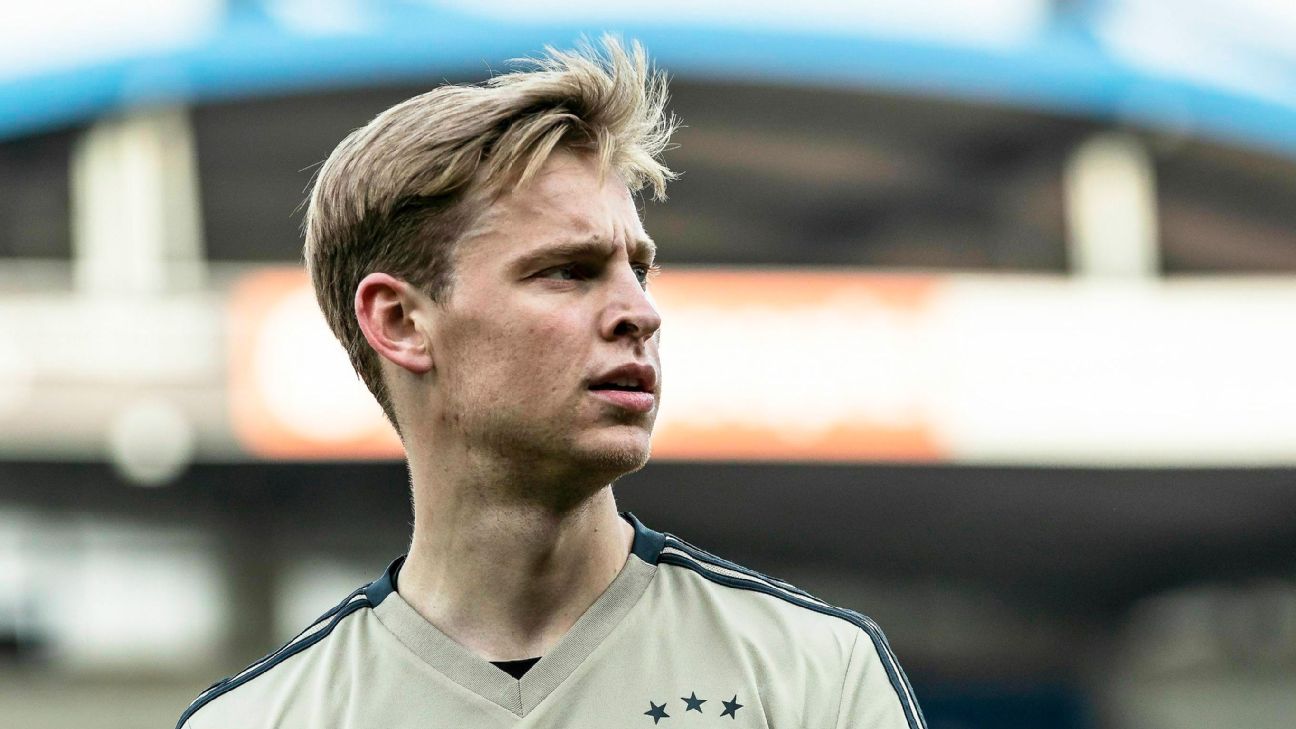 7. Frenkie de Jong, MF, Ajax/Netherlands
Age: 21
Why he's on the list: The next Cruyff
Estimated transfer value: €75 million / $84m (in January)
De Jong is, quite simply, the most exciting midfielder in world football. He can pass the ball for fun, showing courage in the tightest of spaces, but the extras in his game make him special. His dribbling and acceleration, often from deep areas of the pitch, can completely open a game, as Luka Modric discovered when De Jong famously left him sprawling with one turn and burst of speed during Ajax's majestic win at the Bernabeu in April.
Comparisons to the original Dutch master, Johan Cruyff, are both frequent and inevitable, but perhaps he will prove capable of even more. De Jong has style and guts to match the silk. The frightening thing is that this is surely only the beginning.
What's next? Joining Lionel Messi & Co. In January, Barcelona announced that they had signed him to a five-year contract, which he will begin in July. — Nick Ames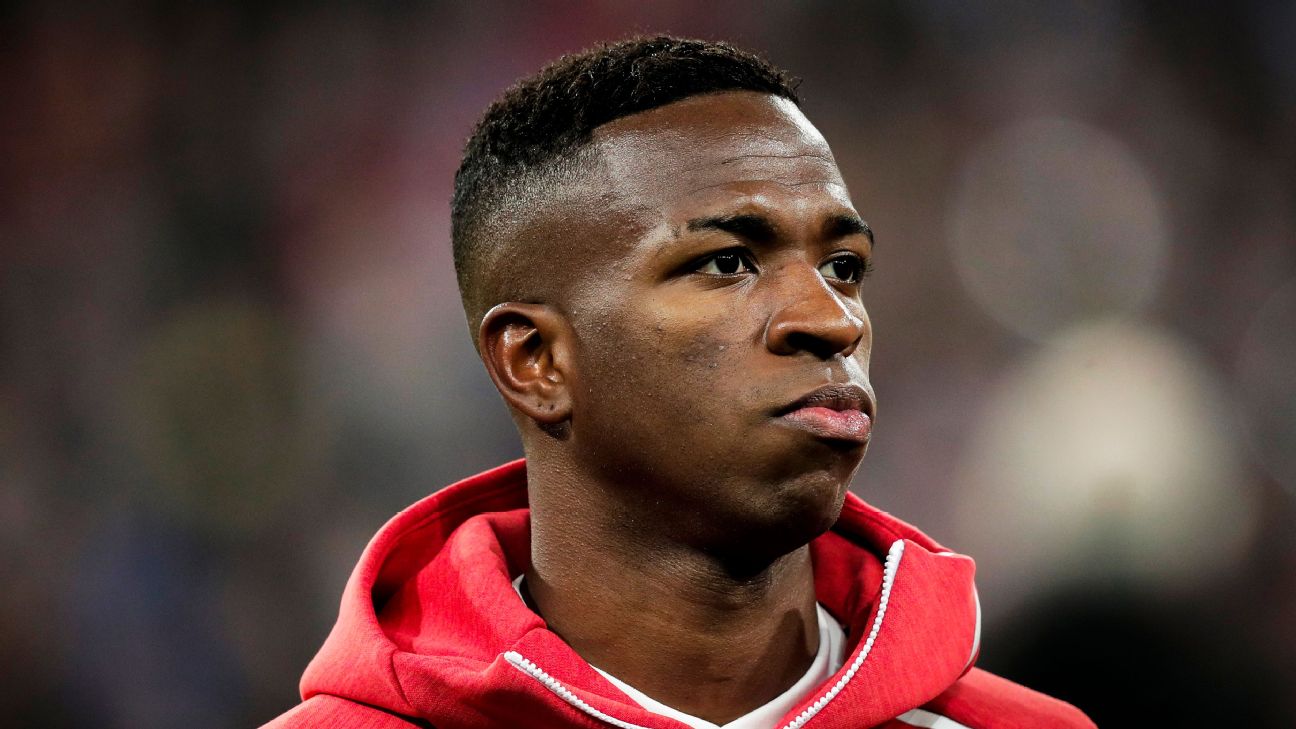 6. Vinicius Junior, FW, Real Madrid/Brazil
Age: 18
Why he's on the list: The Neymar whom Real wanted when they didn't get Neymar
Estimated transfer value: €140 million / $157m (his buyout clause not public but his market value is gigantic)
Vinicius is phenomenal in the literal sense of the word. Phenomenally good, yes — that's a decent beginning. He possesses the power and balance of the young (Brazilian) Ronaldo, only his "beat" is the wing (preferably the left) rather than rampaging down the middle of the opponents' half toward the penalty area.
Take away his football prowess, and you'd see that Vinicius is a truly special athlete — you'd hate to have to face him … or chase him. Real president Florentino Perez is a massive fan: When the club missed out on signing the current PSG man to Barcelona, Perez started the hunt for the alternative there and then. They succeeded.
What's next: There's no doubt whatsoever that Vinicius is not only committed to Real Madrid but also romantically thrilled to be there. He recently admitted what was an open secret in Spanish football: Barcelona not only courted him but also made a more lucrative offer than the one he accepted from the Bernabeu. Simply put, Vinicius is loving life at Real Madrid. He always wanted to play for them. — Graham Hunter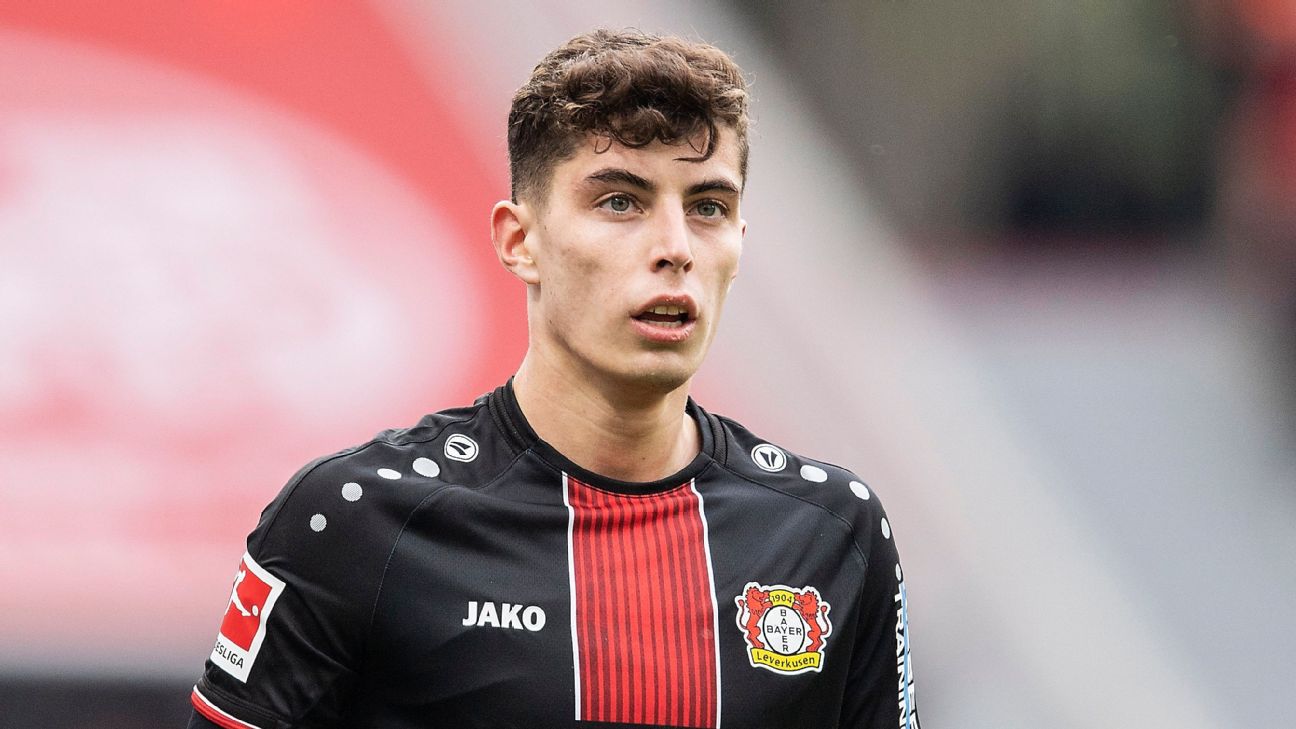 5. Kai Havertz, MF, Bayer Leverkusen/Germany
Age: 19
Why he's on the list: The next Mesut Özil
Estimated transfer value: €100m / $112m
Germany's most talented player of his generation has the world at his feet. Havertz is a classic playmaker: the man who brings structure to the centre and feeds attackers with killer passes. There's an effortlessness to his game too. He floats through midfield, evades challenges, calmly distributes the ball and moves up into the box to score. His playing intelligence also allows him to shine in a number of central positions.
What's next? There has been strong interest in the 19-year-old from Chelsea as well as Barcelona, but Bayern are expected to come in the hardest for him. The Bavarians have made no secret of their attempts, but Bayer 04 Leverkusen have little intention of selling him this summer. Ultimately, he could play four to five years in Munich before setting his sights on one of the Spanish or English giants. — Raphael Honigstein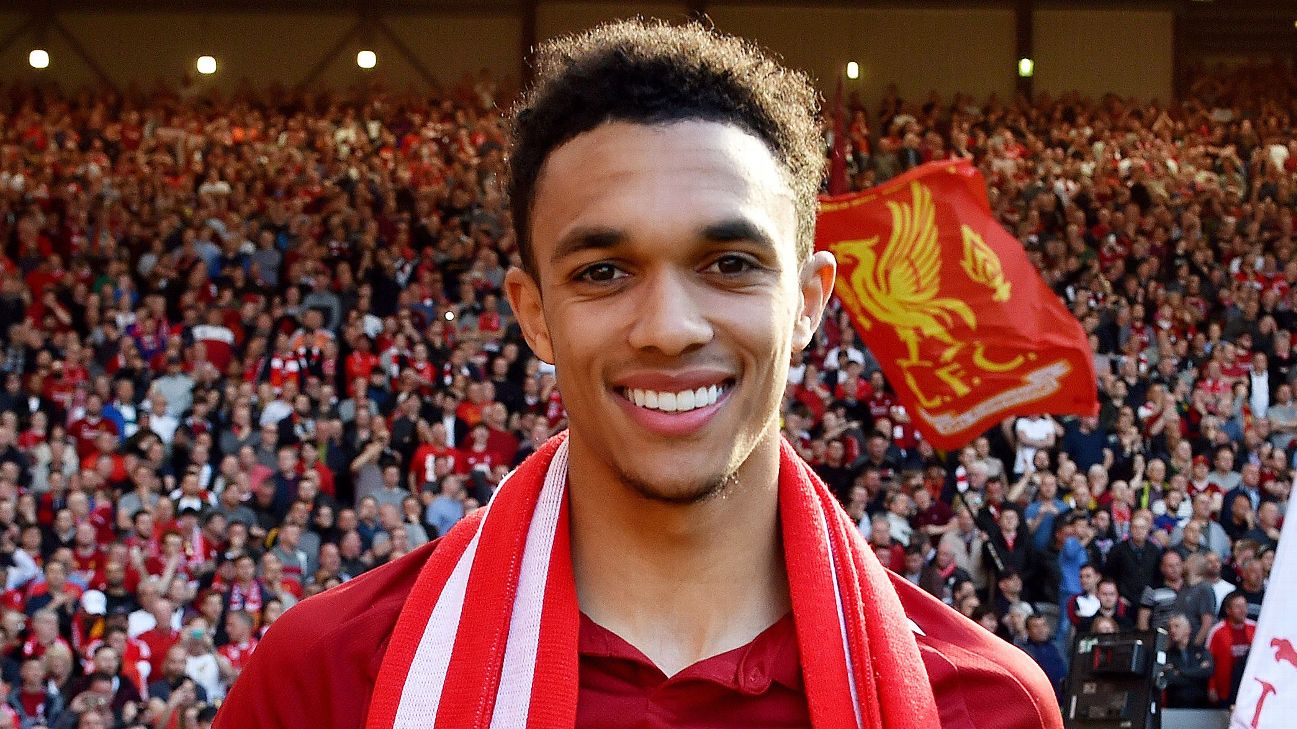 4. Trent Alexander-Arnold, DF, Liverpool/England
Age: 20
Why he's on the list: The next great two-way English defender
Estimated transfer value: €69m / $77m
The Liverpool right-back, born and raised in the city, has progressed through the club's youth system since he was spotted by local talent scouts at 6 years old. As a schoolboy, Alexander-Arnold's talent was singled out by Steven Gerrard, who in his autobiography described the youngster as a star of the future. Blessed with pace, strength and an athletic physique, Alexander-Arnold has become a key figure in Jurgen Klopp's team. His development the past two years has seen him become a regular in Gareth Southgate's England squad.
What's next? Liverpool have moved quickly to secure Alexander-Arnold to a long-term contract, with the player signing a new deal earlier this year that runs until June 2024. With Liverpool once again a force in English and European football and Alexander-Arnold a self-confessed supporter, having grown up within a short distance of Anfield, it's difficult to envisage him playing anywhere else. — Mark Ogden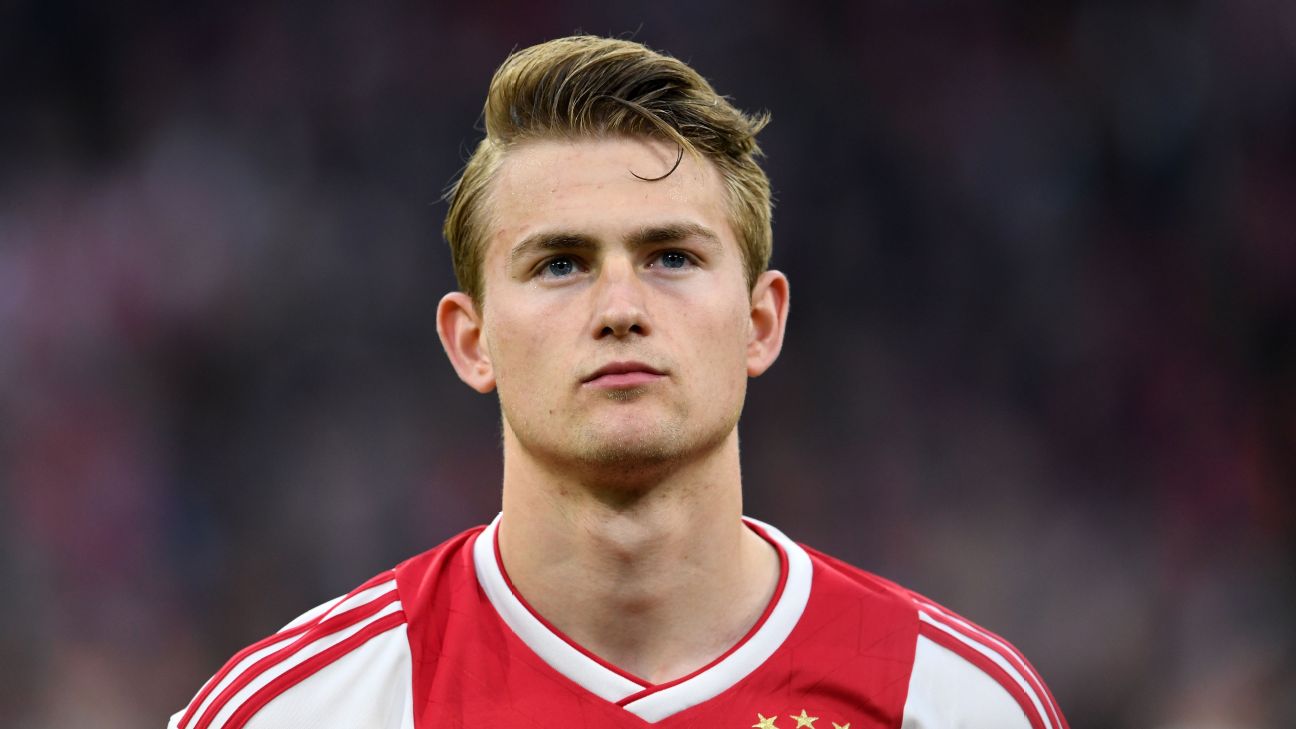 3. Matthijs de Ligt, DF, Ajax/Netherlands
Age: 19
Why he's on the list: The new Maldini
Estimated transfer value: €80m / $90m
The way de Ligt flung himself at the ball to head home Ajax's stunning winner at Juventus in April was reminiscent of a gnarled, uncompromising veteran. But he is only 19, and the surprises do not end there. He is the captain of this remarkable side, a teenager with the physique and mentality of a player who has seen and done it all.
When de Ligt was younger, he excelled at both tennis and hockey; he is an all-rounder on the pitch too, blessed with exceptional technique and a rare knack for leadership. It is virtually impossible to think of a defender with comparable maturity in the modern era — not to mention an emerging player who simply adores the art of defending.
What's next? De Ligt has always been coy when discussing his future, but earlier this month, local media suggested that he would join Barcelona or Bayern Munich. "We don't talk about players from other teams, although I know where he will play next year," Barca director Guillermo Amor said Tuesday. In Barca language, that tends to mean a deal is in the bag. — Nick Ames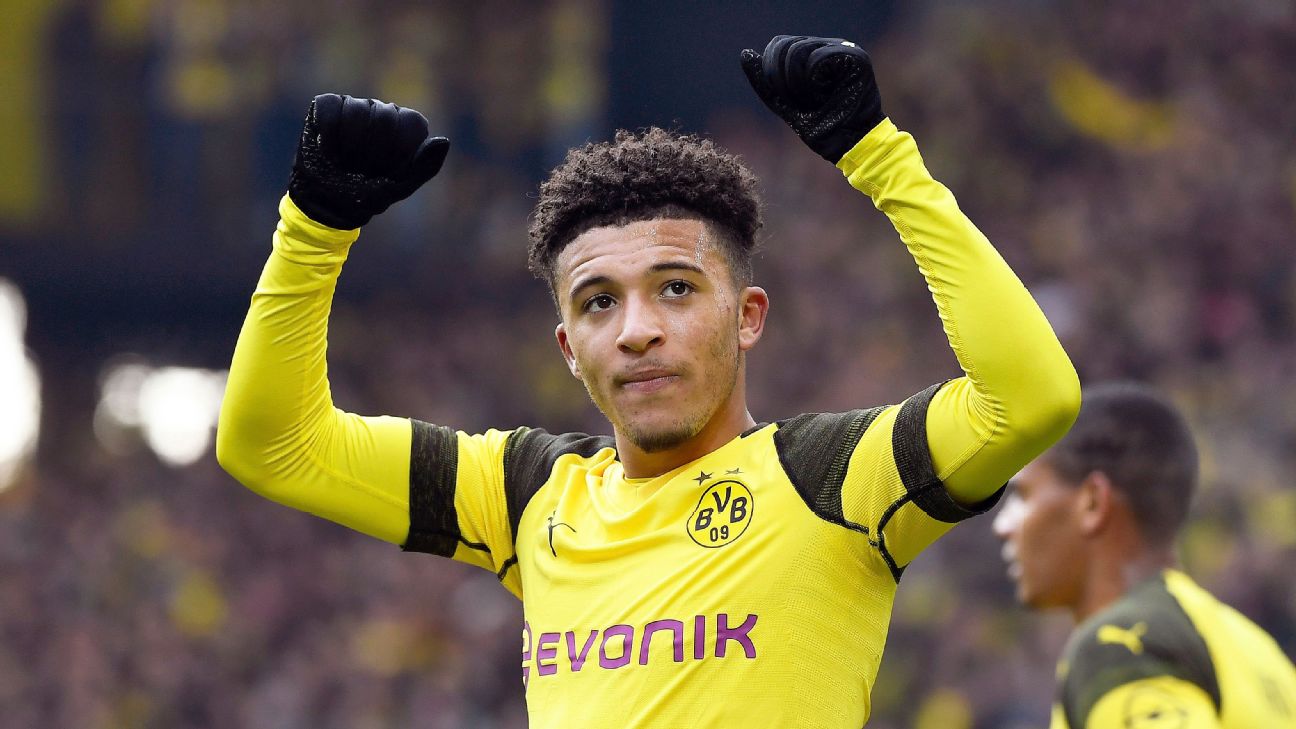 2. Jadon Sancho, FW, Borussia Dortmund/England
Age: 19
Why he's on the list: Dortmund's latest success story
Estimated transfer value: €114m / $128m
The 19-year-old Londoner was originally spotted by Watford, who had Sancho on their books from the age of 7 before losing him to Manchester City as a 14-year-old. City identified the forward as one of the first players to emerge from their academy, but having grown frustrated by a lack of opportunities at the club, he made the bold move to leave England for Germany by signing for Borussia Dortmund in the summer of 2017. Sancho has since taken the Bundesliga by storm, even pushing Pulisic to the subs' bench. The English international's pace down the wing and ability to create chances has made him one of the most sought-after youngsters in Europe.
What's next? It's no surprise that the Premier League's biggest clubs are interested in Sancho, with Manchester United leading the chase to sign the youngster. But it won't be that easy: With Pulisic no longer at Dortmund, the club might be inclined to fight to see Sancho unless they get an offer in the region of €114m / $128m for a player they signed for €9m / $10m less than two years ago. — Mark Ogden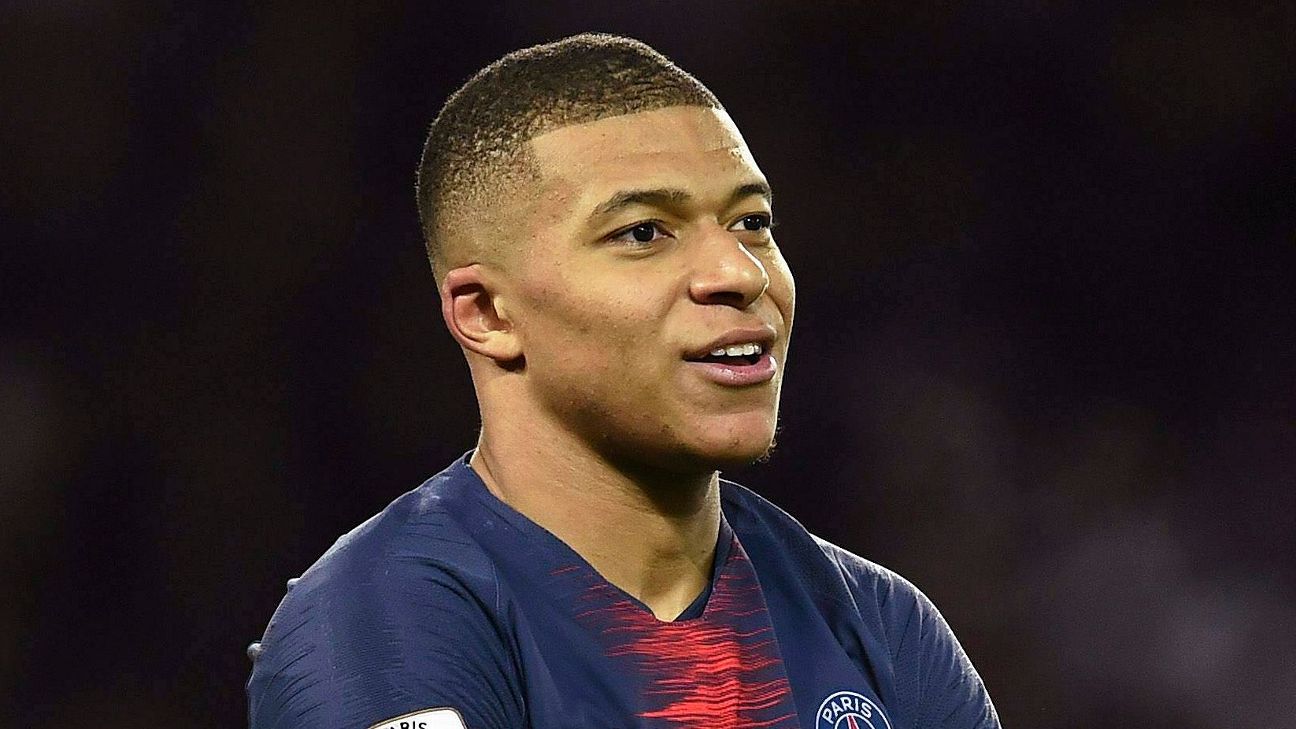 1. Kylian Mbappé, FW, Paris Saint-Germain/France
Age: 20
Why he's on the list: The future Ballon d'Or winner
Estimated transfer value: €250m / $280m
Mbappé burst onto the scene as a teenager two seasons ago, making a name for himself at Monaco, where he took the Champions League by storm in the second half of the 2016-2017 season. The French prodigy never looked back. He joined PSG in the summer of 2017, like Neymar, and continued his progress in the French capital. He was one of the stars of the 2018 World Cup, which he won with France, and he has been peerless in Ligue 1 this season. He has frightening pace, incredible skills on the ball and is a finisher too. Mbappe plays wide as a winger for France but more as a centre forward for PSG, and his future is probably as a proper No. 9.
What's next? There's no doubt that Mbappé will play for Real Madrid one day. He dreams of wearing their shirt … but not this summer. The Frenchman will stay in Paris, where he wants to win more trophies and keep improving. But soon, PSG and Ligue 1 will be too small for his oversized talent. — Julien Laurens
---
The rest of the top 30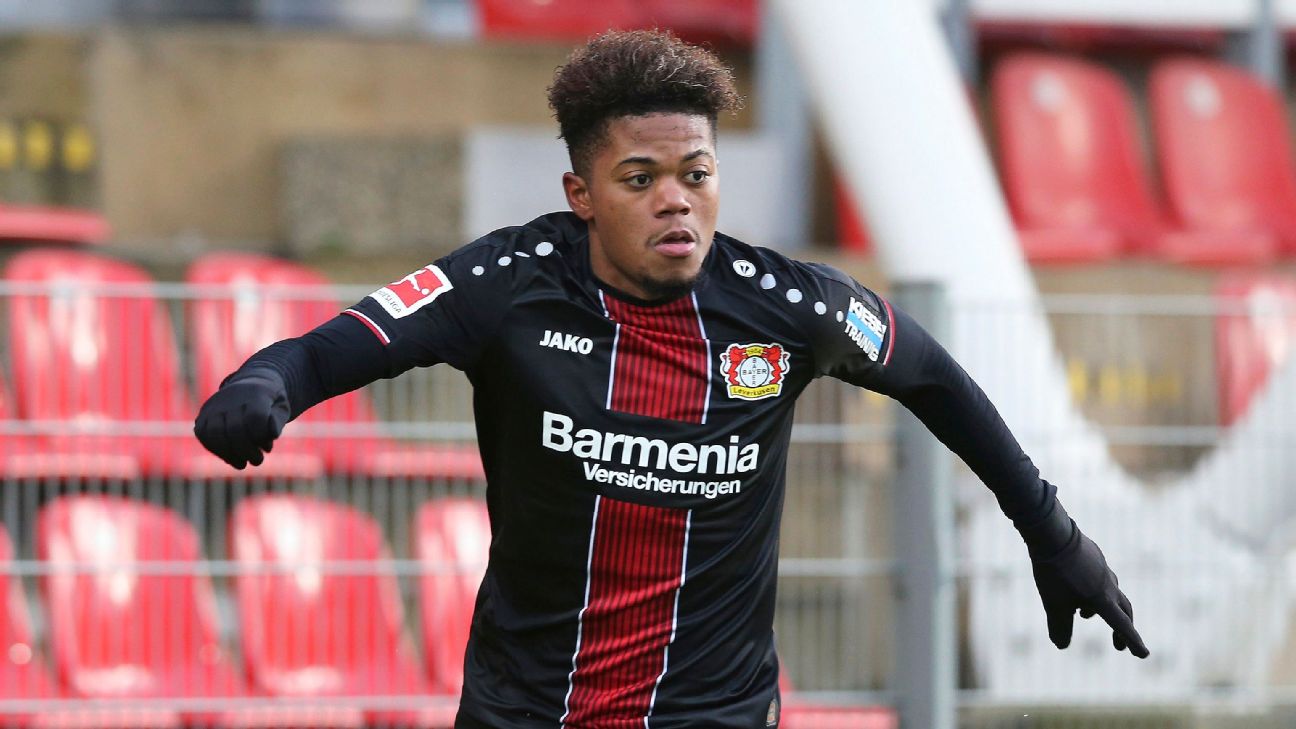 Leon Bailey, FW, Bayer Leverkusen/Jamaica
Age: 21
Why he's on the list: Jamaican football's answer to Usain Bolt
Estimated transfer value: €30m / $34m
A wiry and muscular left winger from Kingston, Bailey tore the Bundesliga apart with goals and assists galore in the first half of the 2017-18 season. On a good day, the 21-year-old's pace and zig-zagging dribbles frighten defenders into submission, but unfortunately, there haven't been that many good days recently. His form tailed off after the winter break 14 months ago, and his performances haven't rebounded, but there's no doubt that there's a real player here. He just needs to rediscover his confidence on the ball and improve his decision-making. The raw talent is undeniable.
What's next? Bayern were encouraged to make an offer last year — by Bailey's representatives, no less — but Leverkusen denied it. The transfer never got off the ground. Last summer, there was speculation about a move to Real Madrid. Bailey's age and skill set ensure that he'll remain on plenty of clubs' shortlists, but an indifferent season might prolong his stay in the west of Germany. His lack of a European passport might also be a problem for Premier League teams: He has so far refused to play for the Jamaican national team, which makes it harder to secure a UK work permit under the existing regulations. — Raphael Honigstein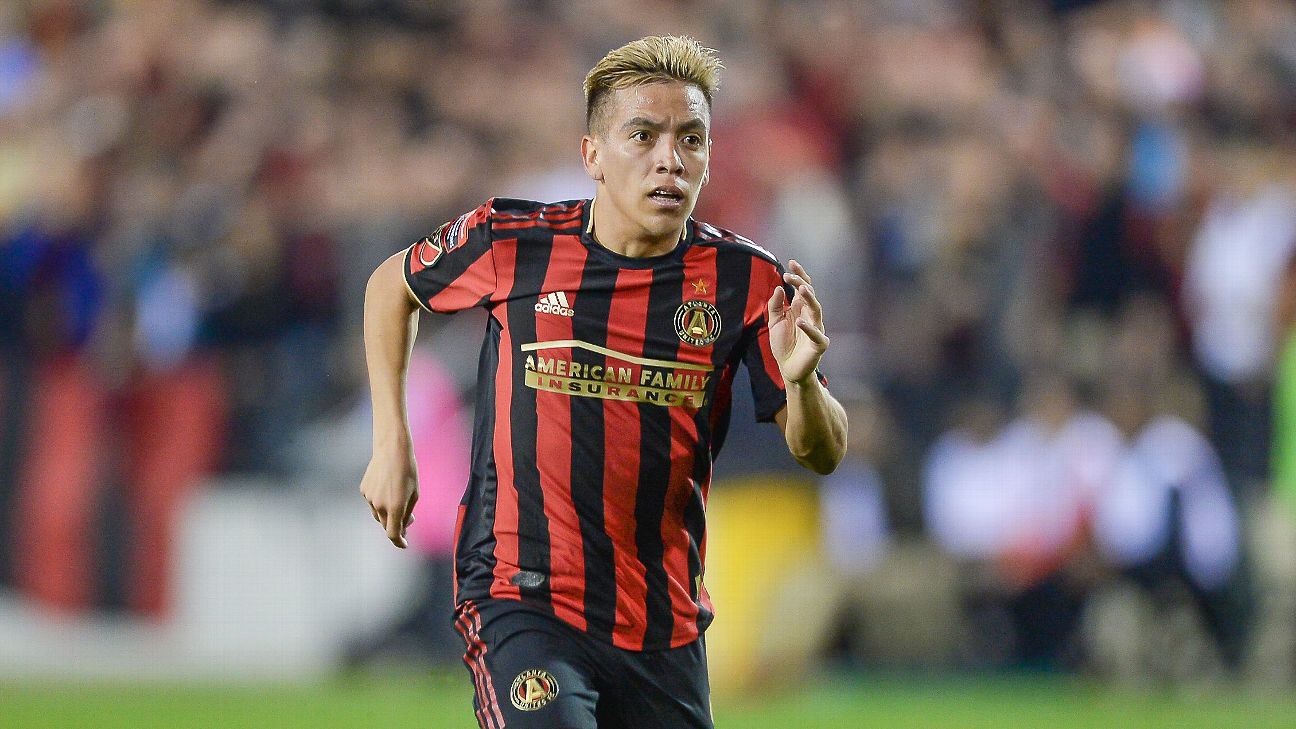 Ezequiel Barco, MF/FW, Atlanta United FC
Age: 20
Why he's on the list: A fusion of Pablo Aimar and Ariel Ortega
Estimated transfer value: Atlanta United paid Independiente €13m / $15m, will expect to get significant return on investment
Barco is another undersized playmaker, with his low center of gravity and powerful running making him adept at dribbling past defenders. He has an eye for the killer pass as well. He has been deployed mostly on the left wing in his career, though he'll drift into central positions if the space is there. He doesn't lack for confidence, either: As an 18-year-old, he scored a penalty for Independiente in the second leg of the 2017 Copa Sudamericana final against Flamengo to clinch the trophy.
What's next? Barco underwhelmed in his inaugural MLS season. At one point, then-manager Tata Martino suspended him for what the coach described as "an act of indiscipline," with rumors swirling that Barco made romantic overtures toward a teammate's significant other. But Barco has looked sharper and more settled in 2019 under new manager Frank de Boer. If he continues his current form, the transfer rumors will heat up again: Barco reportedly holds an Italian passport and has been linked with La Liga clubs in the past, including Atletico Madrid, who are managed by his compatriot, Diego Simeone. — Jeff Carlisle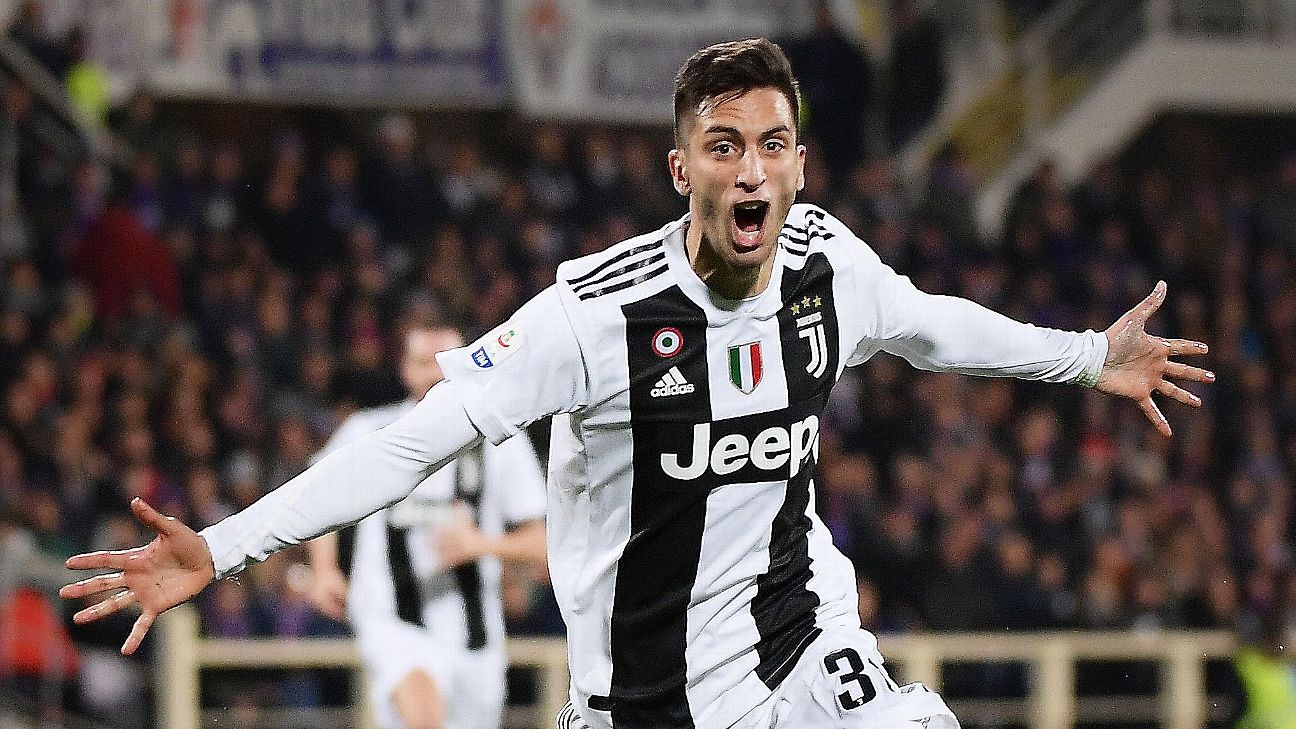 Rodrigo Betancur, MF, Juventus/Uruguay
Age: 21
Why he's on the list: A player born to handle the pressure
Estimated transfer value: €35-40m / $39-45m
Raised in Super Clasicos between Boca Juniors and River Plate, Bentancur grew up sooner than most. The big stage doesn't faze him. Bentancur isn't a fiery Uruguayan in the mould of Luis Suarez or Paolo Montero; rather, he plays with complete control and keeps his head in midfield, which perhaps shouldn't come as a surprise, given that he is from a place called New Switzerland.
Juve haven't seen a young midfielder impose himself this smoothly since Paul Pogba. Betancur is an intelligent runner, with his every move full of purpose, whether drawing opponents away from the ball carrier or opening up passing lanes. Of course, he remains a work in progress, but his ability to do a bit of everything well means he's a useful player in a team whose manager values versatility more than most.
What's next? Bentancur's performances at the 2018 World Cup attracted the attention of Atletico Madrid last summer, but Juventus were in no mood to sell. Another reason they're hesitant is that his former club, Boca Juniors, currently have a clause entitling them to 50 percent of any transfer fee — Juve are trying to buy that out, though they have no plans to sell, as Betancur will be a big part of the club's rejuvenation in midfield. — James Horncastle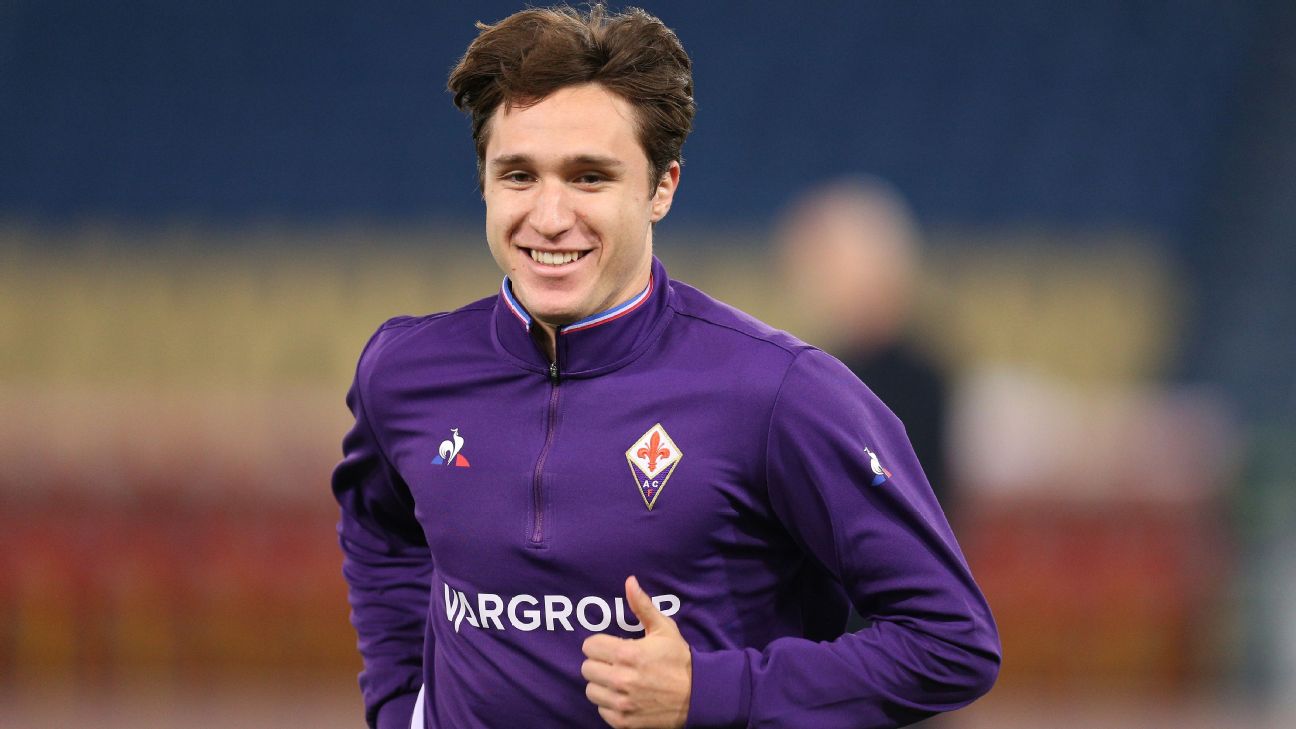 Federico Chiesa, FW, Fiorentina/Italy
Age: 21
Why he's on the list: Like father, like son
Estimated transfer value: €70m / $78m
As the Italian proverb goes: "Good blood doesn't lie." Federico's dad, Enrico, was one of the most watchable Italian players of the 1990s. Many of his 138 league goals were works of art, and there are echoes of him in his son's game, particularly in the way he strikes the ball. Incidentally, only Cristiano Ronaldo shoots more than Chiesa, who models his electric wing-play on Angel Di Maria.
In a world in which how long you play at high intensity and the number of sprints you make is valued more than ever, Chiesa seems destined for the top. Following him from the stands is exhausting enough; imagine what it must be like for a defender up against him. At 21, Chiesa has more than a 100 top-flight appearances under his belt and has worn the captain's armband, which is a bigger responsibility than most following the tragic death of Davide Astori.
What's next? Fiorentina hope Chiesa will stick around, but he needs to be playing in Europe every year if he is to make the most of his potential. It's anticipated that Chiesa will become the most expensive Italian ever this summer, as he seeks a transfer. Serie A's big three aren't the only ones with the Italy international high on their A list: Liverpool, Man City and Man United are fans and have the firepower to outspend any of Fiorentina's domestic competition. — James Horncastle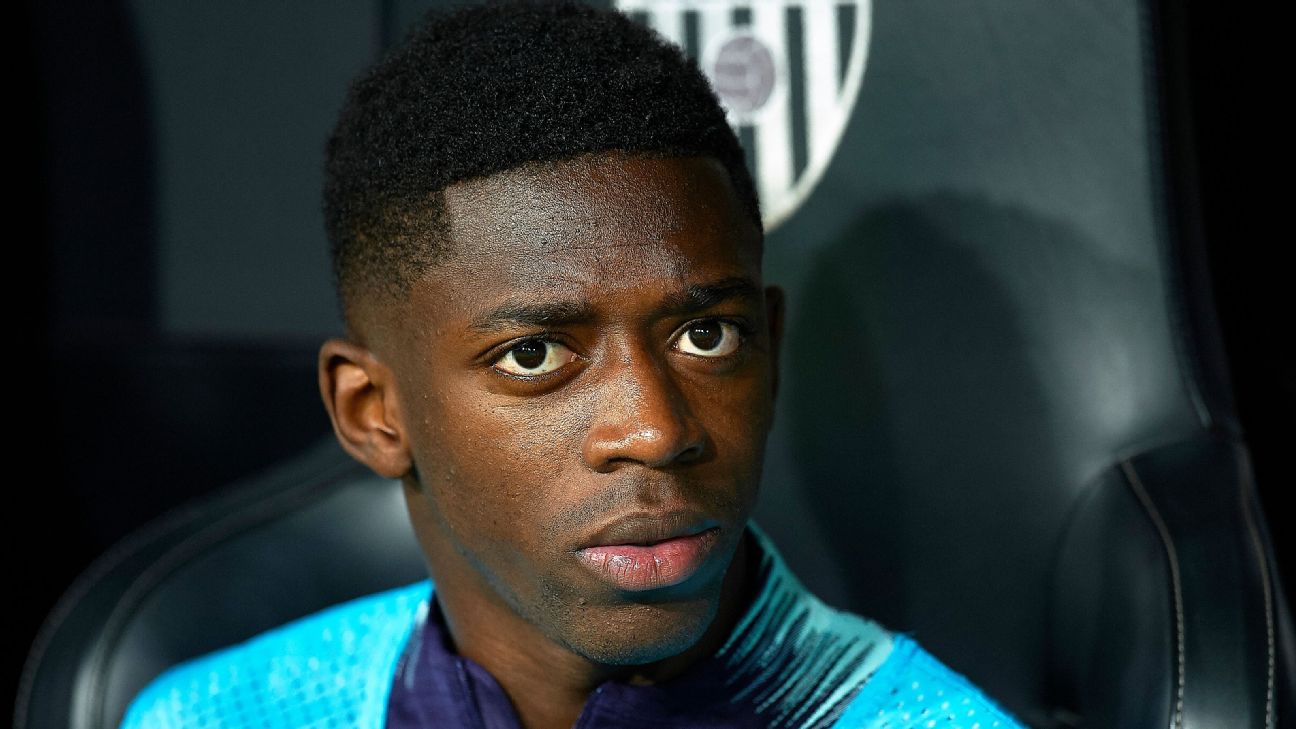 Ousmane Dembele, FW, Barcelona/France
Age: 21
Why he's on the list: The "Mosquito" who can truly replace Messi
Estimated transfer value: €400m / $448m (buyout clause written in his contract)
Barcelona are already planning for who will assume the mantle of "team superstar" after Messi, and Dembele is a candidate. Why? Because there's nobody in football who can receive the ball at his feet, standing still, and accelerate away on a dribble like this guy. It's astonishing, even more so if the opposition let Dembele pick up the ball when already on the run. An additional (and very rare) component of his game is that he's completely ambidextrous, equally prolific with either foot.
Then there's his development at Barcelona, which has been fascinating. Tactically, he's much more mature than most his age, capable of playing either wing and as an inside-forward while learning to track back. Best of all, Messi has taken this mustang under his wing.
What's next? Football is so crazy that it's anyone's guess whether Dembele will play out his long-term contract at the Camp Nou. It's up to him to decide whether he has the nerve to handle the immense pressure at a club that wasn't impressed with him sleeping in and missing training not so long ago. But there's no club in the world that'll be able to pay that buyout clause, and frankly, he has begun to look like he's loving life in this team. — Graham Hunter
Joao Felix, FW, Benfica
Age: 19
Why he's on the list: The next Cristiano Ronaldo (no, really)
Estimated transfer value: €120m / $134m (release clause)
Joao Felix was reduced to tears upon scoring his hat trick goal in Benfica's Europa League quarterfinal first-leg win over Eintracht Frankfurt in April. It is a feeling that defenders who come up against him are beginning to know well. Comparisons with Cristiano Ronaldo might seem clichéd, but evidence suggests they are far from fanciful. The 19-year-old had not played for the Portuguese club's first team before this season but is now undroppable. He has the speed, strength and array of tricks to beat a man from out wide.
His finishing is clinical, but his intelligence sets him apart. He likes to play as a No 10 or as a wide forward tucking in and finding pockets of space, drifting into dangerous areas with ease. His passing is as astute as his sprints are explosive: As a modern, all-around attacker he might well prove a worthy successor to his idol.
What's next? Why not team the old Ronaldo with the new one? That is Juventus' thinking, according to Spanish media reports, and Felix seems to agree. In February, he said he dreamed of playing with the decorated veteran. But the value of his release clause might be too steep for the Bianconeri, and others — such as Man United, Man City and Real Madrid — are circling. The smart money is on Juve, though, if a deal can be struck. — Nick Ames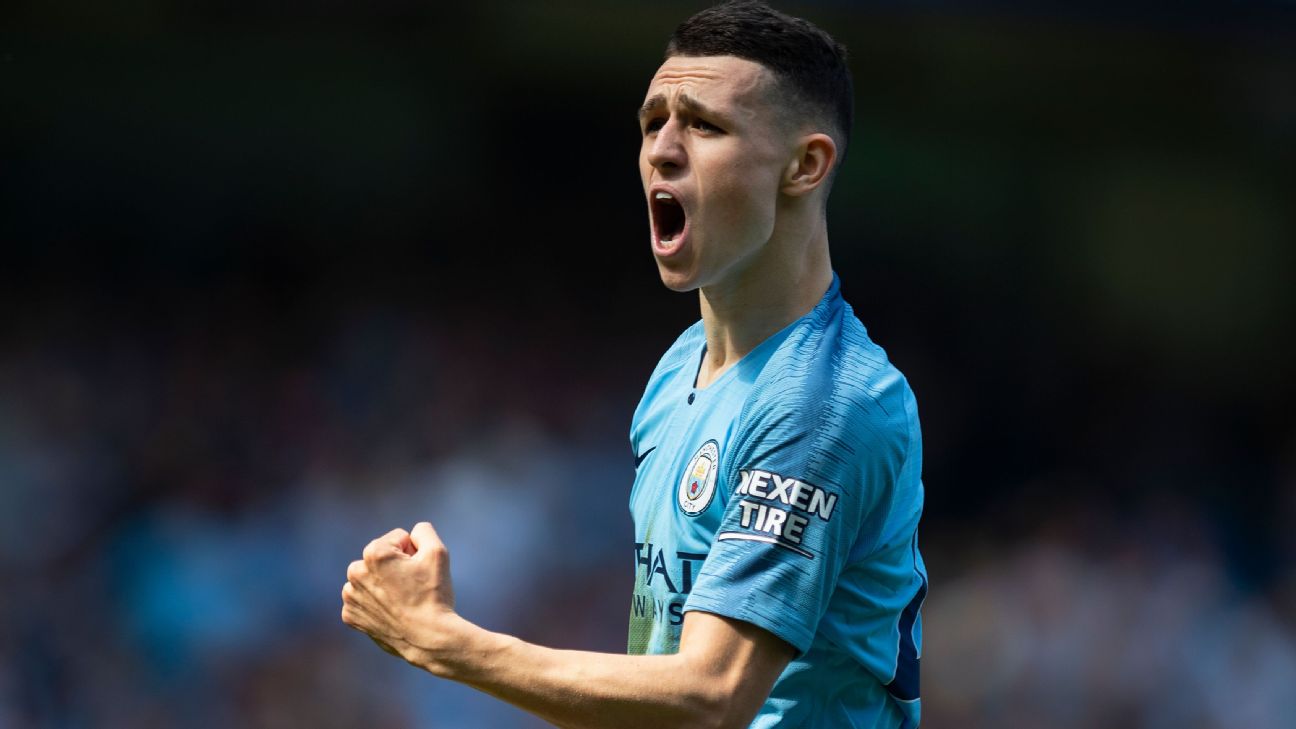 Phil Foden, MF Manchester City/England
Age: 18
Why he's on the list: The Stockport Iniesta
Estimated transfer value: €114m / $128m
Manchester City have failed to create a successful production line from youth team to first team, but Foden is regarded as the one who will change that and become a key figure for club and country for years to come. They were sure to keep him with the club last season, believing that training daily with the likes of David Silva, Kevin De Bruyne and others provides the Stockport-born youngster with the perfect finishing school. It has been working too: His silky ball skills, coupled with his ability to score from midfield, ensure that he is regarded by City's hierarchy as the jewel in the crown of their heavily funded youth system. He even won the FIFA U-17 World Cup Golden Ball after inspiring England to glory in the competition.
What's next? Foden has made almost 30 first-team appearances this season, but most have come from the substitutes' bench. Yet City have no desire to sell or loan Foden. He's on the brink of a major breakthrough, with many at City believing that he will become a key figure in the next 12 months. England manager Gareth Southgate believes that Foden has a huge future on the international stage as the ball-playing midfielder England have lacked for 20 years. — Mark Ogden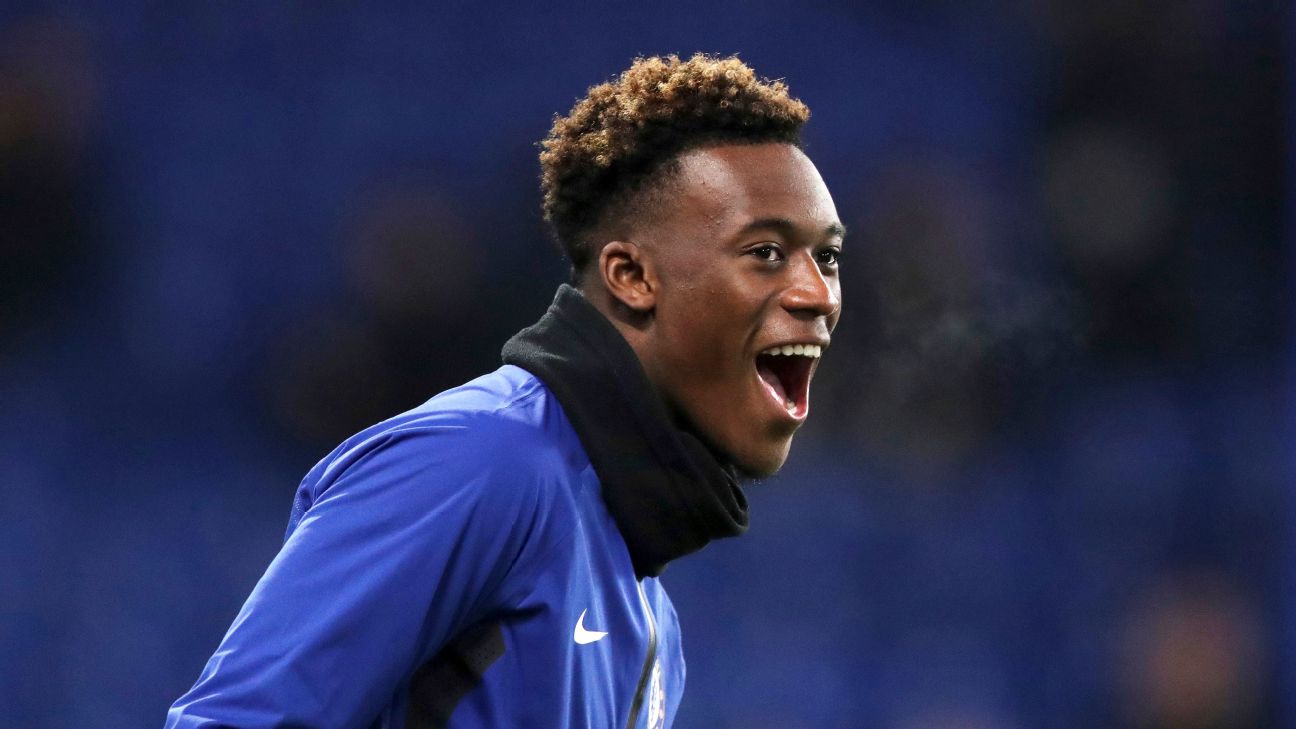 Callum Hudson-Odoi, FW, Chelsea/England
Age: 18
Why he's on the list: A winger with speed and skill like Raheem Sterling
Estimated transfer value: €46m / $51m
The London-born forward can play on the wing or through the middle of the pitch, with his pace, trickery and eye for goal making the 18-year-old an undoubted star of the future. He has played at every level for England except the U21s, from U16s to the full squad, having made his senior debut for Gareth Southgate's team this season.
What's next? The big issue surrounding him is simple: If he doesn't get more first-team action at Chelsea, he'll push to leave. Bayern Munich pushed hard to seal a deal for the teenager in January, but the Chelsea hierarchy held firm and refused to sell. Bayern — and Manchester United — are likely to be back in for the player in the summer, so his future could depend upon Sarri, who's insisting that Hudson-Odoi is ready for more after having limited minutes this season. — Mark Ogden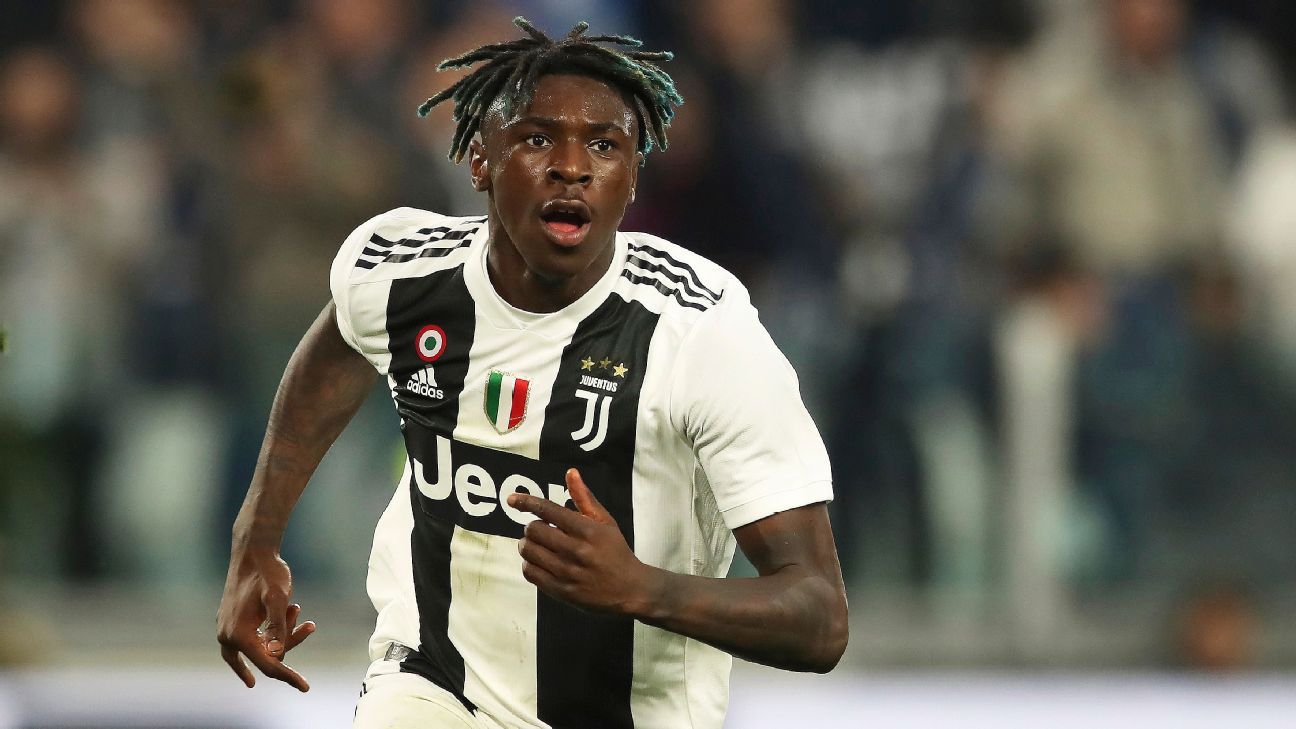 Moise Kean, FW, Juventus/Italy
Age: 19
Why he's on the list: The "Hurri-Kean" set to lead Juve's attack
Estimated transfer value: €60m / $67m
Kean has been talked about as a top talent for years and scored his first Serie A goal a couple of seasons ago. He played underage at the Under-19 European Championship last summer and lived up to the hype, scoring four goals in five games, including a brace in the final as Italy came back from 2-0 down against Portugal to take their opponents to extra time. Juventus decided against sending him out on loan again this season, believing it'd be better for his development to train every day alongside Ronaldo. Kean's time came in the spring, and he hasn't looked back.
Reductive comparisons have been made to Mario Balotelli — his idol as a boy — on the basis that they are black Italian centre-forwards represented by Mino Raiola, but as teammate Giorgio Chiellini pointed out, their way of interpreting the role is completely different. Balotelli likes to come short and has the power to shoot and score from distance. Kean prefers to run in behind and is more of a penalty box striker.
What's next? Chiellini and Bonucci advised Kean to stay in January, when limited game-time had the teenager weighing his options. Milan made inquiries on three occasions, but Juventus never had any intention of letting Kean go. The focus now is to extend his contract on more favourable terms; intriguingly, Kean's rise could push Paulo Dybala out the door. — James Horncastle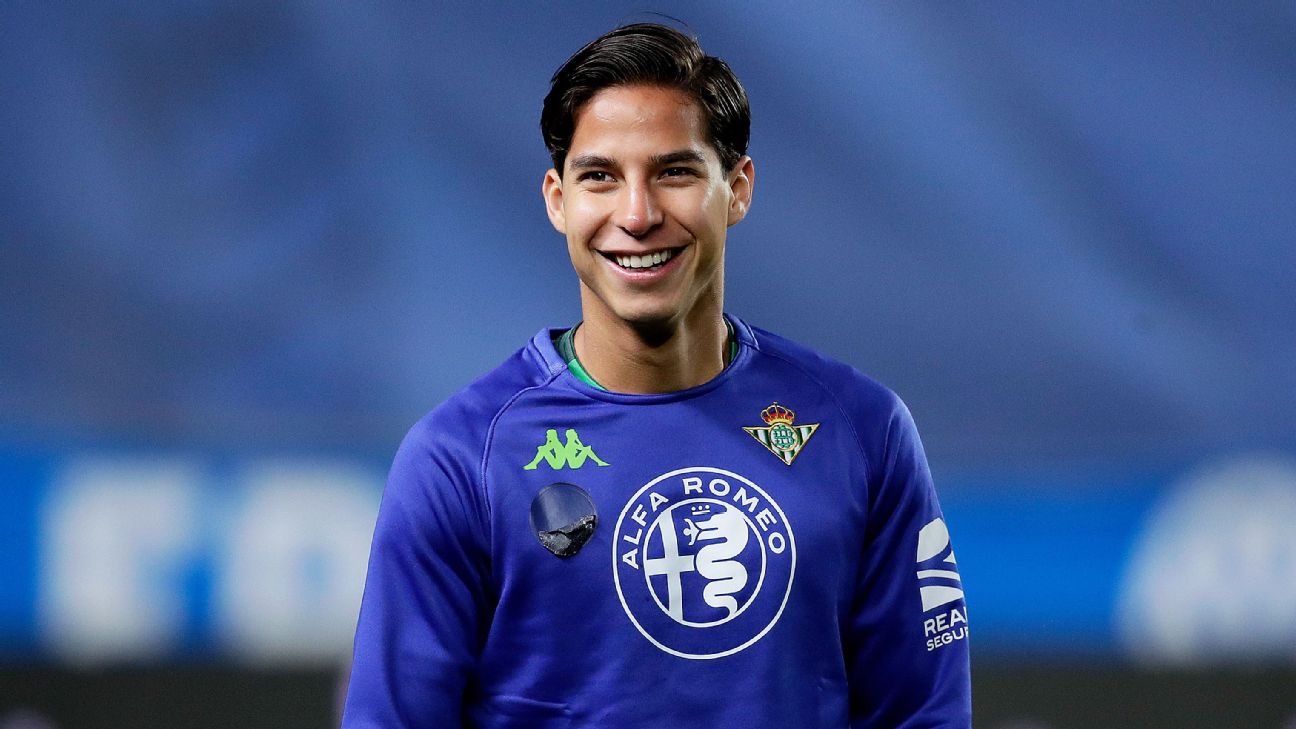 Diego Lainez, FW, Real Betis/Mexico
Age: 18
Why he's on the list: He's the Mexican Messi
Estimated transfer value: €22m / $25m
Lainez is the kind of player who gets you up off your feet in acknowledgement that something special could happen at any moment. Watching the Tabasco native play for Club America's youth teams was a captivating experience. He was head and shoulders above the rest, though not literally: Lainez is just 5-foot-4. A left-footed winger with a low center of gravity, he's likely best on the right-hand side of a front three, cutting onto his strong side.
For all the praise heaped on his on-field attributes, his demeanor off the pitch is equally impressive. Lainez handles himself like a teenager completely at ease and in control of what he is swiftly becoming: a bona fide Mexican national team star.
What's next? Lainez's big and most important move has already happened. The transfer from Club America to Real Betis over the winter came at the right time, just after he helped Las Aguilas win the 2018 Apertura championship. He's exactly where he needs to be; a move elsewhere is unlikely to happen in the next couple of years, but Lainez's goal should be to follow in the footsteps of Hugo Sanchez, Rafa Marquez and Javier Hernandez and one day play at an elite European institution. — Tom Marshall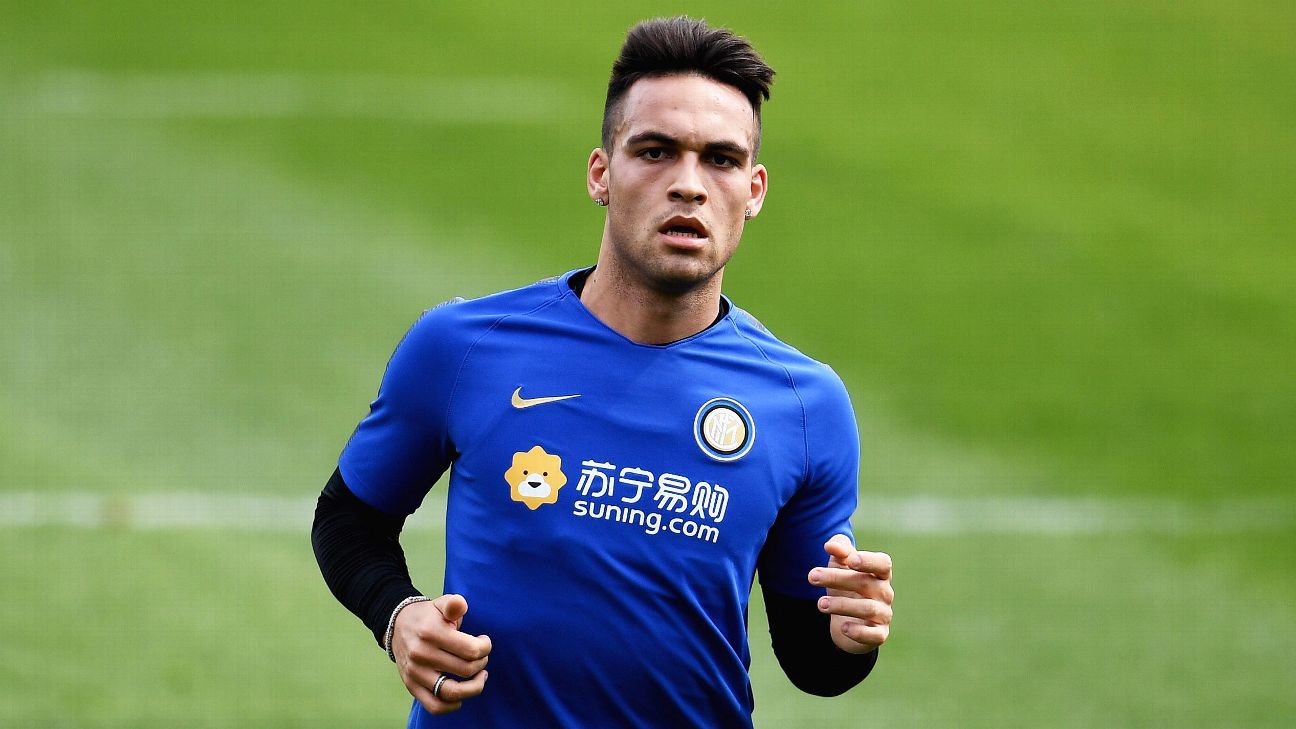 Lautaro Martinez, FW, Inter Milan/Argentina
Age: 18
Why he's on the list: From Argentina to Italy, he's the new Batistuta
Estimated transfer value: Signed almost a year ago for €23m / $26m and already worth more
Former Argentina coach Jorge Sampaoli flirted with the idea of taking Lautaro Martinez to the 2018 World Cup. In the end, he decided the young striker was not quite ready, but Sampaoli glimpsed the future. He compared Martinez to the great Gabriel Batistuta, and almost a year later, the youngster's progress has shown that Sampaoli's words should not be discounted.
Martinez is an old-fashioned centre-forward: aggressive and physically imposing but also mobile and skillful, a player adept at creating danger in both wide and restricted spaces. He carries himself with a swagger of confidence that has been undented by a debut season in Serie A after leaving Racing for Inter Milan last summer.
What's next? After a successful bedding-in season in Serie A, it will be interesting to see how long Inter can hold on to him. — Tim Vickery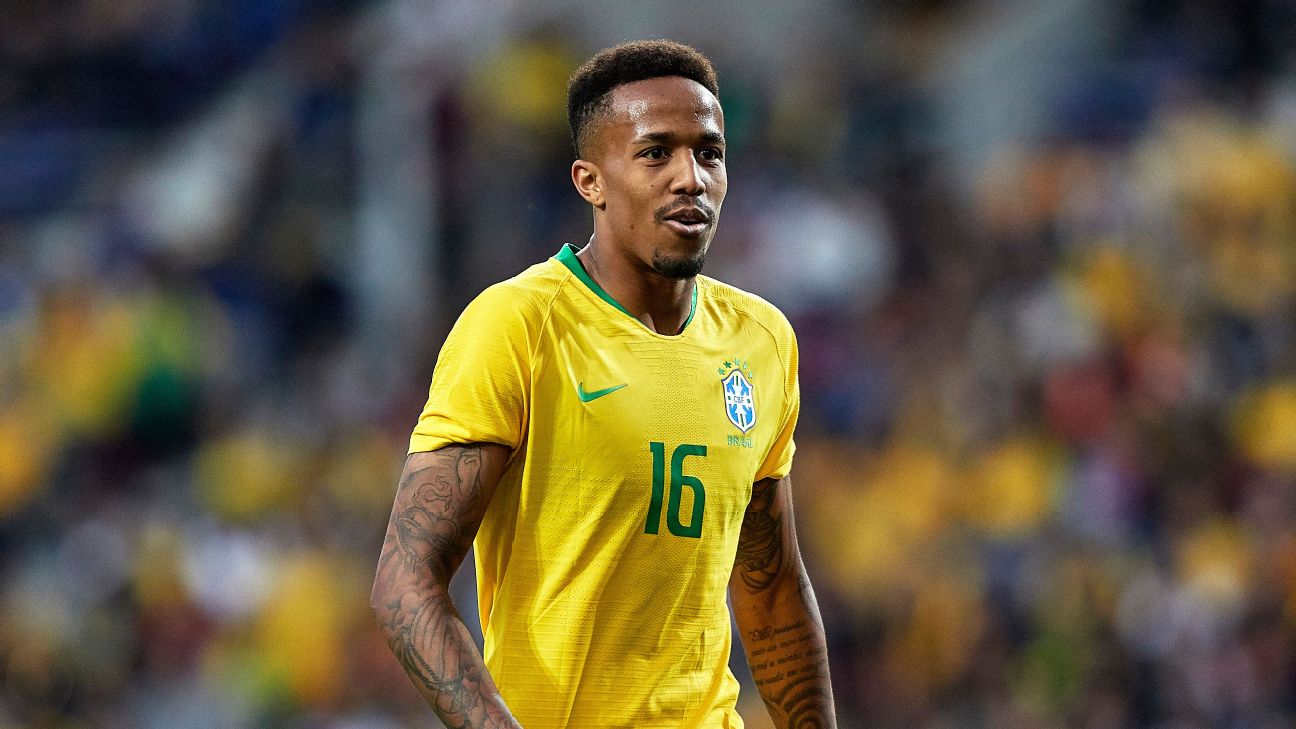 Eder Militao, DF, Real Madrid/Brazil
Age: 21
Why he's on the list: A strong option to shore up a defense
Estimated transfer value: €50m / $56m
Porto have done it again. In another spectacular success for their business model, they bought a player cheap from South America, developed him and sold him — in this case, to Real Madrid — at an immense profit … all in less than a year.
Eder Militao had only a year's experience in the Sao Paulo first team when Porto brought him across the Atlantic, but they'd been acutely aware of his combination of pace and strapping strength. In Brazil, he had mainly been used at right-back, but the Portuguese club saw a potential centre-back in him. In Brazil, defensive lines often play very deep, and centre-backs do not necessarily need to be quick. The more compact style of European football requires fast defenders, especially on teams that look to spend most of the game in their opponent's half.
What's next? Porto were so successful in developing Militao that Real Madrid have already secured his services beginning next season. There might be some early mistakes — he is, after all, still something of a rookie — but if he can ride the repercussions and keep learning, Eder Militao can establish himself in the next great team to grace the Bernabeu. — Tim Vickery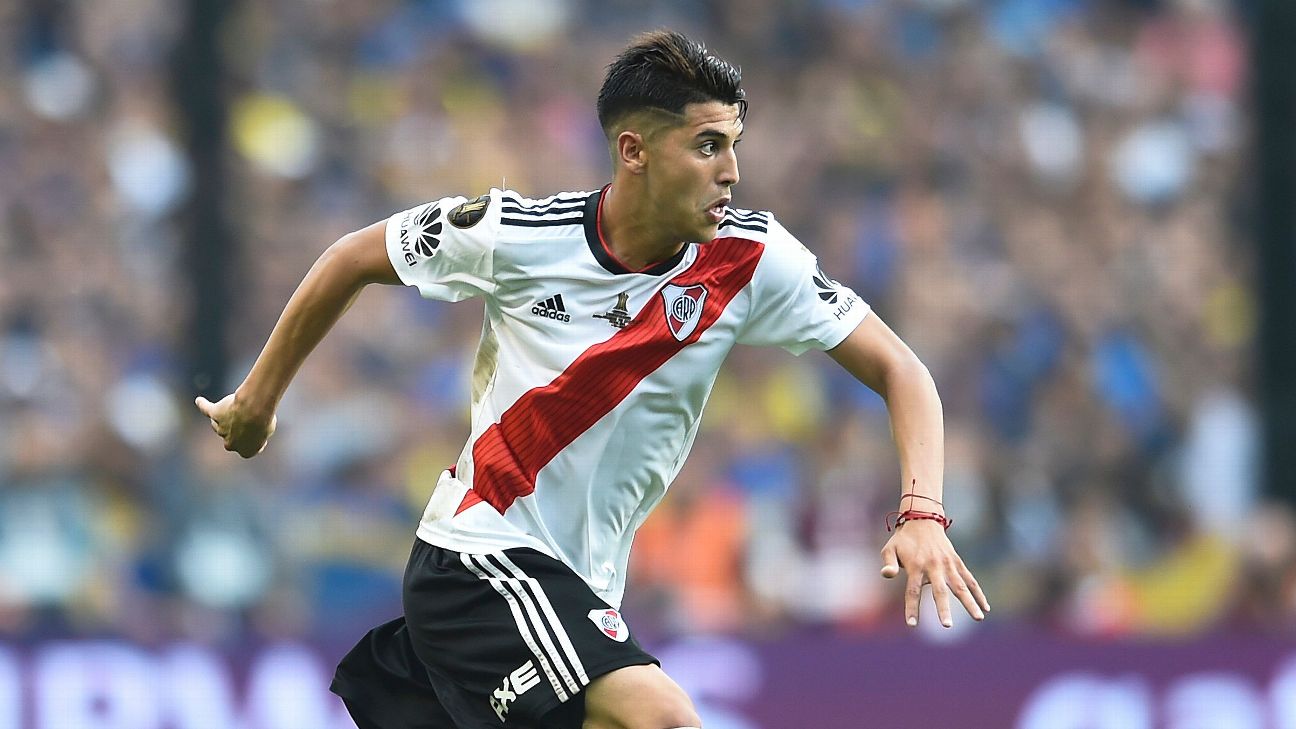 Exequiel Palacios, MF, River Plate/Argentina
Age: 20
Why he's on the list: Argentina's classy midfield powerhouse
Estimated transfer value: €20m / $23m
A minor leg break has temporarily slowed the meteoric rise of one of the most promising all-around midfielders in the game. A glance at River Plate's vital equaliser in December's historic Copa Libertadores final against Boca Juniors is enough to underline Palacios' potential. He glided into position on the edge of the penalty area, from where he produced a glorious, first-time, back-heeled return ball into the path of Nacho Fernandez, undressing the defence and creating the space for the goal from Lucas Pratto. Dynamism and quality under pressure.
Strong, two-footed and versatile, Palacios has usually filled the position on the left of River's central midfield trio. But it is a mere starting point for him to apply his talents. He can tuck into a more defensive role or bomb forward, link up with the attack and shoot at goal.
What's next? He rejected Real Madrid in January, but once his recovery from injury is complete, he should be able to pick his destination. — Tim Vickery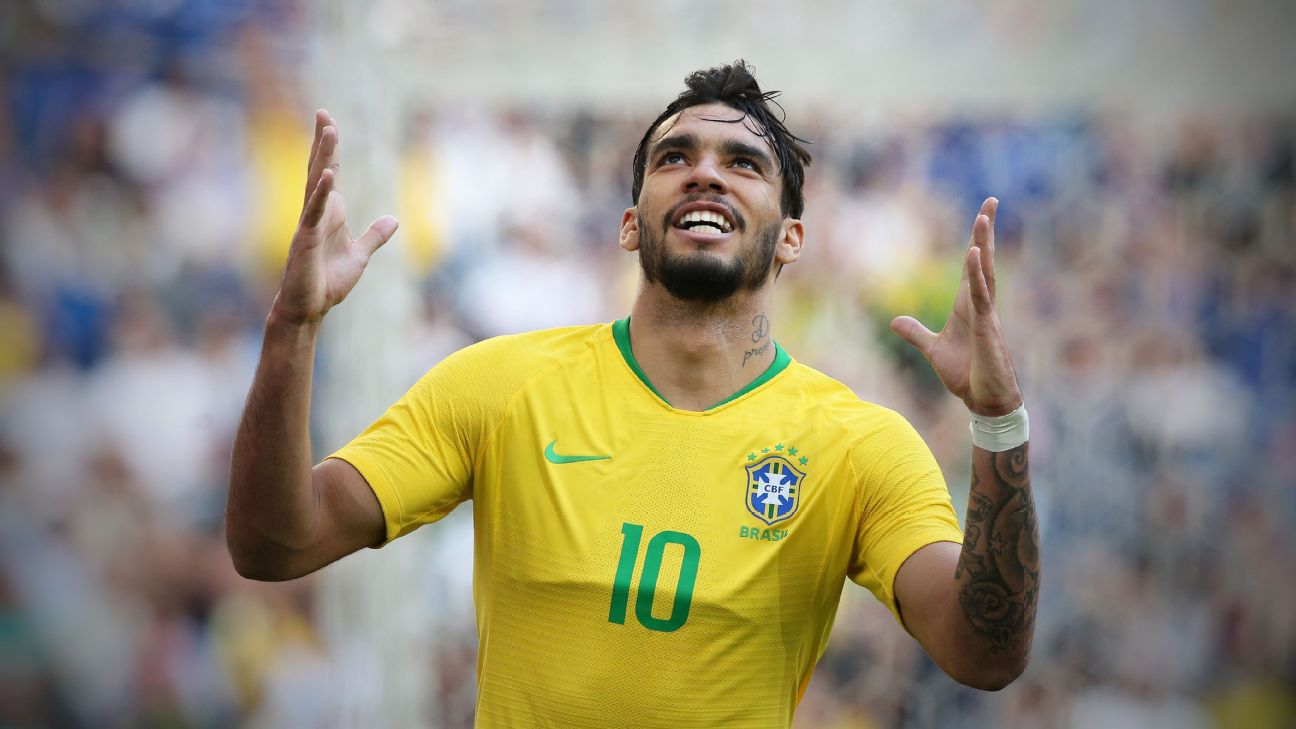 Lucas Paqueta, FW, Milan/Brazil
Age: 21
Why he's on the list: Milan's new Kaka
Estimated transfer value: Signed for €35m / $39m at the start of the year, and his value has already increased
In little more than a year, Lucas Paqueta went from not even gaining a place on Flamengo's substitutes bench to becoming the attacking midfield wonderkid on Brazil's standby list for the 2018 World Cup. During that time, under a procession of coaches, he found himself switched around, from centre-forward to winger to deep-lying midfielder to playmaker. The latter would seem to be his best position and played a part in Milan's decision to make a big investment in him back in January 2019.
The instant comparison was with the Kaka deal more than a decade-and-a-half ago. There are differences, of course: Paqueta is left-footed and lacks the explosive surge with the ball that was Kaka's trademark. But Paqueta might have a wider skill set, and his fresh-faced promise brings back memories of Kaka arriving at the San Siro.
What's next? He's unlikely to be on the move for a while, given a fine start to life in Serie A with Milan. — Tim Vickery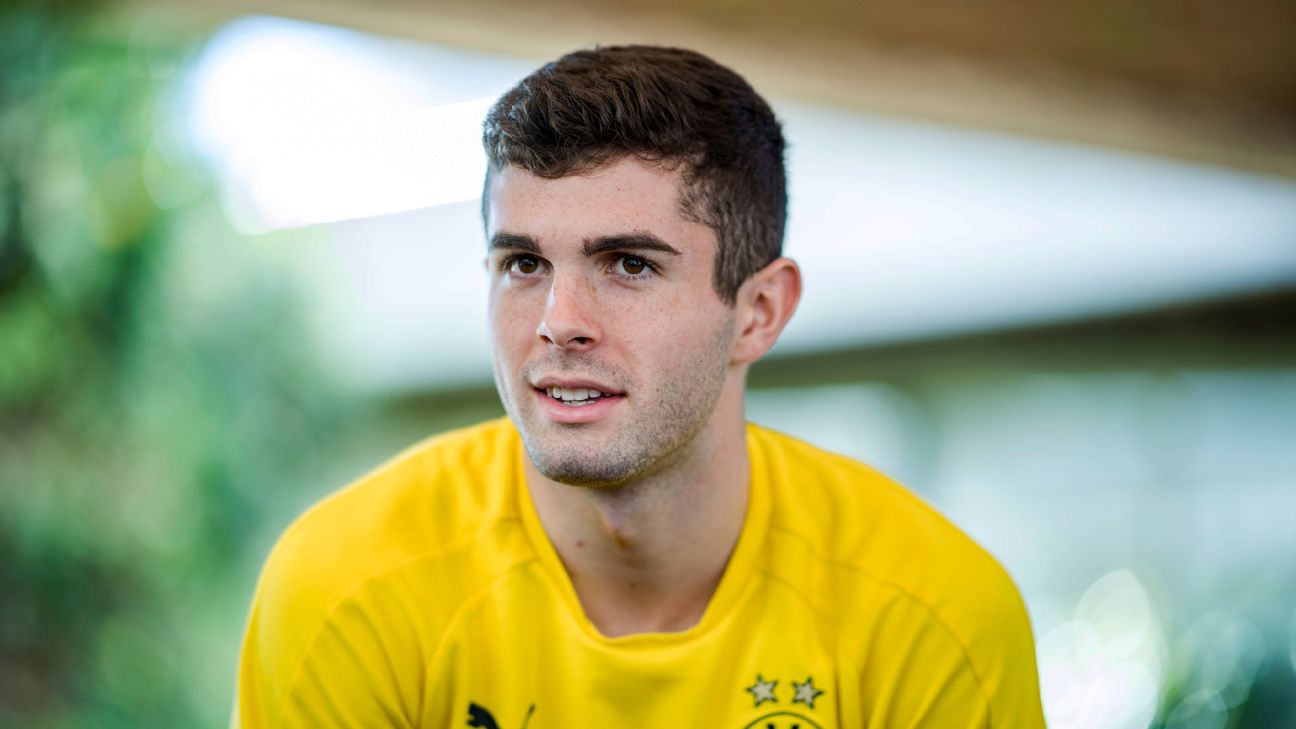 Christian Pulisic, FW, Chelsea
Age: 20
Why he's on the list: The next Eden Hazard
Estimated transfer Value: This past January, Chelsea paid €65m / $73.1m to Borussia Dortmund for Pulisic's services
Pulisic is a small, quick attacking player, capable of beating opponents off the dribble or with a pass. He can finish as well, as witnessed by his 10 goals in 25 appearances for the U.S. He's also versatile, capable of playing on either wing or centrally. His best position has been a matter of some debate in U.S. circles, with many suggesting that he's better off in a central role, though on a team as talented as Chelsea, he's more likely to play out wide. If there's one knock on Pulisic, it's that he has been injury-prone of late, with soft tissue injuries causing him to be sidelined on five occasions in the 2018-19 season.
What's next? Given that Pulisic signed with Chelsea, he's likely to remain in London for the foreseeable future. This is especially true because he'll likely be counted on to replace at least some of the production of Hazard, who has been linked with a move to Real Madrid. Chelsea's possible transfer ban could see Pulisic relied upon even more. Yet it was Liverpool manager Jurgen Klopp who first brought Pulisic into the Dortmund system, and he has long been an admirer of the American. If for some reason things don't work out for Pulisic at Chelsea, his history with Klopp could provide another option. — Jeff Carlisle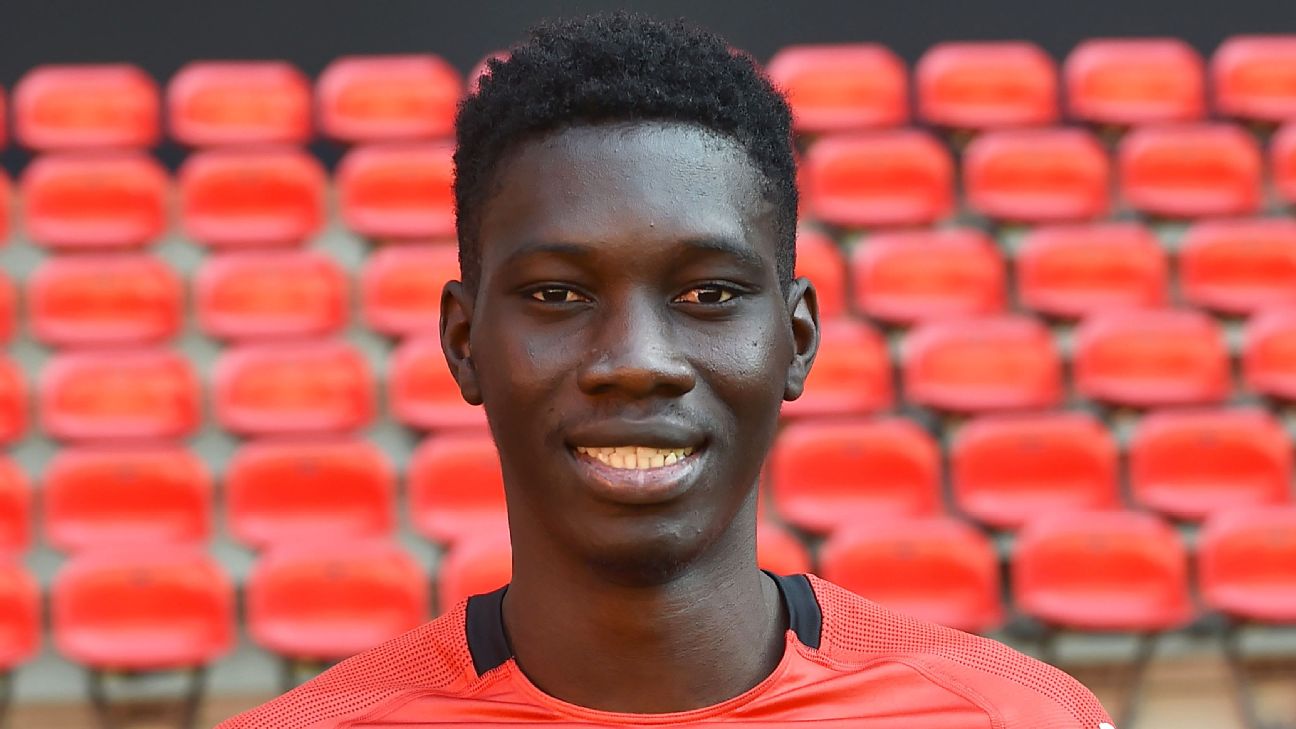 Ismaila Sarr, FW, Rennes/Senegal
Age: 21
Why he's on the list: The new Sadio Mané
Estimated transfer value: €50m / $56m
Things are going really quickly for Ismaila Sarr, much like how he plays on the pitch. His rise to the top has been dizzying. At 18, in July 2016, he moved to Metz from the Generation Foot academy in Senegal. At 19, in July 2017, he joined Rennes for €20 million after a promising first season in Ligue 1. Now, at 21, he is ready for bigger things.
As early as his first game in France back in August 2016, you could see what a special talent he was going to be. His pace and skill with both feet are out of this world. He is your typical winger. He can dribble past you, find a pass or cross to a teammate. Right now, there aren't many players like him in European football.
What's next? Rennes received offers for him in January and last summer. They have managed to hold on to him, but Sarr could leave this summer when bigger clubs such as Arsenal or Manchester United, both very keen, try to sign him. — Julien Laurens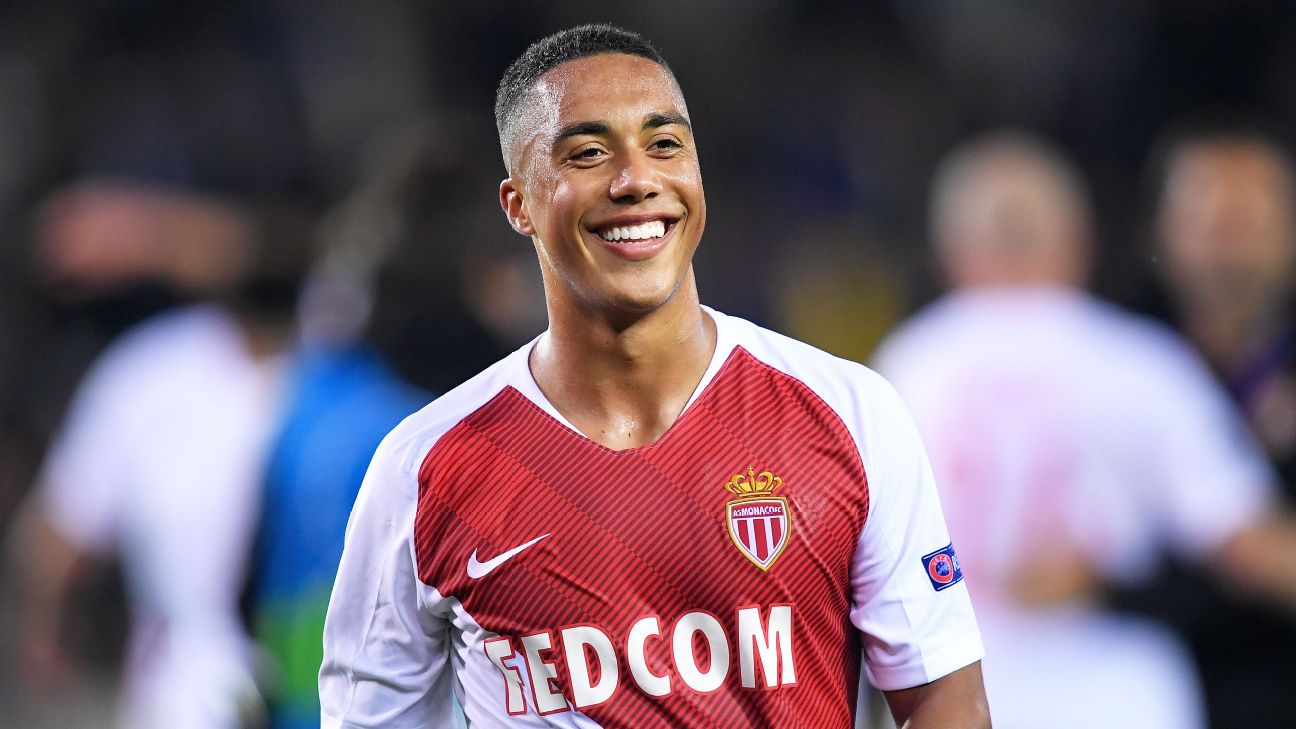 Youri Tielemans, MF, Monaco/Belgium
Age: 21
Why he's on the list: The next midfield maestro
Estimated transfer value: €35m / $39m
Since he made his debut for Anderlecht at only 16, Youri Tielemans has been tipped as the next big thing in Belgian football. He is not the tallest or the strongest midfielder, but what made him so special from a young age was his vision and the quality of his passing. Tielemans is very clever — far more intelligent than your average footballer.
What's next? The Belgian international is on loan at Leicester at the moment, but both he and the club want the move to become permanent. Tielemans is still only 21, and Leicester could be a step toward much bigger things than Monaco. — Julien Laurens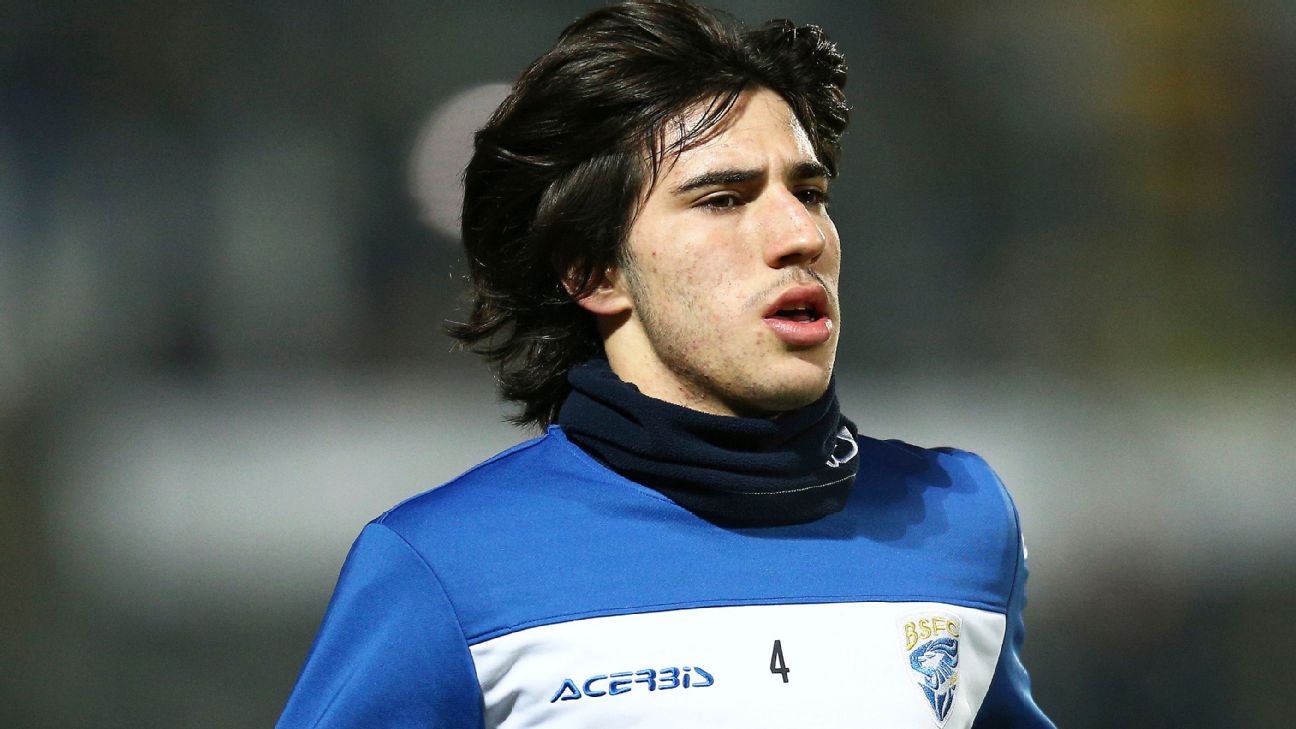 Sandro Tonali, MF, Brescia/Italy
Age: 19
Why he's on the list: The Pirlo doppelgänger
Estimated transfer value: €35-40m / $39-45m
The swallow V-neck. The mop of long, brown hair. The position in front of the defence. His emergence at Brescia. It's not difficult to see why parallels have been drawn between Tonali and Andrea Pirlo. Like Zaniolo, he was selected for the senior Italy squad before appearing in Serie A, though he is expected to be playing top-flight football next year, either with Brescia or at one of the elite.
He isn't the quickest player, but he is always on the move, head up, looking around, weighing options as receives the ball. He has the vision and precision to play long passes and takes set-pieces. The 18-year-old has tried to shift the narrative from Pirlo, revealing that as a boy he supported Milan and found inspiration in Gennaro Gattuso. Fourth in Serie B for interceptions and fifth for yellow cards, Tonali doesn't snarl around the pitch quite like his idol but tries to do his bit.
What's next? Tonali can have his pick of Italy's elite clubs, as players with his skill set are rare. Juventus are in pole position to sign him, but Inter are also in the mix. Roma were too in the past. Much will depend on the price and the collateral these clubs are prepared to offer. — James Horncastle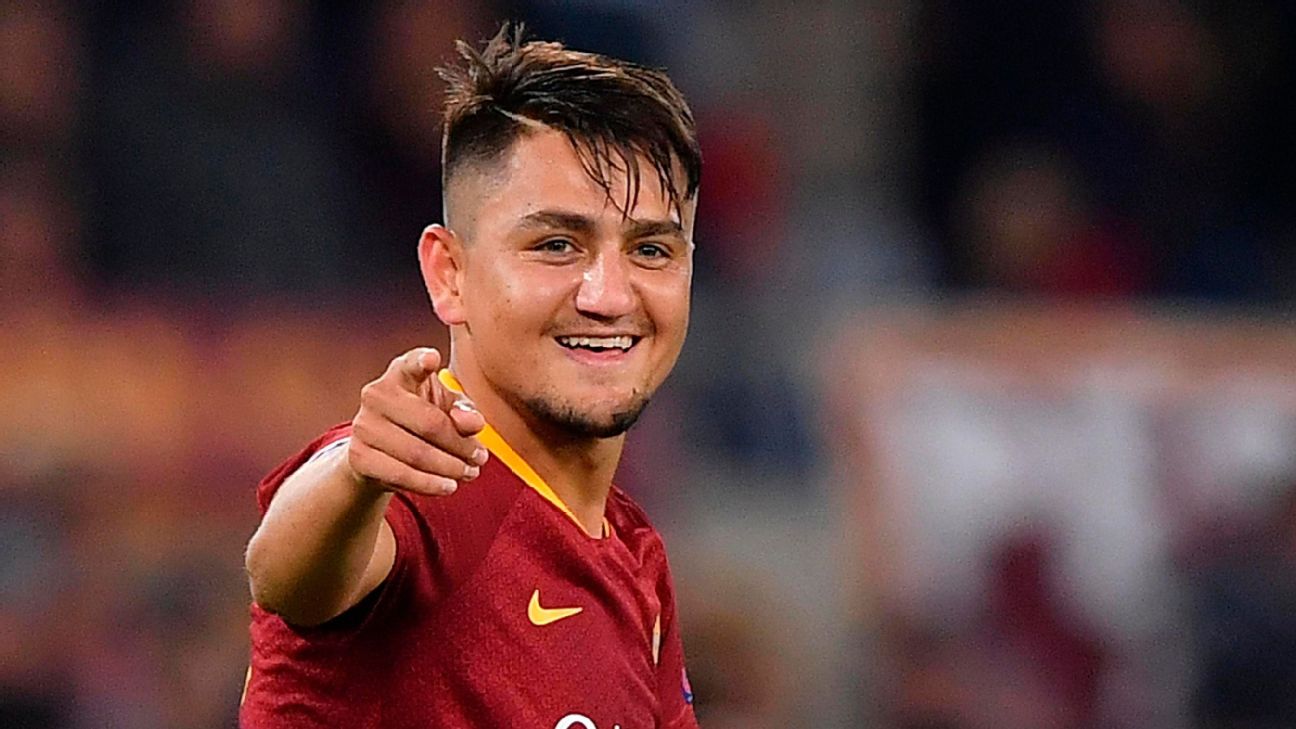 Cengiz Ünder, FW, Roma/Turkey
Age: 21
Why he's on the list: The fastest winger in Serie A
Estimated transfer value: €60m / $67m
Roma's Young Player of the Year last season, Ünder is a blur on the wing. Coaching staff have had to tell him to manage his energy better because he does everything at 100 miles per hour. He needs to improve in tight spaces if he is to thrive at the next level, and he must develop better skills on the ball: he tends to beat defenders to the byline with pace rather than on the dribble.
The Turkey international has a cracking left foot and packs a powerful punch from a low centre of gravity. In his first season at Roma, he caught fire from February onward, and it's a shame that his second campaign has been so disrupted by injury. Nevertheless, he merits his part in the conversation about the best young wingers in Europe, company he keeps with Leroy Sane, Nicolas Pepe and Chiesa.
What's next? Roma headed off fierce competition to sign Ünder from Istanbul Basaksehir 18 months ago, and interest in him has only intensified since. Arsenal rate him, and though he plays on the other flank to fellow target Ivan Perisic, age and resale value are on Ünder's side. If Roma fail to qualify for next season's Champions League, he might consider a move. — James Horncastle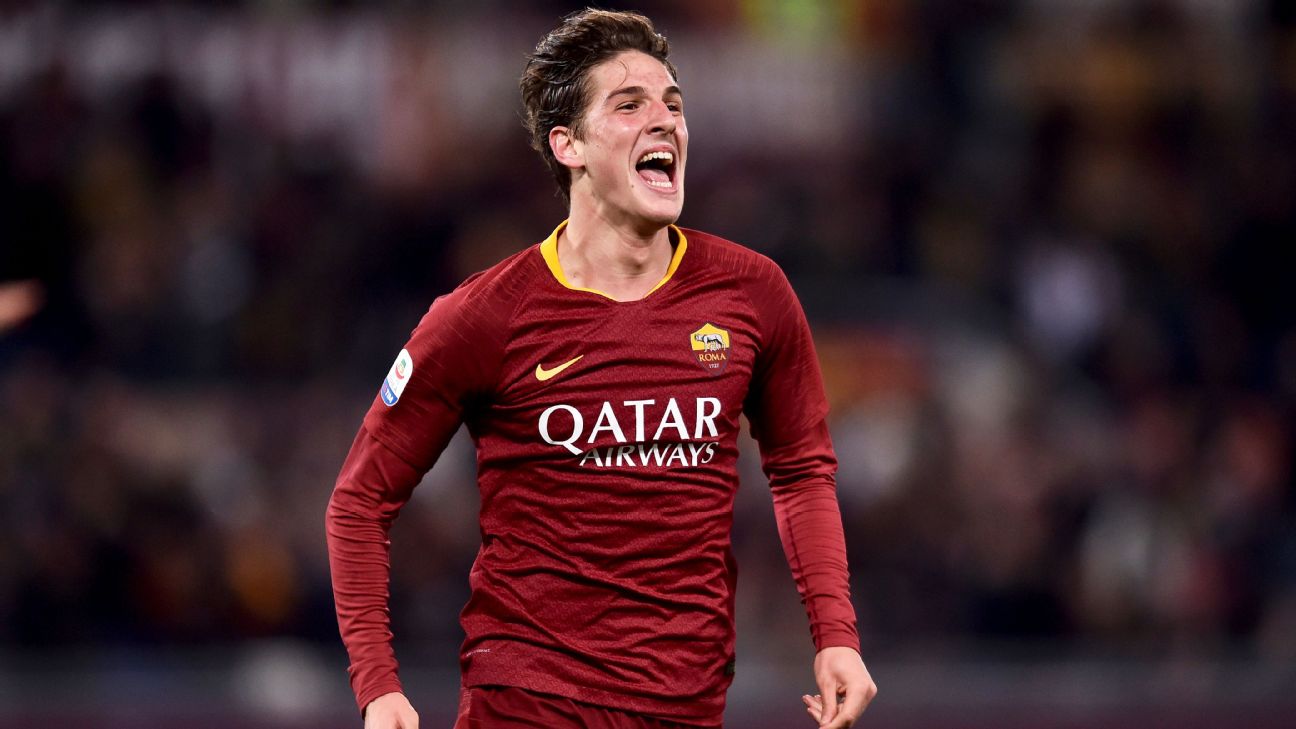 Nicolo Zaniolo, MF/FW, Roma/Italy
Age: 19
Why he's on the list: The heir to Francesco Totti's throne
Estimated transfer value: €60m / $67m
Zaniolo is a tuttocampista, a box to box midfielder, and at 6-foot-2, the teenager is tough to knock off the ball. Even at that size, he's an effective dribbler and has the timing and awareness to sense when and where a chance is going to appear. Zaniolo starred at the Under-19 European Championships last summer, with his four goals and three assists on the way to the final sufficient for Roberto Mancini to call him up to the senior Italy squad before he'd played a minute in Serie A.
What's next? Zaniolo joined Roma only last summer, and after hopping between Fiorentina, Virtus Entella and Inter — all of whom are kicking themselves for letting him go — he needs stability and regular game-time. The Italy international has four years left on his contract, and though he did cause some panic in Rome by replying "we'll see" to a question about his future, the club is confident that he'll accept a new and improved deal to stay beyond this summer. — James Horncastle