VANCOUVER, British Columbia — Right now, Inbeom Hwang isn't thinking about becoming the best South Korean player. That's a heady challenge for a 22-year-old who everyone agrees is continuing to develop his skills and game. The idea of being his country's best is, simply put, a bridge too far.
Instead, Hwang has another idea. Something a bit more attainable, and certainly a bit more romantic.
"I want to be a remembered player, someone who fans remember and miss," he says through a translator at a Korean restaurant in downtown Vancouver. "That's always been my goal, and that's never going to change."
And why should it? He's already done it once, earning the nickname "Son of Daejeon" for his exploits as a member of his hometown Daejeon Citizen, where the silky smooth midfielder made the K League 2 Best XI in 2016, 2017 and 2018. In January, he joined the Whitecaps — who host Atlanta United on Wednesday (10:00 p.m. ET, ESPN+) — as a Young Designated Player, setting his sights on being remembered in the Pacific Northwest city home to more than 50,000 Koreans or people of Korean descent.
It's more than a goal. It's a responsibility.
"Every home game, there are Korean fans coming to the game," he says. "There are fans who come to see the game, but there are also fans who come to see me. I feel like I owe them."
Already, just a couple months into his first season, he's making an impact. Hwang gets recognized on the street, by Koreans, yes, but also, increasingly he says, by non-Korean Canadians. In the restaurant, a fan came up to his table, a mix of shyness and wide-eyed awe. Hwang asked him to wait until after the meal of stir fry chicken, ribs and soup, but then happily acquiesced, taking a selfie before getting paper and a pen from the the hostess to sign an autograph. A small moment. A memorable one, though.
---
Before Marc Dos Santos had a Major League Soccer head coaching job, he knew he wanted to try to recruit Hwang at his next stop.
"It was a type of player that I wanted with me," the Whitecaps manager says after an April training session. "The type of No. 8 that are in MLS: dynamic, quality on the ball, quality in his decision-making in the last third. Only being 22 with a very high level of progression, that was very appealing for me."
And so, when Dos Santos took his new job following the 2018 MLS season, he mentioned Hwang to Whitecaps vice president of soccer operations Greg Anderson. "We thought he would be a good fit for our market here in Vancouver," Anderson says. "We had success with the Korean community with (Korean legend) YP Lee, and Hwang was a natural fit."
– MLS Power Rankings: LAFC, Seattle remain on top
– Toronto, Pozuelo among MLS transfer window winners
Anderson flew to Korea to meet with Hwang's mother and brother, giving them a presentation about the growth of MLS, the changing dynamics of the league, and how Vancouver would be an ideal place for Hwang — who also had offers from teams in Germany and Denmark — to continue his career progression. He cited the mega-million-dollar sale of Alphonso Davies to powerhouse Bayern Munich as proof of the MLS-to-Europe pipeline.
On his way back to Canada, Anderson stopped in Dubai where Hwang was helping Korea win the 2019 Asian Cup, a victory that released him from mandatory military service halfway though his two-year term. Soon after, Hwang's mother and brother visited the Vancouver, and Hwang chatted with YP Lee about the team. He signed on, becoming just the fourth Korean to join MLS.
---
Hwang's first season hasn't gone quite as planned. The Whitecaps have just three wins in 11 matches, and the midfielder has a single goal. Still, he's starting every week, improving as he grows more comfortable in his new life, and the team — which lost 21 players in the offseason and brought in 15 new bodies — is slowly jelling.
Initially, Hwang felt immense pressure to perform, a Young Designated Player conditioned to carry the weight of his club, his community and his country. Dos Santos and his staff tried to help decrease that burden. They told him to do less, that he disappears when he tries to take too much responsibility.
"Marc said, 'You're not Wayne Rooney. You're not Zlatan [Ibrahimovic]. You're not [Carlos] Vela. You're Inbeom. Be Inbeom on the pitch,'" Hwang says. "That really, really helped relieve the pressure."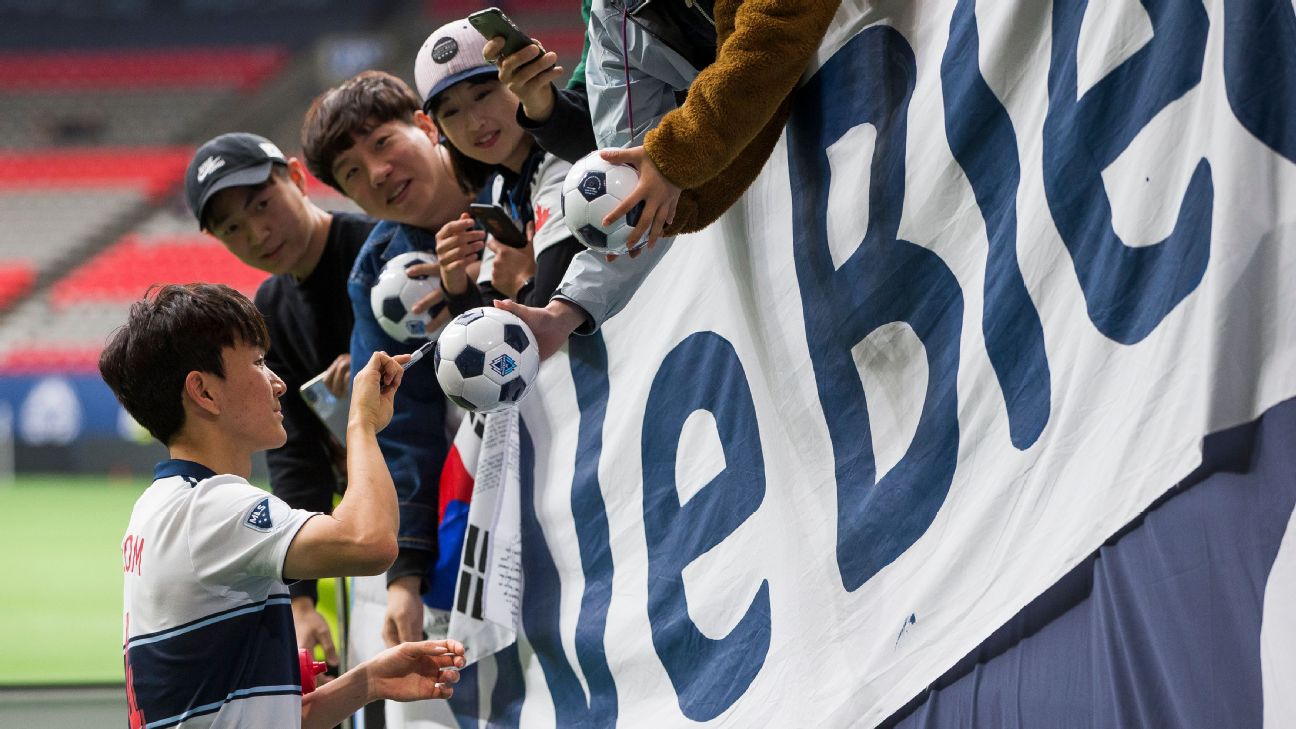 Off the field, he's being embraced by his teammates and embracing the city. Fredy Montero took him shopping and came to dinner with his parents when he first arrived, the Colombian remembering his difficult transition to MLS and hoping to help the new Whitecap adjust quickly. Hwang lives with his older brother, and they recently bought the dog their parents would never let them have, a Pomeranian puffball named Couver. The duo cooks kimchi fried rice and other dishes together, occasionally going on YouTube for instruction. Hwang's English improves on a daily basis, assisted by watching Netflix, with episodes of Friends and The Notebook on heavy rotation. He's thinking about picking up Game of Thrones, too.
It's all a learning process, a cultural change as much as a sporting one.
"In Korea, if you're a professional athlete, you have to be all in on what you're doing all the time. If the team loses in Korea, the whole team is depressed until the next game," he says with a rueful smile and quick laugh. "But being depressed is not good for performance. The Whitecaps know how to be depressed for a couple hours and then move on and prepare for the next game. I'm really learning from that attitude."
Ideally, Hwang grows comfortable in his new city while continuing to become an icon and a leader in the Korean sporting community across the world. He already sees younger Koreans following his path of doing mandatory military service early in their lives, getting it out of the way so it's not hanging over their soccer careers, potentially scaring clubs away. Hwang's goal remains to play in Europe, with Vancouver being a stop along the way. It's a path others could follow, too.
"Ideally, he can become a blueprint for other young Korean players to come and transition through our club," Whitecaps vice president Anderson says.
All of this, of course, depends on Hwang developing further as a player. At the restaurant, he talked about his potential, about where he is now and where he could be going. He's more philosophical than most young athletes, less unbridled confidence and more realistic bell curves.
"Of course, there is a limit to how good I can be, but right now I don't want to think about that limit," he says. "You never know. This right now could be my golden period. Maybe I don't go anywhere from here. On the other hand, this could be the very beginning part of my career. Hopefully, there is a long way to go from here."
That evening, Hwang attended a clinic for local 7- to 10-year-olds organized by the Whitecaps. It was a typical affair: 100-plus players divided into teams of six or seven, clustering around the ball, loosely organized chaos, followed by an autograph session with the pros. Hwang stood in the middle of one of the games, watching with an appropriately bemused look. He seemed happy, if a bit confused by the whole affair, laughing at one of the tiny defenders who spent most of his time flossing.
During a break between games, Hwang began dribbling on his own. Half a dozen kids ran over and tried to take the ball from him. They failed, defeated by his tight control in the space created by 12 legs, effortless nutmegs and quick movement. He smiled the whole time, clearly in his element. Eventually, the kids gave up, giggling.
They'll remember Hwang. Who else will?