DORTMUND, Germany — As he walked down the tunnel, he was holding back tears. Four minutes before half-time, Christian Pulisic was again holding back his tears; he'd just scored to hand Dortmund the lead. They remain firmly in the title race and "Captain America" had come to the rescue. Just over an hour later, Borussia wrapped up the 3-2 win and Pulisic obliged with the media tour before walking to the locker room. At 6:36 p.m local time, he left, his family waiting for him near the exit.
In the end, Pulisic could not have wished for a better ending to his time at the Westfalenstadion, though there might always be a sense of what could have been. But before he joins his new Chelsea team, there's still one more match to be played, and in a turbulent season, he could still sign off with a Bundesliga title.
"We will never give up," Pulisic vows.
---
Going into the penultimate day of the season and Christian Pulisic's home farewell, Bayern held a four-point lead over Dortmund and boasted a vastly superior goal difference. The fans were listless about it all, having seen their team lose control of the title race. This is what the fans discussed over prematch beers and giant plates full of asparagus and meat at "Zur Sonne," one of the traditional meeting points for Dortmund fans.
They also contemplated why Pulisic might not leave that big a footprint in Borussia's club history.
– Report: Pulisic scores in final Dortmund home game
– Video: Bayern's slip takes title down to final day
"Had he not been an American and had Chelsea not been hit with a transfer ban, Dortmund would have got €5 million for [Pulisic]," said Thomas Reske, a member of Borussia's Goldener Oktober fan club, jokingly of course. Jens Weber, a lifelong BVB supporter like everyone at the bar, recalled the American's first steps in the U-17 and U-19.
"He's a Dortmund youth product and he wasn't even the most talented player of his age group," Weber said, remembering Felix Passlack, currently on loan with Norwich City. "But he prevailed. And it was nice to see Pulisic work himself up to the first team."
The past 1,495 days have been a wild ride for Pulisic. He began with an inauspicious debut for Borussia Dortmund's U-17, a 4-1 win against Fortuna Dusseldorf's U-17 in front of just 100 spectators at the Paul-Janes-Stadion in Dusseldorf. And, on Saturday, he played his penultimate game in a 3-2 win against Dusseldorf's senior side in front of a capacity crowd of 81,365 at one of the cathedrals of world football. In between, he became the superstar of American soccer and he put his name on the map of European football. He broke records on both sides of the Atlantic Ocean, making clear that he is the real deal.
The 20-year-old U.S. international set up goal No. 1 back on April 8, 2015, in that debut and scored one on Saturday, too. Overall, his record speaks for itself: he made 151 competitive appearances for Borussia Dortmund, scoring 33 goals and setting up a further 38. The vast majority (126 matches, 19 goals and 25 assists) were for the senior side.
Saturday's goal was notable in that it kept alive Dortmund's hopes of winning a first Bundesliga title since 2012. When he leaves for Chelsea, who paid €64 million in January for him — the highest-ever fee for an American — he can say he has given his all for BVB until the final minutes. Before that, though, he has one more match to play at Borussia Monchengladbach next Saturday. It could still win him his first Bundesliga title, although his side's chances remain slim.
Of course, nobody was more aware of Saturday's occasion than Pulisic. It felt like he didn't even want to leave his home of the past five years; he was the last to leave the locker room down in the catacombs of the Westfalenstadion. His last home match for Borussia Dortmund ended hours earlier but he was still there, soaking up every moment. There was time for one final interview with the club TV and one last walk up to the journalists waiting for him.
"I still can't believe it. Everything worked out perfect today. But the most important thing is that we got the win and still have a chance," he said in English before switching to German. "Most of all, I will miss the fans and the stadium. It was a super goodbye for me and yes, I am thankful for the fans and for Dortmund."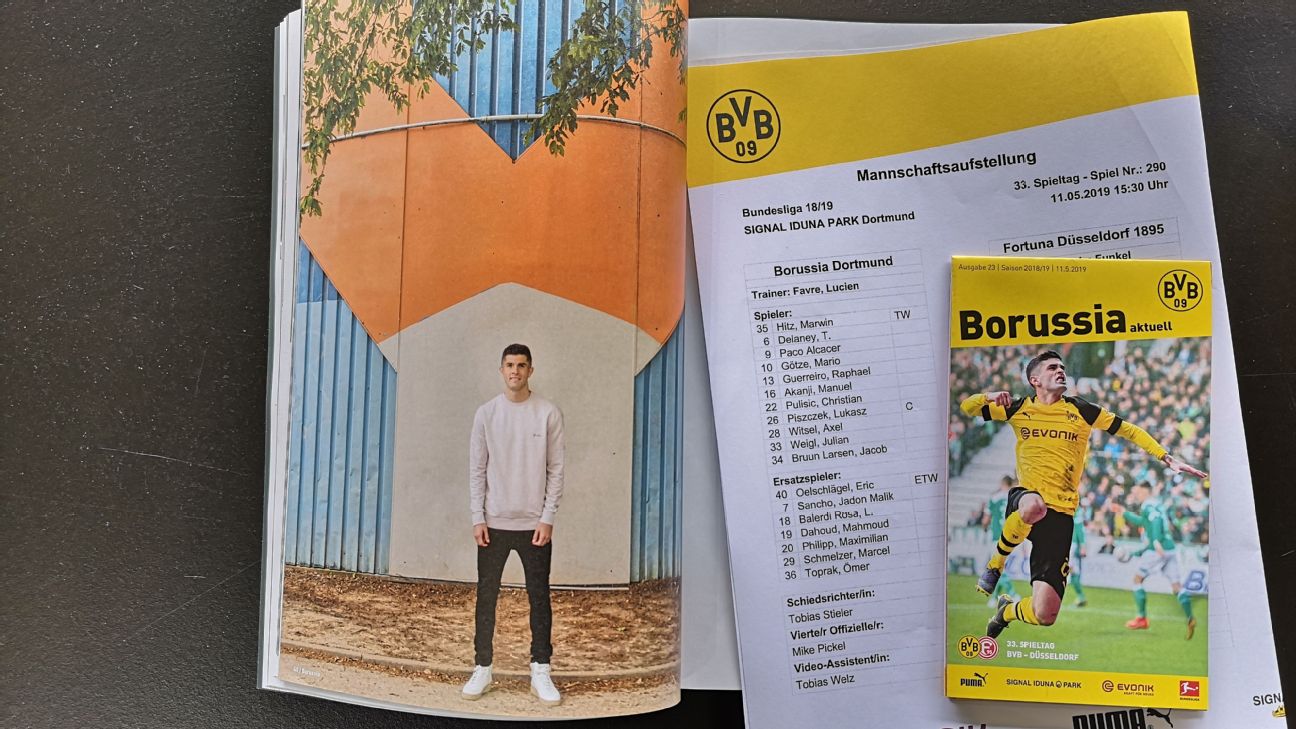 The American's time at Dortmund was never going to be a lifelong love affair; rather it was laid out as a chapter in Pulisic's career, an important one for him and one Dortmund knew they could capitalize on in the future. Turning Pulisic into a star would not only boost the club's profile as one the go-to places for the best young talents in world football, but it also would one day get the club a good transfer fee.
Last season, Borussia and Pulisic endured a difficult campaign. Prior to 2017-18, he'd been a young player at the Westfalenstadion capable of providing that bit of extra magic. While Pulisic already was the star player of American soccer by that point, he could always return to Dortmund, where there was no extra pressure. But this year, the pressure was on him too. There were games in which he was the most experienced player in Dortmund's attack and it was expected of him to just deliver.
Pulisic's unresolved future and his new role were weight on his shoulders, but once his next move was secured, he vowed in a statement that he'd fight for Borussia until the last matchday. The club told him he must live up to his words and, bar a few injuries, he did.
Over the past couple of months, Borussia have blown a nine-point lead at the top, lost 5-0 at Bayern and, only a fortnight ago, suffered humiliation against Schalke 04 in the Ruhr derby, with their rivals taking all three points back home to Gelsenkirchen. Yet Pulisic remained true to his word: at Bremen the week before, he embarked on an Eden Hazard-like run through the opponent's defense to hand Dortmund an early lead. He'd fought back and become a force for Dortmund again, but in that same game, Borussia blew a 2-0 lead, which opened the door for Bayern to extend their lead to four points ahead of his final home match.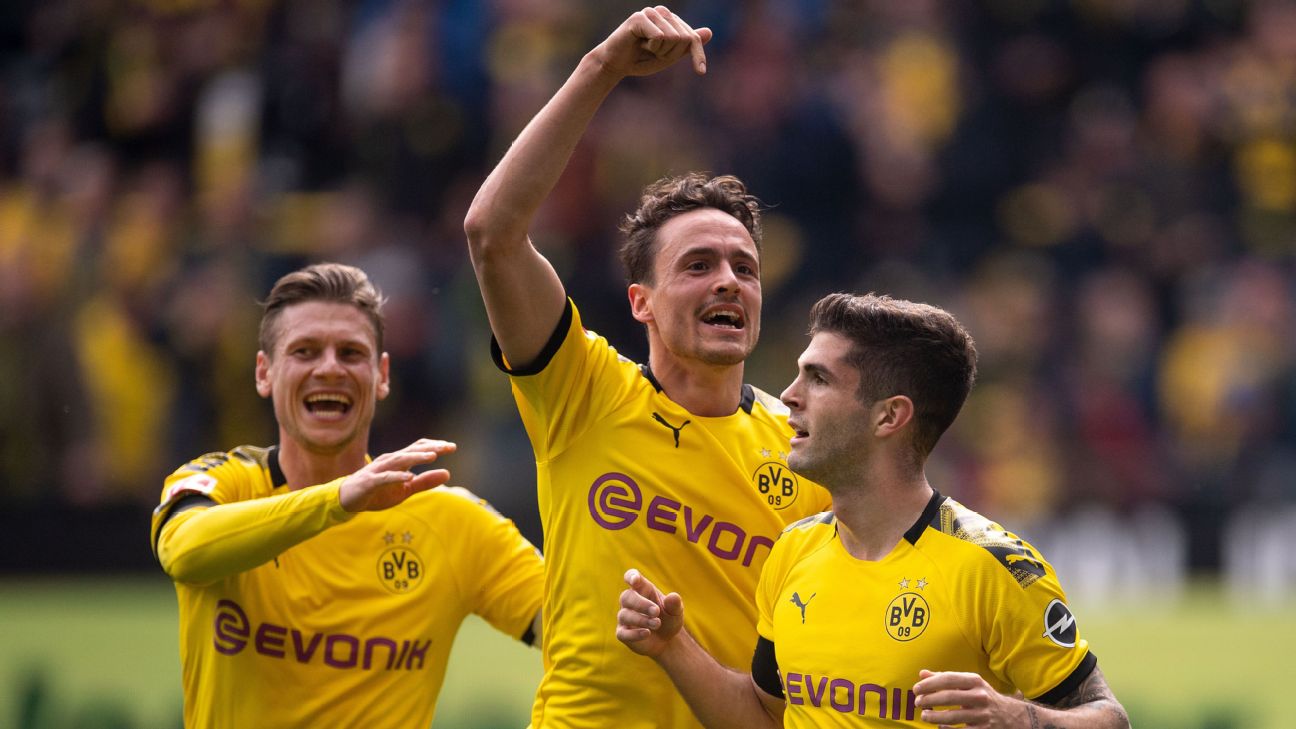 As Dortmund's fighting spirit resulted in a call for perseverance, with the fans stating "it ain't over till it's over" in a giant banner unfolded on the stands at Bremen, Pulisic prepared for his last match at the Westfalenstadion.
He raced out onto the pitch to warm up just over half an hour before kickoff. He kicked his ball toward the Sudtribune and took a long look at the Yellow Wall. He absorbed every moment during his 17-minute warm-up, watching Dortmund's 1989 cup heroes receive a warm welcome by the fans as they celebrated 30 years of bringing Borussia back on the map of German football.
As Dortmund's veterans left the pitch, Pulisic walked up to stadium announcer Norbert Dickel, one of those 1989 cup heroes. Dortmund sporting director Michael Zorc and CEO Hans-Joachim Watzke were waiting for him ahead of a small ceremony. He got a bouquet of yellow flowers and a giant portrait thanking him for his service. Pulisic posed for photos and then grabbed the microphone, walking toward the Yellow Wall. He addressed the fans in German: "Dortmund will always feel like home!" The supporters applauded him. "All the best and hopefully see you again one day."
He then returned to the locker room to finish prematch preparations, where former captain Marcel Schmelzer gave a speech. It ain't over till it's over was the message, but Pulisic was aware that his own journey was nearly complete. "It hit me when I was walking to the locker room. It was really emotional. My last time. It was not easy," Pulisic later said.
"It was very emotional for Christian. He can just be proud how he solved it today. And also how well he handled the overall situation," BVB squad manager Sebastian Kehl said in the postmatch scrum.
While some fans might argue Pulisic will not leave a trace at the club, he earned a lot of respect over the course of five impressive years at Dortmund. Now it's time to see what he can do in the Premier League.