When Neymar flung out an arm in the direction of a supporter on Saturday, on the other side of the Atlantic the heart of Brazil coach Tite must have sunk.
Neymar was involved in the altercation with a fan after Paris Saint-Germain's shock loss to Stade Rennes on penalties in the Coupe de France final. 
This was his captain — publicly showing the excesses of petulance which, at the age of 27, still shows no sign of going away.
Tite is now in an awkward position. Last September winger Douglas Costa was caught spitting on an opponent while playing for Juventus. He picked up a suspension in Italy, and Tite temporarily left him out of the Brazil squad, making it clear that this was a punishment for the player's lapse in behaviour.
So what happens now? Should the same treatment apply to Neymar? Should he be left out of the next Brazil squad?
The circumstances are different. Leaving Douglas Costa out of a couple of friendlies is one thing. Dropping the captain now would be another — next up for Brazil is the Copa America on home ground, a tournament Brazil are under intense pressure to win. Failure to do so would probably cost Tite his job. There is, then, a strong incentive for the coach to turn a blind eye — but this would leave him wide open to a torrent of criticism.
It would be said that, yet again, Neymar's talent has given him privileges — which in the long run only end up making matters worse. For a decade now there have been warnings that Neymar is a spoiled brat, a petulant boy prince capable of sinking the ship unless he gets his own way all the time.
There is clearly some truth in this. But it perhaps does not tell the entire story. Neymar is a controversial figure who is extraordinarily divisive. He tends to get his message across wonderfully well to his generation — and extremely badly to everyone else. He is, perhaps, a poster boy for a perceived modern trend — those who enter adolescence early and never seem to leave. It is surely significant, and much to his detriment, that he continues to style himself as Neymar Jr. At 27, the suffix is surely superfluous.
The flashes of petulance, the diving, the obvious enjoyment he takes from a celebrity lifestyle have a huge capacity to irritate. It is undeniable that there are many who positively relish his defeats.
This is unfortunate, and probably both unwise and unfair. To start with, he is a magnificent footballer, capable of moments of exceptional magic. Second, as a player he is clearly more sinned against than sinner — as has been the case with every highly skilled player down the ages.
His aim is to play. Some opponents take the field with the aim of stopping him from playing — and they will use fair means and foul to do so. And thirdly, reports from teammates past and present usually pay testimony to positive aspects of his character, such as his work ethic and his value in the dressing room.
Neymar is not solely responsible for the fact that his career is not quite running according to plan. Injuries have taken their toll, in both the World Cups he has played. A serious back injury ended his campaign in 2014, and he was feeling his way back from a layoff last year in Russia. The move to PSG has proved such a frustration because he has only managed to play one knock out game in the Champions League. It would be harsh to write him off as a failure in such circumstances.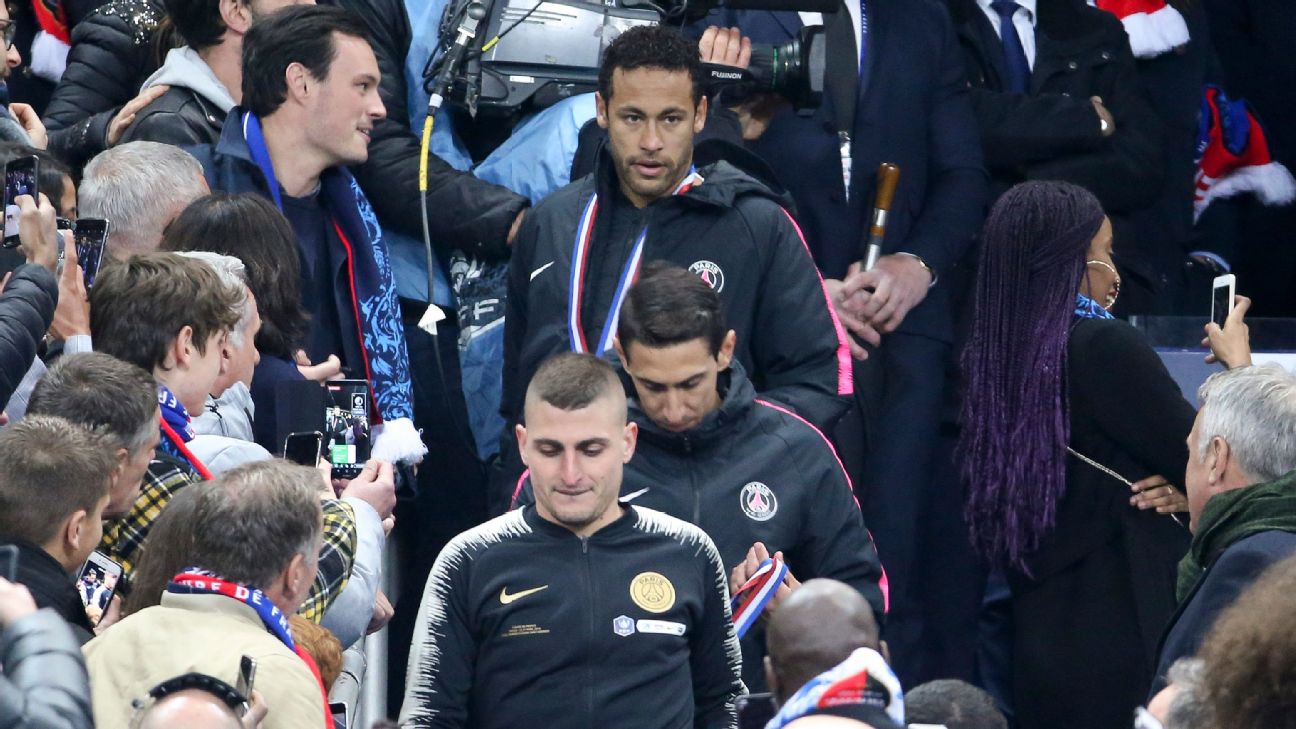 His is a career that seems worthy of saving. But he now faces problems on a number of fronts. One is the fact that he will miss the next three Champions League matches due to a suspension for abusing the referees on social media after PSG's elimination at the hands of Manchester United – and at the hand of a last gasp penalty, identified by VAR. In this case his response is surely part of the adaptation that players are having to make to the introduction of the video assistant referee.
There is no excuse for Neymar's conduct — and to be fair, the player quickly admitted on social media that he had been in the wrong.
But now he will surely pick up another ban in domestic French football. His attack has next to nothing in common with a full on Eric Cantona-style assault. It was a petulant flick of the arm rather than a real punch. The fan may well have been an annoyance. But professional footballers should develop a skin thick enough to deal with such comments on their performance.
So what does Tite do? He may well decide that to drop Neymar from the Brazil team would be to throw him under the bus at a time when support is badly needed. It is in the best interests of the coach to take that line.
But it may also be in the best interests of the player. Tite is a powerfully persuasive man manager. A month in his company might be just what Neymar needs. Tite can back him in public — while in private relentlessly passing the message that the time has come to grow up.