When Arturo Vidal was very small, his mother rescued him and his siblings from the family's burning home. His father, who had been kicked out, was the one who started the fire. Like the uncle who died of hypothermia out on the street one night, his dad was an alcoholic. The family lived in a small wooden home in the neighbourhood of San Joaquin, Chile, and his mum washed floors. Arturo promised to get her out of there and wouldn't stop until he did. He didn't even stop when he did, in fact. They called him cometierra: he would eat up the ground, determined to get there, letting nothing stand in his way.
His hope was all of theirs. "We didn't have anything," Vidal has said in the past but one thing he did have was fight — and lots of it. Heart, too.
"I don't know where he keeps it," his former Bayern Munich teammate Thiago Alcantara told El Pais. "Not in his chest, that's for sure. It doesn't fit in there." He also has a Mohawk haircut, of course. And tattoos. Lots and lots and lots of tattoos, all over his body and engulfing his neck. Oh, and talent. Lots of that as well.
Vidal is very good at football. This might sound like a severe case of stating the extremely obvious but you know what? Sometimes it feels like it needs stating.
— Liverpool pay the price for angering Messi
— Power Rankings: Barca top, Liverpool drop
— Wright Thompson: What a title would mean to Liverpool

During the 2015 Copa America, Vidal crashed his car. He was drunk, on his way back from a Casino. His manager, Jorge Sampaoli, said he knew it would end badly as soon as he saw him behind the wheel of the Ferrari; he also said that he knew without Vidal the team were going "nowhere." When the police came, Vidal said: "Handcuff me, but you're screwing the whole of Chile." He was banned from driving for two years but not banned from playing.
Two weeks later, Chile were champions.
"He can do stupid things and maybe he's not the man you would choose to marry your daughter," said Michael Reschke, the technical secretary who decided to bring him to Bayern Munich, "but that doesn't take anything away from his value as a player." No it doesn't, but it does sometimes seem to take away from some of his value as a player. There's a reality here, and no one is suggesting otherwise, but could it also be that there's a bit of myth? A man who is type-cast and caricatured for his wild look and fast living? There may be more to him that meets the eye and boy, does Vidal meet the eye.
On Wednesday night, in the 90th minute of Barcelona vs. Liverpool, after Barcelona had suffered, sweated and, in Lionel Messi's words, found themselves "asphyxiated," struggling to breathe at times but leading 3-0, the visitors had another chance. It wasn't an opportunity to win, given the score, but for Liverpool to get an away goal that might have changed things heading into the second leg.
The ball reached Sadio Mane and he brought it down on the chest, inside the area. The position was good and for a moment it looked like the ball would sit up nicely for the shot. Suddenly, there was Vidal, throwing himself forward, full length and fully committed. Risky, too. But he reached the ball first, taking it off Mane's toe. He got up and stood there, shirt ripped, chest out, tattoos everywhere, that look.
There was a roar from the crowd and a moment of pure Vidal. Mane reacted, Vidal reacted back. Inside, you were convinced he was enjoying this. And there it was: Arturo, defined. That moment illustrated why he played instead of Arthur, drafted in for a night of relentless speed and exertion, a battle as much as a match.
"If I go to war, I want Vidal alongside me," Pep Guardiola once said. He had not signed Vidal for Bayern and he is a purist, people argue, but those are qualities he appreciates. When Barcelona signed him, part of the argument was that he'd joined simply for games like this one: when fight was more important than football, when physicality came to the fore. "He gives us character," said Barcelona's sporting director Eric Abidal at the time. "He gives us qualities that no one else does," Valverde has said of the Chilean — qualities that he needed against Liverpool.
Barcelona had to match Klopp's team, or thought they had to, for intensity, speed, verticality and fight. "We were drawn into their game a bit," Messi said afterwards. But were they drawn, or did they go more willingly than that? For many, the answer resides in Vidal, chosen from the start of the game rather than being introduced as it progressed. Valverde's selection was as much a definition as a decision. That at least was how it seemed, and how it was presented: Arthur or Arturo, a small difference of name that makes all the difference.
There was a headline not long ago that summed up the choice in musical terms — "Arthur's symphony or Arturo's heavy metal" — and Klopp, of course, has made much of his taste for the latter. Valverde went for Vidal and Barcelona thrashed out a different tune, going with what was effectively a 4-4-2 formation with Philippe Coutinho one side, Vidal the other and Ivan Rakitic with Sergio Busquets in the middle. And with no Arthur, the man in whom many see a successor for Xavi, the man who gave them such control in the group stage game against Tottenham in London.
That night back in October, Vidal had expected to play. He'd not become a Barca regular yet but he thought Wembley was going to be his stage. When he didn't play, with Arthur starting instead — and starting was the word, a new-old Barcelona appearing to emerge — Vidal stuck a load of angry faces on Instagram. "Maybe he had an accident at home," Valverde said, tongue wedged in his cheek. "He didn't tell me he was angry." No, he told everyone else instead, and nor was it the last time. When he was made to warm up against Valencia but never got on, he posted a message that said: "don't fight with Judases; they hang themselves."
At that point, it felt like his time in Barcelona might be short and bitter but things look very different now. Vidal has played over 2,000 minutes and while that's less than he's accumulated at any of his other clubs — his participation has dropped closer to 60 percent of available minutes compared to well over 70 percent everywhere else — his contribution might turn out to be crucial.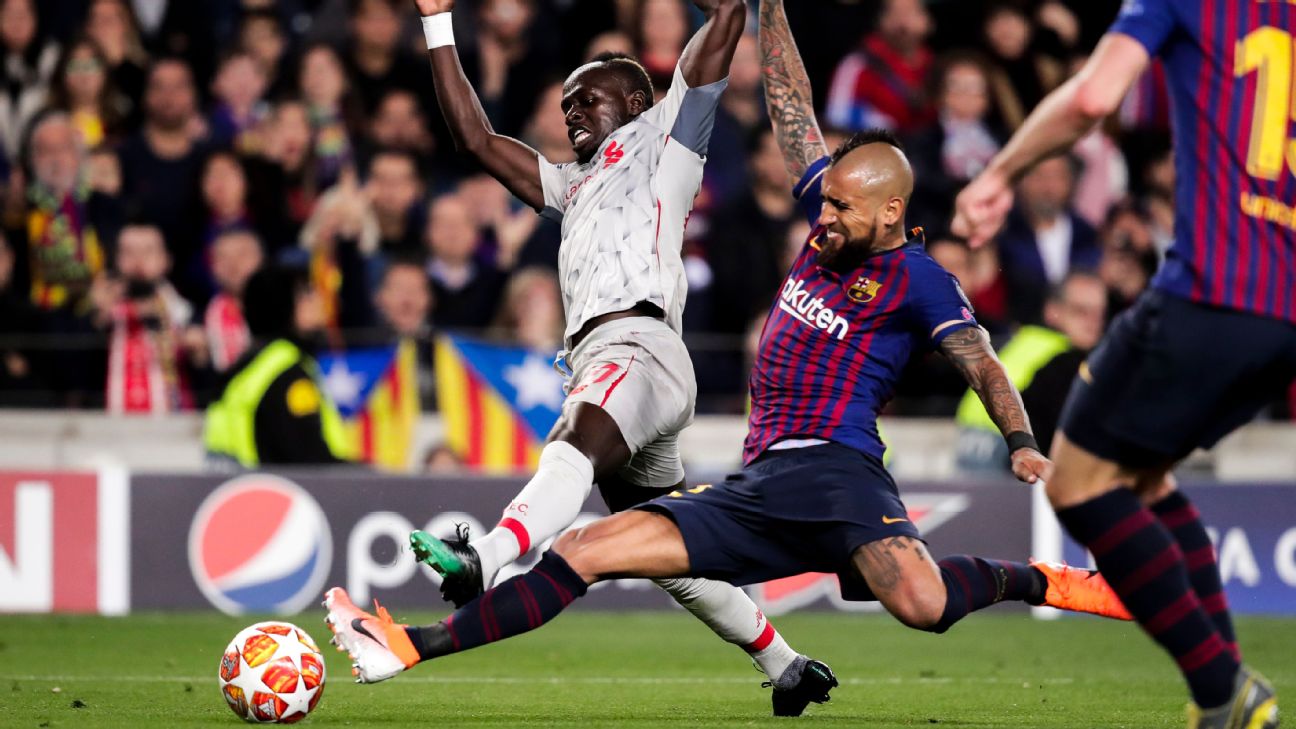 Vidal had expected to play that night in London; this week against Liverpool, most expected him not to but there he was, his inclusion coming as a surprise. He has stepped forward more of late and in the exhausted aftermath of an astonishing game, he was more accepted than ever before. Even if for some, his presence still jars. More, perhaps, than it should.
"You have to get angry," said Rakitic after Vidal's social media outburst back in October. "If not, maybe you lack ambition." That's another thing something Vidal has never lacked. When he joined Barcelona, he said he expected to be a starter. He also said he wanted the Champions League: the one trophy he's not won. After 90 almost inhumanly intense minutes on Wednesday night, he is that little bit closer even if he himself insisted afterwards: "It's not done."
Whether Barcelona's plan was the right plan is difficult to judge — who knows how the game might have gone with a different approach — but it finished 3-0 and there was Vidal, eating up the earth, crashing about and flying into tackles, culminating in that last-minute challenge. There he was playing passes, too, something he also does.
You don't win eight league titles in a row at several different clubs without being a good footballer. You don't play for Guardiola if you can't pass. You don't play for Barcelona, either: not even this Barcelona. Vidal's pass completion stats are up by 90 percent this season. Against Liverpool, only two teammates played more.
Maybe sometimes those identities are too clear-cut, the story too easily told, his image interfering. Vidal is indeed all those things they say he is and that he appears to play up, this man who calls himself "King Arturo" leading them into battle. Just look at him: he is wild, he does embrace chaos, the passion does punch you in the face. He does press relentlessly, hunt down opponents, accelerate play. He is a warrior — "pure fire" in the words of a member of staff at one of Vidal's former clubs. He is someone whose teammates want there when the going gets tough, the man that Chile's finest-ever footballer, Ivan Zamorano, once said "carries Chile on his back."
But don't just look at him. He is not only those things, nor is he there to single-handedly destroy an identity. It is not Arthur or Arturo, night and day, all or nothing, worlds apart. His inclusion is symbolic, many assume; it defines everything, and not always for the better, but it's not so straightforward. He is a fighter but a footballer too. As Zamorano added said: "he does everything." Scores goals, provides assists, attacks, defends, plays.
Take away the haircut and the growling, gladiatorial, almost cartoonish presence, block out the back story, give him the tidy appearance of a Sergi Roberto, say, and a passport that says "Place of Birth: Catalonia" on it and there's a player there who maybe, just maybe, would be judged a little differently, recognised for doing more than rampage.
Arturo Vidal said that if he wins the Champions League, he'll get another tattoo done, but it wouldn't be a bad thing to look beyond that once in a while.