MANCHESTER, England — As April ticks over into May, attention in English football turns toward the trophies that are up for grabs at the end of the season. In recent years, no club has been as focused on winning as Manchester City, and now the club is on the verge of completing its most dominant campaign yet.
On Saturday, Manchester City Women can lift the FA Cup and win the double against West Ham United Women at Wembley Stadium. The men's team will attempt to win the same competition two weeks later when they take to the national stadium to play Watford, which would complete an unprecedented domestic treble if they can also hold off Liverpool in the Premier League title race. Both sides already have a trophy in the bag after the women and the men each won their respective league cups on the same weekend in February.
Saturday is set to be a historic day for the women's team, with a competition record 50,000 people expected to be at Wembley for the showpiece event for the women's game in the UK. The transformation of both the team and the domestic game is evident. Six years ago, Manchester City Women was a separate entity from the club itself and the FA Cup final was watched by less than 5,000.
– Women's World Cup 2019: Schedule, draw, how to watch
– Ballon d'Or winner Hegerberg not in Norway's World Cup squad
"To get potentially 50,000 at Wembley would underline the interest in the women's game in this country," City and England captain Steph Houghton said this week. "This is what we dreamed about when we started playing."
Being on this stage is nothing new for City or Houghton, who have won numerous major titles together since 2014 and have also reached two Champions League semifinals in that time. The team simultaneously feeds and taps into the winning culture that has developed in the blue half of Manchester, and the standard of success is set high.
It is a feeling which flows around the club's training centre in the east of the city, where all of the teams, from the academy groups right up to the men's and women's senior sides, train and work together. Everyone has access to the same support staff, from sports scientists and nutritionists to psychologists. There's interaction between the teams, and everyone is working towards the same goal.
"It is a special place," City's head of women's football Gavin Makel told ESPN. "A lot of the players know each other now — so there's that mutual respect which is there.
"What we've seen as well, which has been really positive, is the effect and impact that the girls have on the under-18s boys or the under-16s boys. They feel comfortable to go and speak to Steph Houghton and ask her a question about how she deals with pressure in big games because she's played in World Cups and she's captain of England. So that level of advice that they can gain not just by speaking to [men's team captain] Vincent Kompany, they can get that from speaking with Steph Houghton as well."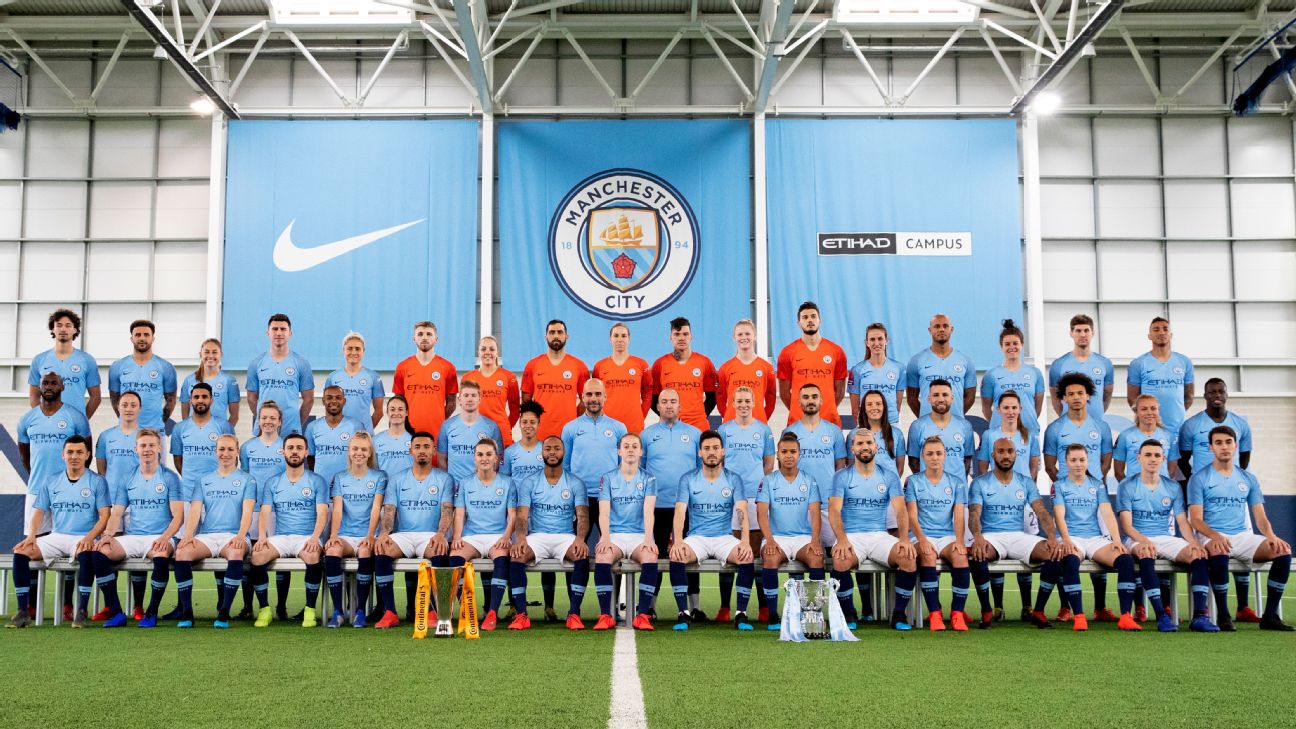 Makel, who has been at City since 2007, is well placed to describe how the women's team has developed since the club gained entry to the Women's Super League and relaunched as a professional organisation in 2014. The prospect of turning professional appealed to a number of established England internationals who previously had to balance football with part-time employment elsewhere. Houghton, along with goalkeeper Karen Bardsley and midfielder Jill Scott, were some of the players who joined in 2014 and went on to represent England as they reached the semifinals of the World Cup the following summer — in what turned out to be a turning point for women's football in the UK.
"If I think about where we were then as a club, it's complete night and day," Makel says. "Now the players are completely professional and all they are thinking about is playing, and that's where the biggest change is. These were players who had played at World Cups and some had played at the Olympics in 2012, but they were still working part-time jobs and training in the evening."
Makel adds that the English game was not prepared for the national team's success in 2015, but is now in a better position to take advantage if there is another surge in popularity. He describes how City's England internationals returned from Canada after nine weeks away to find that they had a game in the Women's Super League the following day. The players were dead on their feet and as a result, the league adjusted and now has its offseason in the summer to allow players to rest following major tournaments.
The division is also set to be boosted from next season by the promotions of Manchester United and Tottenham Hotspur, two of England's biggest clubs who — like City, Arsenal, Liverpool and Chelsea — have the resources to support a professional women's set-up. City, champions in 2016, were pipped to this season's title by Arsenal with a game to spare, despite going the league campaign undefeated. "I think we have the most competitive league in Europe, if not the world," Makel says.
City's cup final opponents West Ham have found that out for themselves during their first season in the WSL. Although they are set to record a mid-table finish, West Ham lost both of their league meetings with City — including a 7-1 thrashing in Manchester last October. The City manager, Nick Cushing, warned against complacency in his prematch news conference: "It's a final, a one-off game, anyone can win."
Following the final, all eyes will turn to England's World Cup preparations, with national team manager Phil Neville set to name his squad next week. As well as Houghton, City will be contributing several names towards the group. Top scorer Nikita Parris has become an England regular since joining the club as a 20-year-old in 2015, while academy product Georgia Stanway is seen as English football's next big thing and has already won six international caps. Their progress highlights City's strategy of signing and developing young British talent and the pair were recognised last week when Parris picked up the football writers' player of the year award and Stanway won PFA young player of the year.
Record attendances for women's matches in Spain and in Italy have been set since the turn of the year, and Saturday's FA Cup final set to break another milestone ahead of the World Cup. As women's football in the UK prepares to take its next step, Manchester City are on the front foot.