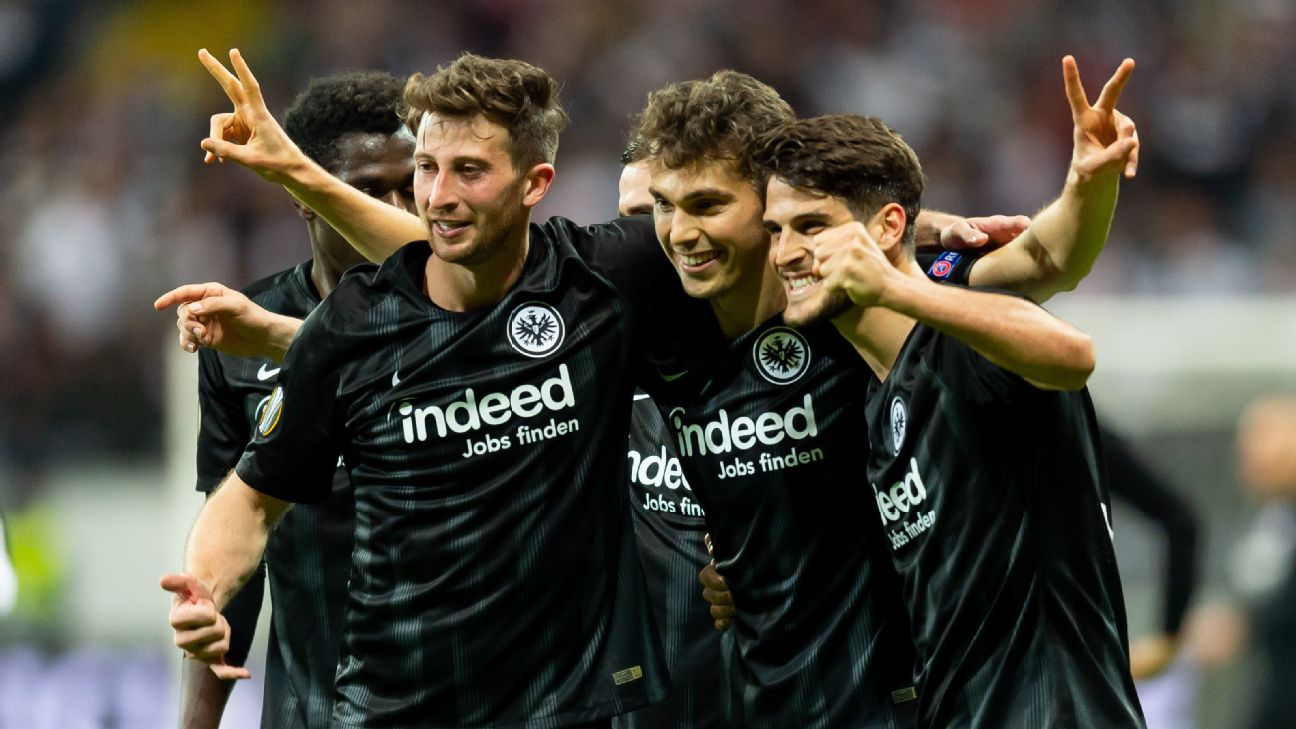 "Best football team in Germany," read the Eintracht Frankfurt supporters' banner and over the course of the game, it went from being vaguely funny to painfully ridiculous. Their side were destroyed 5-0 by champions Bayern Munich on their own pitch in the season's traditional Supercup curtain-raiser back in August.
From there, it got worse. Last season's DFB Cup winners were eliminated by third-division Ulm in the cup and proceeded to lose two of their first three games in the league as well. "Code red!" cried local paper Frankfurter Rundschau, chiding all those who had naively "mouthed off about a rosy future" in Germany's banking capital.
It's a common theme in German football: a middling club unexpectedly find success, then lose their manager (Niko Kovac, who joined Bayern) and key players (Kevin-Prince Boateng, Omar Mascarell, Marius Wolf, Lukas Hradecky), suddenly causing them to struggle. Everyone knew how this "second season syndrome" would play out; the question was only how hard the Eagles would hit the ground. But Fredi Bobic foresaw a very different trajectory. "I told [manager] Adi Hutter: Don't worry. I can promise you, this team has a rock-solid mentality and a lot of quality. We will improve."
Eintracht's Director of Sport was to be proven right.
— Why Jovic is the Bundesliga's next big thing
Performance levels didn't just recover as the new coach's more attacking style took hold — they went up by two or three levels, hitting heights that almost nobody thought possible. Sitting fourth in the Bundesliga and preparing for the Europa League semifinals against Chelsea, Hutter's surprising heavy-hitters have decent chance of making it into the Champions League for the first time ever, one way or another. UEFA Cup winners in 1980, Eintracht haven't been this hot since nearly winning the league in 1992, when they had likes of Andy Moller, Anthony Yeboah and Uwe Bein in the squad.
The whole city has been gripped by a kind of football fever, none of which looked remotely plausible when the Bobic put in charge in June 2016. Eintracht, 16th at the time, only avoided the drop courtesy of a win in the relegation play-off and had no money to spend on new recruits. "Our net transfer budget was €2.5 million," the former Stuttgart and Germany striker told ESPN. "Nothing."
Most Bundesliga clubs like to have a core of local or at least Germans in the squad but Frankfurt went against the grain. "Our only chance was to look abroad — we couldn't afford any Germans," said Bobic. He brought in young, low-cost players who'd either failed to live up to their initial promise at other clubs or were out of favour, such as Croatian striker Ante Rebic (Fiorentina, loaned with an option to buy) and Mascarell (€900k, from Real Madrid) who were willing to improve and buy into a strong team spirit.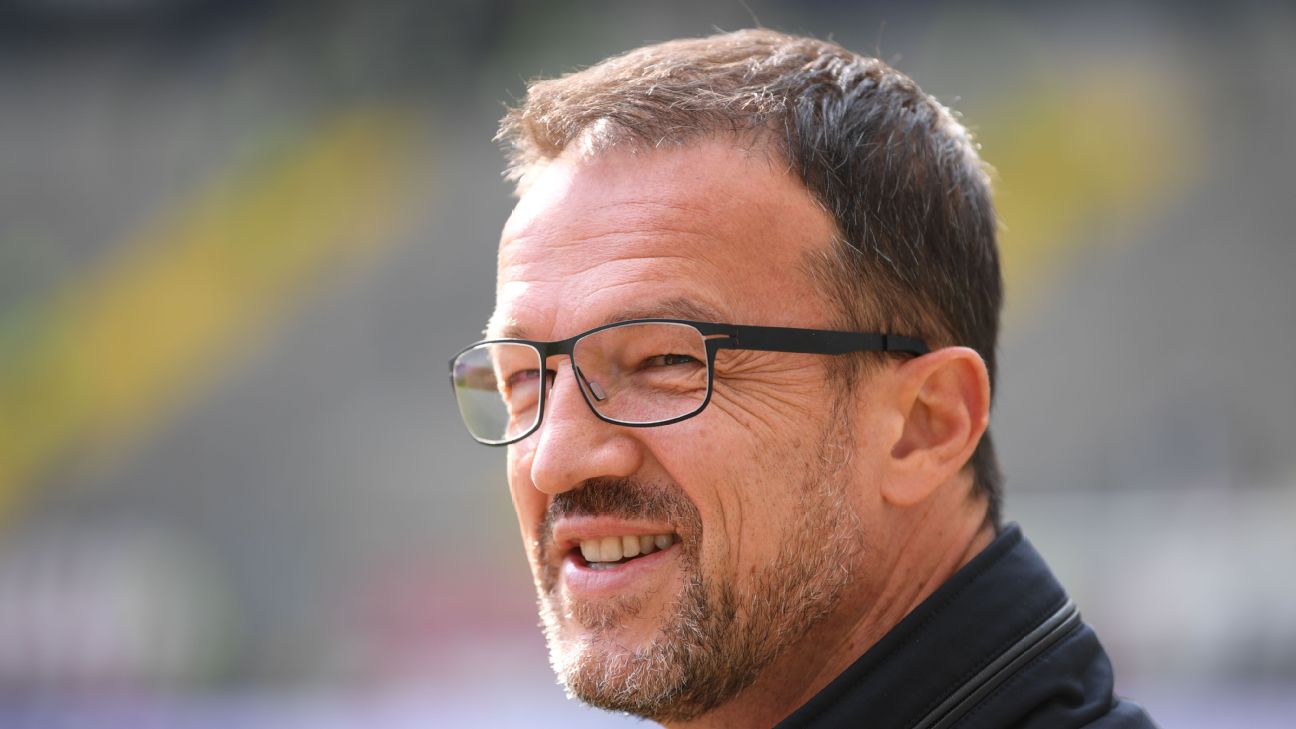 "We are really interested in players who haven't quite made it yet," said Bobic. "We believe we're a club that helps players activate their potential. We provide them with a platform to perform, if they show the right mentality and are willing to really make that next step. But it's up to them to deliver." Bobic, a Swabian with roots in the former Yugoslavia, knew that fans and the media would be quick to accuse this team of being mercenaries in the event of poor results but the diverse make-up of the dressing room hasn't been an issue at all.
Frankfurt, Germany's most international city, makes it easy to foreigners to get along, Bobic explained — "you can speak English everywhere" — and the whole club have also worked very hard to create a special togetherness.
"Everyone needs to feel valued. We have no choice but to stand really closely together as a team — we can't compete with the bigger sides otherwise. New players are amazed about the good vibe in the dressing room, with everyone looking out for each other. Even the players who don't play a lot contribute with their positive energy. Being able to work in in a team is the most important quality we look out for in a player." Experienced pros such as 35-year-old Makoto Hasebe, a revelation as a holding midfielder converted into a centre-back, have complemented the mix.
Last season, Frankfurt's hard-working band of brothers finished eighth and beat Bayern to win the Cup under Kovac. Hutter has since upgraded the football without losing any of the application, and the results have been phenomenal. "This is only the beginning, the team's development is far from over," Bobic said proudly. "Look at Luka Jovic: he's been fine in his first year. And this season, he exploded."
Indeed he has. The 21-year-old Serbian striker has scored 25 goals in 43 games in all competitions to become one of the most coveted young strikers in Europe, as well as the vanguard for Eintracht's smart recruitment policy. Bobic had followed the Red Star Belgrade player's progress in the Serbian youth national teams while he was still working for VfB Stuttgart. Later, him and Kovac kept tabs on him during a difficult spell at Benfica, too.
"We knew of his quality but he had some problems performing at Benfica," said Bobic. "As a young boy, he wanted to try out a few things, he went out a bit, there were some disciplinary issues. We wanted to see whether he truly understood what it takes to become a real professional and to make it?" Bobic wasn't entirely sure himself. To minimise the risk, he signed Jovic on a two-year-loan deal with an option to buy for €12.5m this summer. He's now worth five times as much, at least.
Is there a chance that he leaves? "He's definitely the hottest property in Euope at the moment, considering his age and position. There's no point in denying that," said Bobic. "But we have a great relationship. He's really happy there, and he's very grateful. That's the truth. He has had the chance to mature as a man and as a pro here, to put in performances that can can still get much better. There is chance he might stay for one more year. But if a really big club turns up, willing to put in a bid that reflects the players value, it will be impossible to keep him — because of the wages on offer. You can't stop a player from making such a big dream come true."
It's normal for a club of Frankfurt's size, with a wage-bill of €55m, to sell one or two players per year, he added. "We don't have an investor giving us money; we need to be self-financing. But I'm not afraid that players could leave en masse. It won't happen."
Their continued success hinges on the ability to find the next Jovic and Rebic, which is easier said than done, but that's a worry for another day. First, an enticing double-date with Chelsea, the next stop on their "wonderful journey through Europe" according to Bobic that's already led them past quality teams like Lazio, Marseille, Inter and Benfica. Now, Eintracht have a real opportunity to make that fan banner from August ring true, after all.
Bobic is typically confident. "Chelsea certainly have better players. But we if we can use the momentum, and play with joy and attitude once more, this team is capable of doing it. We're capable of beating that quality, playing like we have done all season — as a team.
"That's our chance. And we're determined to take it."